Types of Security Cameras Available On the Market
With the increasing cases of vandalism, theft, and other crimes, building a strong surveillance system is the need of the hour for every business and property holder. Fortunately, with the advent of video and wireless technology, the quality of cameras has gone better over the year. Whether you want to identify a perpetrator in complete darkness or keep an eye on a valuable item during a vacation, everything is possible.
Meanwhile, with so many choices at your disposal, choosing the ideal one from the crowd is not always easy.
In this article, we have discussed different types of security cameras, their features, and their area of applications, with an attempt to help you with your purchase decision.
So, let's get started.
Difference Types Of Security Cameras
1. Dome CCTV Cameras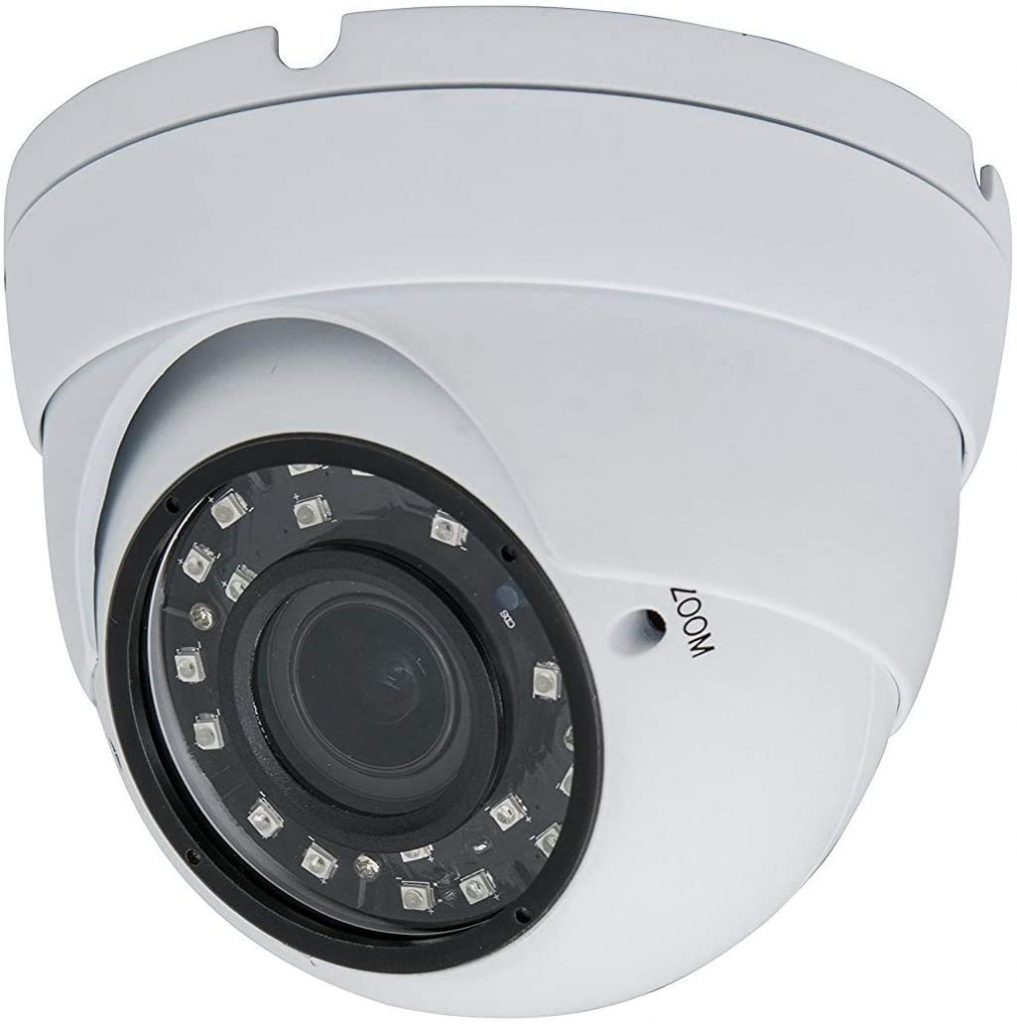 First on our list is Dome CCTV cameras. With a resemblance to a dome-shaped structure, Dome cameras come with built-in infrared LEDs, pan-tilt-zoom, and motion sensors to work flawlessly in low-light or no-light areas. As they are available in all kinds of shape, size, and angle, you can use them for both indoor and outdoor supervision, regardless of your property size.
Considering its simple and discreet design, you can easily install them without making visitors realize they are under surveillance. Therefore, most businesses prefer them in their workplace to avoid vandalism and shoplifting. To ensure the best level of security, you can opt for dome CCTV cameras with lens protection which also acts as a deterrent for a possible crime.
Highlighted Features
Minimalist and non-intrusive design
Vandal-resistant body
Ideal for both indoor and outdoor areas
360-degree wide range coverage
Area of Application
These types of security cameras are ideal for shops, hotels, casinos, schools, houses, and anywhere you want coverage from all angles possible.
2. Bullet CCTV Cameras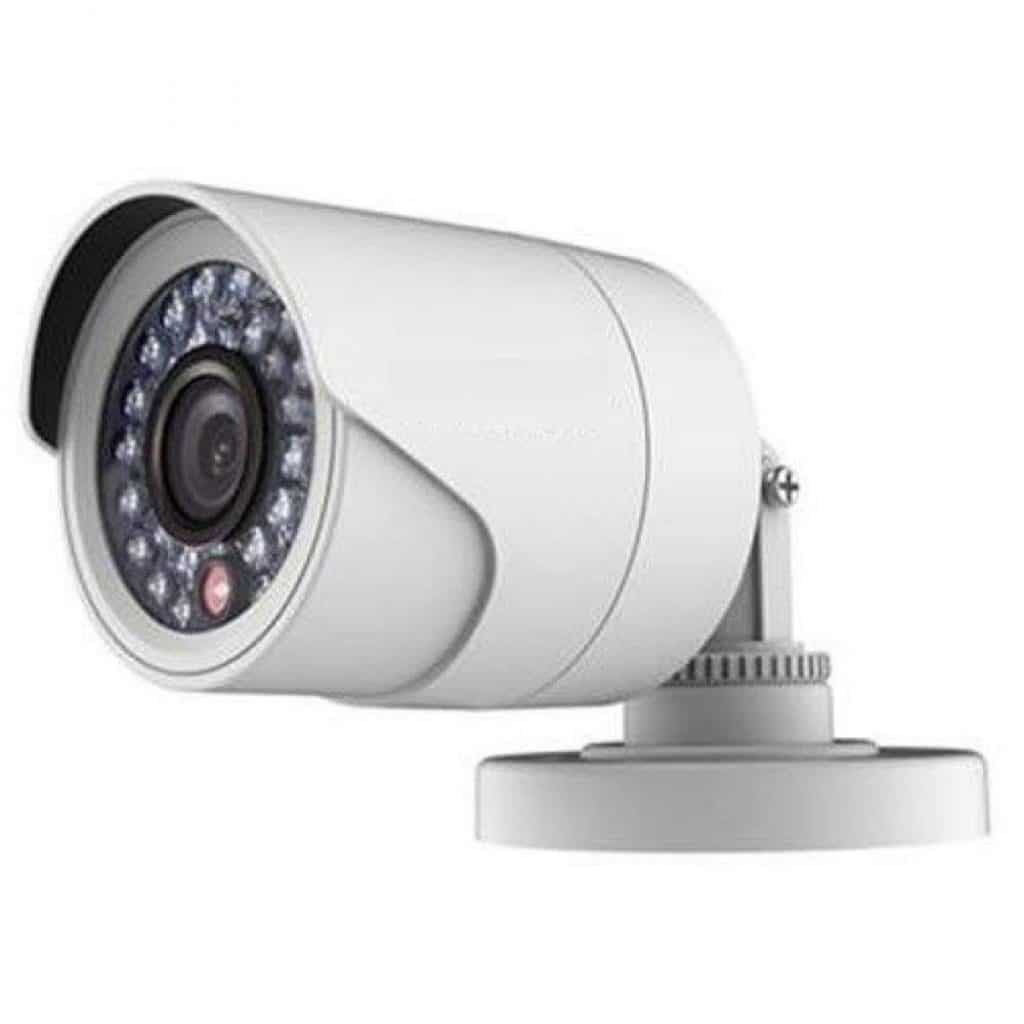 Bullet CCTV cameras offer a great view range as compared to other cameras. Although they don't give 360-degree coverage, they do allow you to view farther images as clearly as possible. Hence, you can use them in parking lots or backyards to capture clear videos of people, or license plates of vehicles from a far distance.
Bullet CCTV cameras has a cylindrically shaped body featuring a glare protection case on the top of its lens. Hence, they are best suited for areas under constant harsh weather and pollution those could directly affect its image quality.
Installing a bullet camera is quite easy. Unlike dome cameras, you don't need to do any intricate drilling or complex wiring. All you need is a simple wall mount to install a bullet camera.
Highlighted Features
Best for challenging weather and harsh environment
Offer long-distance surveillance
Anti-glare protection
Easy to install
Area of Application
Bullet cameras are best used in industries like manufacturing, farming, warehousing, etc. Due to their prominent visibility, they also qualify as a deterrent to potential crimes.
3. C-Mount CCTV Cameras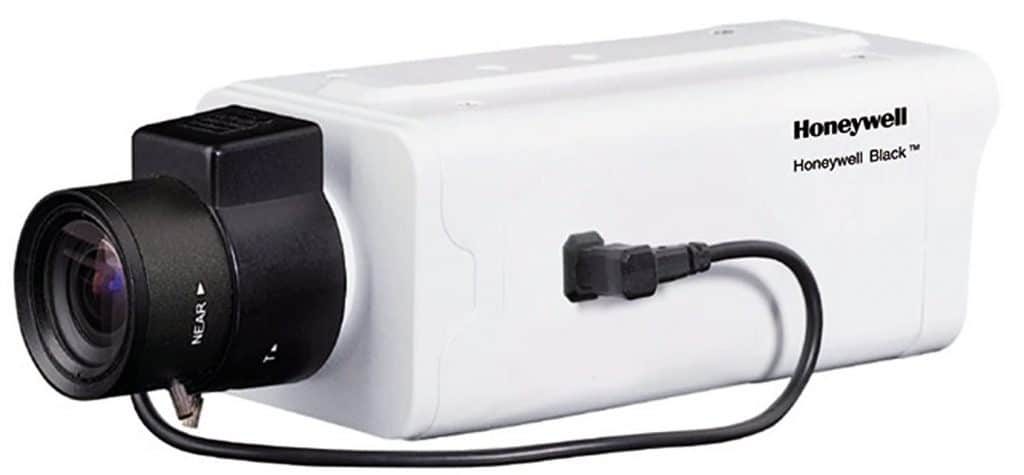 If you want CCTV cameras to cover an area of more than standard 40 ft, then C-mount CCTV cameras would be the right option for you. The Cameras come with detachable lenses that allow you to switch image quality befitting your requirements.
Besides, changing the lenses is quite easy- simply unscrew the camera, and upgrade any low-end lens with a higher one. Moreover, lenses are available from 2.5 mm up to 500mm, allowing you to enhance your viewing angle at a greater length. Besides, you can also go for cameras with varifocal lens, which allows you to adjust zoom and focus with ease.
Highlighted Features
Support high-end lenses
Extend your viewing range beyond 40 ft
Easy to switch lenses
Ultra-durable body with long-lasting weather protection
Area of Application
Due to its high magnification and long-distance viewing capacity, these cameras work great in logistics, manufacturing, as well as keeping an eye on long roads.
4. PTZ Security Cameras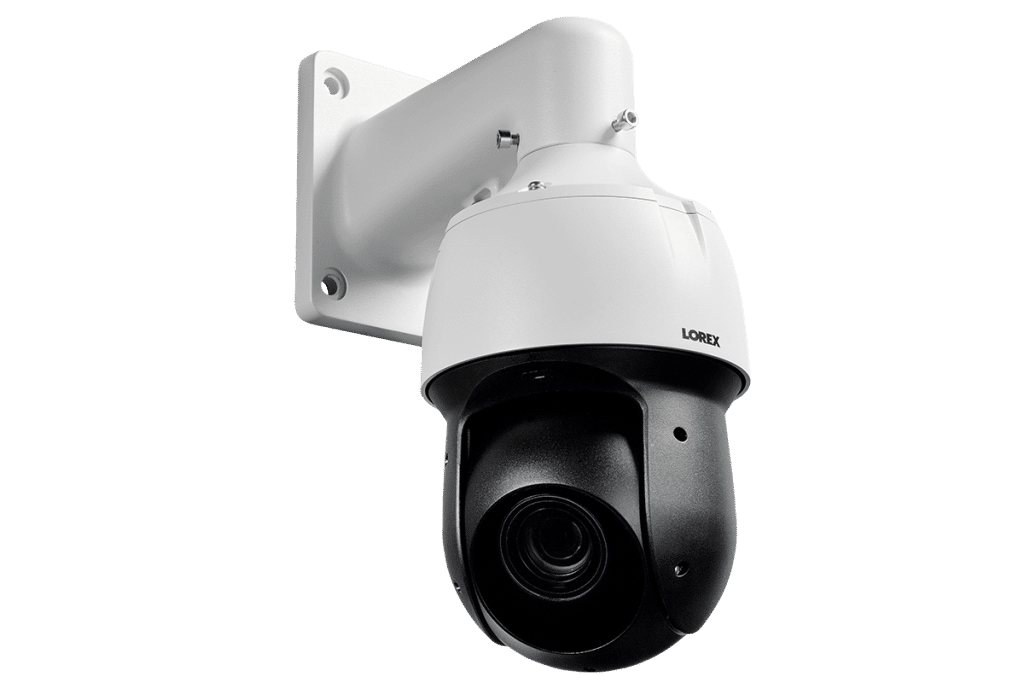 PTZ Security cameras allow great usage flexibility as you can use them for standard surveillance as well as for capturing suspicious activities. They come with built-in pan, tilt, and zoom functionalities to let you control movements manually via a joystick and automatically through monitoring software.
Besides, you can pan the camera view to 360 degrees or swivel the camera in different ways to get wider coverage. Also, you can tilt the camera up and down up to 180-degree angles to cover vertical areas.
Moreover, the optical zoom lenses in PTZ cameras allow you to adjust the focal length of the camera physically, resulting in better reception of image quality.
Highlighted Features
Optical zoom feature to focus more precisely
Supports 360-degree vision
Spectacular image resolution to detect facial features
Allows security team to reach proactively on suspicious activities
Area of Application
Largely used in retail stores, warehouses, museums, especially if you want to keep an eye on valuable objects.
5. Day & Night CCTV Cameras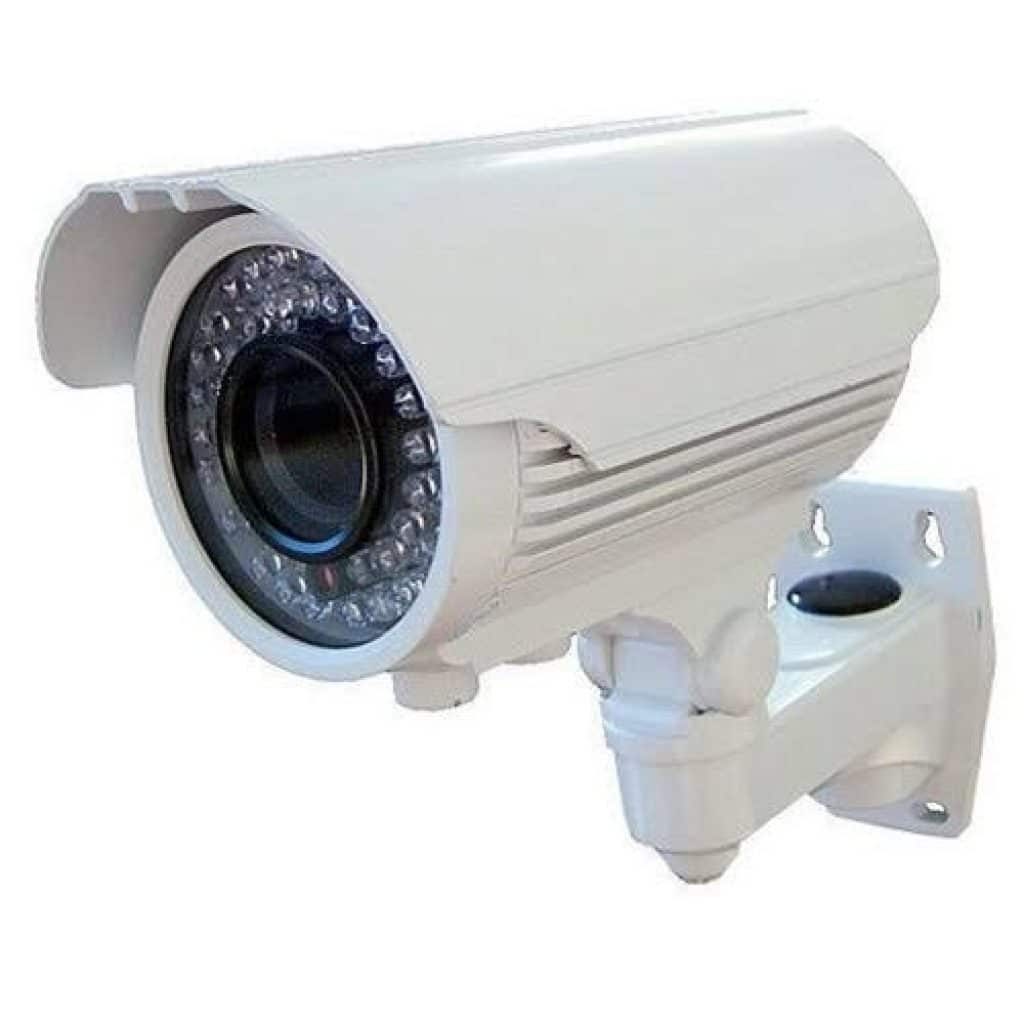 Day and night CCTV cameras offer round-the-clock surveillance in both broad daylight and darkness. To clarify, the cameras include infrared LEDs that emit infrared signals via the built-in CCD and CMOS chips in the camera, resulting in a clear display of pictures in total darkness. Moreover, the clarity of the picture depends upon the quality of the digital signal processor used in the product. You will also find advanced HDR technology in some expensive cameras that provide more illumination than standard day/night CCTV cameras.
Highlighted Features
Impeccable clarity in low light or no light
Exceptional glare-protection
Records in direct sunlight and reflections
Records both color and b&w videos
Area of Application
Considering its night capturing features, the camera works best in outside areas with sensitive lighting such as outside parking spaces, parks, open-air events, etc.
6. Infrared/night vision CCTV Cameras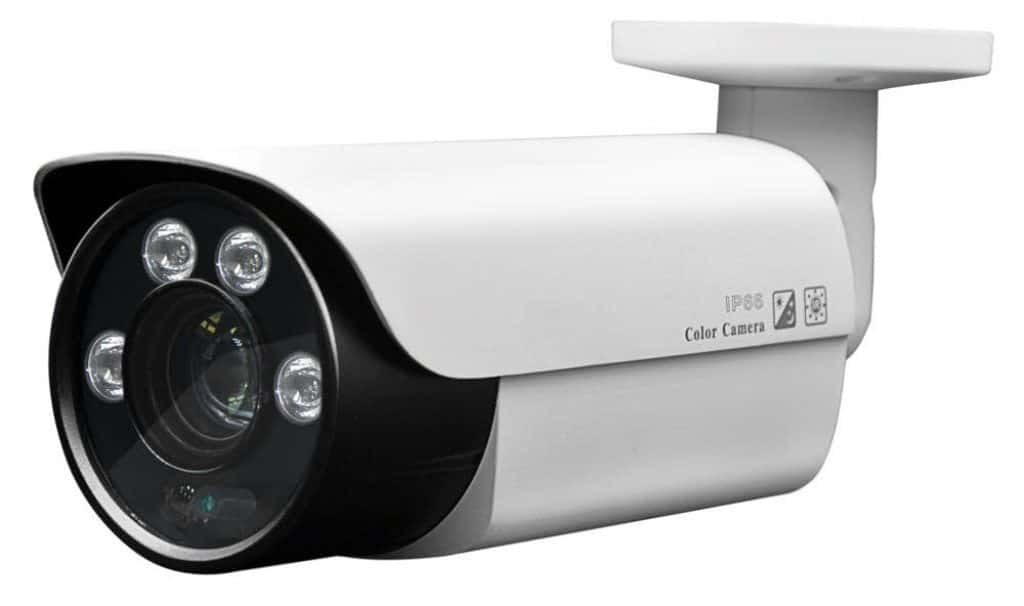 Infrared cameras aka night vision security cameras offer features similar to Day and Night cameras but with some slight modifications. The major difference between the two is their capability to produce IR (infrared) lights. Meaning, IR cameras come with a built-in IR illuminator that provides a boost of illumination in extreme dark ambience. IR cameras can see the IR light as well as add a boost of IR light to it, making the video appear brighter and sharper.
Coming to availability, infrared cameras are available in many styles like dome and bullet styles, etc. You can also purchase LPR cameras available especially to recognize license plates.
Highlighted Features
Offers crystal-clear recordings in pitch black condition
Captures flawless images in harsh weather condition
Records both color and BnW videos
Area of Application
Mostly suitable for banks, manufacturing units, farms, and corridors, where you can expect low to no light.
7. IP or Network Security Cameras
IP or Network CCTV cameras are semis or complete wireless cameras that use a Network video recorder (NVR) and internet protocol (IP) to capture video signals. You need to use a Power over Ethernet (POE) cable to establish a connection to the camera and connect the same cable to the NVR and IP. Comparatively, IP cameras offer far superior resolutions to analog cameras.
Related Read : NVR vs DVR
Highlighted Features
No need to use coaxial cable and computer to operate
Provide easy access to footage anywhere from the world
Easy to maintain
Area of Application
Such cameras offer real-time footage from anywhere. As a result, it is wildly popular among business owners who often stay away from their workplace.
8. Wireless CCTV Cameras
Wireless security cameras use wi-fi or broadband connectivity to operate. They are easy to install and provide a wide range of mounting options. Unlike wired cameras, you do not need to connect types of security cameras to an electrical system. Since installation is done within a whiff; you don't need to pay any installation charges to a professional. All you have to do is mount the cameras at your desired location and connect them with a wireless network.
Highlighted Features
Easy to install
No complex wiring or use of electricity
Light-weight and easy to transport
Access real-time video footage over smartphone or computer
Area of Application
Best suited for renters or people who are new to the whole security camera thing. You can use them to secure your home and commercial places.
9. High Definition (HD) CCTV Cameras
HD cameras are the advanced version of standard analog cameras, where you can record surveillance videos in resolutions higher than 720p. If you are using HD analog cameras, then you need to use an HD DVR to store HD footage. HD cameras are highly versatile, as you can simply replace them with your standard analog cameras without making any modification in existing wirings.
Highlighted Features
Available in domes and bullet models
Offer extreme clarity to identify faces and license plates
Supports zoom functions with unfettered image quality
Area of Application
HD CCTV cameras are mostly used in places where theft, attacks, vandalism, and robbery are imminent. The cameras are ideal for facial recognition, identify objects, and read license plates. Ideal for both residential and commercial areas.
Final Thoughts
The type of security camera you choose depends greatly upon your area of operation, as well as your budget. Both wireless and analog cameras comes with their own set of benefits. Wireless cameras offer good features, but they also can initially cost you more than analog cameras. Meanwhile, analog cameras are cheaper but they may require constant maintenance as well. So, gauge your level of requirement for next five to ten years and choose your camera accordingly.