9 Best Automatic Water Shut Off Valves To Save Your Home From Leaks
Being a homeowner comes with many perks, including finally having a space where you can sit back and relax after a long day. However, your home also needs to be taken care of. In time, you'll need to replace window panes, fix your door locks, and of course, deal with water leaks.
Water leaks are a common problem in most homes, so you'll want to invest in only the best devices, as water leaks can lead to irreversible water damage. Imagine coming home to a flooded basement, bathroom, or worse—the entire second floor.
Having the peace of mind that your home will be protected from unknown leaks should be the top priority, keeping you safe away from molds, mildew, and the destruction of your home's entire structure. All these can lead to thousands upon thousands of housing repairs.
That said, consider investing in an automatic water shut-off valve system. We have everything you need to know here, as we've scoured the internet for the best information. Let's begin
The Basics: What Is An Automatic Water Shut-Off Valve System?
An automatic water shut-off valve system is exactly what it sounds like—it detects leaks and prevents water damage. It can detect when water is flowing into your home, especially in places where it's not supposed to be. In other words, when the water flow becomes irregular, this means that there could be something wrong with your pipes or that your floor has been flooded.
In such cases, the valve will automatically cut off your home's water supply, preventing water from freely flowing into other parts of your home. As a result, you can rest assured that your home is always protected—even from leaks!
The response time of your automatic water shut-off valves should always be quick because its function entails stopping leaks even without your intervention. Once the sensor detects any anomalies, the device should activate within seconds to prevent floods and water damage in your property.
Because the actions of the smart water shut-off valve is dependent on how it detects issues, it must have a reliable sensor. Without a precise water sensor, it may send false alarms or not be able to tell when it's time to shut off the water supply.
The most convenient electric water shut-off valves are not complicated to set up. Some models even have a no-tool installation so that you can install the device without the need for buying additional items.
Connectivity To Smart Devices
If you're looking for shutoff valves that you can control even without being physically present, look for ones that can connect to Wi-Fi and your smart home hubs. Some models may even allow you to control them even if the internet is down.
Best Value Water Sensor Shut Off Valve
If you want to gain value for your money, consider purchasing the YoLink Automatic Shut-Off Starter Kit. It comes with a sensor connected to the internet, but you can rest assured that it will still work even in poor or no Wi-Fi conditions. 
Best Value Water Sensor Shut Off Valve

Comes With 3 Leak Sensors And Its Own Hub

ub Signal Reaches Up To ¼ Mile

Works With Amazon Alexa, Google Assistant, And IFTTT

Water Leak Sensors Have 5-Year Battery Life

Valve Controller Has 2–3-Year Battery Life

No Plumber Required For Installation

Installation Can Be Tricky, And You May Need To Look For Instructions Online
Best Low-Maintenance Water Shutoff Valve
If you want something you don't need to think about often, the aquaHALT Toilet Water Automatic Shut Off Valve is the best choice. It can detect moisture and water levels, equipped with batteries that can last you an entire year. 
Best Low-Maintenance Water Shutoff Valve

Easy Setup With 3M Non-Invasive Double-Sided Tape

Automatic Shutoff When The Device Detects Unusual Moisture Or Water Levels

2 AA Batteries That Can Last Over A Year

Bulk Pricing For Purchase Of Over 5 Units

Adjustable Wrench Necessary For Installation
Best Water Shut-Off System With Vacation Mode
The MyGuard Automatic Laundry Water Shut-Off System offers you not only easy installation but a Vacation Mode for your future travels. This way, you never have to worry about coming home to the stress of a flooded basement after a restful trip!
Best Water Shut-Off System With Vacation Mode

Power Outage Mode Automatically Shuts Off Water Supply During Power Outages

Vacation Mode Has Simple Push-Button Shut-Off To Prevent Leaks While You Are Away

Attaching Wi-Fi Module Is Optional

Control Unit May Be Positioned Up To 5 Feet Away From Valves

85dB Alarm And Sends Notification To Your Phone When Leaks Are Detected

Automatic Valve Attachments Stick Out From The Wall

Cannot Work With Additional Water Leak Sensor

Does Not Work With Smart Home Hubs
Best HomeKit-Compatible Water Shut-Off Valve
If you're currently building a smart home system, it only follows that you invest in a water valve  like the EcoNet Controls Automatic Shutoff Valve. It's compatible with Google Home, Samsung SmartThings, Apple HomeKit, Amazon Alexa, and even IFTTT. 
Best HomeKit-Compatible Water Shut-Off Valve

Fits Over Existing Levered Ball Valve

Works With 1/2", 3/4",1", 1.25" & 1.5" Valves

No Plumber Or Special Tools Required For Installation

Compatible With Amazon Alexa, Apple HomeKit, Google Home, Samsung SmartThings, And IFTTT

Sensors Have 3–5-Year Battery Life

Works With Or Without Wi-Fi

No Low Battery Notifications
Best WiFi Shut-Off Valve
UJV Ufairy Smart Water Shutoff Valve 
Compatible With iPhones and Android Devices

Works With ½", ¾", 1", 1 ¼",1 ½" Valves

Compatible With Amazon Alexa And Google Assistant

Does Not Support Samsung SmartThings Or Apple HomeKit
Best Water Shut-Off Valve With Protection Plan
Moen Flo Smart Water Monitor and Shutoff 
Best Water Shut-Off Valve With Protection Plan

Daily Leak Testing To Actively Prevent Water Damage

FloProtect Plan With 5-Year Extended Warranty

Freeze Alerts For Detecting Extreme Temperatures

Fits ¾" To 1 ¼" Pipe Diameter

May Require Professional Installation
Best Automatic Plug-In Water Valve With Self-Learning Algorithm
The Grohe Smart Water Controller is another smart device, but this one can detect tiny leaks, pipe breaks, unusual water consumption, and even changing temperatures! You can also know if whether or not the valve is closed through a mobile app.
Best Automatic Plug-In Water Valve With Self-Learning Algorithm

Automatic, Manual, And Remote Functions

Self-Learning Algorithm Learns Your Patterns And Alerts You If Water Consumption Is Unusually High

Detects Micro Leaks, Pipe Breaks, Unusual Temperatures, And Unusual Water Consumption

Indicates If Valve Is Open Or Closed Via LED, Buzzer, And Mobile App

Only Suitable For Single-Family Residential Home Use

No Batteries, 110 V Electrical Outlet Needed
Best Water Shut Off Valve For Homes With Z-Wave Hubs
If you have a Z-Wave hub, the Dome Automatic Main Water Shut-Off Valve Controller is highly compatible with it. It can handle heat systems and water heaters, programmed to turn on and off according to your coordinates. 
Best Water Shut Off Valve For Homes With Z-Wave Hubs

Works Well With Z-Wave Smart Home Hub

Can Be Programmed To Automatically Turn On Or Off Depending On Your GPS Coordinates

Can Handle Radiant Heat Systems And Water Heaters

Not Designed For Outdoor Installation

May Be Difficult To Operate Manually
Best Automatic Water Shut Off Valve For Versatile Uses
If you're looking for an all-around valve, the Vaticas Smart Water Valve is for you. It allows you full control through Amazon Alexa and Google Assistant, and can also work with gas regulation. 
Best Automatic Water Shut Off Valve For Versatile Uses

Versatile Uses - For Water And Gas

Fit For 1/2'', 3/4'', 1'', 1 1/4'' Valves

Works With Amazon Alexa And Google Assistant

Does Not Work With Main Water Supply Valves

No Samsung SmartThings Support

Some Customers Report That Instructions Were Unclear
In Depth Buyers Guide When Buying An Automatic Water Shut Off Valve
If you are looking for an automatic leak detection system and shut-off valve, it's not wise to buy the first thing you see online. To avoid wasting money on the wrong device, it is always best to examine your options thoroughly. It's also helpful to read up on several topics you need to know about shut-off valves, all of which we will discuss below.
Connectivity With Other Smart Home Devices
In the age of all things digital and automated, many homeowners now look into the convenience of having smart homes. If you're likewise looking for ways to make your life easier and are investing in many smart devices, it may be in your best interest to look into shut-off valves that work well with your other gadgets.
Many automatic water shut-off valves can connect to your home's Wi-Fi and send you alerts through a mobile app, text, or email when they detect leaks. You may also activate or deactivate them using mobile apps, so you don't have to be physically present if you need to close your valve.
Will My Smart Water Shut Off Valve Stop Working If My Internet Is Down?
Because many shut-off valves rely on Wi-Fi connectivity for remote access, you may be wondering if your device will stop working if the internet is down. Fortunately, a lot of these devices will still work even without the internet. They can still automatically shut off your water supply if they detect leaks.
If you still want to control your shut-off valves remotely even without Wi-Fi, you can invest in ones that are compatible with Z-Wave and other smart home hubs. These hubs often have a whole-house coverage as well, so you can shut off your water supply from any part of the home.
How Do Water Leaks Happen?
There are various reasons water leaks can happen in your home. Here are some common ones you might encounter:
Excessive Water Pressure
High water pressure almost always feels better than low pressure, but this can come at a cost. Most faucets and pipes can only tolerate a certain amount of water pressure, and any excess can damage the components and loosen connections.
Damaged Pipes Due To Corrosion
This problem is all too common in older homes, but even relatively new properties can still encounter it. Regular wear and tear can damage your water supply system, which can lead to leaks.
Loose Or Damaged Pipe Joints
If the connectors in your water supply system shift and become loose, they might cause leaks. Damaged pipe joints are also common, as these components are usually the most vulnerable points in the line.
Obstructed Water Lines
Sometimes, your water supply lines get clogged due to debris or mineral buildup. This issue can lead to uneven water pressure and burst pipes, which can quickly cause significant water damage when left unattended.
Penetrating Tree Roots
In rare cases, the trees in your property can dig their roots deep and reach your supply pipes. When this happens, they can damage and even penetrate your plumbing system, leading to water leaks in your yard and low water pressure.
Rapid Changes In Temperature
Your pipes are sensitive to sudden and extreme shifts in temperature, as they can expand and contract depending on how cold or hot it is. This erratic expansion and contraction can lead to leaks.
Are Water Leaks A Serious Problem?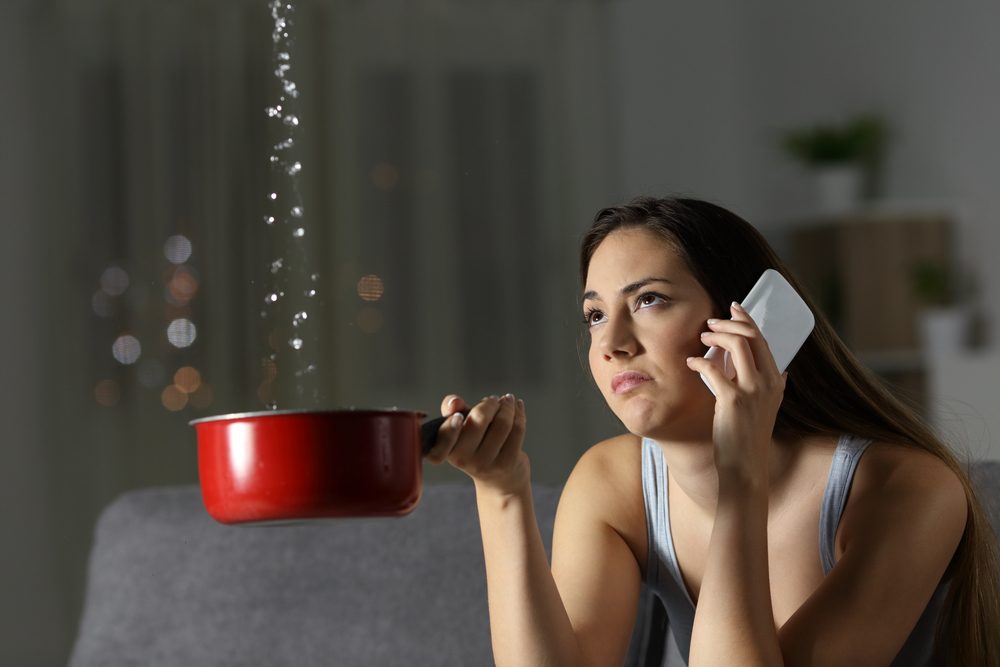 Water leaks are always a cause for concern, and they are more than minor inconveniences. They don't just make annoying dripping sounds from your faucet or toilet—they can quickly worsen and cause a slew of more serious problems. Here are some issues that a leak can cause:
Structural Problems
If there's one thing you should know about leaks, it's that it can lead to extensive water damage to your property over time. Excessive exposure to water can compromise your walls, furniture, and even your home's foundation. This can be a huge safety risk.
Health Hazards
Another problem that may arise from water leaks is the growth of harmful, moisture-loving microorganisms, such as mold and mildew. These fungi don't just emit foul odors, but they also pose health hazards, especially to those with asthma and other respiratory problems.
Financial Strains
If you're trying to save money by ignoring water leaks, you may want to reconsider. Leaks will not just keep your meter running, but they will also lead to more expensive repairs when they're left unattended. You'll likely have to shell out money for the damage to your property and possible trips to the doctor.
What Should You Do If You Have A Water Leak?
If your home has a water leak, the first thing you should do is to shut off the main supply pipe. This will prevent any further damage that leaks can do to your home. Then, you should clean up the water in your home to prevent water damage and mold growth.
You should call professional plumbers to identify and fix the cause of the leak. Unless you're a trained professional, doing it yourself may lead to more extensive damage. Make sure to contact your insurance company and document the damage as well if it's a major leak.
Do Automatic Water Shut Off Valves Malfunction Easily?
Water shut-off valves are generally made of durable materials. They're waterproof and are designed to withstand years of exposure to water. The best quality shut-off valves should not malfunction easily. It's best to get your supply line's components from a reputable source, and always read the reviews before making your purchase.
Valve malfunctions can also occur due to improper installation. If you are not well-versed in plumbing, then the odds are you may have set up your automatic water shut-off valve incorrectly. Make sure to redo it or call a professional to help you out.
How Long Can An Automatic Water Shut Off Valve Last?
Water shut-off valves in general will last around 10 to 15 years without encountering any problem. However, corrosion and other issues may occur at different rates. If you have an older home whose valve has been around for quite some time, you may want to replace your shut-off valve as soon as possible. Doing so is a crucial preventive measure against potential water leaks.
Here are some signs that your water shut-off valve may be defective:
The valve is leaking
The pipe next to the valve bursts
The valve gets stuck or only closes partially
If you encounter any of these issues, then it may be time to replace your shut-off valve. It's always best to seek the help of professionals if you're new to this.
Are Automatic Water Shut Off Valves A Necessity?
If you're looking to make your life more convenient and protect your home against leaks, floods, and water damage, then automatic water shut-off valves are absolutely necessary. We highly recommend getting auto shut-off valves because they are excellent preventive measures against water leaks.
Another effective alternative would be to purchase a smart water monitor and leak detection system, such as this one from Flume. This device helps provide insight regarding your water usage, and it also alerts you when it senses leaks. It can work both inside and outside the home, aiding you in protecting your whole house from water leaks and the damage they cause.
Conclusion
Automatic water shut-off valves are some of the most useful pieces of technology to install in your home. This is because they automatically deactivate the water supply to prevent water damage on your property when they detect irregular flow or moisture. As a result, they can save your property from extensive water damage.
If you are set on buying an automatic water shut-off valve to protect your home against leaks, then you may want to have another look at our top picks: