DIY CCTV: How To Turn An Old Mobile Phone Into A Security Camera
In the age of everything digital, purchasing a new smartphone has become a sport. We see one model after another on the market, equipped with fancier features and even better performances. It can be exciting to wait patiently for the new Android phones, especially since they're bringing back flip phones—but this time on touchscreens!
It's a world of tech indeed, and there's plenty to relish, so you go ahead and purchase a new phone. Enjoying the increased performance and sleek design, you begin to wonder: what happens to your old phone?
Other consumers sell or trade their old phones, but you'll likely get less for doing so. Keep in mind that the turnover rates of smartphones can greatly affect value, on top of factors like age and condition.
In other words, you're better off using it for something else, like strengthening your home's security. Yes, you heard us right—you can repurpose your Android device and save tons of money! Read on to learn more.
About IP Webcam
One of the best applications to turn your old smartphone into a CCTV camera is the IP Webcam app. This app allows you to view your mobile camera's footage on any platform with a web browser or VLC player. It can also record videos in multiple formats, such as WebM, MOV, MPEG4, or MKV. This makes the videos compatible with and optimized for any device you want to view them on.
The app is simple enough to use, and it also has video chat support and two-way audio. This way, if you want to talk to your babysitter, house helper, children, or even your adorable pets, you can easily do so. Some other neat features include motion detection, night vision, and sound detection—you'll never miss out on anything that happens in your property. It even lets you use your mobile phone as a CCTV camera even without an internet connection.
The IP Webcam app offers free and paid versions, with the paid Pro version offering a customizable user interface, non-watermarked footage, and Tasker integration for Android. It's a great overall app, no matter which version you choose.
Choosing The Right Application
When turning your old mobile phone into a security camera, you'll need to look for an app that can do what you need it to do. Some apps allow you to record footage, while others only allow you to monitor your property remotely.
Of course, you'll also want an app that's compatible with your smartphone. With this, let's look into some of the best ones to download, aside from the aforementioned IP Webcam app:
WardenCam
WardenCam is another powerful security app you can download on your old phone. This application offers a setup for multiple cameras, motion detection, cloud storage to your Google Drive or Dropbox, and recording replays. You can also enjoy its two-way audio support so that you can talk and listen from your viewer device.
This app is free and available in smartphones and tablets that run on iOS and Android software. It's also worth noting that the application also offers a single-payment premium version that offers 24/7 video monitoring.
AlfredCamera Home Security
The AlfredCamera Home Security app is another top contender if you want a security camera system out of your wireless smartphone. This app has most of the features you want in a CCTV camera, such as zoom, a walkie-talkie function, 24/7 livestreaming, a low-light filter, motion detection, and more. It's a powerful application that does a lot of the legwork for you. It also allows you to record videos and store them in the cloud.
Another nifty feature that this mobile app has is that it has a siren function that you can activate remotely. You may use this to scare away intruders or want to get the attention of other people in the house.
The best part about this app is that it's free and easy to use. However, much like the aforementioned IP Webcam app, AlfredCamera also has a paid version that offers more features. This application is available for both Android and iOS.
AtHome Camera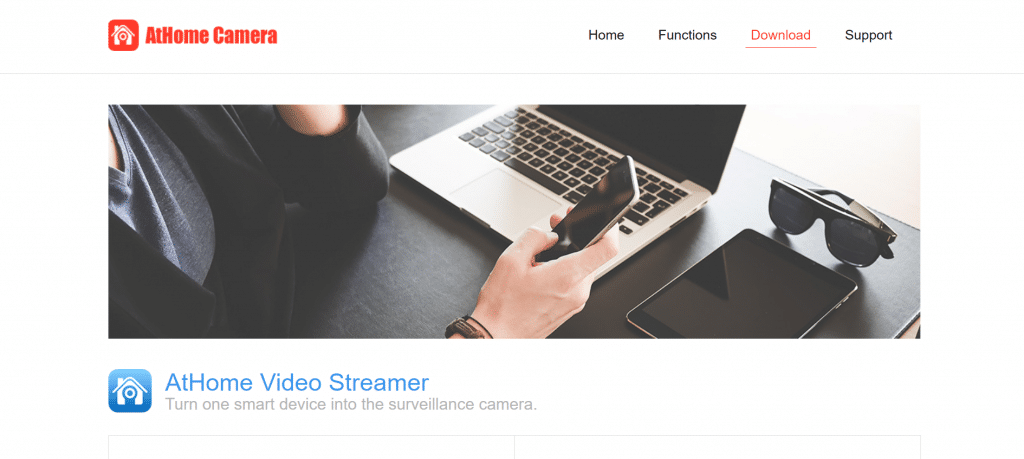 Another well-known app that you can use for your DIY CCTV is AtHome Camera. This app not only is compatible with Android and iOS, but it can also be downloaded for Mac and Windows devices. This means that you can also make use of your old laptops and repurpose them into security cameras. AtHome Camera operates in two separate apps—one you can use to record and one you can use to monitor the camera.
This application may be free, but it does not hold back when it comes to functionality. Some of the neat features the app has include scheduled recording, motion detection, time-lapse recording, two-way talkback, and night vision. If it detects unusual movements in your home, it will automatically send a notification and a short video to you. The video will also be stored in the cloud for you to check up on it later on.
AtHome Camera also allows you to monitor up to four camera devices at a time. If you have multiple old smartphones or laptops to use, then this app is perfect for you!
Making a Security Camera Out of An Old Smartphone
If you want to use your old smartphone as a home CCTV unit or a portable security camera for travel, you should know that the process is relatively straightforward. Here's a quick, step-by-step guide on how to do so.
Step 1: Download Your Preferred Security App
Once you've chosen a security app that suits your needs and is compatible with your old cell phone's software, you can visit Google Play or the Apple App Store to download the application. Typically, the apps require you to download on two devices—one to use as a camera and one to view.
Step 2: Connect Your Devices
The next step is to set up and connect your devices. The security apps usually will have easy-to-follow prompts to help you get the system up and running. Adjust the settings according to your needs and preferences.
Make sure to turn on the Wi-Fi or cellular data on your smartphone so that you can access the app's remote functions and monitoring. However, some apps also let you use video surveillance without the internet.
If you're wondering how to use your mobile phone as a CCTV camera without an internet connection, you'll have to ensure that your chosen security app allows you to start an IP server. Then, you must connect your viewer device to the Wi-Fi signal that the old phone will create.
Afterward, you have to type in one of the URL codes shown on the old phone's app. Then, the two devices should connect successfully.
Step 3: Position Your Smartphone
Set your phone up in the area that you want to monitor. Ideally, you should go for a landscape orientation to cover a wider horizontal area. You can use a dedicated mobile phone mount if you wish to position your phone at just the right height and angle.
Step 4:Test Out The CCTV System
When you've prepared everything, it's best to test everything out first to see if your setup and the app are working well. If not, you may try out other apps or adjust your settings further until you get the results you need.
Pros Of Using A Phone As A Security Camera
When it comes to using your old phone as a security camera, expect to enjoy the following benefits:
You Have A Variety Of Apps To Choose From: From the applications listed above, you now know that there are plenty of options for home security. All these are designed to be as comprehensive as possible, ensuring that you have a flawless system. Most of them are also free!
You Can Use It Without Internet: Should you choose apps like Alfred, all you need to do is to connect your CCTV to your mobile. You don't need the internet to keep your home safe. The app interface will allow you to access your other cameras hassle-free.
Cons Of Using A Phone As A Security Camera
You Must Use A Camera In Good Working Condition: Since you'll be using your phone as a security device, it should be in good working condition. Any defects in the battery can affect its performance.
You Must Use Plenty Of Storage: Apart from the battery life, you also need to make sure that you have ample storage for recorded videos. If it isn't enough, consider adding external storage options.
You Must Always Have A Stable Power Source: Seeing how mobile phones work, you'll eventually need to provide a stable power source for your device. You can either make sure that it's plugged at all times or replace batteries whenever necessary.
Using A Smartphone As A Security Camera Long-Term: Is It Feasible?
While the prospect of using your smartphone is good, it's also important to remember that it may not be the long-term solution you need. It's the best choice as a temporary security measure only, and you're better off purchasing a high-end security camera for additional protection. Your android phone can easily deteriorate over time.
Conclusion
Building a comprehensive security system in this day and age has become compulsory but can be costly. The next best thing you can do is to repurpose your old Android phone after upgrading, and then later purchase a good security camera when the budget allows. For now, you can rest assured that you can enjoy a good security camera system with a smartphone!
If you're ready to purchase a security camera, though, we've got the best ones lined up here according to specific homeowner needs: