Could This Be The Most Inconspicuous Secure Home?

Strategically located in the awesome San Juan mountains of Southwest Colorado, this patented steel-reinforced concrete earth home was built to withstand almost any natural or man-made disaster you can name. It is more secure, safe, and functional than any conventional house could ever be, yet still has a level of comfort that one might not expect to find in an underground home.
The house and its 4.3 acre parcel was offered at only $475,000 ($20,000 below appraised value). Or $495,000 for the house with a 4.38 acre boundary adjusted parcel.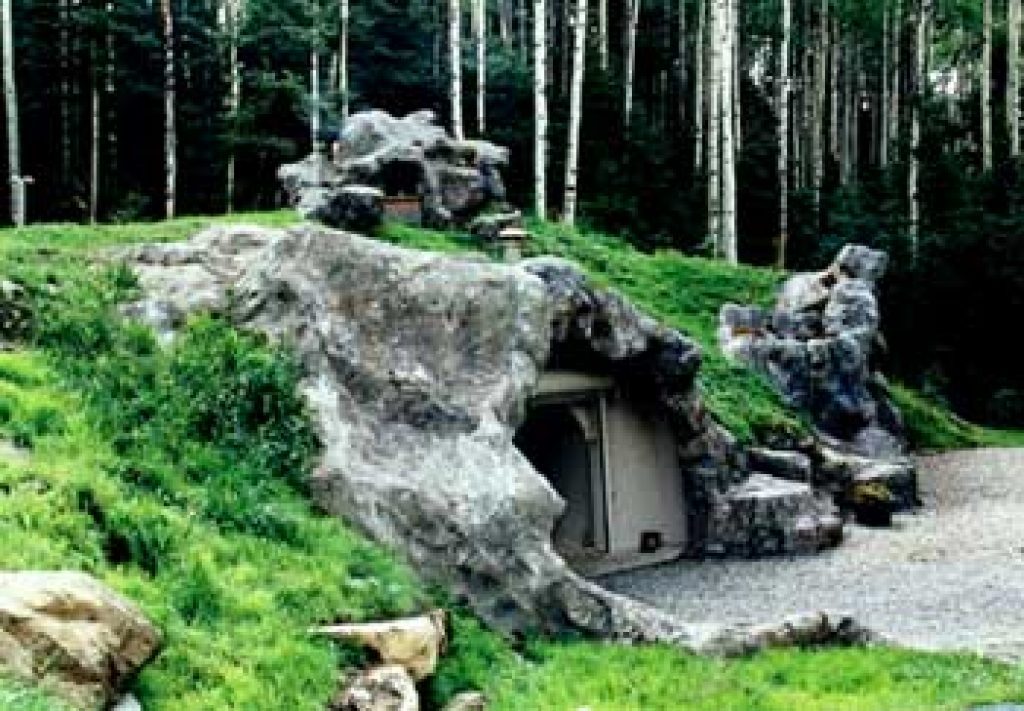 Conceptualizing The Ultimate Secure Home
Years ago, the owner of this property had a hunting cabin in another part of Colorado. Beautiful, yes, but the wood construction posed numerous problems. Several "near-miss" incidents made the owner realize how vulnerable the cabin was to any number of disasters and threats. A winter storm, which blew the front door open, might have caused the water pipes to freeze and break, flooding both the upper and lower levels, resulting in many thousands of dollars damage, had it not been discovered in time. A forest fire, which started when a tree fell on the above-ground power line leading to the cabin, came frighteningly close to the wood structure and to within just a few feet of the above-ground propane tanks. A hailstorm necessitated a new roof, a new paint job, and major repairs to the siding. The large front glass windows were spared from damage, but nevertheless were extremely vulnerable. And finally, when the cabin was broken into and many valuable antiques were stolen, the owner decided to look for a safer kind of structure for their retreat, and a better, more remote location.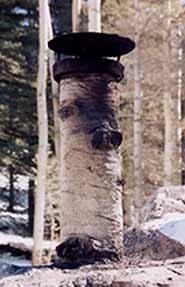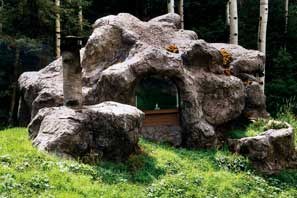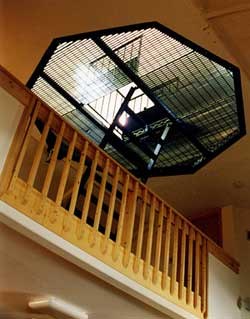 After spending 2 ½ years studying every kind of alternative home construction, everything from earth-ships made out of spare tires, to rammed-earth construction, to monolithic domes, he ultimately realized there was only one kind of construction that would afford them the kind of security they wanted: an earth home (made with Formwork's patented thin-shell concrete construction technique). The house he finally built is not just any earth home. It is what has come to be known in the industry as a "secure home." It is an unparalleled model of the ultimate secure home. Its many features will amaze you.
While the term "secure home" is still relatively new to the general public, this unique segment of the home construction industry has, for the past decade, been growing steadily, albeit slowly. Presently, with the increased threat of major terrorist attacks, many more people than ever before are building secure homes. Also, more contractors and consultants have recently dedicated themselves to the concept of disaster-resistant and self-sufficient residences. It is only with a realistic understanding of the potential for attacks, and the magnitude of the problems they could cause, that one can truly recognize the value of a secure home.
This patented steel-reinforced concrete earth sheltered structure, properly called a thin-shell dome, is built to withstand almost any natural or man-made disaster you can name. And that's not just an idle promise. These buildings have withstood tornadoes, hurricanes, and earthquakes – some measuring over 7.0 on the Richter scale – and in every case they have come away with no structural damage at all. Unlike monolithic domes, and all other types of home construction, only Formwork's concrete domes can be completely buried deep underground.
The house has 2472 square feet, with an additional 800 square feet in the attached 24′ x 36′ underground garage. The main floor of the house consists of a large living room, two bedrooms, two baths, a kitchen, pantry, and laundry closet. Upstairs is a loft and two multi-purpose storage/sleeping rooms. The house currently has ten beds (that is, beds, futons, and sleeping bunks) in seven different rooms. There is lots of additional space for other cots or bedrolls. It would be very accommodating for an entire extended family during a prolonged national emergency or global crisis. The safe room also has a ¾ bath with shower. A 22′ long x 6′ wide hallway leads to the garage. This hall is lined on one side with 18″ deep shelf units, providing a considerable amount of quick-access storage. The other wall of this hall is a convenient place to store larger items, such as skis, bicycles, or a vacuum cleaner, that wouldn't fit on the shelves. Additionally, a large storage attic is found above the garage.
The living room's high-domed ceiling gives the room an open, spacious feeling. A custom steel stairway leads from the loft to a cupola perched on top of the house. Light from the cupola gives the same effect as a skylight, but without any loss in security. The four windows in this "lookout" allow for a 360-degree view of the surrounding property.
In addition to the four windows in the cupola, there are six additional windows in the house; each bedroom has a window, and the living room has another four windows. So the living room, open kitchen, and loft all receive light from eight different windows (the four in the cupola, and the four in the living room).
Because the windows are on the small side, and also because the two bathrooms, the two upstairs multi-purpose rooms, the garage, and, of course, the safe room are all windowless, the house is somewhat darker than most conventional houses. However, the large solar system provides plenty of power to run electrical lights.
The lack of large windows is one of the main reasons the house is so secure. Unavoidably, there is a trade-off between lots of natural light and security. It is simply impossible to adequately secure a house with numerous large pane windows.
If one wants to further fortify the house, hardened steel shutters can be locked in place over all the windows. In this "mode" the inside of the house has no outside light at all. But again, the oversized solar electric system has plenty of power for lights.
"Energy efficient" implies extra insulation and double pane glass windows to most people, but this type of earth home has proven itself to be the ultimate in energy efficiency/heat retention. With no heat at all, the inside temperature will not drop below 50 degrees F., even in extreme, prolonged winter conditions. For comfort, however, there is a Harmon wood/coal freestanding stove, along with a back-up propane heater. In the summer months, the house temperature stays pleasantly cool.
Every appliance throughout the house was specially manufactured for use in solar electric homes. The kitchen has a Sun Frost refrigerator/freezer, a Peerless propane range with "no-glow-bar" oven, and a Staber 2000 clothes washer, while the garage has a chest-style freezer.
A 1,000 gallon underground propane tank is extremely well hidden and protected from potential vandals. The generator, water heater, kitchen range and oven, wall heater, and clothes dryer all use propane, but the large amount of stored propane should supply all of these appliances for a very long time. In an all-out national crisis, it would be a simple matter to heat water with the back-up wood-fired water heater, and to dry clothes with an old fashioned hand wringer and clothesline. Also, as a back-up to the propane range, there is a Stanley-Waterton wood stove and range.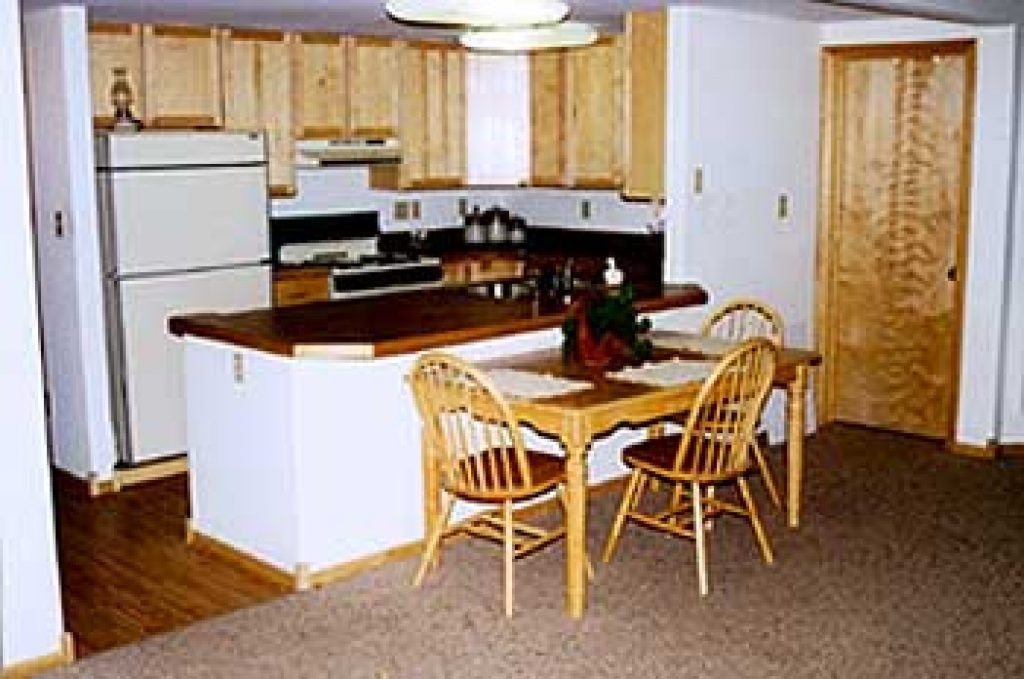 The owner originally planned to use the house as a summer home. However, because of it's comfort and year-round accessibility, the house is well suited for year-round living. Either way, whether one chooses to use it as a primary residence, or only periodically, they can be comfortably assured that all of their valuable belongings and supplies will be very safe, even when away for extended periods.
Joel Skousen, the renowned expert on secure homes, and author of the book "The Secure Home", and editor/publisher of the excellent newsletter "The World Affairs Brief", has laid down a list of what he considers to be essential for self-sufficiency and security. The essentials are: an independent water supply as well as a back-up supply, alternate electrical power, energy efficient appliances, alternate forms of heat, more than one communication option, adequate storage facilities, including cool storage for long-term food storage, fire-resistant construction and the ability to fight a fire inside the house, multiple forms of security and intruder detection, a high-security safe room/fallout shelter, above normal fortification of the house and grounds and a remote location. Joel states that very few people actually achieve 100% of these elements. It's safe to say, this house has it all!
Even though Joel listed remote location last, it is, perhaps, the most important criteria. So important an issue that he wrote a separate book about it entitled, "Strategic Relocation". To build a secure home in the city or even in the suburbs would likely be self-defeating. If however, the secure home is built in a remote location, it then, and only then, can be considered a true retreat. The two, a secure home and a remote location, go hand in hand.
In answer to the question "What exactly is a retreat?", one author wrote, "A retreat is a place you go to live, not die. It is a place out of the mainstream of events that contains the means to survive without outside support. It is defensible and is put together with a realistic understanding of what the dangers will be. It is both a plan and an inventory. A retreat is a place where you find the shelter and protection, food, water, medicine and warmth you prepared for yourself until society returns to its normal, nondestructive, repetitious rut. The trick here is to have a prepared retreat wherein you can be one of the survivors."
This same author also wrote, "Why retreat? is a question that 90 percent of our population cannot and will not answer. If they could, that same 90 percent of our friends, neighbors, and countymen would have to admit that things may not continue on as they are now. They would also have to admit that they will need a retreat – something completely impossible for the average American to do."
A secure home like this is the wave of the future and would be a very wise investment, both practically and financially. A house of such outstanding design, quality, function, and security doesn't appear on the open real estate market very often, if at all. While nobody knows for sure how much time is left before things go awry, one thing is certain; it is better to be prepared a year or more too early than to be a single day too late.