How To Secure A Safe Without Bolting It To The Floor (6 Tips To Try)
Keeping your valuables safe should be your top priority—they're investments, after all! While you can consider your home a haven, remember that disasters are just waiting around the corner. Your home is still susceptible to fire, flood, and, unfortunately, burglary.
That said, it's vital to look for a secure place to store your possessions, precious ones like birth certificates, house deeds, cash, jewelry, guns, and other items you deem irreplaceable. One of the best ways to ensure their safety is through a safe, but many still believe that you need to take extra measures for better outcomes.
While many believe that bolting a safe down is the best option, keep in mind that doing so can damage your home. If you want to keep your home untouched and your safe theft-proof, we've scoured the internet for the best possible alternatives.
Without further ado, here's how to secure a safe without bolting it to the floor:
Is It Really Necessary To Secure A Safe?
Why are household safes necessary? It can be easy to store away essential items in your closet simply, but a safe is designed to protect it. However, it's also necessary to ensure that they remain safe away from burglars:
How Do Criminals Steal Safes?
As mentioned, a safe is an undeniable way of protecting your valuables. You'll have a secure place to store your jewelry, gun, and other documents. However, criminals can also easily take the entire safe if they cannot crack the code or open it with their tools.
While they can try to pry it open with tools, worrying about getting caught means they'll take the painless route—simply carry it with them. They'll load them up on a piece of moving equipment and haul it out of your home, and you'll have been left with nothing.
Taking Extra Care To Secure Your Safe
Simply put, you'll need to secure your safe. Not even a device designed to store expensive and invaluable items is secure enough. That said, it's crucial to find ways to keep it from being hauled away by potential thieves.
Not even the world's most complex codes can help you here! You'll need to bolt it to the floor and make it a part of your home, but not everyone wants to do that. Thankfully, we've gathered the best methods for your perusal.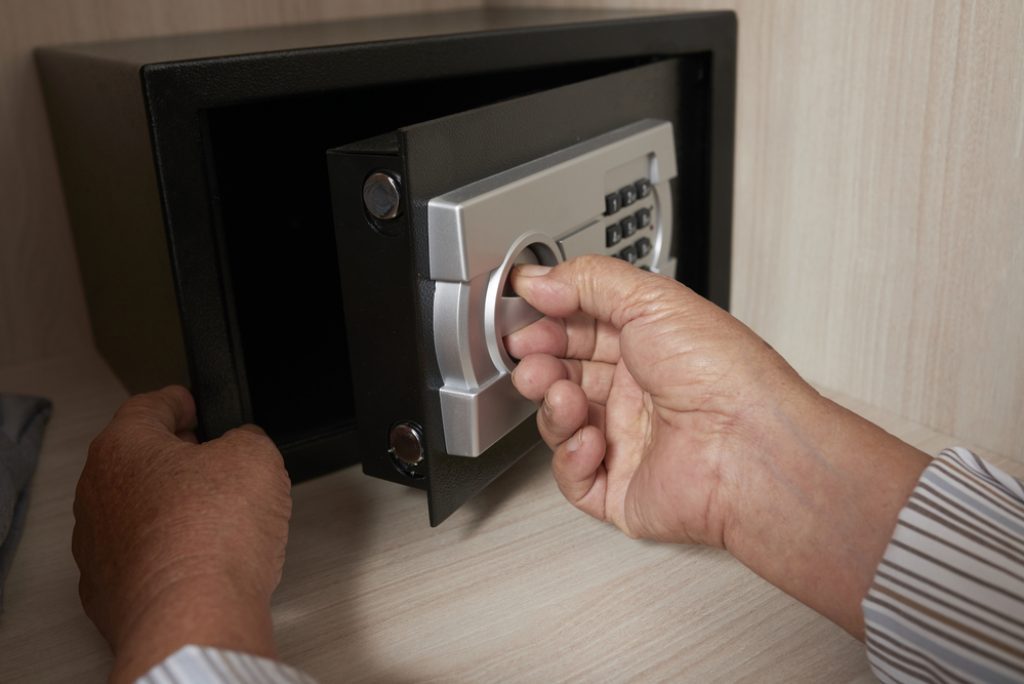 6 Tips To Secure Your Safe Without Bolting It To Your Floor
Now that we've discussed the importance of securing your safe, it's essential to take a look at the best possible alternative to bolting safe to your floor. Doing so can potentially damage your home's structure, making you feel like your options are extremely limited.
Your goal should be to make sure safe challenging to bother with, meaning that any chances of it even slightly tipping remains impossible. This will force the potential thief to leave it alone, ensuring that your possessions are protected.
What can you do besides bolting it to the floor, you might ask? We've gathered the best alternatives here:
Tip #1: Anchor Your Safe To The Wall
If you don't want to compromise your floors, you should consider bolting them to the wall instead.
Keep in mind that repairing holes drilled into the walls can be easier to fix than floors, making it a friendly choice for renters and temporary homes. However, your vault must be bolted onto concrete, not just drywall. Drywall can easily be destroyed, giving thieves the chance to steal your safe.
You will also need to drill holes in your safe and carefully align them to the wall holes. As you bolt it down, make sure to use sturdy lag screws. Depending on how massive your safe is, you also need to use about a dozen fasteners or less.
Tip #2: Weigh Your Safe Down To Make It Difficult To Move
Apart from bolting to the wall, you can also consider making your safe heavier than it seems. You can do so by simply filling the bottom part with heavy items, including the following items:
Dumbbells
Sandbags
Lead bars
Poured concrete
Other heavy items
However, make sure to avoid heavy items with moisture. You still need to close and lock your safe, so any trace of moisture can affect your documents, tarnish your jewelry, and compromise your gun's performance.
Golden tip: You can also opt to bolt two safes together to make it difficult to move!
Tip #3: Use A Steel Slab For Bolting
If you can't use your walls or have nothing to use as additional weights, consider getting a steel slab and bolting your safe into it. Make sure to purchase a ¼ inch thick steel piece with a length that will make it impossible to move through the doors.
Although it comes with slight disadvantages, such as having your home accommodate a raw piece of steel, it remains a popular method among homeowners.
Golden tip: A good dehumidifier will keep the possibility of the steel rusting away!
Tip #4: Consider Hiding The Safe Behind A Fake Wall Or Art Piece
If the wall method, additional weights, and steel slab won't work for you, you may want to use the old fake wall or art piece trick. This is one of the most popular methods of hiding safes, even finding its way through the mainstream media via films and TV shows. You can employ the very same trick, but make sure to add additional elements to confuse the burglars.
Adding multiple paintings can add the illusion that they're only looking at a wall of paintings—and not a safe hidden behind one. They won't have much time to lurk around and check every single art piece!
Tip #5: Utilize The Floorboards To Hide Your Safe
Not all homeowners are blessed with gorgeous floorboards. But if you're one of the lucky ones, you can consider securing yourself under the wooden floors. These offer the perfect space to hide your safe, as the wood can easily be removable when you want to access your items. It can throw off intruders, as who would think to place safes under the floors?
However, there are certain disadvantages to this technique. For one, any weapons or ammunition can be difficult to reach. While the wood remains removable, doing so can be difficult in moments of panic or emergencies. Again, this method also only applies to homes with wooden floors!
Tip #6: Glue Your Safe To Either Furniture Or The Floor
If you genuinely wish to avoid bolting your safe to the floor, using strong glue to secure it onto the floor or furniture is always an option! Thie method is safe, convenient, and cheap—you only need to identify the right area and purchase the suitable glue! However, the success of this method heavily relies on the glue you will be using.
You will want to use the best super glue out there, which should contain high durability of fixation. More importantly, it needs to bind well with metals when permanently glued. For us, the Gorilla Super Glue remains the best one on the market!
Our Recommended Safes
If you're looking for the best safe brands on the marketing, we've gathered the three best ones based on size and price range for you:
Best For On A Budget And Limited Spaces
JUGREAT Safe Box comes with an elegant lighting design for convenience. You can also open it two ways, using both keys and personal codes. More importantly, it's made from solid, thickened steel guaranteed to last you for years.
Best For Those Looking For A Comprehensive Safe Solution
The Amazon Basics is known for its reasonable price point and its sleek design and programmable electronic keypad. It's made for secure and easy operation also fitted with a backup key for any emergencies. Made from heavy-duty carbon-steel construction, you never have to worry about it being hauled away by thieves!
Best For Storing Multiple Items
The ADIMO Safe is the best choice for those who want to invest in ample storage space. It comes with a removable shelf that allows you to keep multiple valuables at once, including confidential documents, cash, guns, and other expensive items. Made from low carbon alloy steel material, you're guaranteed that it's designed to protect!
Conclusion
Investing in a safe is one of the best ways to keep your valuables out of harm's way, but securing your safe is also necessary. Thankfully, you never have to compromise your floor by bolting your safe down with drills and screws.
We've gathered the best alternative methods for you, and the only thing left to do now is choosing one that works best for you! As you explore your options, make sure to keep this guide in mind!