Can You Reuse LED Strips? How To Take Off And Make LED Lights Stick
When it comes to beautifying your home, there are countless accessories available for you. You can choose to invest in paintings and sculptures to fill corners or perhaps little figurines to adorn your surfaces. For many homeowners, though, practicality trumps aesthetics, which is why many use light as a means to improve their home's atmosphere.
You're likely one of these innovative homeowners, which is why you own those LED strips. You may have used them for an occasion, and now you're wondering how to repurpose them to make them a permanent part of your home.
We're here to show you how to take them off and reuse LED lights without damaging your walls and furniture. Let's start!
Are LED Lights Reusable?
Many wonder how to save LED light strips, and as mentioned, you can definitely reuse them! Most people are surprised when they learn how reusable LED light strips are.
If removed properly, you can relocate them anywhere you wish. The only trouble you'll run into will likely be the adhesives, but this is what we're here for!
Once you remove the sticky LED lights from your walls, you can use them on a different wall or move them to a new room. You can also use this to liven up your entertainment system, providing a visual experience your guests will surely adore.
Whatever your reason for removing and resticking LED lights, the key is a little patience!
How To Stick LED Light Strips On A Wall
Before anything else, it's important to first understand how to properly stick your LED light strips on the wall. Doing so prevents you from damaging your walls. This also allows you the chance to redo past mistakes. Here's how to make LED lights stick to your walls:
Step 1: Measure away! You'll want to know exactly how many LED light strips you need, as well as understand if the area you want to adhere the lights to can accommodate them. Never rely on gut or instincts—always use a rule or tape measure!
Step 2: Most people are afraid to cut their LED strips, but you don't have to be when necessary! Make sure to cut only at the designated lines, and you'll be safe. You need the sharpest pair of scissors you can find, though, as accidentally cutting at another area may lead to permanent damage. Be ready to solder a new connector cable, too!
Step 3: Prepare your surface carefully, as LED light strips work best on even, clean surfaces. Even dust can get in the way, so make sure to clean the area properly. Use a damp cloth for wiping and then a lint-free rag to rid of tiny particles. 
Step 4: Armed with your chosen adhesive, make sure to position the LED light and then press lightly at the correct area. Only use your hand, taking extra care not to accidentally squash the lights.
Step 5: Once done, you should be able to light up your LED light strips when connected to a power source!
Restick Strip Lights With Adhesive Methods
If you want to reuse and restick your LED light strips somewhere else in your home, you can use adhesive materials to fasten them on the walls or other surfaces. Here are some methods on how to re-stick LED light strips: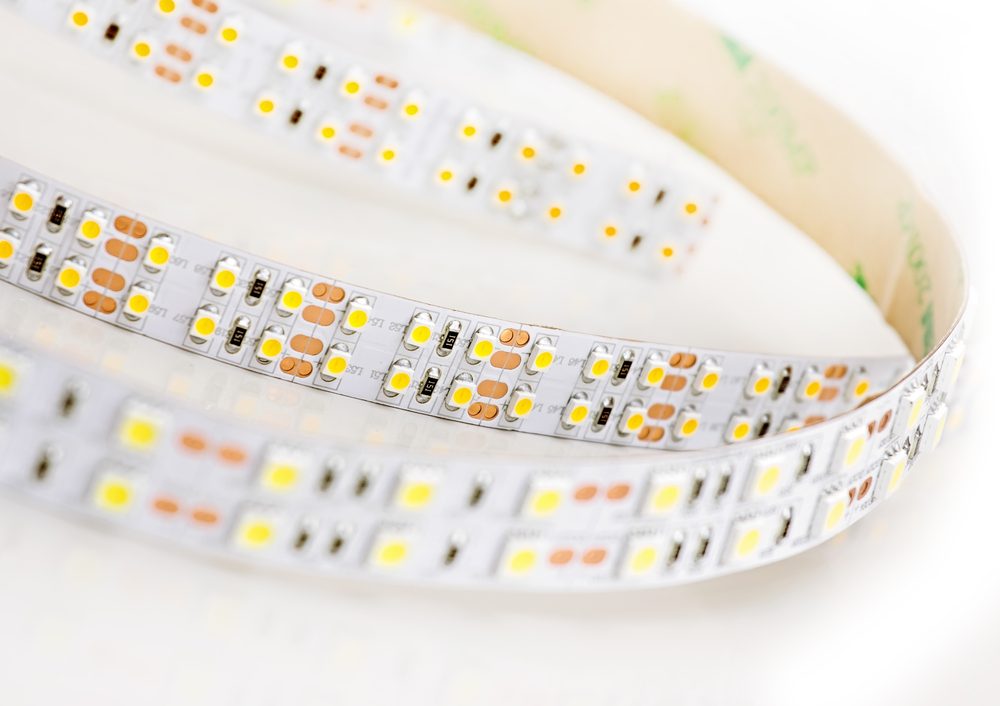 Double Sided Tapes
Double sided tapes, such as the 3M Double Sided Tape, can securely fasten LED strip lights to your wall. Make sure that the tapes are heavy-duty to ensure that they can hold the weight of the strip lights. Simply stick one side of the tape to the back of your LED light strip, then stick the other side to the surface of your choice.
The advantage to using double sided tapes is that you can ensure that you can conveniently stick the entire length of LED strips to any surface you want. They're also easily concealed if installed properly.
Poster Strips
Poster strips like the Command Poster Hanging Strips are an excellent option if you want the ease and convenience of not having to stick the entire length of LED strip lights. Instead, you can just stick several points to the surface. 
The application is similar to using double-sided tapes, but the advantage of this method is that it minimizes the risk of leftover residue. The only caveat is that you will have to stick multiple strips along the length of your LED lights.
Adhesive Clips
Adhesive clips are similar to poster strips in that they secure multiple points of LED strip lights to the wall or other surfaces, but instead of directly sticking the strips to the surface, these devices hold them with clips.
Adhesive clips are common cable management devices, and they help make LED strip light look more organized. However, they can get in the way of a few LED chips. If you want that "floating" appearance for your strip lights, you may want to use other resticking methods.
Hot Glue
If you have access to hot glue guns at home, you can also use that to restick LED strip lights to any part of your home. Hot glue is an excellent resticking option because it is readily available and allows for a lot of control when it comes to placement. It's also rather inconspicuous and doesn't use harsh chemicals. 
However, hot glue also has significant downsides. Although it's a strong bonding agent, it also means that it can leave a lot of residue on the surface if you decide to take the light strips off. If you don't know how to take down LED lights safely, this is not the best option for you. Also, it's best to ensure that the glue isn't too hot, or else it may damage the LED chips.
Restick Strip Lights With Non-Adhesive Methods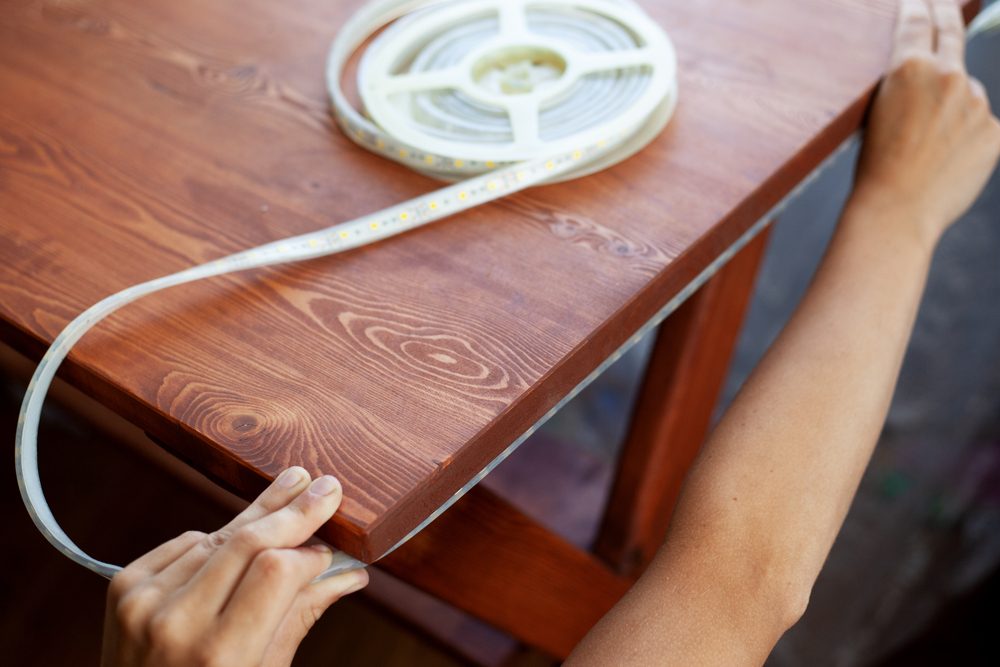 If you don't want to use adhesives for resticking, you can also use non-adhesive methods, such as:
Mounting Putty
Mounting putty is an excellent option because it's easy to use. Simply mold it, stick it to the back of the strip, then place the strip on the surface of your choice. The drawback is that it may not be as strong as the 3M adhesive options.
Cable Ties
Many people use cable ties for wire management. They're highly versatile and are also simple to use. It's best to use transparent ones so that they do not affect the LED light output. The main drawback to using cable ties is that they may look unsightly to some people and may not be the best option if you're sticking the light strips to your walls.
How To Take Down LED Strip Lights From A Wall Safely
Do LED light strips damage walls? Not if you remove them properly. Here is how to get LED lights off the wall without peeling paint:
Step 1: Ensure that the LED strip is unplugged to avoid harming yourself or your property.
Step 2: Heat the adhesives using a hairdryer to make them easier to remove. This will ensure that you will not take off paint when you remove the strip lights. Just remember to avoid damaging the lights—don't heat them for more than two minutes.
Step 3: Use a flat object like an old credit card or butter knife to separate the LED strip from the wall, and use your other hand to slowly remove it.
Step 4: Remove any residue left on the wall.
How To Get LED Light Adhesive Residue Off Your Wall
If you're looking to remove adhesive residue off your walls, consider these tried-and-tested methods:
Method 1: Use Hot Water And Dishwashing Liquid
Mix a few drops of dishwashing liquid into hot water. Make sure to combine it properly, and after doing so, transfer it into a spray bottle. Spray onto the area of the wall you wish to work on and lightly dab it with a sponge. You'll eventually see the sticker residue soften, and you can use the same sponge to wipe it away.
Method 2: Use Your Choice Of Fabric Softener
This may seem unconventional, but it not only works like a charm, but it also helps make your home smell amazing! Mix one part liquid fabric softener and two parts water, making sure to combine both properly. Use a sponge to soak the mixture up and dab it generously onto the wall. However, the fabric softener may end up staining the wall, so make sure to work as quickly as possible!
LED Strip Lights: Frequently Asked Questions
If you wish to learn more about LED strip lights or still have questions in mind, these may put your mind at ease:
FAQ #1: Can You Use Super Glue On LED Strip Lights?
You may be tempted to use super glue when resticking LED strip lights to surfaces, especially because it seems like the most intuitive solution to ensure that it holds up. However, the opposite may be true.
Super glue gets its strong adhesive powers due to chemical reactions that heat and cool the glue quickly. These reactions may damage certain materials, such as plastic, polystyrene, or silk. If LED strip lights contain plastic, using super glue may not be the safest option.
FAQ #2: How Do You Store LED Strip Lights Correctly?
If you wish to store your LED lights in the meantime, it's important to store them properly. You need to keep them in a cool and dry location, as moisture can damage LED strip lights—and you'll find such wear and tear is irreversible. Your best choice will be to keep it in your basement or attic, wrapped and placed into a tight-lid box.
Of course, it's best to remain wary of these areas—too hot and cold temperatures can also affect your LED lights. For long-term storage, the best thing you can do is to simply move them depending on the weather! Thankfully, you don't need a textbook on how to move and transport them properly. Wrapping your LED and keeping them in a box will be more than enough!
The Takeaway
Your LED lights have proved to be a worthy investment, especially now that you've learned how to reuse them. The key is to learn how to install them properly and remove them with ease, and the instructions listed above guarantee your success!