The 7 Best Quiet Garage Door Openers In 2023
More people are getting cautious about their home security which is why garage door openers are in so much demand. They protect your home from unwanted break-ins and save you from manual labor every time you want to open or close your garage for parking the car.
But with these USPs, there comes an annoying disadvantage too. When a garage door opener runs either on a traditional AC motor or uses a cheap belt drive system, it creates disturbing noise and vibrations. And, if the garage has a living space just above it, the noise may wake you up from a deep sleep.
However, it ceases to exist when the opener runs on a steel reinforced belt drive or the motor runs on DC power. We call it a quiet garage door opener.
Again, just because it runs quietly, we should not compromise on other advanced criteria required to protect the house. For example, the chain drive should be a heavy-duty piece with the anti-break-in property.
The system should come with enough safety sensors and smart features to facilitate its easy operations through voice controls. Moreover, it should be easy to install and maintain to last for a long time.
Seems like a lot of things to remember! Well, we've you covered. Let's see some of the best models and analyze what makes them so good as a quiet garage door opener. Let's get started.
Best Quiet Garage Door Opener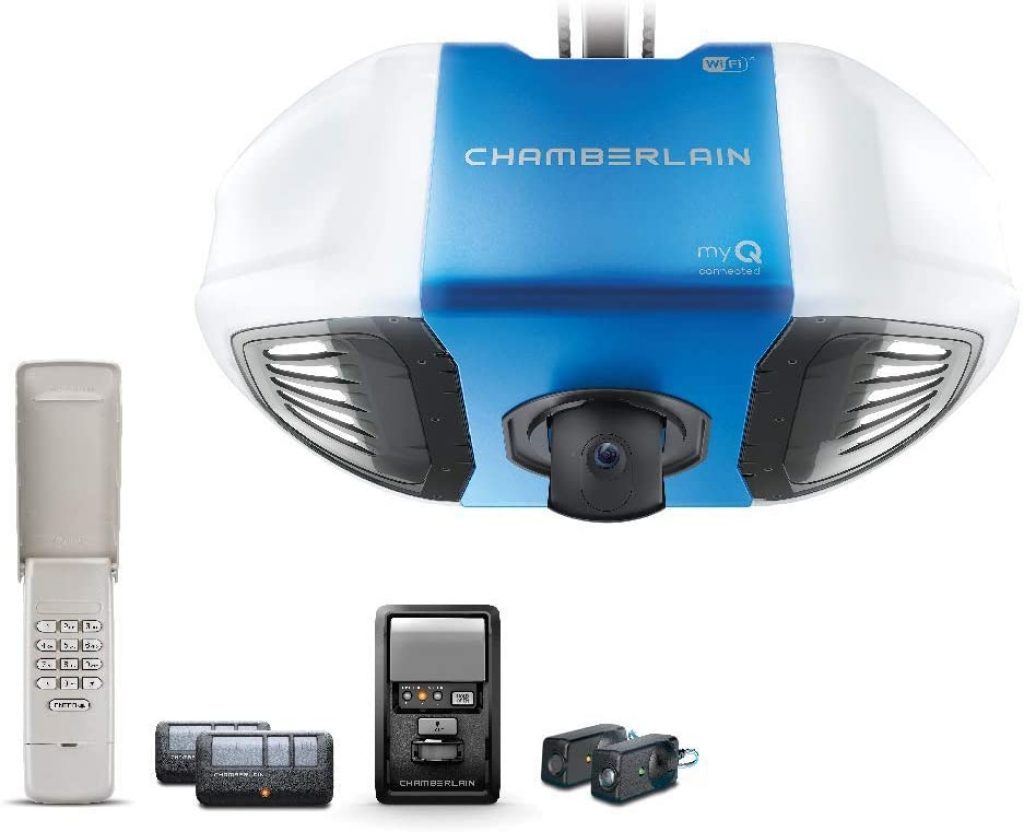 The Chamberlain B4545 is an all-rounder quiet garage door opener providing an extensive range of features at a moderate budget. Its powerful MED lift power system delivers an impressive lifting force of ½ HP. It is also equipped with a strong steel reinforced belt drive, providing a smooth and quiet performance, making it ideal for garages with room above them.
The smart garage door features a built-in motion-activated camera that allows you to stream HD video footage on your smart devices. Through its MyQ App, you will get live alerts as well as operate the garage door from anywhere.
The camera angle up is adjustable up to 360 degrees, giving you an ultra-wide view of your ambiance. The camera also consists of notable features like glare-resistant and night vision lens, providing you crystal clear footage during sunny and night time both.
Protected by +2.0 encryption, the chamberlain B4545 comes with hacking and Posi-lock anti-theft protection. Every time you close the door through the remote, the product resets with a new code, making it impossible to hack.
Technical Specifications
Max lift power: 3/4 HP | Voice Assistance: Google Assistant | Connectivity: Wifi | Sensor: Motion Detecting | Batteries: Zinc Carbon | Power Source: DC, Corded-Electric DC | Remote Control: Two 3-button remotes
Pros
Safety sensors
TriBand technology to boost remote range
Super secure
High-quality hardware and software
Cons
Have to adjust the camera angle manually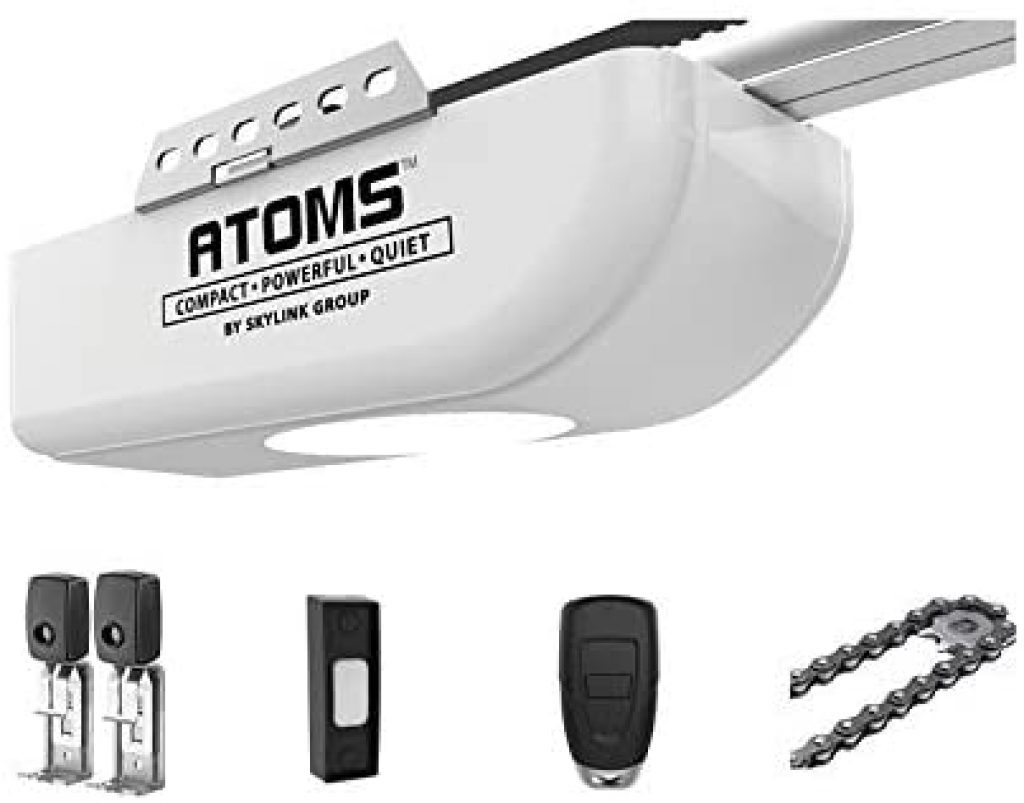 The SKYLINK Atoms ATR-1611C is a budget-friendly smart garage door opener that doesn't fall short in quality and security in any way. Equipped with a powerful ½ HP DC motor, and a Heavy Duty Anti-Break-in Chain Drive, the opener does a pretty smooth and quiet job.
Plus, the patented chain drive protects your garage against external access and physical tampering by burglars & perpetrators.
The garage door opener includes an energy-efficient LED light that comparatively lasts longer than any other lights in the market. It also supports in-car remote, eliminating the need to carry a remote anywhere you go. In case, you forget the garage remote, you can still open/close the door right from your vehicle.
For safety, the SKYLINK Atoms ATR-1611C comes integrated with a snap-in infrared safety sensor.
Installing the garage door opener is a one-person job. Simply mount the device, attach the sensor to the door track, and you are done. For hassle-free setup, you can refer to the programmable LCD screen that displays error code, making you troubleshoot errors with ease.
Technical Specifications
Max lift power: 1/2 HPF| Voice Assistance: No | Connectivity: Remote | Sensor: Infrared Safety Sensors | Batteries: Battery BA-100| Power Source: Corded-Electric AC/DC | Remote Control: 1 Remote Control
Pros
Easy to install
Super quiet DC motor
Patented Anti-break-in chain drive
Affordable price
Cons
Backup Battery needs to be purchased separately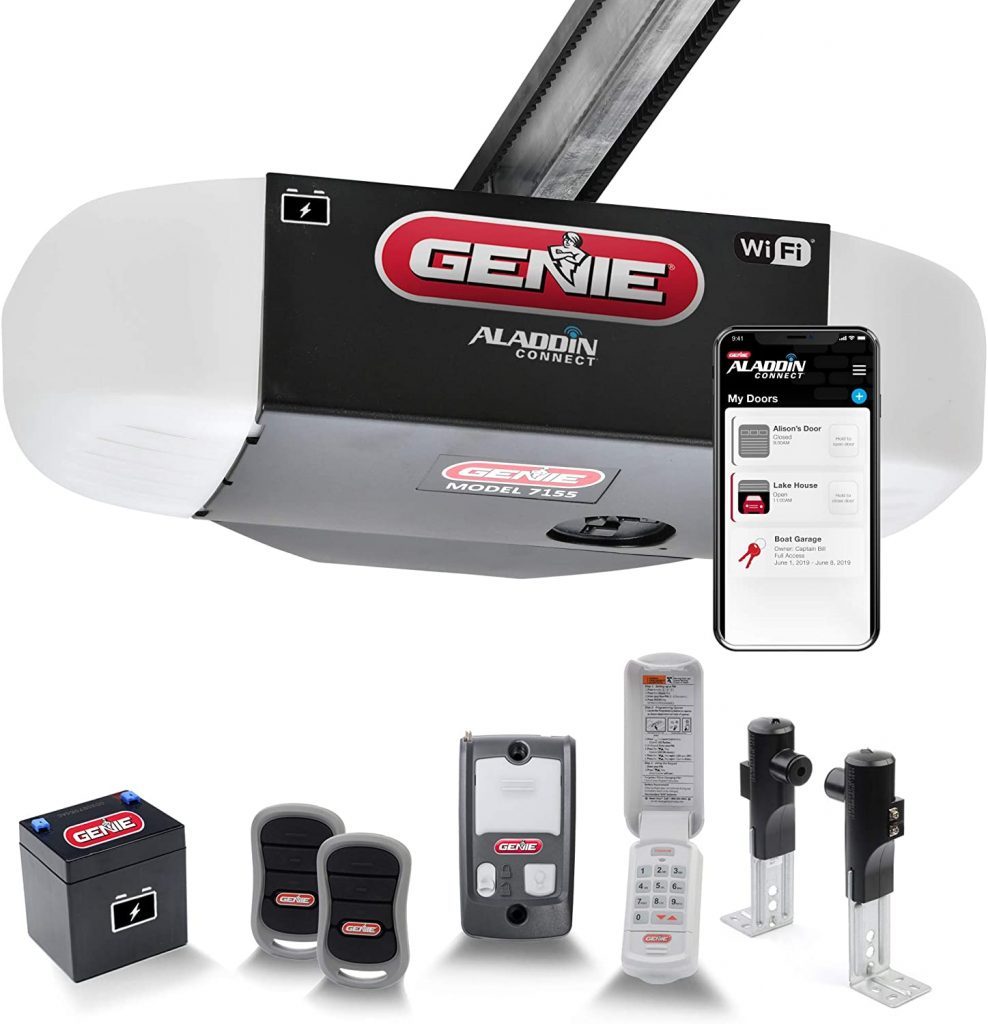 The Genie StealthDrive Connect Model 7155-TKV is the best quiet garage door opener for areas facing frequent power cuts. Comes equipped with a powerful battery, the garage door opener provides up to 50 cycles of power backup from the initial power failure.
Its built-in Aladdin Connect technology allows you to monitor, and operate your garage door via smartphone. You can also use the voice recognition function through Alexa and googles home.
The Genie StealthDrive comprises an ultra-durable steel-reinforced belt drive, allowing you to lift the garage door faster than ever. Moreover, its silent 1 ¼ HPC DC motor makes the operation smooth and noiseless.
The product is completely DIY friendly, as it does not have any additional hardware to assemble. The opener has five strong rail system that snaps together while installing the device. On top of that, you will get 2 garage door opener remotes.
They are pre-programmed and you can use them right out of the box. Even if you forgot to carry the remote, you will always have a spare to rely on. The garage door opener also comes with a wireless keypad and a multifunctional wall console. For safety, you can only access it through a Pin and a vacation lock.
Technical Specifications
Max lift power: 1¼ HP | Voice Assistance: Google Assistant | Connectivity: WIFi | Sensors: Motion sensor | Batteries: Genie's 140V GBB-BX | Power Source: Corded-Electric | Remote Controls: 2 3-button remote
Pros
Battery backup up to 50 cycles
Includes 2 remote control
Pin-operated Wireless keypad
Voice recognition
Cons
Requires additional voice commands while using Alexa
4. Decko 24503 – Powerful Belt-drive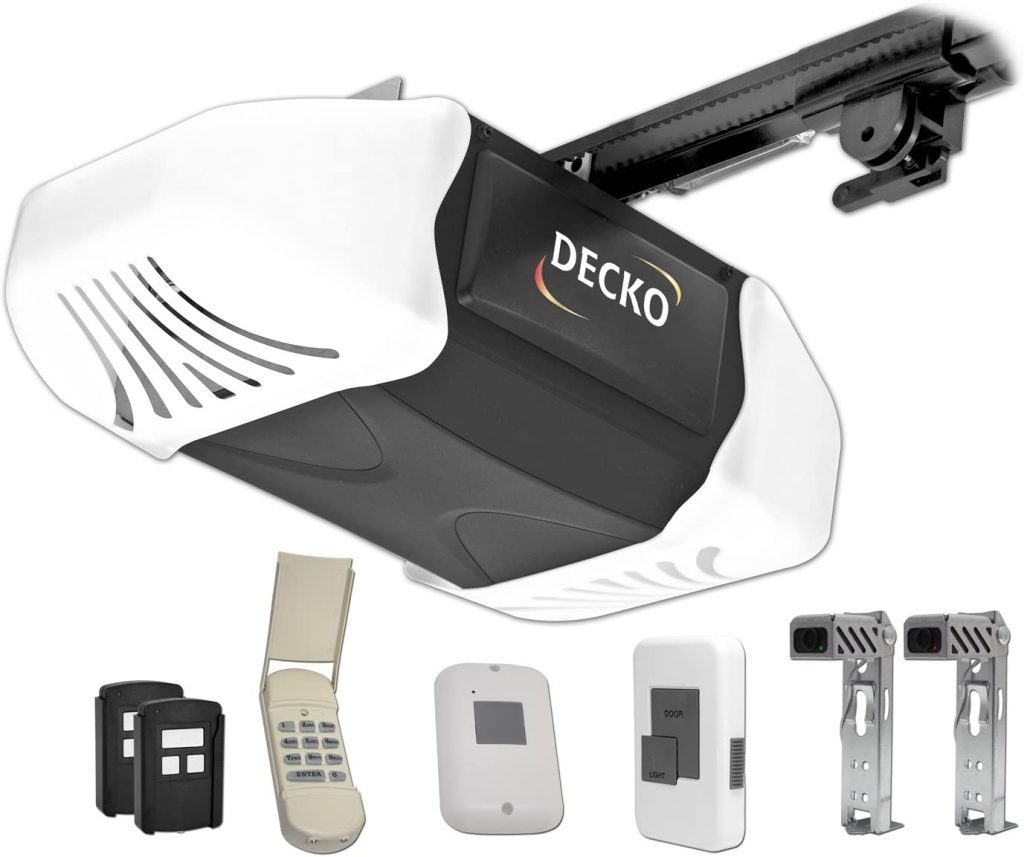 The Decko 24503 is a powerful smart garage door opener that works best for large-sized garage doors. The Decko 24503 is powered by a whopping ¾ HP electric motor Unit.
It can easily handle sectional garage doors up to 7 feet tall and 18 feet wide. It is also available in 8-foot and 10-foot extension for accomodating even bigger doors.
The product is manufactured using a combination of heavy-duty materials like steel, copper, and hard plastic, making it lasts longer than an average plastic-bodied door opener.
The most interesting feature of this garage door opener remains its auto-reverse safety system. The door automatically reverses when it detects an obstacle, making it a safer choice for homes with kids and pets.
On top of that, the door opener comes with non-polarized wiring which eliminates the nuances of faulty wiring and makes the installation easier. With this product, you will receive a three-function wall panel and two remote controls.
The wireless keypad enables you to open/close the door while sitting in your car. All you have to do is connect the door to your smartphone and everything is ready at your fingertips.
Technical Specifications
Max lift power: 3/4 HP | Voice Assistance: No | Connectivity: Remote & Wireless Key Pad | Sensors: Optical safety sensors| Batteries: 23AE 12 Volt Alkaline Battery| Power Source: DC, Corded-Electric | Remote Control: Two 3 button remotes
Pros
Powerful ¾ HP Motor
Auto-reverse safety system
Handles sectional and large garage doors
Non-polarized wiring
Cons
Replacing the bulb can be a hassle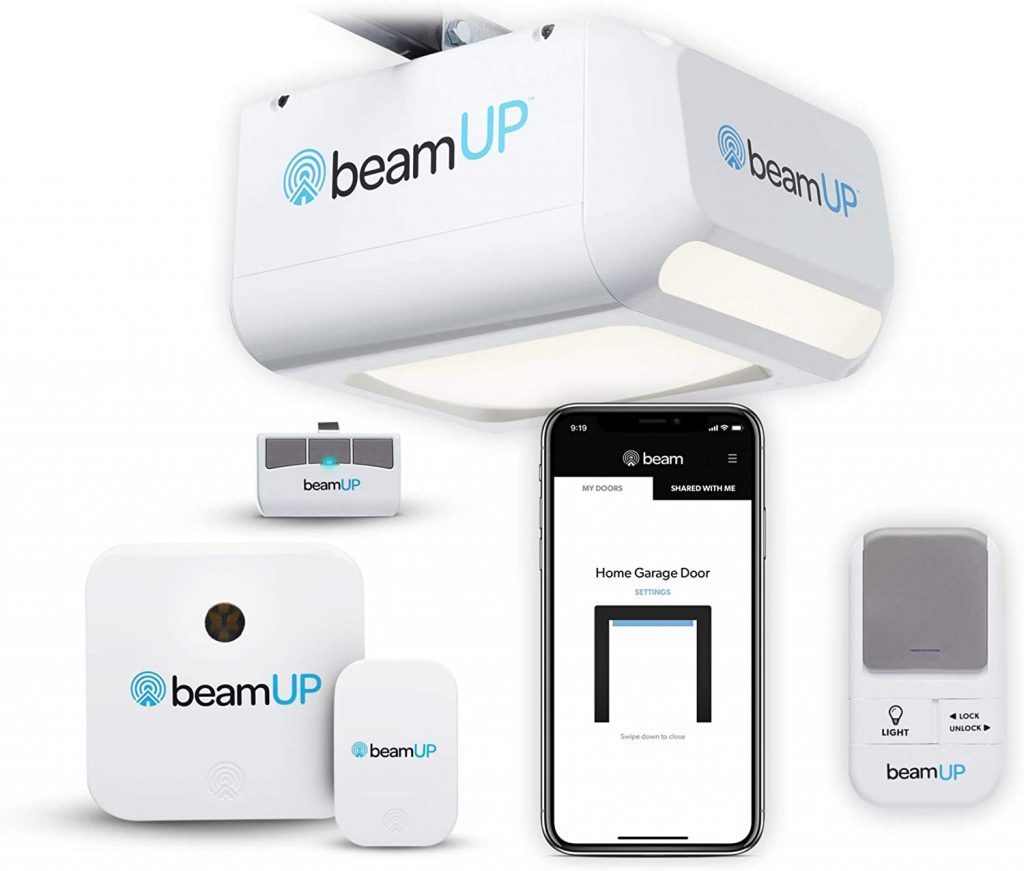 The Sentry – Smart Garage Door Opener lets you operate your garage without getting off your couch. Simply pairs the device with Amazon Alexa and you are all set. Do tasks like opening/closing the door or changing light settings with your voice.
Just say "Alexa, open the garage" and your garage door will be open as you reach your car.
The product is compatible with Google Assistant, IFTTT, Apple watch, and all generations of HomeLink as well.
Moreover, you will get a lifetime subscription to Beam home integration and automation with no additional charges. The best part is you can share the garage door controller with unlimited users via the Beam app.
The sentry BU400 comes with an excellent lifting power equivalent to ¾ Horsepower, making it perfect for large garages.
Moreover, it features a motion-activated 3000 lumens LED security light system powered by the beamUP smart garage door control. You will also get a ClearCom 3 button remote control with dual-burst technology that lets you operate through long distances.
Whether you are at work or home, the beam home app sends you real-time alerts and notifications whenever someone forgets to close the garage door. For additional security, the manufacturer has also provided a lock button with multi-functional wall control, making it impossible to open the door without a password.
Technical Specifications
Max lift power: 3/4 HP | Voice Assistance: Alexa | Connectivity: WiFi | Sensors: Motion sensors | Batteries: 2 Lithium Metal batteries | Power Source: Corded-Electric | Remote Controls: 3-Button ClearCom Remote
Pros
Lifetime subscription on Beam home app
Works seamlessly with voice commands
Edge-to-Edge LED Lighting
Motion-activated security
Battery backup
Cons
Online installation information is similar to the user manual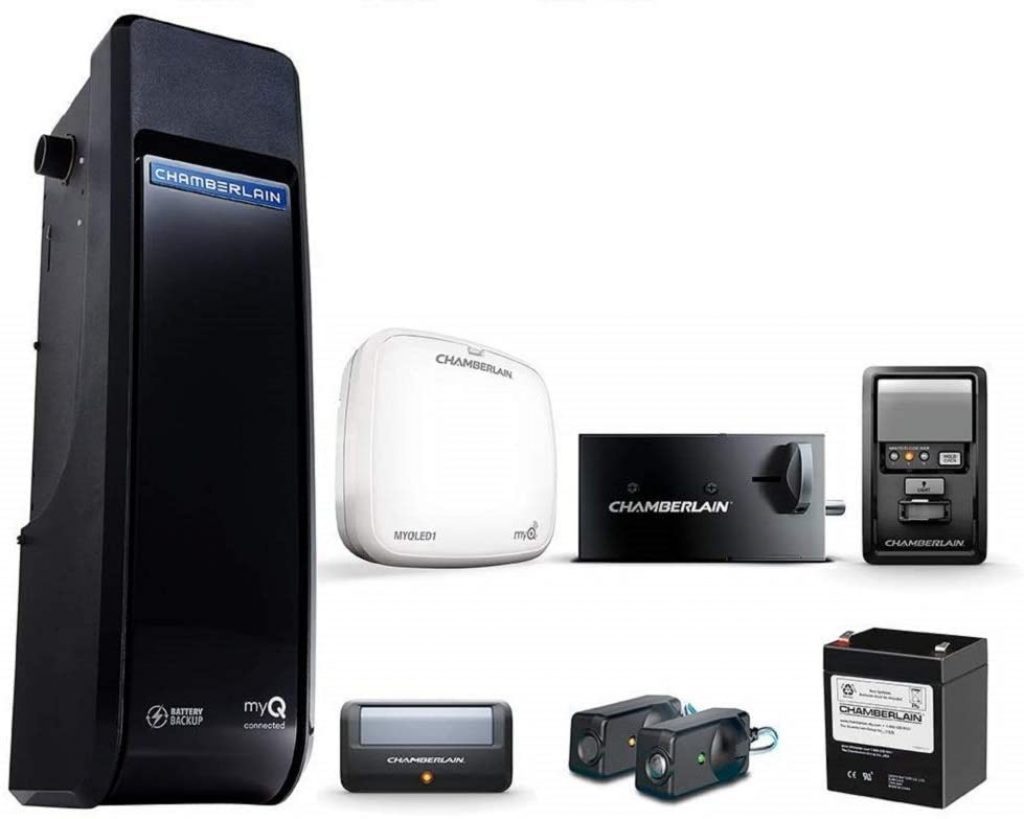 The Chamberlain RJO70 is as minimalist and advanced as a garage door opener can get. It features a sleek and compact wall-mount design installable on either side of the wall.
After all, you can use the extra space for storage, lighting, ceiling fans, etc.

The Chamberlain RJO70 comes decorated with beautiful MyQ LED lighting fixtures. Plus, you can control and schedule the lighting through the MyQ app via Wi-Fi. You can also synchronize it with popular smart devices and platforms.
It MyQ app lets you access and modify settings through your smartphone such as opening & closing the garage door regardless of your location. You can further set the time when to turn on/off the lighting of your garage.
The garage door opener also comes with a battery backup. During power cuts, the device automatically switches to battery mode, ensuring you never run out of power.
The door comes integrated with safety sensors that automatically stop the door from closing when it detects an obstruction. Moreover, the secure deadbolts automatically lock the garage door every time you close it, making it impossible to open from outside.
Technical Specifications
Max lift power: 3/4 HPC | Voice Assistance: No | Connectivity: WiFi| Sensors: 2 | Batteries: Lead Acid | Installation Method: Ceiling Mounted | Power Source: DC, Corded-Electric, Battery Backup | Remote Controls: 1 button remote
Pros
Space-saving wall-mount design
Supports smart devices
Safety sensors
Deadbolt locking system
Cons
Requires buying additional plug while pairing old cars via Homelink
How do I Make My Existing Garage Door Opener Quieter?
Here are some easy tips to make your existing garage door opener quieter. First, lubricate all the metallic parts, including rollers, hinges, and tracks, with oil intended for the same such as 10W-30 motor oil.
Don't leave the chain and the pinions at both ends as well. Second, check for any loose screws and tight them and check whether the tracks are rightly aligned or not. Lastly, install a noise insulator into your garage door opener to buffer the vibrations between adjoining parts.
Conclusion
Be extra cautious while buying a garage door opener if you have an old model car, as most new design garage doors may show compatibility issues. It's better to confirm first and then purchase rather than regret your decision later.
Don't shy away to comment below with your tips and suggestions on how to buy an ideal quiet garage door opener. Our readers will appreciate your effort for sure.