How Safe is Your Neighborhood? Here's Free Tools To Find out
According to the US 2019 crime report by CIUS, violent crimes in the country have increased by 3.8%, including 24,000+ cases of robbery and 1,20,000+ cases of aggravated assaults reported last year.  Thus, it has become more imperative than before to investigate your new neighborhood's safety grade before you move in.
But how to do that? And what should be the metrics to judge its livability score?
Well, relax, there are online tools that can help you check the livability score and that's exactly what we are going to talk about in this article, but before we jump on to our list, let's start from the very question that we would encounter in this context. 
How do you know if a your neighborhood is safe?
Whether you are about to purchase a new home or planning to switch your rental home, connect with the people living from your new neighborhood to get the best insight into that area's livable index.
Also, go to the National Sex Offender Public website to check how many reported sex offenders live in that street or city. Alternatively, access its safety grades through a crime mapping service provider. It will break down the crimes committed in that area from the past and would even suggest you better neighborhoods nearby.
Are crime maps accurate?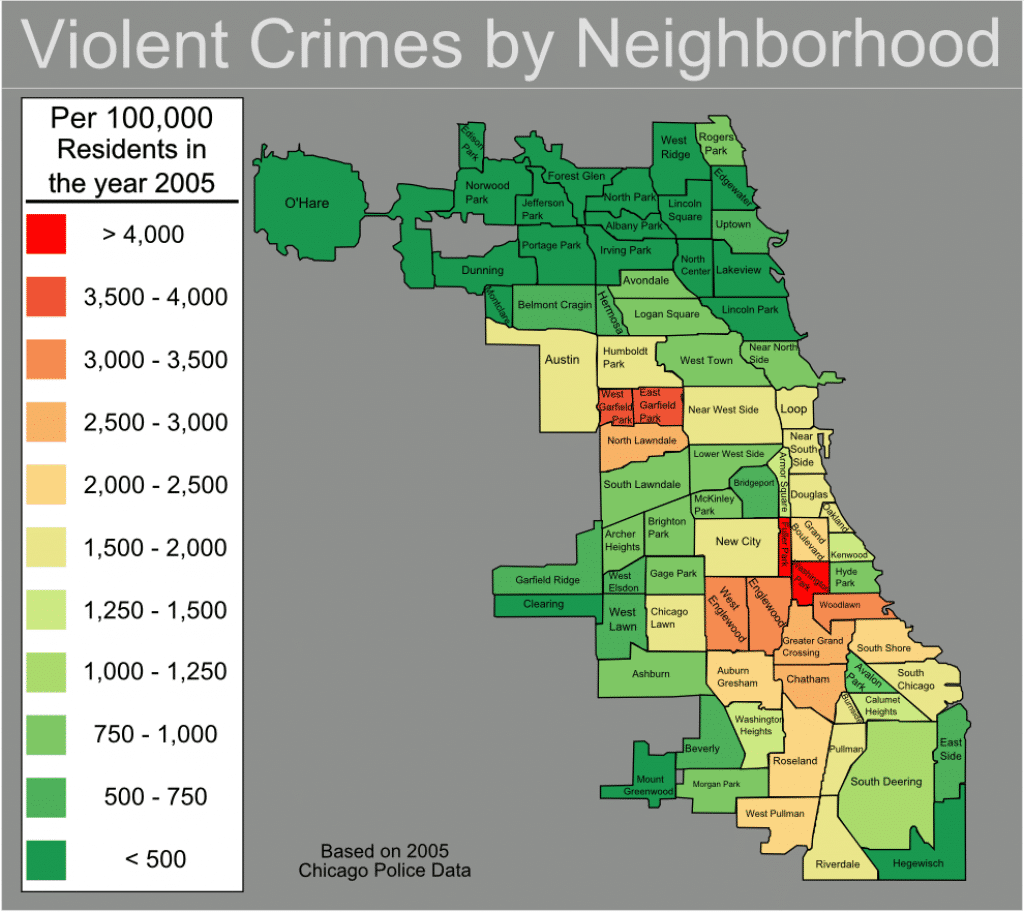 Most online crime mapping systems display reported crimes, only missing other minute details to paint a true picture. For example, if a community crime map shows only theft crimes registered while missing out on cases of sexual offenders and kidnappers, you can't rely on its accuracy.
Also, it depends whether the data collected are user inputs or from participating law enforcement agencies. Ideally, it should be an interactive map to welcome data from any source and then mapping them onto respective states/provinces under active human surveillance. Go for the ones with the highest safety grades. 
What is a good crime and safety grade?
It is a measure of safe living for any particular area. It can vary from one moderator to another. They consider various factors to prepare a score and assign grades accordingly. For example, Niche, an online crime mapping system, prepares grades considering eleven factors, including the rate of assault, robbery, murder, burglary, vehicle theft, etc.
All data are imported from the FBI Uniform Crime Report database. The grades are assigned based on how each state performs on these eleven factors and are categorized as A+ (Best), A, A-, B+, B, B-, C+, C-, D+, D, D- (Worst). States with a cumulative frequency score of at least 2.5% are awarded A+ grade while those of 100% are awarded D- grade. 
Like Niche, here are some of the top crime mapping systems whose safety grades are highly reliable amongst the USA and Canadian citizens.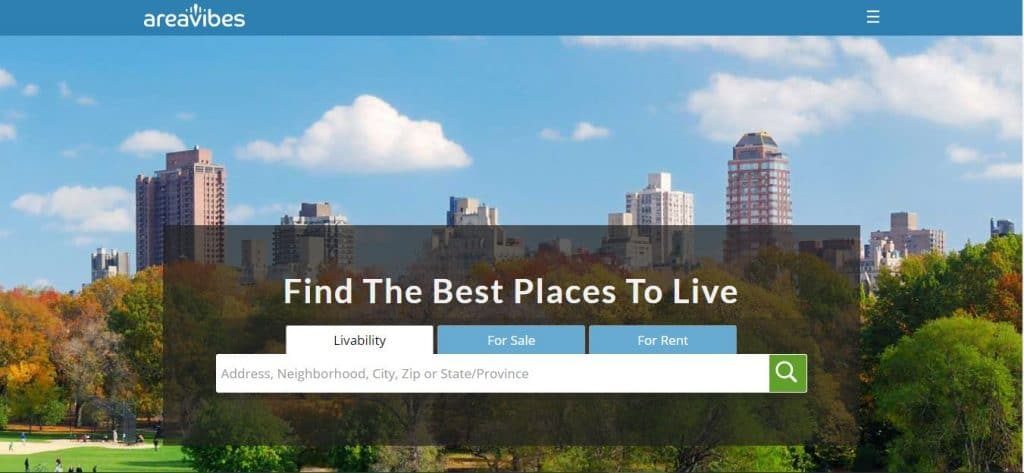 Using Areavibes, you can check the best places in America to live in. The website calculates states' livability score and ranks them from top to bottom to make a better decision real quick. Simply enter any zip code or search by State/Provinces to check its Livability score.
Unique Features
AreaVibes provides vital statistics for crime rates, real estate prices, cost of living, and employment to find the best place to live in. You can check the demographic population and median age for the selected locality as well.
Areavibes also provides the user's ratings based on factors such as safety at night, the quietness of the area, pet friendliness, public transit, and much more.
How does it work?
It works on an algorithm that considers seven different categories, including amenities, number of schools present nearby, cost of living, crime history, employment rate, housings, and user ratings to calculate a livability score out of 100.
Pros
Easily check neighborhood safety
Find places for sale and rent
Compare cities in Canada and America
Cons
Biased users opinion may cloud your judgment
Cost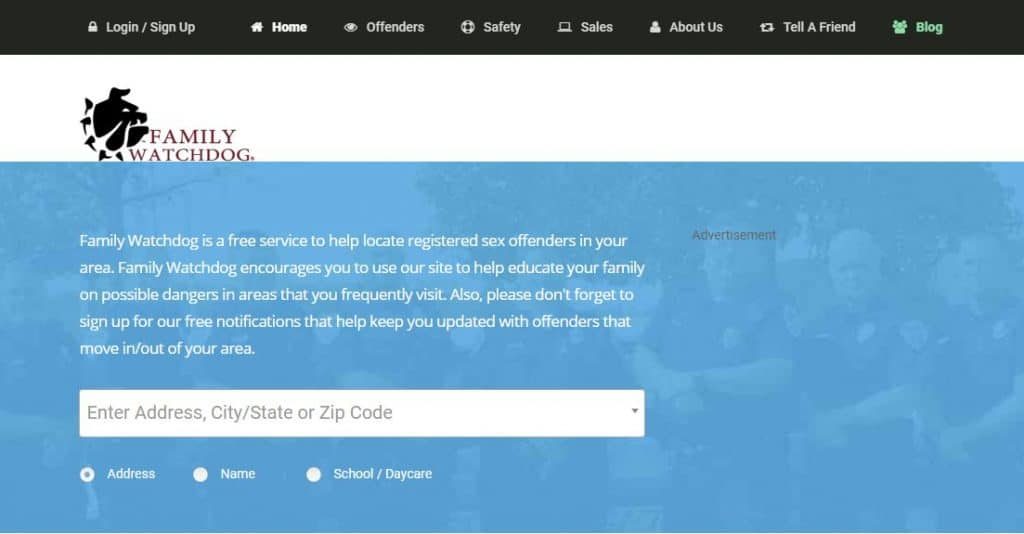 The website is useful for checking information about sex offenders in your neighborhood. You can easily narrow down sex crimes registered in the past, the address of sex offenders, and where they are working. 
Unique Features
Family Watchdog offers insights into an offender's criminal background with the kind of crime they have been convicted for. For additional security, the users can sign up for email alerts to stay informed about offenders' movement in and around the neighborhood. 
How does it work?
The website complies and makes the information from sex offender registries available and searchable. It is powered by Google Maps to show sex offenders by their zip code and track their movements.
It also offers practical tips for safety, along with vital statistics about crimes. 
Pros
Locates sex offenders nearby
Google-powered mapping
Registries of 44 states of America
Sexual offender notification service
Cons
Usability limited to locate sex offenders only
Not for Nevada, Pennsylvania, Oregon, Rhode Island, South Dakota, and Vermont
Cost
All features of Family Watchdog are free to use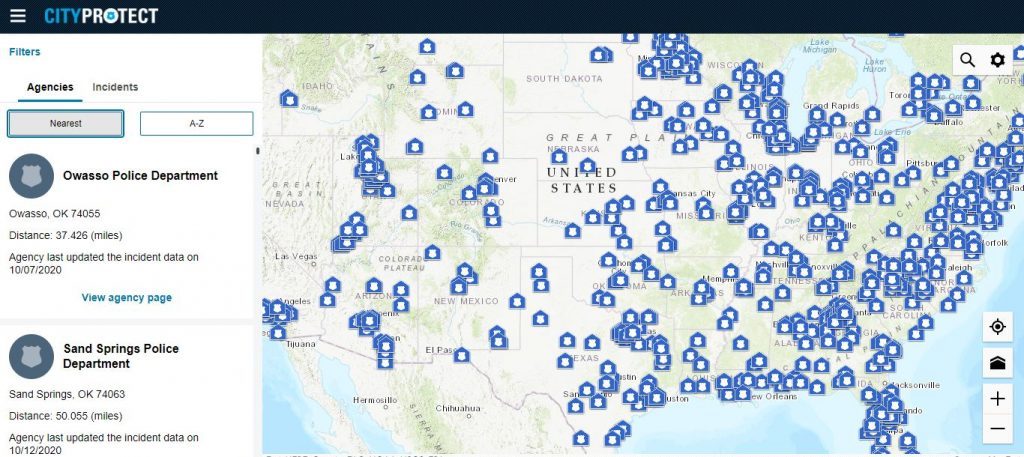 The map-based website shows the up-to-date crime data from 1700+ cities and concerned law enforcement agencies. You can even access registered cameras and explore crime maps to narrow down onto a particular area or nearby community.
Unique Features
The website covers a wide range of crimes ranging from drug abuse, assault to thefts with the aid of easy to read icons to identify the activities around. It presents the data with easy to read graphs highlighting the number of crimes with their last updated date and timing.
How does it work?
It joins public safety communities of different areas together to help solve crimes faster. You can find your local CityProtect agencies by zip code, area name, or home address. You can access them to search local crime reports, anonymous tipping, or make any online requests to build a safer, stronger community. 
The icons present on the screen differentiate the crimes and narrow down focus onto any particular crime or area with ease. 
Pros
Find local crime agencies
Access register cameras
View previously submitted data reports
Explore crime maps
Cons
Maps are not mobile-friendly
Cost
CrimeReports is free to use website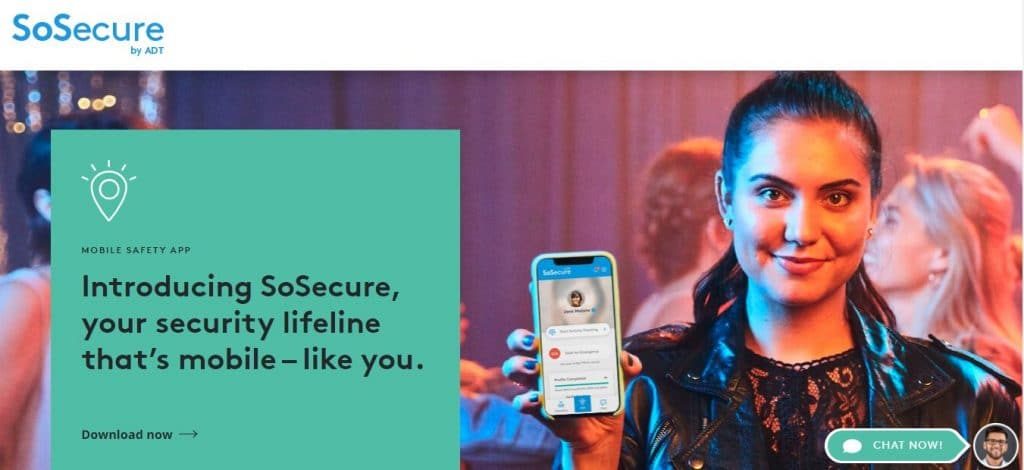 ADT SoSecure is a mobile safety app built for keeping an eagle's eye on your loved ones, especially in a new city. You can track activities and put a live monitoring agent to get the user help quickly if something goes wrong. Users can easily stay connected with their family members using the application.
Unique Features
The app has a feature to share the family location on a map. It also notifies you when a family member reaches work, home, or any added location. The app comes with the SOS button that alerts the ADT response team, who then communicate with the emergency responders as required.
As a user, you can create a list of guardians whom the ADT team will keep in the loop if something happens. 
How does it work?
ADT SoSecure app simply brings the security of ADT to you virtually. You just need to download the application from Apple or Google Play Store, set up your profile, add the list of guardians.
That's all. If there is any emergency tap on the SOS button, the ADT team will connect with you and call 911 to send you immediate help. You can track virtual bodyguards by additionally subscribing to their TrackMe application. 
Pros
Virtual activity monitor
Immediate SOS help response
Keep guardians in the loop
Cons
Cost
SoSecure is free to use, but it's virtual assistance model TrackMe is paid and costs $2.99 per month.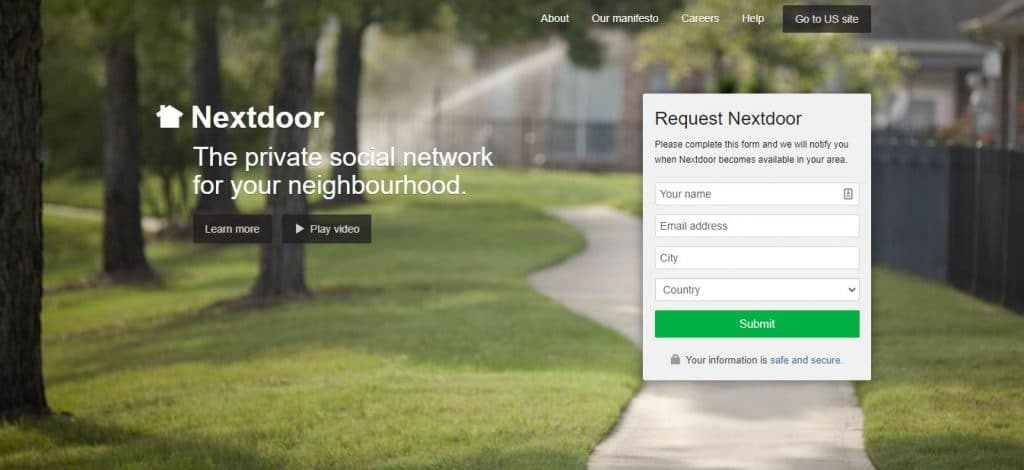 The website acts as a social network which can be used to create connection amongst the neighbors. It makes password-protected private websites for your neighbors to look out for each other while sharing reports of suspicious activities and safety concerns.
With the proven users of more than 127,000 neighborhoods, the website matches you to your neighbors for better consciousness.
Unique Features
Nextdoor allows connections with the real neighbors and feeds you useful local information related to businesses, services, and events happening nearby. The internal conversations are not indexed for search engines to offer you complete privacy.
How does it work?
The team connects with real neighbors who have verified their identity. It creates a private environment for members of any particular area and enables them to look out for each other by sharing updates, goods, or recommendations.
With the integration of local maps and event directory, it's easy to get neighborhood information by entering the address.
Pros
Build a password-protected virtual neighborhood
Engage only real neighbors
Keep neighborhood in action with local ads and recommendations
Cons
• Paid for offering services
Cost
The platform is free for neighbors and members, while the neighbors offering services have to pay as minimum as $3 for a deal, floating around $90 depending on the region.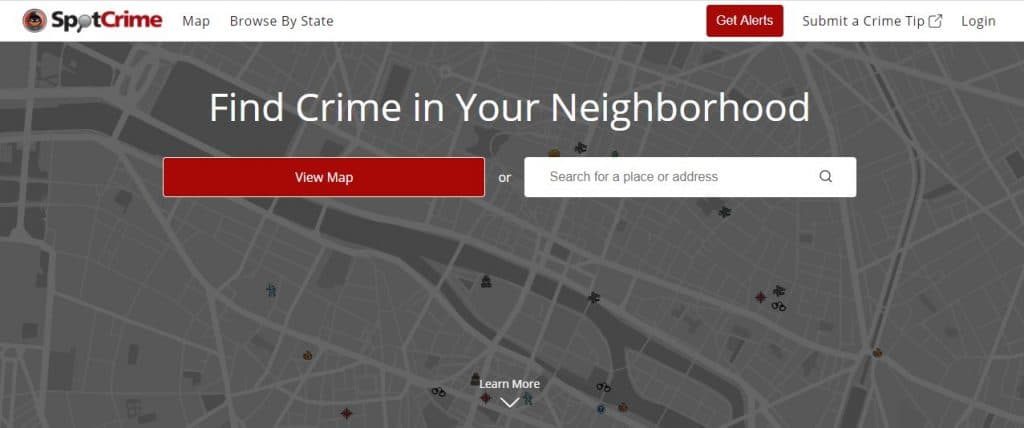 SpotCrime is a crime map and alert service. It pulls in relevant data from validates sources and maps them to help you search for crime near any address. You can also submit a crime tip and receive daily to weekly alerts about any address all over the world.
Unique Features
You can receive timely crime alerts under a particular radius of any address.
The website has a feature to report a crime or tip without disclosing the identity of the user. The easy to use website has the provision to follow crime maps, most wanted criminals' data with daily report.
How does it work?
To see current crime status, go to its Map, enter an address and click on the "View Crimes" button at the bottom left of the screen.
To receive alerts, enter the address, set a radius (3 miles or 10 miles), and enter your email address, and it's done. It shows the crimes using icons. When you click those icons, you get brief information about the crime, including the place and time.
SpotCrime provides source links for all the details and criminal information displayed on its website.
Pros
Provision for anonymous crime tipping
Explore crime reports in real-time
Daily and weekly crime alerts
Cons
Chances of biased tipping
Cost
SpotCrime is a free website.
Conclusion
These online crimes mapping websites can only help you get criminals data, but it all depends on how to plan security measures for keeping your family safe from their next moves. At the least, keep your home under 24/7 CCTV surveillance and use advanced security solutions to keep intruders at bay.
Lastly, don't forget to share any useful tips on neighbor safety tips that you think our readers must follow for sure.