How To Change The Sound On Your Ring Doorbell (Custom Chime Sounds)
When it comes to building a smooth and reliable home security system, the Ring doorbell is a valuable addition to any home. It's a tiny device that allows you to keep an eye on your front door 24/7 and is outfitted with an audible chime. It also comes with a live video camera with online connectivity, as well as a speaker that allows you to communicate with guests, mail carriers, and other people by the door.
This particular chime is intended to let outsiders know that your bell is working. However, in some cases, this chime can cause some confusion due to its motion detection feature which may cause false notifications. You may end up getting false notifications in the middle of the night, especially if it ends up detecting tiny movements like animals in your front yard. Although it poses no real threat, it can be quite loud and annoying, which may make you want to disable it.
However, disabling the sound shouldn't be the option just yet. For one, you can easily change the sound of your Ring doorbell!
So, without further ado, here's a quick and easy guide to help you customize your Ring's chime sound:
Why Should You Change Your Ring Doorbell Chime?
Before anything else, it's important to first address the "why."
Why should you change the tones of your doorbell chime? It may sound like something completely insignificant but think of it as customizing your mobile device's ringtone. You will want to have a specific type of sound you can recognize from anywhere, especially if you're busy doing something else.
You'll want your Ring chime to capture your attention no matter where you are, especially during emergencies.
How To Change The Sound Of Your Ring Doorbell
It can be intimidating to think about changing your Ring Doorbell's Chime, but it's like changing your mobile phone's regular ringtone. It's not at all time-consuming, but the difference is that you can't change it using the device itself. You have to rely on the Ring app, as this is the only way to access your video doorbell settings.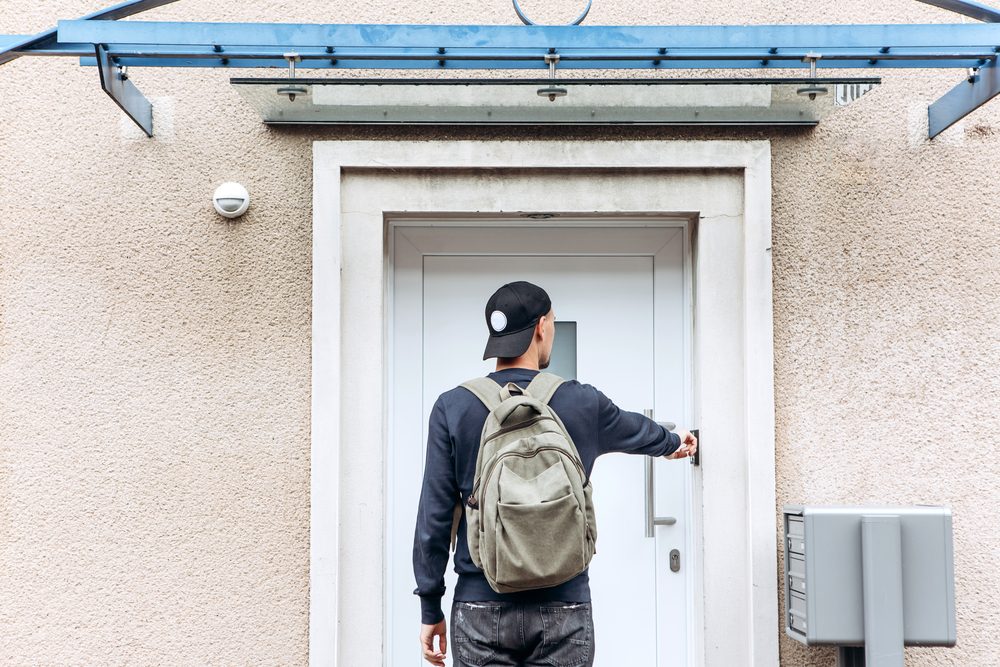 That said, make sure to download the Ring app on your phone. It's available for both Android and Apple users. Once you have that settled, follow the steps below:
Step 1: Tap on the application on your phone and head to My Devices.
Step 2: The My Devices option will show you ways to make changes, including your chime sound. However, make sure to select the right Ring video doorbell if you have many.
Step 3: Once you've selected the right doorbell, you'll be redirected to a new menu where you can finally see and change Chime Tones.
Step 4: When you click on Chime Tones, you'll see two tabs titled Motions and Rings. You can change the ringtone settings of either, but select the one you'd like to change first. The Motion refers to the chime you hear whenever motion is detected. Ring, on the other hand, will simply alert you of any presence at your front door.
Changing The Chime Of Your Ring Doorbell On The Outside Using Ring Chime
You now know how to change your Ring Doorbell's Chime notification inside your home, but what about the outside?
One of the best ways to control your Ring Doorbell outside is by purchasing the Ring Chime. This device acts as a speaker for various Ring devices, and you can easily set it up on any part of your property, including the outside.
By investing in the Ring Chime, you'll also have the option to download and select countless chime tones through the library. With this, you'll easily be able to personalize all your Ring devices—not just the Ring doorbell!
More importantly, using the Ring Chime is hassle-free. The only thing you have to worry about is ensuring that an outdoor socket is present, where you can plug in the Ring Chime. You also need to place it strategically to avoid theft.
Once you've figured out the logistics, the only thing left to do is to follow the steps below:
Step 1: Open the Ring app and select the Ring Chime device.
Step 2: Once you've opened the Ring Chime, select the Chime Tones library.
Step 3: You'll see a list of every tone available—you're free to choose which one you like best! You can play each tone over and over.
Step 4: Once you've selected the right tone, save the settings accordingly.
Can You Customize Your Ring Doorbell Sound?
Yes, you definitely can! As mentioned, you can turn the Chime volume down using the Volume Slider button. You can also switch it off if need be, especially when it comes to notifications that can easily become noise in the later hours.
This sound-altering feature applies to all Ring devices, and not just your doorbell.
Is It Possible To Turn The Ring Volume Down?
As mentioned, the Ring doorbell sound can become noisy, loud, and unpleasant, especially when you're trying to rest. A high volume level can also disturb your guests, as the loud chiming can catch them off-guard and, in some cases, cause a panic.
If you wish to reduce your Ring doorbell's volume, consider the following steps.
Step 1: Open the Ring app on your phone once again and select your Ring doorbell device—not the Chime!
Step 2: Select " Configuration Options " in the list of options provided.
Step 3: Once selected, click on the Doorbell Tone Volume. This is a slide button where you can easily lower the outdoor bell sound volume to your liking.
The Takeaway
Contrary to what you may think, you don't have to disable your Ring doorbell right away. After all, its benefits are undeniable, especially since you'll want to be alerted if someone is within your property—especially your front door.
The best thing you can do is simply customize your chime sounds, one that can be pleasant to hear. If not, you can also lower the sound volume to your liking.
In the end, the goal is to maximize your Ring doorbell and use it to its fullest potential. You can scare away intruders when needed but still remain alerted to motions and presence. Investing in a Ring Chime is also a welcome aspect, especially if you want to have a personalized speaker device for all your Ring devices.
As you change the sounds and chimes, just make sure to keep this guide in mind for an easy, breezy experience! Your home security doesn't have to be complicated.