The 8 Best Tankless Water Heater For 2023
If you're using a tanked water heater, you have to schedule hot water in advance to meet shower and laundry needs. You can't expect instant hot water- the water reaches your tap with a propagation delay. The bulky tank unit covers a good amount of space and puts you in charge of its periodic maintenance to eliminate any risk of water contamination. But all of these pain points cease to exist the moment you switch to a tankless water heater.
But is it worth purchasing the best tankless water heater at all? Let's find out.
Why should you go for a tankless water heater?
A conventional water heater runs almost a decade, if maintained appropriately. But a tankless water heater lasts even twice with same effort. The latter also comes with automatic heat regulators to meet your hot water demand instantly without any bulky storage units.
Thus with a compact design, it can fit into your small wall corner. On the other hand, you save energy bills as tankless models don't repeatedly use energy to reheat the standby water, unlike conventional water heaters. With all these USPs together, it totally makes sense why tankless water heaters are worth every penny of your investment.
Now let's discuss the biggest dilemma faced by the buyers.
How to Choose a Tankless Water Heater?
It is a three-step simple process.
First, you have to determine the average inlet water temperature of your area. You can find your local US groundwater temperature here. It will indicate your heater's average performance in the long term. For a low inlet temp, you need a higher KW product and vice versa.
Second, determine its maximum simultaneous usage. It means the number of applications it is intended to run simultaneously at your home.
Third, check its specifications and primary electrical infrastructure required for the desired capacity as determined in the last step. The data will help you select the correct size of cables and breakers required for heater's operation.
With these preliminary checks, you're now all set to look out for the best tankless water heater for your hot water needs. Let's get started.
Best Tankless Water Heater
1. Ecosmart ECO 18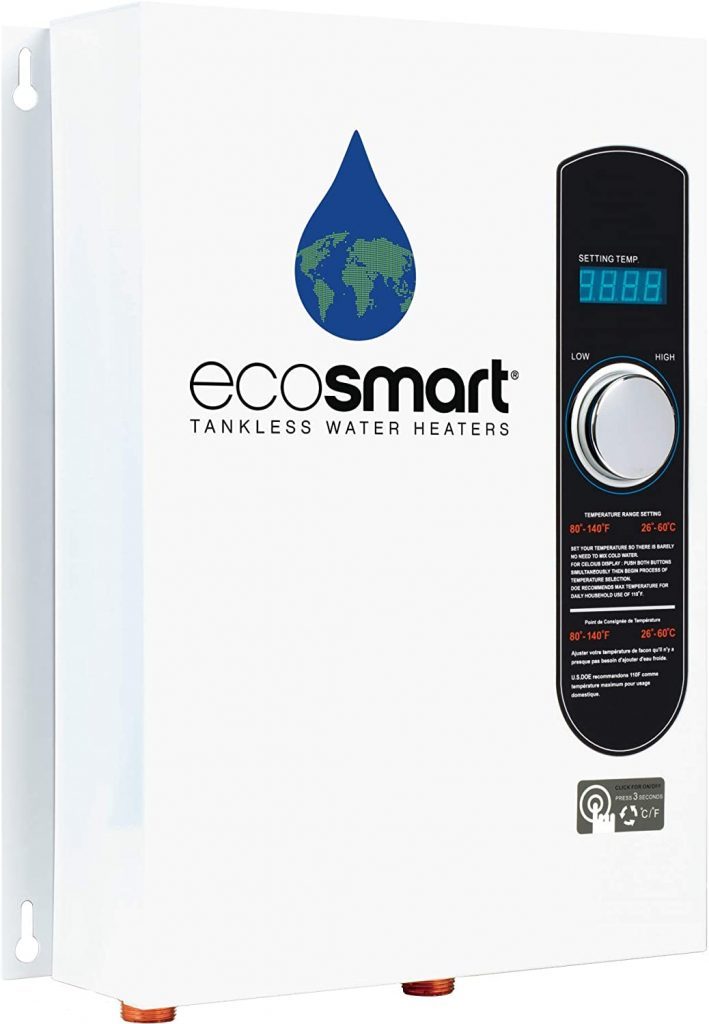 Ecosmart's ECO 18 offers you the most advanced and self-modulating technology to save 60% on your energy bills. This tankless water heater comes with a lifetime warranty for commercial usage. The product complies with North American safety standards to offer a reliable water heating solution.
Its application can suit any home, business environment, or recreational vehicle. As it is easy to install, you hardly need experts. Just follow the step by step installation process from its manual and you're done.
It runs hot water through the unit instead storing it at one place to meet your demand without any time delay. This inline water heater eats 90% less space compared to traditional tanks – thus frees more space for storage.
The heater consciously consumes electricity with advanced self-modulating technology and saves your heating bill by a considerable amount. You get instant hot water with no waiting time.
An 18 kw machine can pump out 1.8 and 4.3 gallons of hot water per minute, depending on the inlet water temperature. Overall on the basis of price and compatibility, this model wins over Rheem RTEX-18 with a big score.
Specifications
Heating Over: 2.5 GPM | Wattage: 18000 watts | Voltage: 240 Volts | Temp. Range: 80°F to 140°F | Wire Gauge: 8 AWG | Plumbing connections: 3/4″ NPT
Pros
Advanced Self-modulating technology
Digital temperature control 80 – 140° F
Field replaceable elements
Cons
Doesn't have remote temperature control
2. Rinnai V53DeP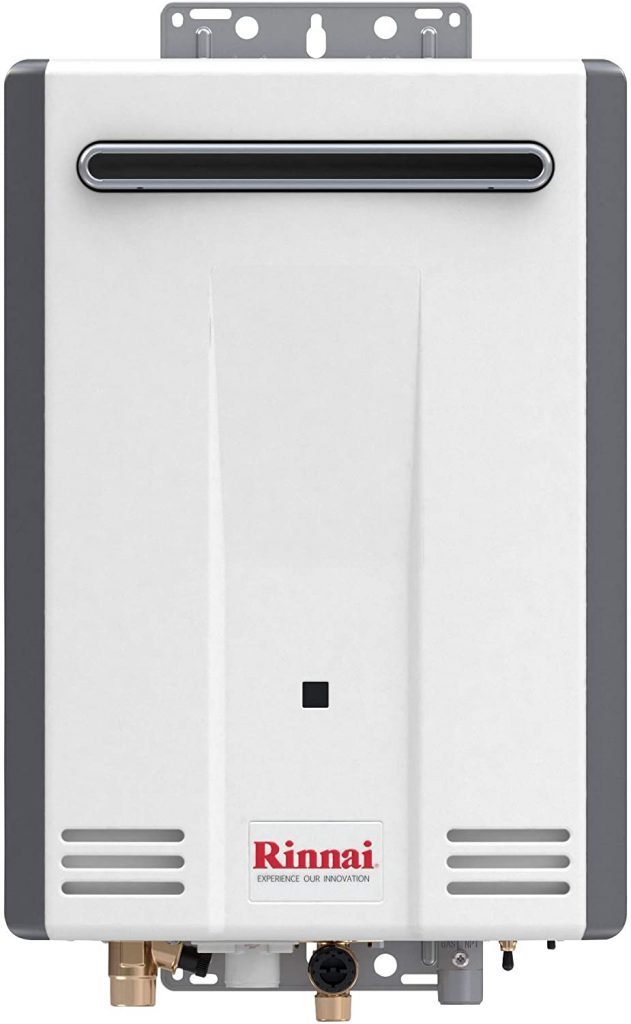 Do you want to rely on a brand that boasts 100 years of confidence? Meet this propane gas tankless water heater from Rennai. Its energy-efficient design saves you 40% energy as compared to traditional tanks. With up to 5.3 GPM hot water flow rate powered with ThermaCirc360 technology, you get endless hot water for shower, laundry, and dish wash.
Rinnai is known for producing compact models, and the same goes true with its V53DeP model that even fits into a closet, saving you 16 sq. foot of space. With that being said, you also cut down CO2 emissions by half as compared to bulky tankless water heaters.
The company promises a minimum lifeline of 20 years for the model, double that of the traditional tanks available in the market. Plus, the spare parts are widely available for any repair to save you from total heater replacement altogether.
This high-efficient Rennai water heater is suitable for small to medium homes. It's easy to install and comes with a company warranty to surpass the competition.
Specifications
Heating Over: 5.3 GPM | Wattage: 64watt | Voltage: 120 volt | Temp. Range: 115℉ to 140℉ | Wire Gauge: GP | Plumbing connections: 3/4″ NPT
Pros
Compact Design
Hot water on-demand
Highly energy efficient
WiFi ready
Cons
Requires Professional Installation
3. Eco touch 9KW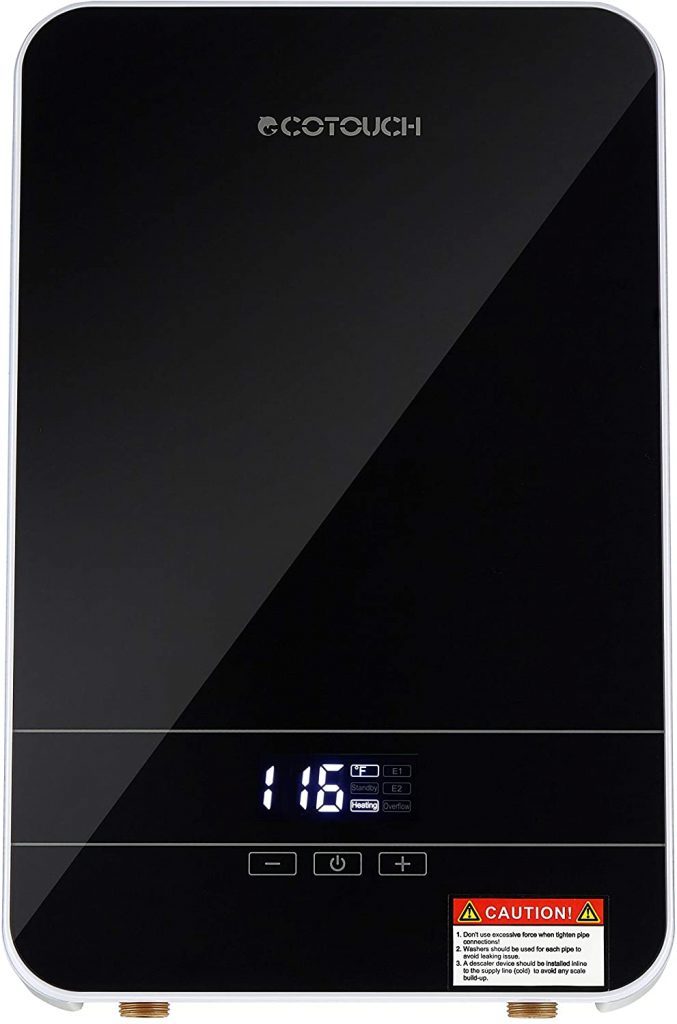 If you need instant hot water at 116 degrees Fahrenheit or higher, this Ecotouch model would be the best electric tankless water heater to do so. No waiting for temp preheat- you get instant hot water without any temperature fluctuations. It adjusts the power input based on the flow rate and automatically saves energy when not used.
If your previous heater gave you trouble with corrosions inside, its coldwater sandwich technology could act better. With no chance of corrosion, you rest assured about its long life span.
It comes with multiple layers of protection to offer you 100% safety from unwanted troubles. For example, the inner water channel and the electricity lines are well isolated to avoid contact due to leakage. As it is ETL approved and qualifies for UL, you rest assured of a flawless longtime performance.
It is pretty space saving with its 15.4″ x 10.3″ x 2″ size and blends well with your wall décor so that you don't have to hide it behind a wooden box anymore.
Specifications
Heating Over: 1.5 GPM | Wattage: 9000watt | Voltage: 240V | Temp. Range: 67℉ to 106℉ | Wire Gauge: 8 AWG | Plumbing connections: 1/2″ NPT
Pros
ETL Approved
Dry Heating and Leakage protection
Over-temperature protection
Cons
Need professional installation
4. Rheem Rtex 13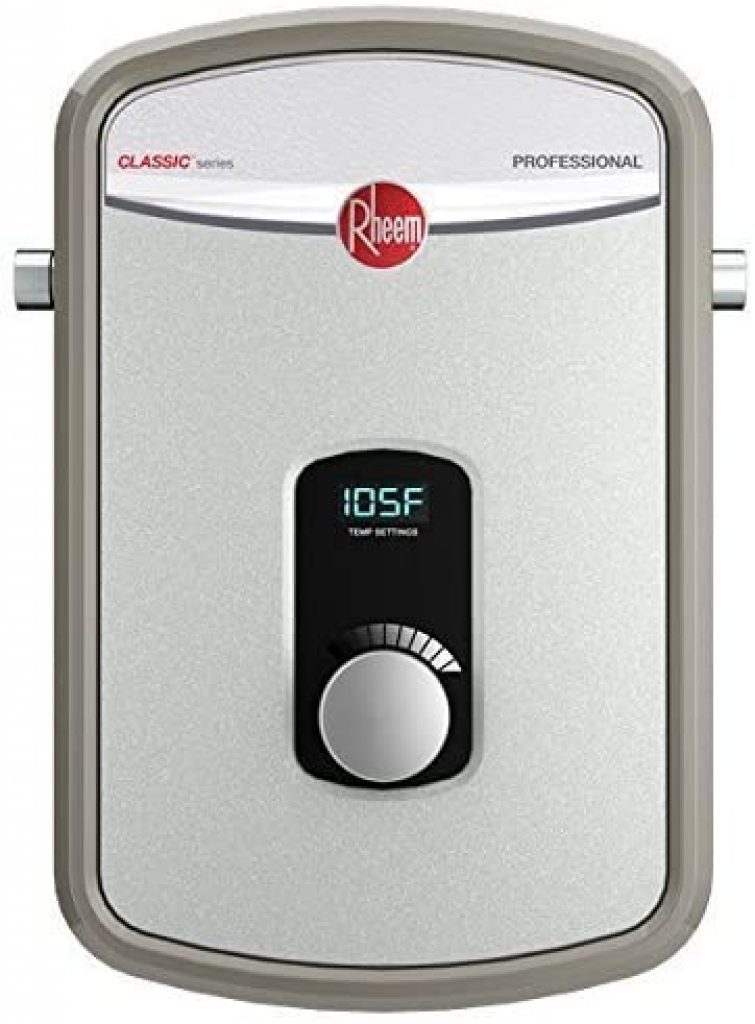 Here comes another product from Rheem-one of the largest manufacturers of water heating products in North America. It can offer on-demand hot water for single or multiple applications.
You can control the settings from a digital display within a range of 80°F to 140°F. If you prefer the readings in Celsius, you can do so with a single touch. The heating elements have copper immersion and are topped with brass to offer durability than rest heaters.
You can hardly experience any temperature fluctuations – even when you set it at 110°F for a hot shower. If you do experience any, that could be probably because of faulty heater size or malfunctioned thermostat valve.
The model is sharp looking and can easily blend with your wall décor. Even without any Star energy certification, you save nearly 30% on your energy bills, thanks to its smart engineering solution. It comes with an instruction manual with details on site selection, mounting the heater, Plumbing and electrical installation, sizing guide, etc.
To promote DIY installation, it comes with an instruction manual with clear instructions. You can easily select the site, mount the heater and take care of electrical and plumbing requirements without any professional help. The manual also acts as a troubleshooting guide to help you resolve any minor fault all on your own.
Specifications
Heating Over: 3.17 GPM | Wattage: 13000watt | Voltage: 240V | Temp. Range: 80°F to 140°F | Wire Gauge: 6 AWG | Plumbing connections: 3/4″ NPT
Pros
Digital Temperature Display
Easy to install by your own
5-year heating chamber warranty
Cons
No Star energy certification
5. Ecotouch ECO55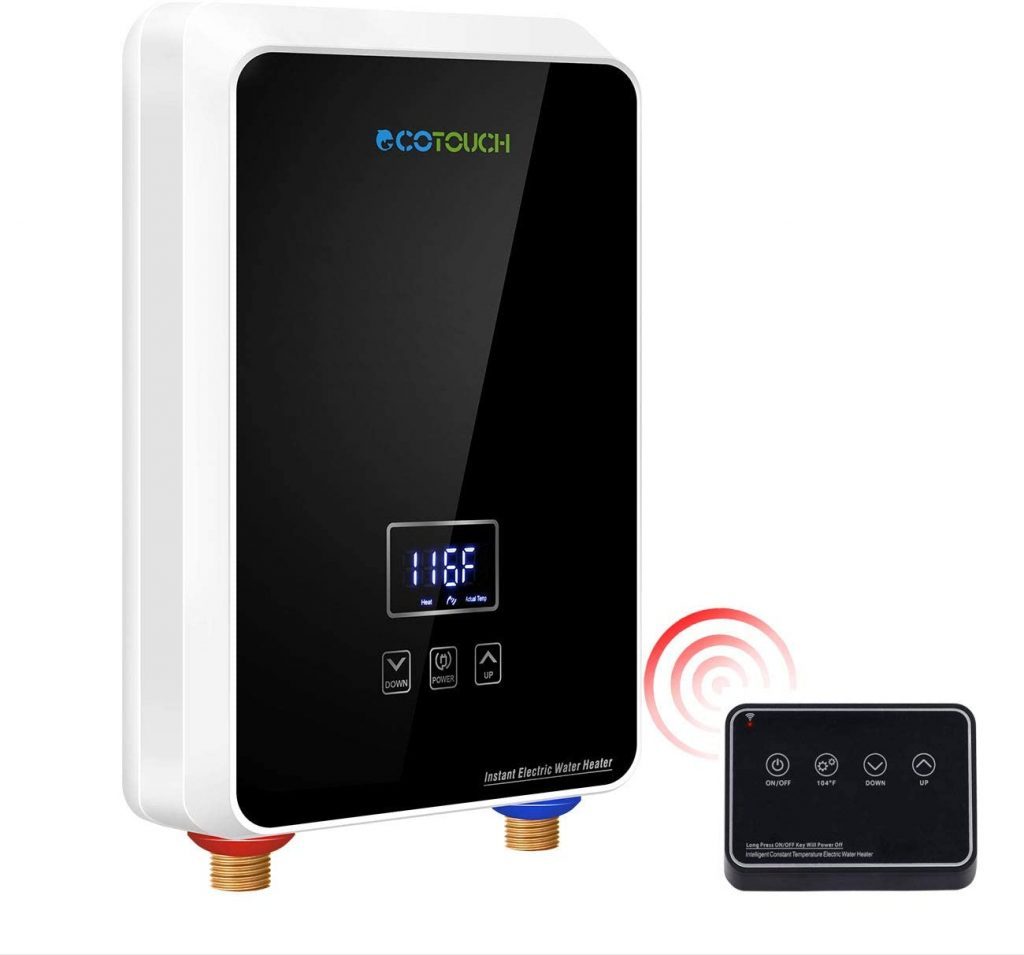 With more than 20 years into the appliance industry, Ecotouch is sure about ECO55's advanced technology to offer you better water heating solutions. Powered with multi safety protocols such as dry heating protection, leakage, and over-temperature protection, ECO55 is another alternative to our previous Ecotouch's 9kw water heater.
You can rest assured of a sufficient flow rate of 1-1.5 gallons per minute without any temp fluctuation. In case you want a high flow rate of 2.5GL to 4GL, spend a little more to buy Bosch Tronic 3000T series heaters.
ECO55 avoids storing water in bulk to avoid bacterial growth and keeps channels separate from electrical wires to prevent scale build-up. The sleek and compact design comes with 360-degree installation and covers space as an oatmeal box.
The installation is relatively easy, and you don't need any plumber to do the job. It comes with installation brackets, pipe fitting of 1/2″ NPT, and a 10AWG power cord. All you need is to follow the step by step instructions from its manual to complete the installation.
Specifications
Heating Over: 1.2 GPM | Wattage: 5500watt | Voltage: 240V | Temp. Range: 67°F to 109°F | Wire Gauge: 10AWG | Plumbing connections: 1/2″ NPT
Pros
Protection from overheating and leakage
Real compact design as an oatmeal box
horizontally, vertically or obliquely installation
Cons
Only for sinks, not for shower purpose
6. Rinnai RL Series HE+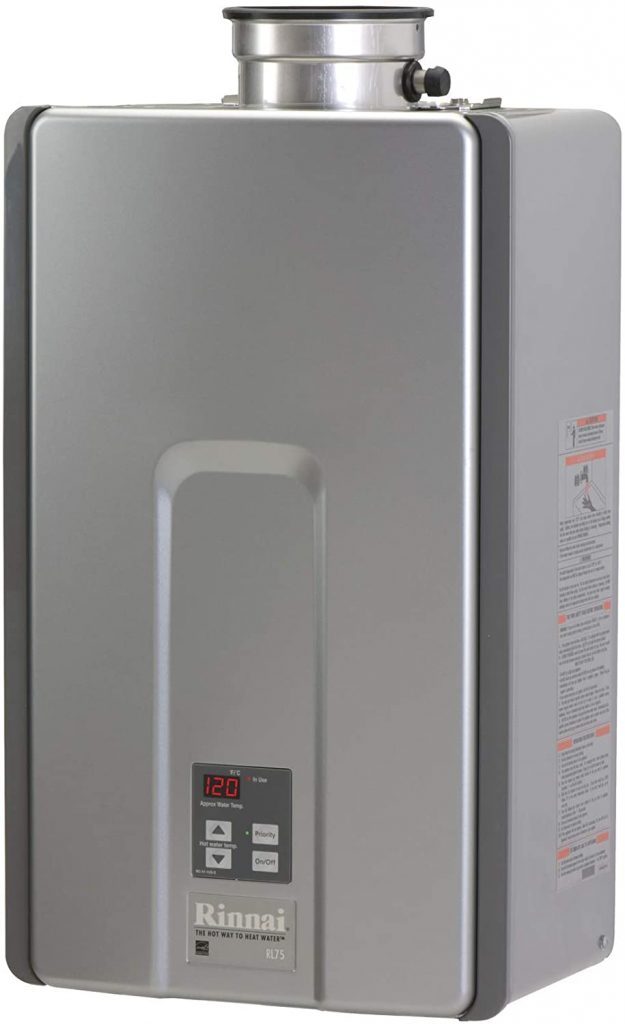 RL Series HE Plus promises a variable flow rate between 7.5GPM to 9.4GPM on its Propane and Natural Gas models. Unlike SENSEI, these Rinnai models are not Energy Star qualified, but you can rest assured of saving min 40% on your energy bills with Circ-Logic technology inside.
It comes with a standard temperature controller to display current settings and buttons to change it, as per your requirement. Else, you can simply leave it to its default temp -104° F or40° C.
There is also a priority button to lock the control panel from unwanted tampering by kids and other persons. Sometimes, you may feel the tap water to be of a different temp than the setting. While most people think it's a fault from inside, in reality, it could be a result of external factors such as bad weather conditions.
Rennai is also popular when it comes to avail warranty on your purchase. You get 12 years of warranty on the heat exchanger and five years on rest parts for residential applications. For commercial applications, you get five years of warranty on a whole. However, as one of the best tankless gas water heaters, it assures you for a flawless performance of at least ten years or more.
Specifications
Heating Over: 7.5 GPM | Wattage: 76w | Voltage: 120 Volts | Temp. Range: 120° F to 160° F | Wire Gauge: 22 AWG | Plumbing connections: 3/4″ NPT
Pros
Endless hot water
Compact design (like a small suitcase)
40% less energy than traditional tanks
Cons
Not Energy Star Qualified
7. Stiebel Eltron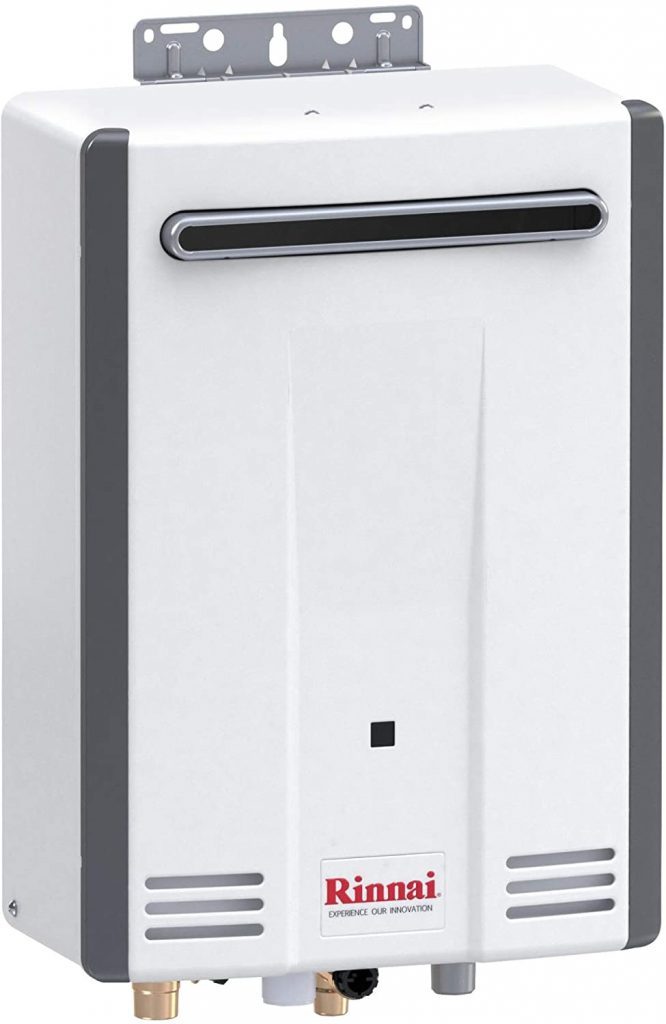 To meet your continuous hot water need, Stiebel runs on an advanced German flow control technology. You can rest assured of an uninterrupted hot shower during any hour of the day.
The eco-friendly water heater uses the auto-modulation feature to save your energy bills and displays how much you've saved for your pleasure. The monitor has also got preset temperature memory buttons to roll back to any previous setting on-a-go.
It has electronic sensors to detect the flow temperature and work on a powerful solid copper interior to produce a noiseless operation. The output water temperature can be set to anywhere between 86˚ to 140˚F. However, if you need variations on a larger scale, it's Plus and Trend models between 12 kW to 36 kW would be your saviors.
You get a 7-year leakage warranty and 3-year service warranty on some specific parts of the model. Moreover, this affordable yet efficient device has a compact design, thus covers a small area of your wall. It can fit into an attic or even a closet to amplify your room decor without compromising the utility.
Specifications
Heating Over: 0.37 GPM | Wattage: 12000watt | Voltage: 240V/208V | Temp. Range: 86˚ to 140˚F | Wire Gauge: 2 AWG | Plumbing connections: 3/4″ NPT
Pros
Affordable
Sustainable Usage
Energy Efficient
Indoor/Outdoor version
Cons
Tricky Electrical Connections
8. Rheem RTX 24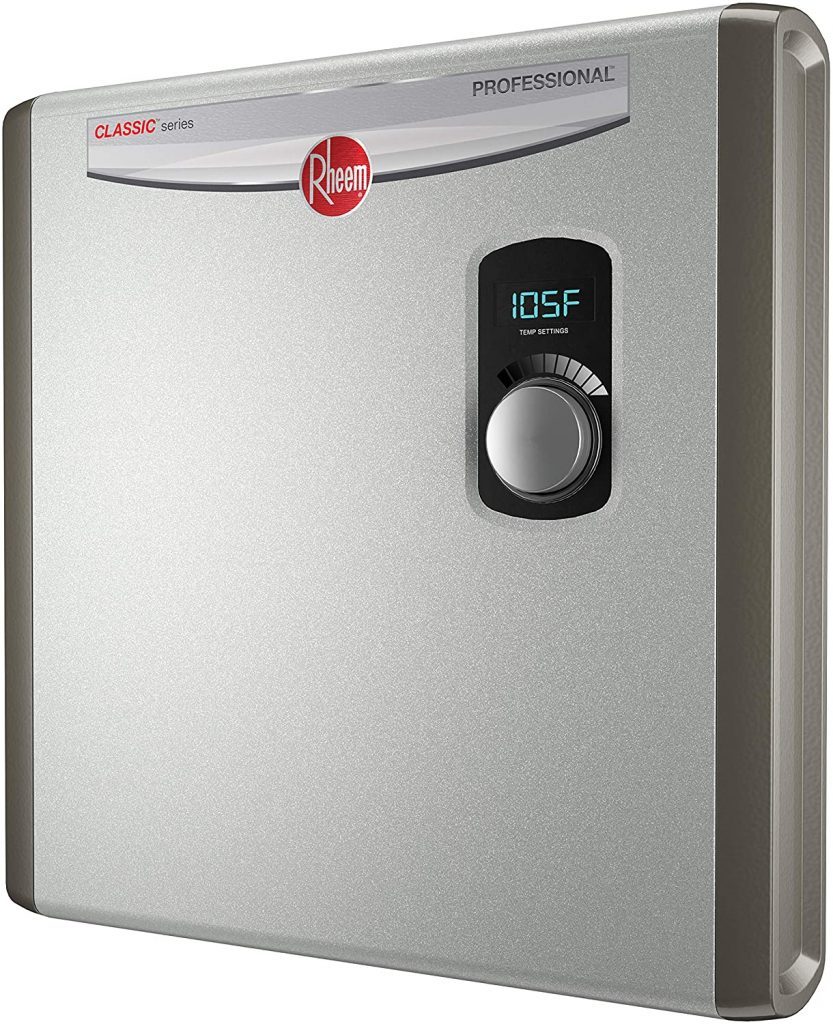 The Rheem RTX 24 is good at supplying continuous hot water on demand even when you have multiple faucets. Thus it is a perfect choice for home with multiple rooms. You can control the temperature and view data from a digital display on the control panel.
The digital control comes with ON/OFF dial control and other buttons to control temperature. The temp can be varied in the range of 80°F to 140°F, at a rate of 1°F. You can also control the flow rate. For example, for a standard hand sink, it can be as low as 0.5 GPM whereas for your Bathtub, it can go up to 4 GPM.
It is not just energy-efficient but also durable with its brass-topped copper heating elements. This ensures even heat distribution in the water. Also, there is little to no chance of rust, eliminating water contamination in the first place.
It auto adjusts power consumption with a self-modulation feature, thus is more energy efficient than rest heaters. It is no surprise that Rheem RTX 24 is the best on-demand water heater in the market now, suitable for kitchens, bathrooms, garage, or even for the entire home.
Specifications
Heating Over: 5.9 GPM | Wattage: 24000watt | Voltage: 240V | Temp. Range: 80°F to 140°F | Wire Gauge: 8 AWG | Plumbing connections: 3/4″ NPT
Pros
LED Display
Self- Modulation
Energy Efficient
Durable Copper Immersions
Cons
Conclusion
Irrespective of the selected model, make sure to follow all installation protocols as per the official instruction. Also, carry out the process in accordance with the electrical and plumbing codes applicable to your area. Else call an expert to get the job done. Cheers.