The 10 Best Smart Locks For Airbnb In 2023
The best smart lock for Airbnb works effectively for travelers as well as hosts renting out their homes or apartments to the former.
Smart or keyless locks serve as an innovative means of convenient check-ins and checkouts without having to use regular keys.
Since a keyless lock synced with Airbnb.com is secured by a passcode (security code), the lock prevents unauthorized access completely.
The best keyless door locks for Airbnb are matched with a unique security code that the Airbnb host can generate, activate, and deactivate remotely using a computer or app.
So, if you're thinking about listing your additional home or property on Airbnb, investing in smart locks would be worthwhile.
Nevertheless, with a plethora of smart lock brands flooding the market, each claiming to be the best lock for Airbnb, selecting the right one could be challenging. In this review, we walk you through the ten best smart locks to make it easier for you to choose the right one.
Best Smart Locks For Airbnb
August Home ASL-03 AC-R1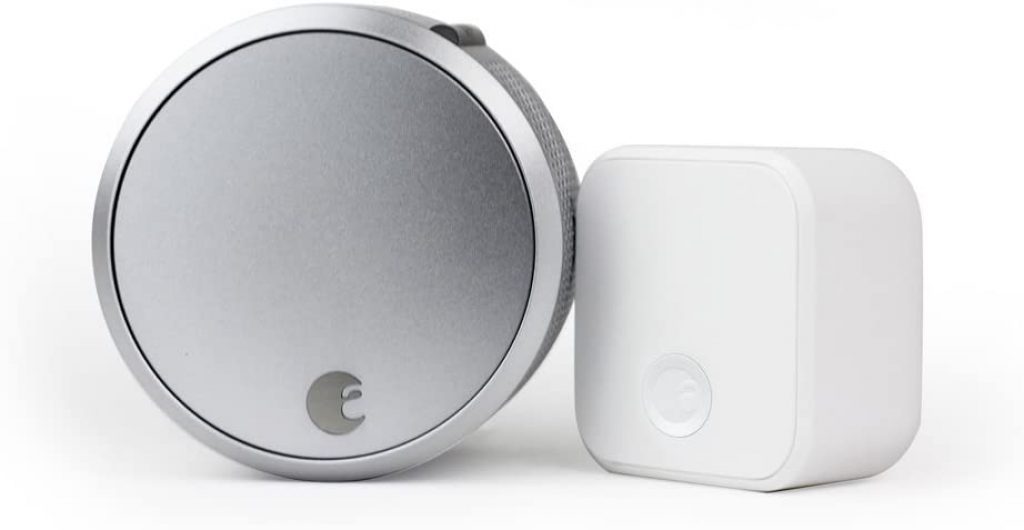 The August Home ASL-03 Smart Lock Pro+ Connect transforms your Airbnb homestay into a smart lodging with a secure entrance.
This smart keyless lock from August Home lets you lock, unlock, and fully manage the existing deadbolt or deadlock on your main door and other entry points. The ASL-03 AC-R1 allows keyless access to your near and dear ones as well as tourists who've booked a room via the Airbnb site.
The AC-R1 Smart Lock Pro+ Connect is the best smart lock for Airbnb that smoothly latches onto the deadbolt of your entrance.
August Home's patented DoorSense technology always keeps you aware that your entrance is thoroughly locked and secured.
Compatibility with 'AI-driven virtual assistant' services like Google Assistant, Siri, and Alexa implies that you use them to manage your August Home smart lock.
Technical Specifications:
Item weight: 13.9 ounces
Product Dimensions: 3.4 x 2.2 x 3.4 inches
Voltage: 1.5V
Installation mechanism: Retrofit deadbolt lock
Pros
Automatically locks as your back is turned and unlocks as you come near
Seamlessly fastens to your current deadlock while letting you use keys
Round the clock activity feed on your Android (5.0 or higher) and iOS (9.0 and higher) smartphone
Exploits DoorSense Technology to let you know that your entrance is locked and bolted
Equipped with August Connect Wi-Fi bridge for ensuring companionability with smart hub
Cons
Smart unlock feature may not work at times
The auto-unlock does not work if you stay within a 200-meter radius or perimeter
Oaks Smart Lock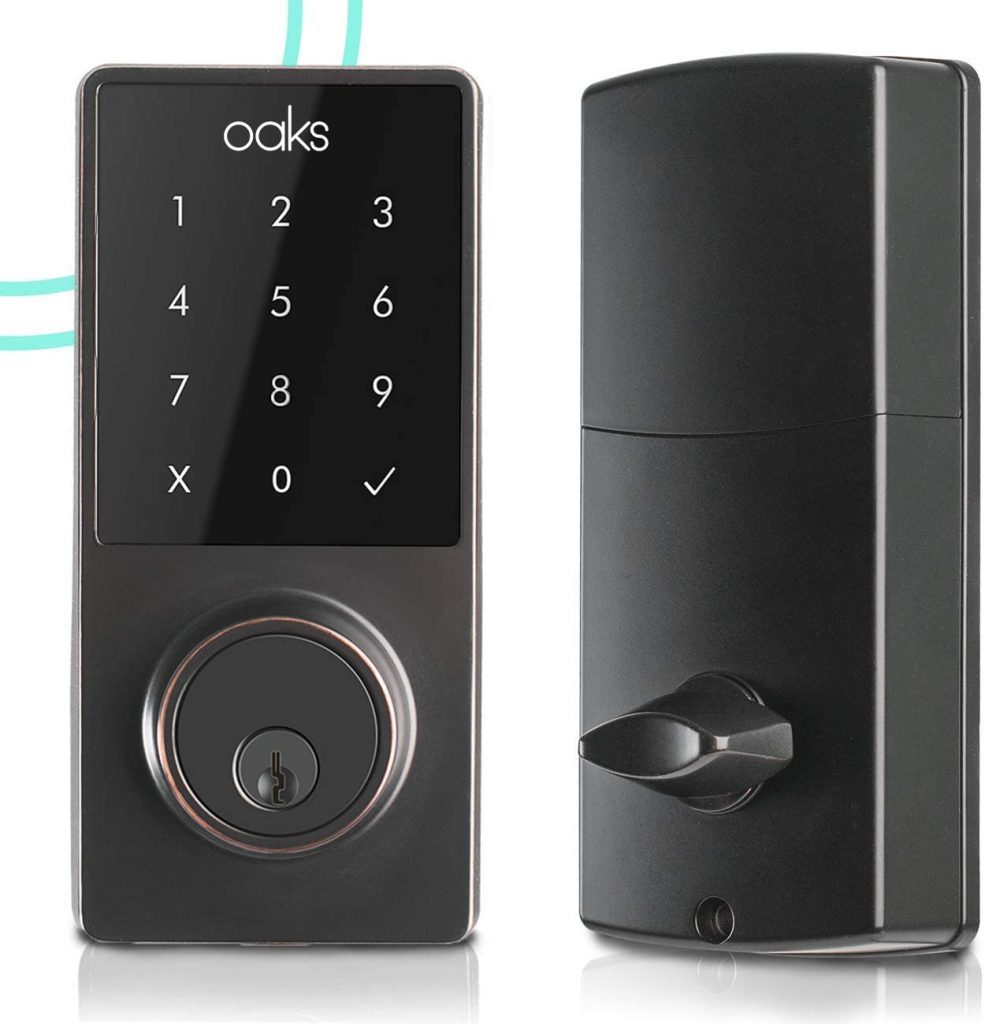 Are you cheesed off with constantly having to manage multiple locks on doors to keep your home secure and safe?
If you're someone with an Airbnb lodging and finding it difficult to keep the property secure, then opt for the Oaks Labs Smart Lock.
Driven by Bluetooth Technology, the Oaks Smart Lock 2 offers you a user-friendly, cost-effective, and fully secure keyless locking solution.
This Oaks Labs' smart lock is one of the best keyless door locks for Airbnb that frees you from the hassle of keeping multiple sets of keys.
Managing your Oaks smart lock is easy as you have four distinct ways of accessing the keyless lock or existing deadbolt-smartphone app e-key, wristband fob or keychain, physical keys, and numerical access code.
Technical Specifications:
Item weight: 3.36 pounds
Dimensions: 6 x 2.8 x 1 inches
Material: Zinc Alloy
Pros
Four separate means of accessing the smart lock
Leeway in security code generation: Generates up to five different kinds of passcodes
The smart lock comes equipped with a built-in auto-lock sensor that mechanically locks your door when it is activated
Allows granting of access to your intimate guests, family members, and even your pet dog
An inbuilt access register for checking out individuals entering or exiting
Cons
It is more of a Bluetooth-compatible lock instead of being a Wi-Fi enabled lock
Some features like deleting or changing a passcode are not available remotely
Schlage Encode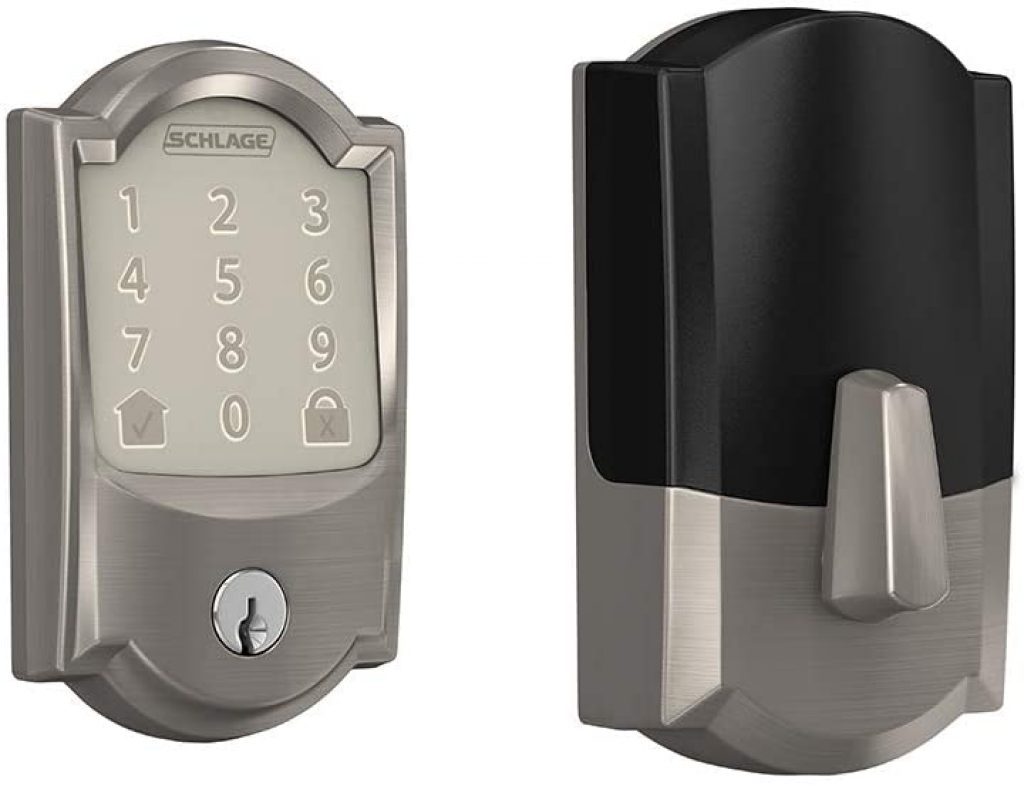 This Wi-Fi Deadbolt lets you control the lock through the Schlage app from anywhere. You do not have to buy an accessory separately for remote management of the smart lock- the keyless lock is compatible with your Wi-Fi router.
Schlage's smart Wi-Fi deadlock takes optimum advantage of patented alarm and state-of-the-art encryption technologies, which makes the lock incredibly secure and durable.
You can select from a wide range of finishes and styles to perfectly match your existing Schlage deadbolt installed on the entrance.
Most importantly, you get a 3-year warranty on the Encode smart lock's finishing and also against any mechanical defects of digital components.
Technical Specifications:
Item weight: 2.8 pounds
Dimensions: 2.2x 3 x 5.5 inches
Satin finish
Style: Camelot
Pros
Quicker setup, thanks to inbuilt Wi-Fi compatibility, directly linking with your home's Wi-Fi system
Seamless pairing with Alexa voice control: Facilitates remote smart lock management 
Low battery indication lets you know in advance when you need to replace batteries
Access up-to hundred distinct security codes
Download the Schlage Home app to monitor the smart lock from anywhere
Lock or unlock the smart lock simply by touching on the Fingerprint resistant intuitive touchscreen 
Cons
The Schlage Home app may not always function as per expectations
Yale Assure Deadbolt Lock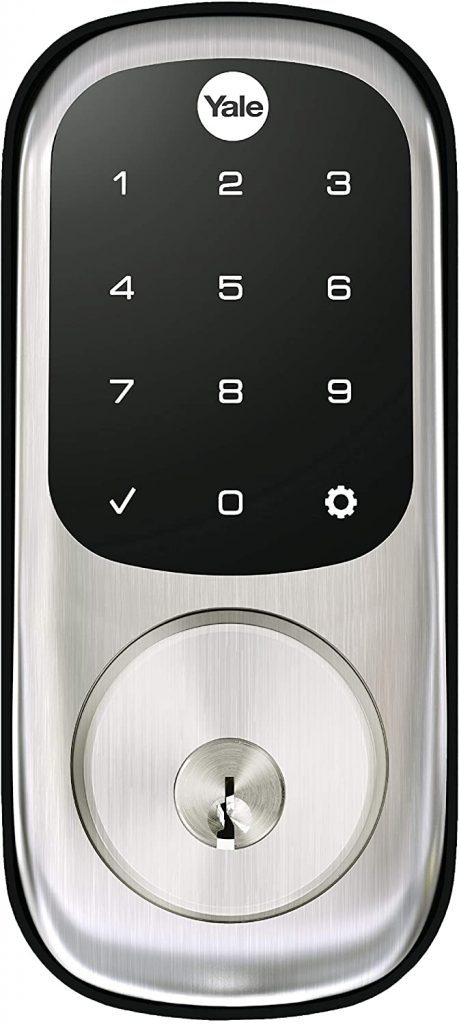 The Lock with Wi-Fi or Bluetooth-enabled touchscreen can be the perfect replacement for your existing deadlock.
With the Assure Lock from Yale Security, you do not need to fumble for your keys as well as do not need to worry about losing them.
The Yale Assure keyless lock is the best smart lock for Airbnb that you can easily manage via its capacitive touchscreen.
Connection companionability enabled by August Home lets you keep eye individuals entering or exiting via the app by August.
The August app also allows you to share the access codes with your family, friends, and guests.
One unique feature of this smart keyless lock is that it unbolts on its own as you get close to the door, and relocks after you've entered.
Technical Specifications:
Item weight: 4.5 pounds
Dimensions: 6 x 6 x 14 inches
Brushed nickel finish
Color: Satin Nickel
Pros
Install easily within minutes: just use a screwdriver for installing on standard doors
The backlit touchscreen lets you use the keypad in darkness
Works with AI voice assistants like Siri, Alexa, and Google Assistant
 Serves as the ideal replacement for your current deadbolt
DoorSense technology informs you whether your entrance is unlocked or locked
Cons
Many customers have had issues with installing the lock
Software app's integration with the lock is not up to the mark
Yale Assure Lever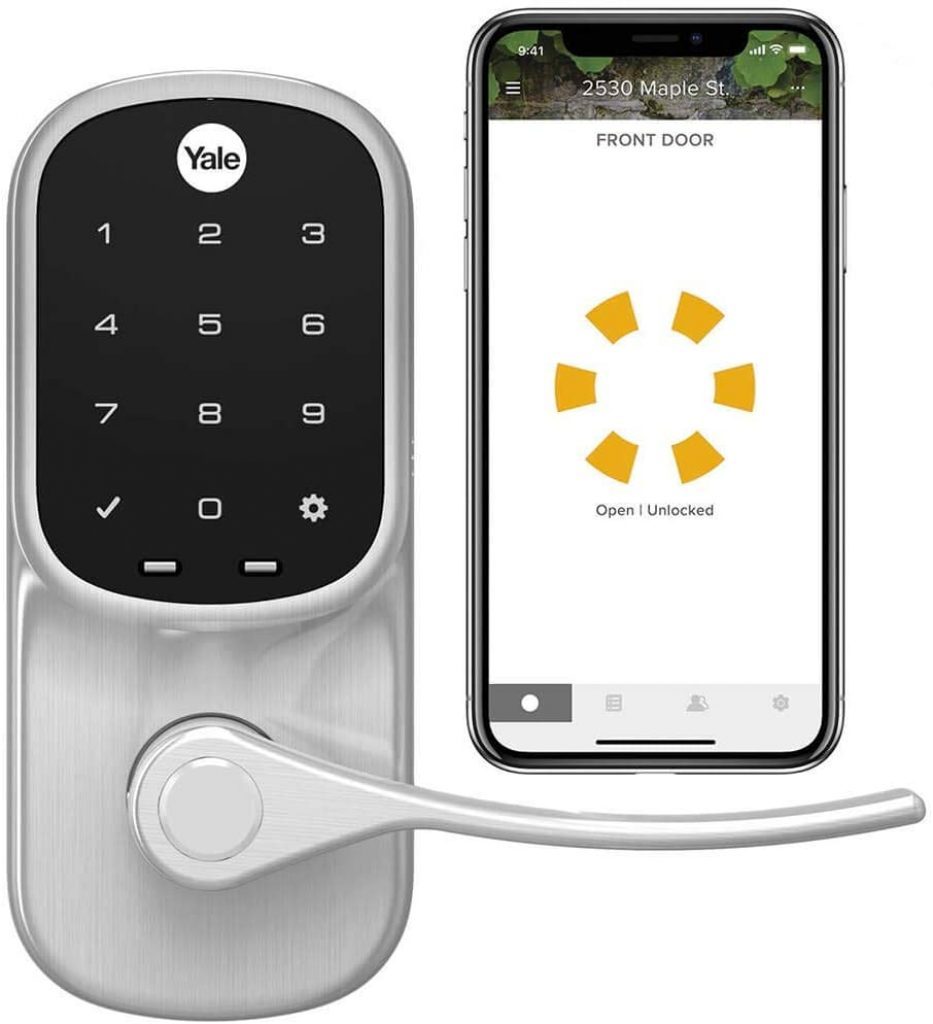 If you're looking to upgrade the existing deadbolt on your door and make your home extra secure, then choose Yale Assure Lever.
The Assure Lever features an interactive keypad that functions smoothly, enabling you to lock, unlock, and manage access to your lodgings without using keys.
This smart lock from Yale is compatible with the August app, which allows you to not only bolt or unbolt the lock but also lets you share access.
This keyless lock unbolts mechanically as you move towards the door and shuts automatically when you close the door.
You can also control the lock remotely via a host of AI-assisted voice assistants like Amazon Alexa, Google Assistant, and Siri.
Technical Specifications:
Item weight: 5.6 pounds
Dimensions: 1.5 x 2.5 x 4 inches
Connected via August
Brushed nickel finishing
Satin Nickel color
Pros
Automatic locking and unlocking
The capacitive keypad does away with the need to use keys
Auto relock mechanism (optional)
No extra hub or device required for gaining access
Backup charger for thwarting lockout
Shareable access codes
Cons
The unusually tall lock may not fit effectively on most standardized doors
Many customers have reported that the auto-unlock did not work nine times out of ten
August Smart Lock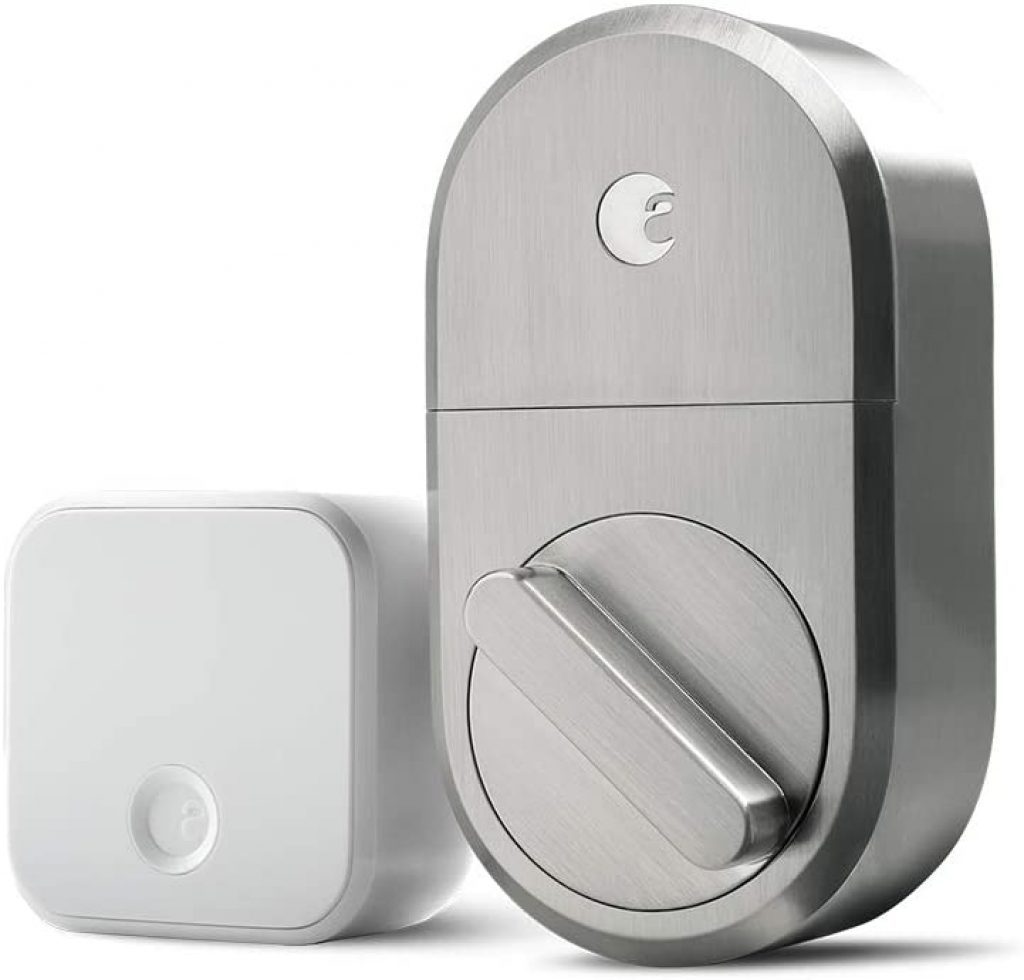 The August Home Smart Lock +Connect Wi-Fi Bridge enables you to make your abode thoroughly secure by letting you effectively manage the main entrance's deadbolt.
One of the best locks for Airbnb this keyless lock syncs completely with the deadlock on your front door, thus allowing you also to use keys.
You can use your cell phone to lock, unlock, and relock your home's entrance from any place.
You can preset this August smart lock to unbolt automatically as you approach the entrance and lock on its own when you step out.
This smart lock lets you decide who will be able to access your home and who may not.
The connect WI-Fi Bridge allows you to take advantage of the smart lock's features via Cloud.
Technical Specifications:
Item weight: 1.8 pounds
Product dimensions: 2.6 x 1.6 x 4. 8 inches
Satin finish
Oval shaped
Color: Satin nickel
Pros
This keyless lock lets you use your smartphone as a key
Automatically unlocks and relocks as you approach the door and depart respectively
Allows remote control of the lock through the Wi-Fi Bridge Connect
Compatible with both Wi-Fi and Bluetooth
Companionable with state-of-the-art AI-driven voice assistants
Cons
Instructions outlined in the user manual are not quite helpful
The Wi-Fi Bridge Connect may not work beyond a radius of 8 inches from the smart lock
Ultraloq UL3 BT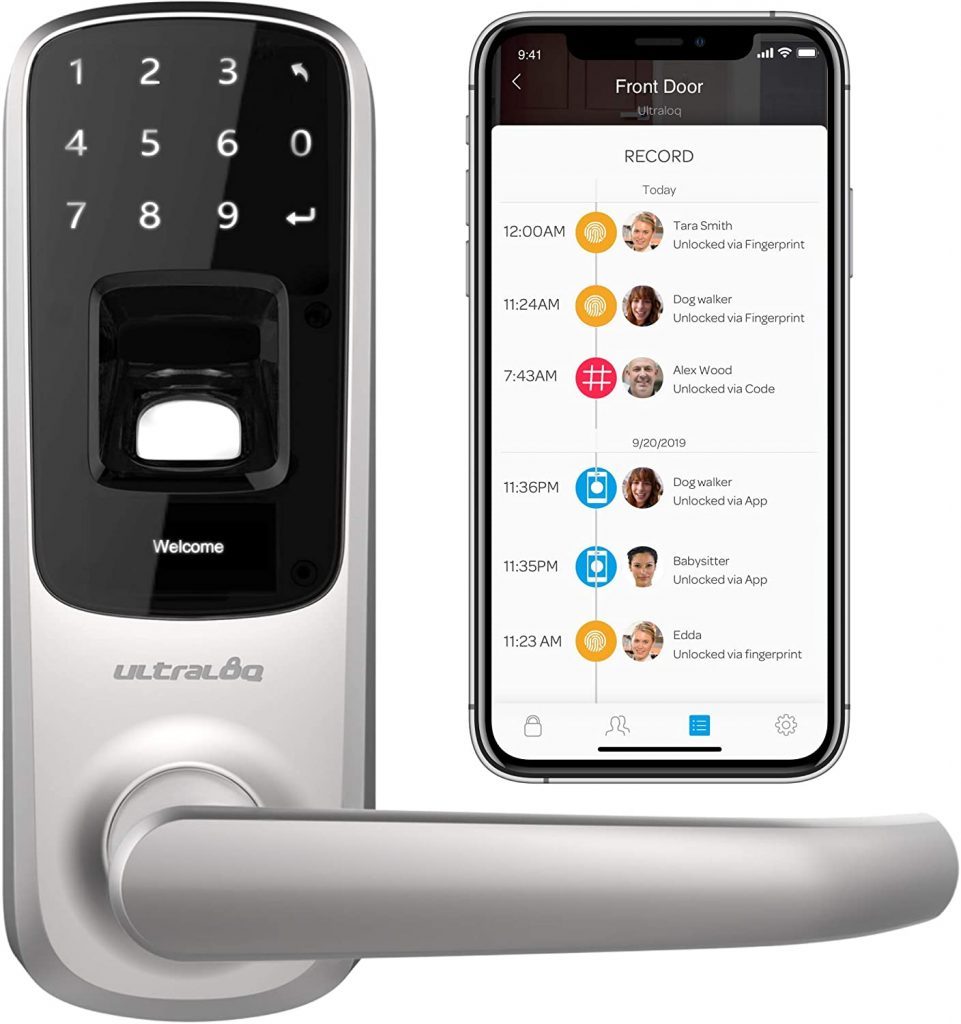 The Ultraloq UL3 BT Bluetooth Enabled Smart Lock claims to be the first keyless lock in the world that comes equipped with five keyless unlocking options.
You can unlock your home's main entrance's deadbolt using the Ultraloq app, Fingerprint, security code, and existing keys.
You can also knock or shake your smartphone for unbolting, depending on whether you have an Android or iOS phone.
This smart lock from Ultraloq exploits anti-peep touch keypad technology preventing outsiders from peeking indoors.
The Ultraloq app allows you to keep an eye always on individuals accessing the lock for gaining entry and exiting.
Three AA batteries included in the package enable accessing the lock at least eight thousand times.
Technical Specifications:
Item weight: 6 pounds
Dimensions: 7 x 6.3 x 3.5 inches
Color: Satin Nickel
Nickel finish
Pros
Three locking mechanisms: lockout, passage, and auto relock
Five unlocking options
Can be matched with your home's décor
Constructed from hardwearing metal
The exterior assembly is fully weatherproof
Ultraloq app companionable with both Android and iOS smartphones
Cons
Setting up the Ultraloq, especially for creating an entry for multiple users is challenging
The interface capability of the app with the smartphone has scope for improvement
Kwikset 98880-004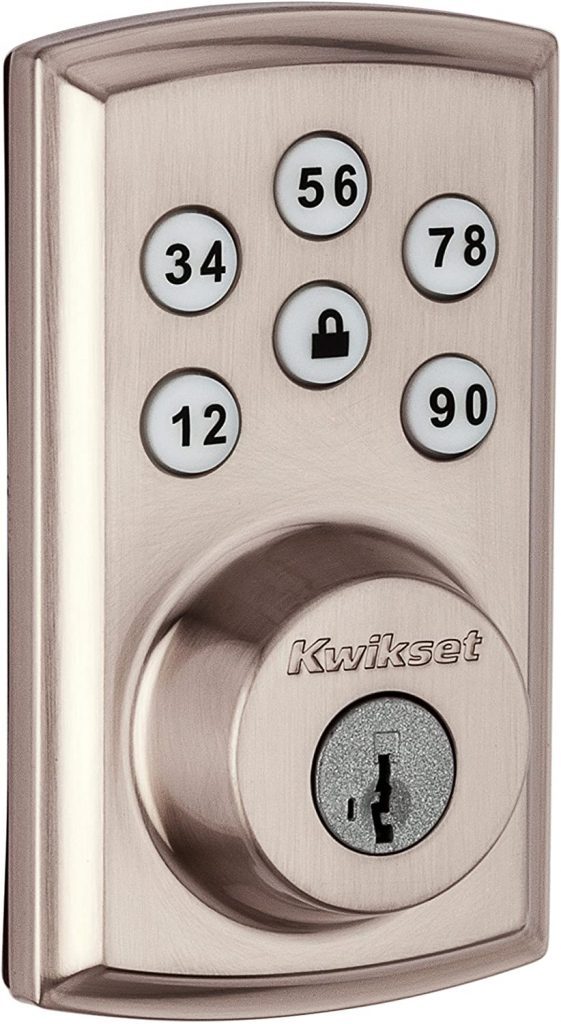 The Smart Code 888 Smart Lock by Kwikset features a touchpad reinforced with Home Connect technology, which lets you pair the lock with Wi-Fi enabled devices.
This keyless lock enables you to check whether your main door is locked or unlocked as well as view text messages and emails via Home Connect.
You can make the most of Smart Code- a single touch mechanical locking deadlock-by setting customized security codes for gaining access without keys.
The backlit keypad allows you to lock or unlock when it is dark, or visibility is very low.
Technical Specifications:
Item weight: 3.03 pounds
Dimensions: 9.7 x 4.2 x 4 inches
Satin Finish
Color: Satin Nickel
Pros
The intuitive home system can turn your smartphone into a key for managing smart lock from anywhere
Home Connect technology spares you from the need to use keys for entry or exit
Home Connect can be paired with home automation and security systems
Use up to thirty adjustable access codes for using at entry/exit point
Lifetime warranty on finishing and mechanical components
Plush metallic design
Cons
The auto-lock feature may not always work
Samsung SHS-3321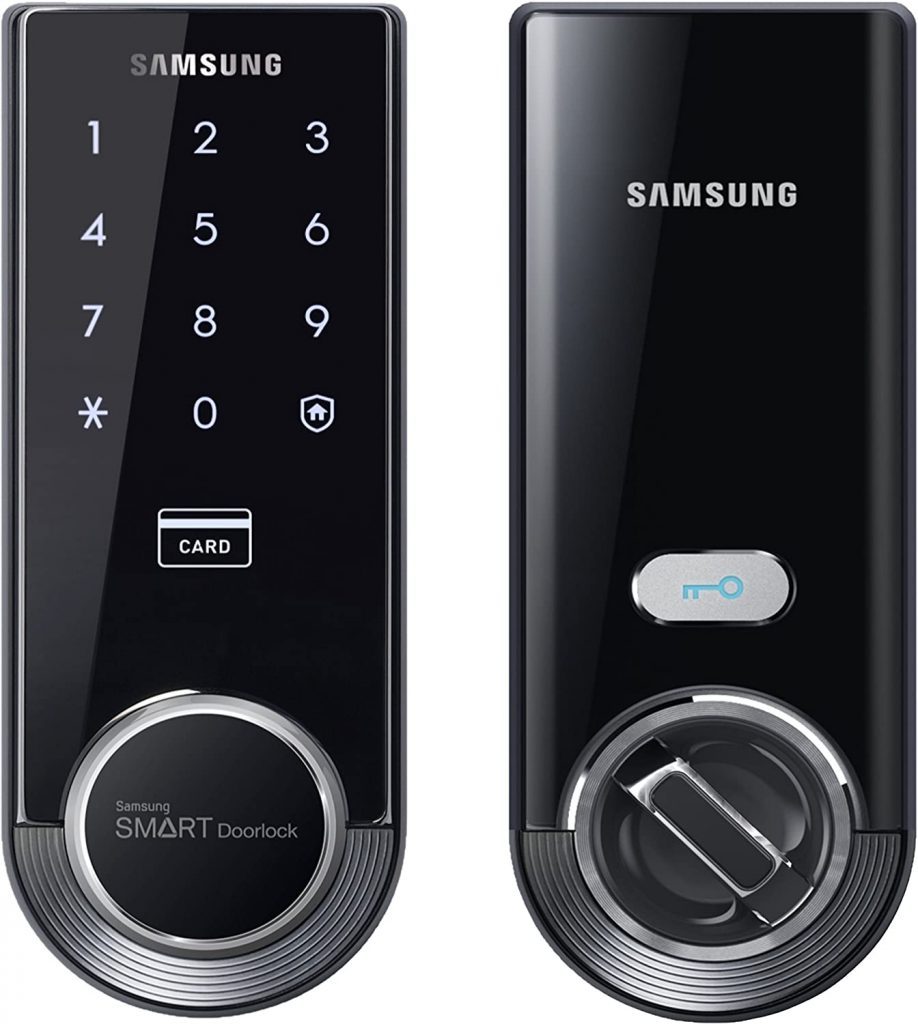 The SHS-3321 Digital Keyless Door Lock from Samsung is one of the best keyless door locks for Airbnb and ethical reasons.
For a start, this smart electronic deadbolt comes with a host of versatile features that makes your home entirely secure.
Before you key in the security code, two numbers appear randomly, which you need to push.
This mechanism ensures that your fingerprints are all over the keypad, thereby preventing the deadbolt from unlocking when attempted by others.
The lock asks for an RFID tag as well as the passcode before it unbolts. The double-locking feature ultimately secures the deadbolt from outside and cannot be opened by keys under any circumstance.
Multiple other smart locking features make this Samsung Digital Door Lock the world's most secure digital lock.
Technical Specifications:
Item weight: 3.05 pounds
Dimensions: 2.7 x 1.5 x 7.1 inches
Shaped out of polycarbonate, zinc, and aluminum
Pros
Auto-locking via magnetic sensor
If your house catches fire, a thermal sensor triggers the alarm for unlocking the bolt
Intrusion alarm goes off if someone tries to break-in in a locked state
Dust and water-resistant
Durable construction
Cons
The lock is susceptible to locking/unlocking automatically while pressing buttons on the keypad
Igloohome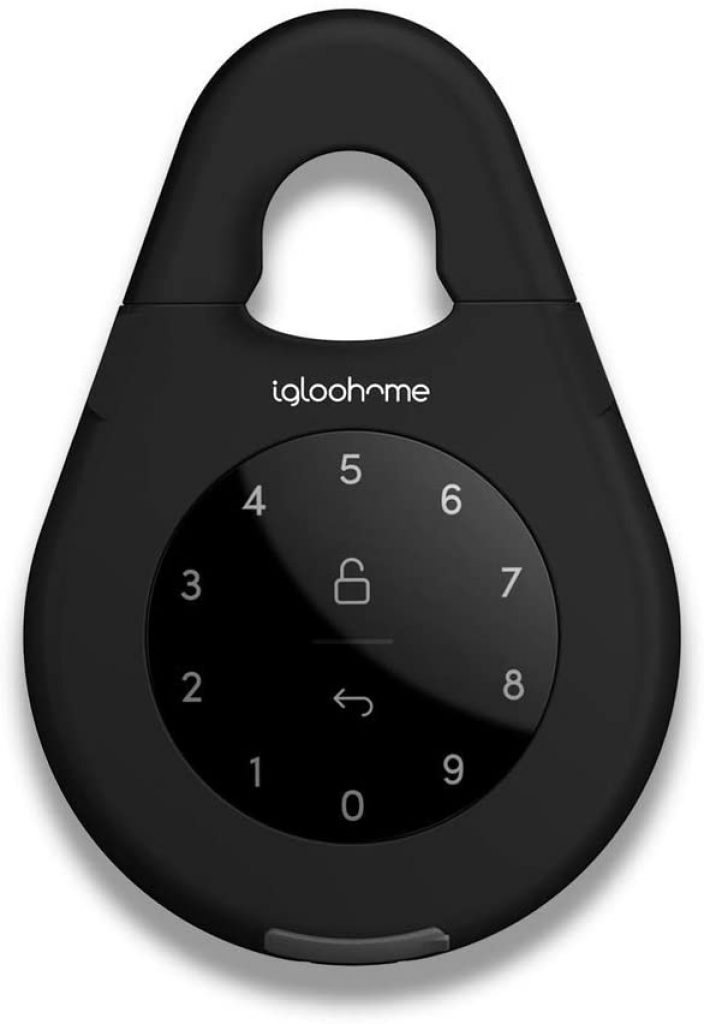 The Igloohome Smart Lock Box not only functions as a robust keyless bolt but also serves as a miniature storehouse.
This keyless lock box exploits the intelligent algoPIN technology, enabling proprietors to offer access without having to download any app.
Dual-access modes let you lock or unlock deadbolt using Bluetooth keys or PIN codes.
You can choose whether to grant consistent or one-time access. The Igloohome app for smartphones allows you to keep track of those accessing the key box.
Technical Specifications:
Item weight: 2.2 pounds
Dimensions: 4.5 x 4.6 x 1.5 inches
Made out of steel and zinc alloy
Pros
Dual access mechanisms: passcodes and Bluetooth keys
Keybox has sufficient room for housing essentials
Keybox can be tethered to doorknob as well as wall-mounted
Pairs with Airbnb
Download Igloohome app on a smartphone for sending Bluetooth keys and access PIN codes
Cons
You cannot check who could or could not gain access the moment you go out of Bluetooth range
FAQs
How does keyless or smart lock syncs with Airbnb?
After you carefully go through the ten best smart locks for Airbnb, you'll have a sound idea on the intelligent lock brands that work flawlessly with Airbnb.
The best keyless door lock for Airbnb gels with Airbnb.com instantly after a traveller or vacationer makes an online booking.
The submission of the reservation request on the Airbnb website causes the generation of a passcode that the tourist uses for locking and unlocking his rented accommodation.
Using a smart or keyless lock ensures that your vacation lodging will be safe and secure as the lock or deadbolt won't unlock without the passcode.
What is the best keyless lock for Airbnb?
Some of the best locks for Airbnb.com that work with the online marketplace for booking holiday homes include August Home, Schlage, Kwikset, Yale, Z-Wave, and Oaks Labs.
All these smart lock brands have been digitally synced to work with listings of homestays on the Airbnb site.
However, you should bear in mind that not every brand of keyless lock is attuned for connecting with the Airbnb app.
You can surf on the net to find out for yourself which smart lock brands are synced with Airbnb.
Can a smart lock be hacked?
Despite securing your smart lock with a security code, there's always the likelihood of your password security lock being hacked.
However, the vulnerabilities are more likely to come to the fore, mostly because of the negligence or carelessness of the owners rather than any manufacturing or mechanical loopholes.
Your smart lock has a good chance of being hacked if you set a simple text password. Hackers can also decompile APK files, spoof (disguising an unfamiliar communication as a known one) IP address, DNS, or ARP server.
What is a smart lock check-in?
Smart lock check-in implies that a tourist can gain access to an Airbnb accommodation using a keyless lock, keypad, or critical lockbox. Alternatively, the traveler can also use regular keys to obtain access.
Conclusion
We sincerely hope that after going through this review on the ten best smart locks for Airbnb of 2021, you will find it convenient to select a suitable keyless lock.
Some of the most extensively used keyless locks that sync with Airbnb.com are August Home, Yale Locks, Schlage, and Oaks Labs.
If you operate an Airbnb registered vacation home or property, and looking for multiple smart locks, then you'd be better off choosing Kwikset, Igloohome or Samsung.