5 Best Heat Pump Thermostats In 2023 (Smart & Wifi Programmable)
When it comes to long winter nights, the only thing you'll likely care about is warm blankets, hot cocoa, and a hot shower. Just thinking about a steamy bath can be enough to relax your muscles, but enjoying hot water can be easier said than done.
For one, it can be a nuisance to rely on your gas furnace to warm your home. You'll need to constantly check and maintain your water heat pump alongside it, but that's only half of the effort.
Thankfully, the dawn of modern technology has paved the way for new devices for your home. The best ones on the market right now are WiFi-connected heat pump thermostats—and yes, you heard that right!
Thermostat technology is a rising market trend, having advanced leaps and bounds. Now, you can now control your heat pump temperatures with just a few clicks. Dealing with winter blues has never been more convenient.
That said, we've scoured countless reviews and created this comprehensive guide to help you make well-informed purchase decisions. Without further ado, here are the best smart and WiFi programmable thermostats for your heat pump this 2023:
Programmable or Non-Programmable
Programmable heat pump thermostats can adjust temperatures according to the settings and preferences you set up. They are typically more expensive than non-programmable models, but the convenience is often worth the cost.
Emergency Heat Compatibility
Emergency or auxiliary heat is a backup system that's common in many heat pump models. If the one you own has an emergency or auxiliary heat option, it is crucial to get a smart thermostat for a heat pump with an emergency heat setting.
The wiring of your WiFi heat pump should also be compatible with that of the heat pump you have in your home. Although you can install some thermostats yourself, handling HVAC wiring typically needs the help of technicians for the safety of your property and family.
Remote Connectivity
Smart heat pump thermostats are popular because they allow homeowners to adjust the heat and monitor the device's settings remotely through wireless means. It's always best to ensure that the model you get comes with WiFi or Bluetooth connectivity, or both.
While the design, aesthetic, and interface of an electric heat pump thermostat is not the most critical determining factor of your purchase, it is still worth considering. Ideally, you would want to choose a device with an interface that is easy to understand and a design that matches your home's aesthetics.
Best Wifi Thermostat For Heat Pump With Auxiliary Heat
If you're looking for a thermostat with auxiliary heat, the Honeywell Home Smart Color Thermostat should be your top choice. It comes with a flexible programming system, allowing you to enjoy a smarter and more eco-friendly way of consuming energy. You'll also have access to monthly reports of energy consumption, thereby empowering you to optimize your energy use!
Another great feature of the Honeywell Home Thermostat is that it has a bright and customizable color display, allowing you to modify its screen to match your home's aesthetic. It provides a balance between form and function.
Honeywell Home Smart Color Thermostat

Customizable Color Display To Match Your Home's Aesthetics


Monthly Energy Reports To Optimize Your Energy Usage


Hardwired (C-Wire Required)

Amazon Alexa, Google Assistant, Microsoft Cortana, Samsung SmartThings

Compatible With Emergency Heat Function?

Flexible Programming For Convenience And Smart Energy Consumption

Compatible With Forced Air, Hot Water And Steam, And Heat Pumps With Electric Backups

Air Filter And Humidifier Pad Change Reminders

Diverse Smart Home Hub Compatibility

Shows Indoor And Outdoor Temp And Humidity

Does Not Work With Electric Baseboard Heat (120-240V)
Best Wifi Thermostat For Heat Pump With Emergency Heat
Need something to help you out during emergencies? The Emerson Programmable Thermostat is ever-reliable, as it's highly compatible with emergency heat features. You can also set varying schedules on weekdays and weekends, as well as allow you to control your home's temperature as precisely as possible.
Emerson Programmable Thermostat

Precise Temperature Control

Compatible With Emergency Heat Function?

Programmable, Allows You To Set Different Schedules On Weekdays And Weekends

Large LCD Display, Easy To Read

Compatible With Emergency Heat Function

No Smart Home Compatibility Specified
Best Non-Programmable Wifi Thermostat For Heat Pump
If you don't want to invest in a programmable thermostat, the ELECTECK Heat Pump Thermostat offers you more for less. It comes with an air filter change indication, making it highly innovative despite its limitations compared to its programmable counterparts.
Although it does not have WiFi or smart home compatibility, it is compatible with heat pumps with emergency heat settings. It's a reliable basic thermostat that can fit your needs.
ELECTECK Heat Pump Thermostat

Air Filter Change Indication

Hardwire Or 2 AAA Batteries

Compatible With Emergency Heat Function?

LCD Display With Large Characters And Backlight For Easy Reading

Dual Power Source: Hardwire Or 2 AAA Batteries

Simple Interface And Large Buttons For Easy Operation

Fahrenheit Or Celsius Temperature Display

12- Or 24-Hour Clock Display

Does Not Work With 120/240-Volt Electric Baseboard
Best Digital Thermostat For Heat Pump
If you want to go fully digital, the Emerson Sensi Touch Wi-Fi Smart Thermostat is compatible with your smart home, including Amazon Alexa, Apple HomeKit, Google Assistant, and even Samsung SmartThings. You can also enjoy a touchscreen display that connects with a mobile app for a seamless, hassle-free experience.
Emerson Sensi Touch Wi-Fi Smart Thermostat

Precise Temperature Control

Hardwired (C-Wire Required)

Amazon Alexa, Google Assistant, Apple HomeKit, Samsung SmartThings

Compatible With Emergency Heat Function?

Programmable, Allows You To Set Different Schedules On Weekdays And Weekends

Large LCD Display, Easy To Read

Compatible With Emergency Heat Function

No Smart Home Compatibility Specified
Best Programmable Heat Pump Thermostat
Looking for something easy, powerful, and reliable? There's no need to look further than the Google Nest Learning Thermostat. With this, you get to enjoy smart home compatibility with Google, Samsung, and Amazon. You'll also have access to energy reports, HVAC issues notifications, and even AI that saves both your time and your home's energy.
Google Nest Learning Thermostat

Learning Artificial Intelligence (AI) Technology Can Program Itself To Save Time And Energy


Uses Sensors To Detect When You Are Away, Then Switches To Power-Saving Eco Temperature Mode


Can Light Up Display When You Approach The Device

Amazon Alexa, Google Home, Samsung SmartThings

Compatible With Emergency Heat Function?

Can Alert You Of Potential HVAC Issues In Eligible Systems

Can Only Create One Schedule For Each Mode

Can't Make Different Fan Schedules For Weekdays And Weekends
In-Depth Buyers Guide
If you're going to buy a WiFi heat pump, let this guide tell you everything you need to know before you make a purchase.
What Is A Heat Pump? How Does It Function?
Most homeowners invest in heat pumps in order to cool and warm up their homes, but these devices can also be used to heat water. They can be installed as a water heating system or perhaps installed into a space conditioning system.
Heat pump water heaters mainly rely on electricity to move heat from one area to another, meaning that they cannot directly generate heat. For this reason, they are considered more energy-efficient than standard water heaters.
Heat pumps work like refrigerators, but in reverse—a heat pump water heater gathers heat from the environment and transfers that to the storage tank, which then successfully heats the water inside.
If you're looking to invest in one prior to your smart thermostat purchase, you can buy a stand-alone heat pump water heating system. You can also purchase one to fit into your existing water heating system!
Why Do You Need A WiFi Thermostat For Heat Pumps?
Investing in a WiFi thermostat may seem too much, but it actually isn't—it's a necessity. You need a special kind of thermostat for your heat pump simply because you need to support its process of changing heating through the reversing valve.
Keep in mind that your heat pump won't be relying on electricity to generate it—it will rely on it and the surrounding air to produce and transfer energy. A good WiFi thermostat will help you automatically support its functions.
How To Install A WiFi Thermostat On Your Own
Having a WiFi heat pump thermostat in your home is always convenient, but installing it may be tricky for some people. Some models are more complicated to install than others and require you to hire a professional technician to set them up. However, you can install many of these devices on your own with the right tools and knowledge.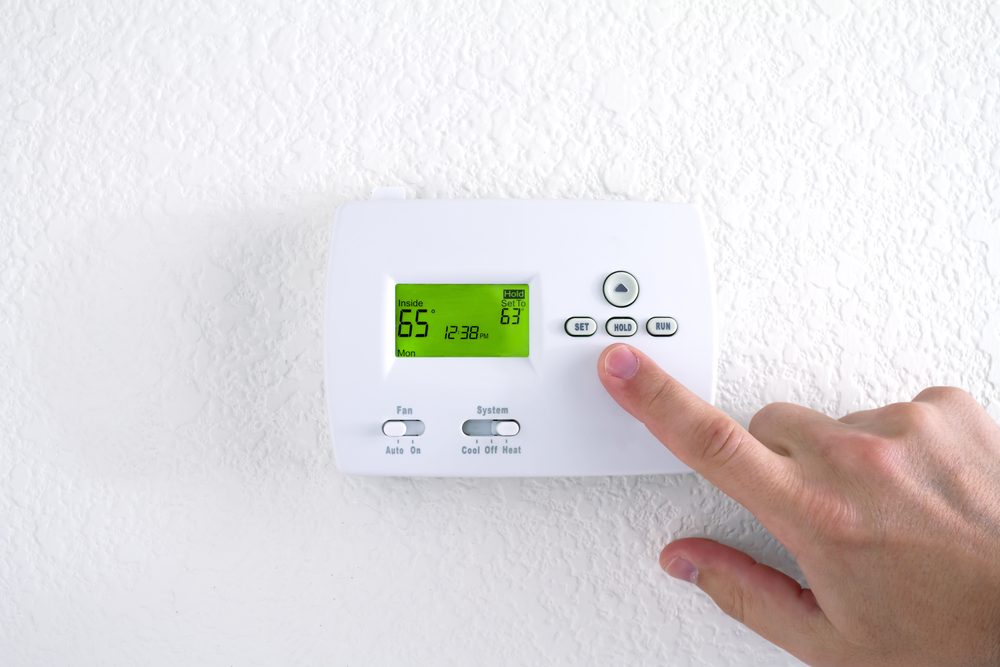 What To Know Before Installing a Heat Pump Thermostat In Your Home
Although many electronic heat pump thermostats are designed to be easy to install, there are many things you have to know and consider before setting your device up.
Find out if your smart thermostat can communicate well with your HVAC system. This is crucial because many homeowners get frustrated when they realize too late that their devices are not compatible. Some models, such as the Google Nest Learning Thermostat, have built-in compatibility checkers to help you out.
The wiring of your HVAC system and thermostat must be able to work together. Oftentimes, your smart heat pump thermostat will require a c-wire. What is a c-wire, anyway?
A common wire (c-wire) is what supplies energy to most smart heat pump thermostats that require hardwired connections. Your device will likely need low-voltage wiring to operate.
Although setting this up on your own may seem easy to do, it can still be dangerous if you are not well-versed in electrical systems. You may risk harming yourself, your family, or your property. Seek the help and assessment of professional HVAC technicians to ensure your safety.
Some thermostats are battery-powered and come with clear instructions on how to set them up. If this is the case, then you may follow the step-by-step guides provided by the manufacturers.
Will Your Heat Pump Thermostat's Warranty Be Voided If You Install It On Your Own?
Before you proceed with any DIY heat pump thermostat installations, you should also check if doing so will affect the product's warranty. Some thermostats need to be installed by professionals, or else their warranties will be nullified. Always examine the warranty and read the fine prints carefully to avoid any issues.
How Do You Properly Install A Smart Thermostat?
Step 1: Before anything else, it's important to read the manufacturer's instructions carefully. You'll need this to put the base plate correctly.
Step 2: After setting up the base plate, make sure to connect the labeled wires to the proper ports. However, make sure you're reading the instructions carefully to ensure that you're connecting the proper wires together!
Step 3: Connect the faceplate thermostat to the wires.
Step 4: Turn the circuit breaker power on, but make sure to do this with extreme caution. After doing so, your thermostat should boot up.
Step 5: Go through the necessary setting up steps, ensuring that you customize your thermostat's settings according to your need.
Step 6: Download the app to control the temperature remotely. You'll need to connect the device to your phone, so make sure to do so as soon as you've downloaded the app.
Step 7: Enjoy full control and remote access to your home's temperature anytime and anywhere.
Can Weather Conditions Affect Your Heat Pump's Power Needs?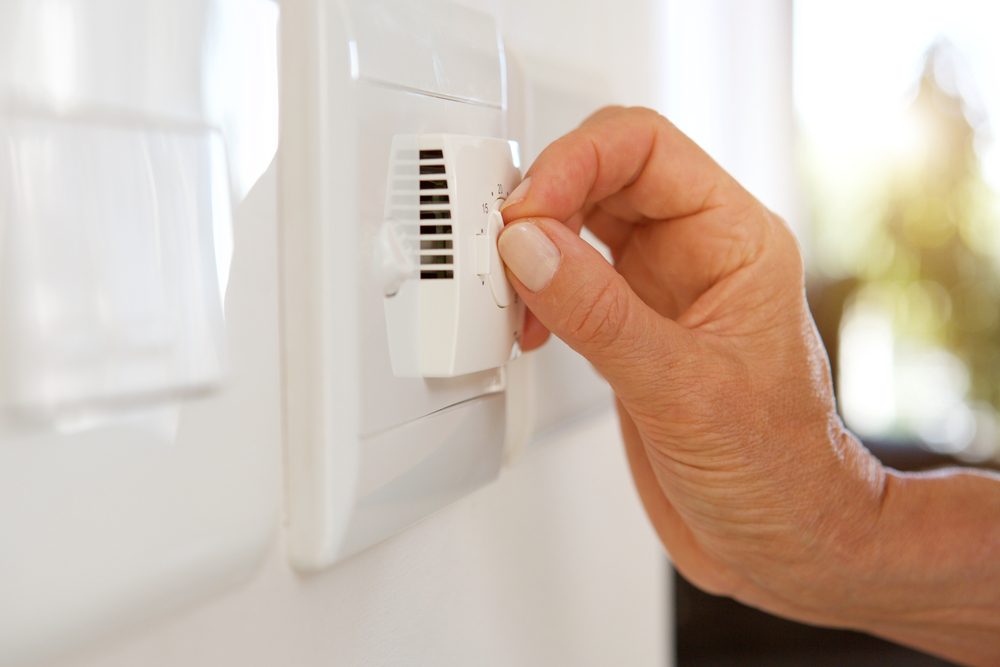 A heat pump heats your home by gathering heat from the environment outside. It then transfers the heat to your water heater and, if your heating system allows it, the rest of your home. Although it may feel cold inside your home during the winter, keep in mind that heat still exists around—leaving just enough to create sufficient heating for both your baths and lounges.
Heat pumps can generally operate in mild winters, but certain temperatures can drop too low that it can be difficult to pull heat from the surroundings. Simply put, freezing temperatures may affect your heat pump from performing at its optimal level.
Most heat pumps work best when the temperate is above 40°F, and once the temperature outside drops, your heat pumps begin to lose efficiency. However, keep in mind that this does not mean your heat pump will no longer run—it will just need a little more electricity to accommodate your heating needs.
What Is An Emergency Heat Function?
An emergency heat function is a setting feature that's designed to control your home's backup heating system. Should an emergency arise, your emergency heat thermostat setting will take over. In freezing temperatures, you'll still have a functional heating system to ensure the indoors stay warm and safe.
Many heat pumps have this useful function. Because of this, it would be helpful to consider if the thermostat you are buying will work well with a heat pump with an emergency or auxiliary heat setting.
How Do I Operate My Smart Thermostat Remotely?
Don't you find it inconvenient if you have to get up every time you need to adjust the heat in your space? Thanks to many advancements in smart home technology, you can now operate your smart thermostat remotely in many different ways. You can access their features via mobile apps, smart hubs, or central control units. These remote methods generally require WiFi connectivity.
Some heat pump thermostat models, such as the Emerson Sensi Touch Wi-Fi Smart Thermostat, come with compatible mobile apps. You can download them on your smartphone and control your thermostat from anywhere as long as you have your mobile device and a stable Wi-Fi connection.
Many thermostats are also compatible with smart home hubs like Google Nest, Amazon Echo Dot, or Apple HomeKit. With this connectivity, you can operate your thermostat with voice commands.
Conclusion
When it comes to dealing with winter blues, you need more than just warm blankets, hot showers, and steamy cups of cocoa. You need to build a smart home that can accommodate your heating needs so that every corner of your home can stay warm throughout the freezing days.
After purchasing a trusty heater, make sure to invest in a smart thermostat to enjoy seamless and automated home life. Thanks to powerful features, you not only enjoy a toasty haven but also an eco-friendly and energy-efficient space for the years to come.
If you're ready to purchase a smart thermostat, here is a quick rundown of our recommendations: