The 10 Best Sliding Glass Door Locks In 2023
Sliding glass doors are widely used in modern residential spaces as they make a functional and beautiful design statement. They pose security risks, and homeowners are aware of the risks associated with them.
Several door locks are available in the market, but the full range leads to confusion, and it becomes difficult to choose the best sliding glass door lock.
A standard sliding door security lock offers minimal security, and nobody would want to compromise in this regard. Homeowners seek to improve their sliding glass doors so that they can stay safe.
10 Best Sliding Glass Door Locks
LOCKiT!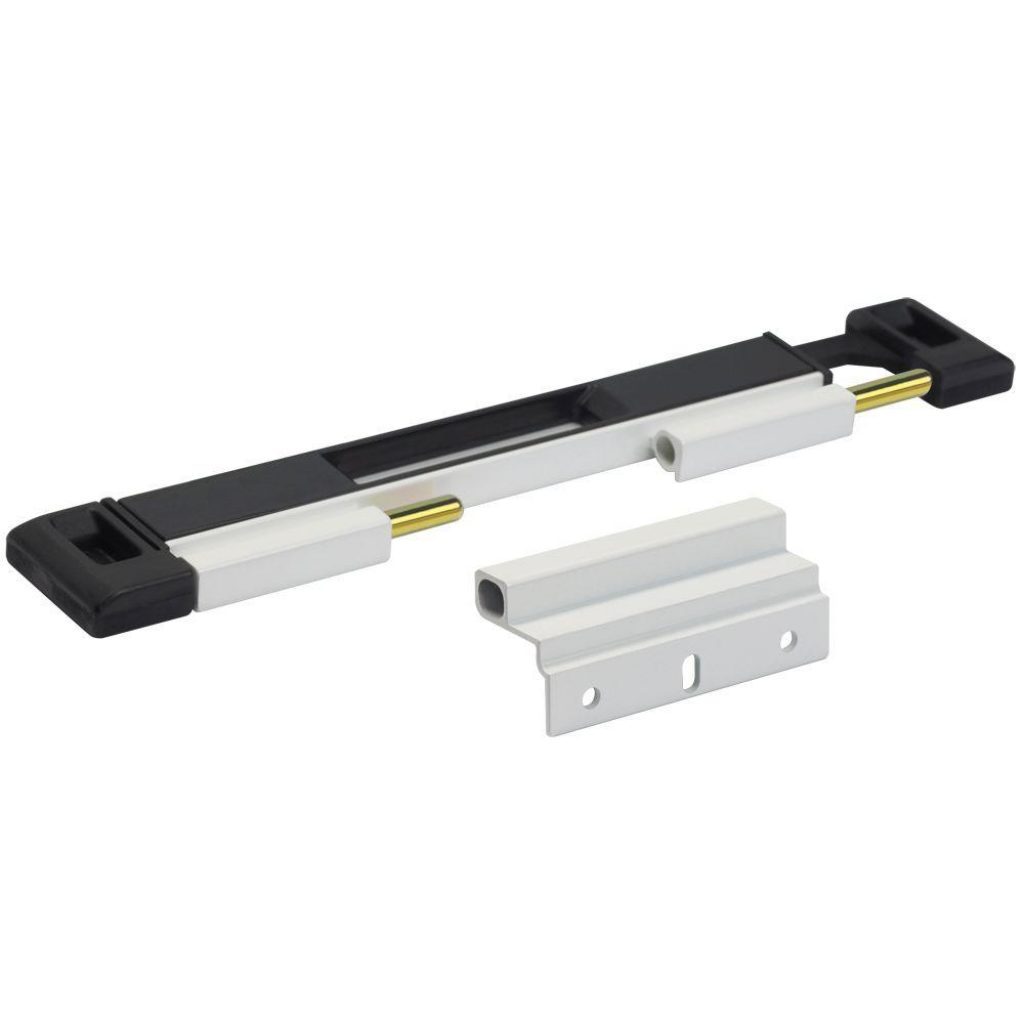 The sleek, low profile and aesthetic design make it fit comfortably in the minimal space present between the interior of the door panel and the glass doorframe.
The simple device is easy to install and prevents intruders from lifting the sliding doors off from their tracks. Premium quality high-grade metal is used and makes your sliding door highly secured.
Key Features:
Mount easily above the OEM lock ensuring children cannot reach
No extra setting time required
Attractive finish- Color Black & White
Double-bolt secured sliding door lock
Available in 3 different color choices
Pros
Appealing & modern design gives a beautiful look to the door 
Includes required installation hardware
Both the bolts prevent vertical movement of the door
Double-lock pin allows installation at any height
Fits on almost all types of sliding doors
Cons
No key lock to open from outside
OKEFAN 4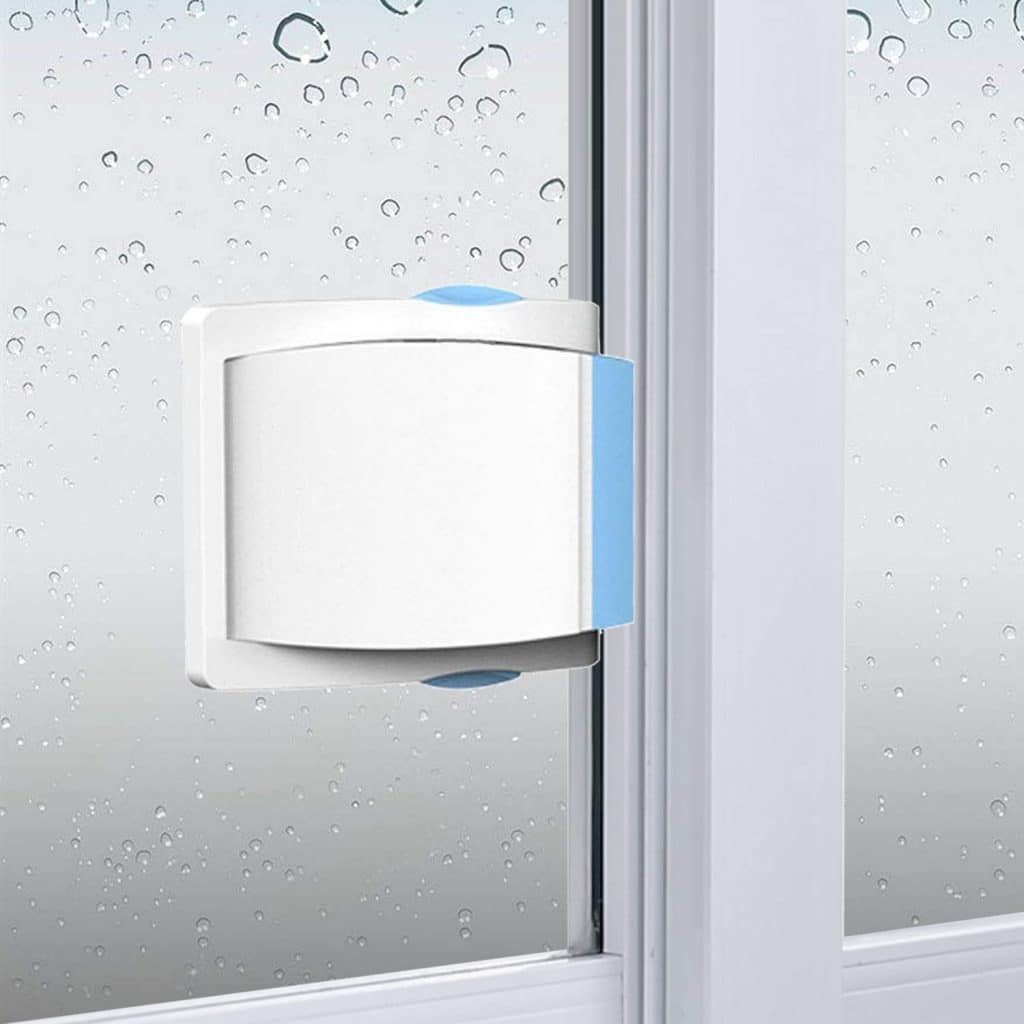 Okefan presents this sliding door lock with the focus on manufacturing a child-safe lock. The glass door lock gives you the confidence of comfortably performing your household tasks when your little one is exploring the house and roaming around.
The door locks with durable adhesive tapes and ensures that the child does not get hurt while trying to open the patio sliding door. It comes with a brand-new structure integrated with a soft TPR bar and opens easily by pressing the double buttons simultaneously.
Small children can't open the double buttons themselves. It merely takes a few minutes to install these locks, and the durable materials make it a long-lasting product.
Key Features:
Integrated child-proof safety that withstands pulls & tugs of children
Double button press technology stops the sliding doors
High-quality ABS plastic, strong 3m adhesive tape, and stainless-steel spring
Door Lock with TPR Bar
Pros
Superior quality plastic & materials used
Easy installation without the need for drilling tools
Easy to clean & maintain
High durability
Child safe
Cons
Lock is thick
No secret opening mechanism
Lion Locks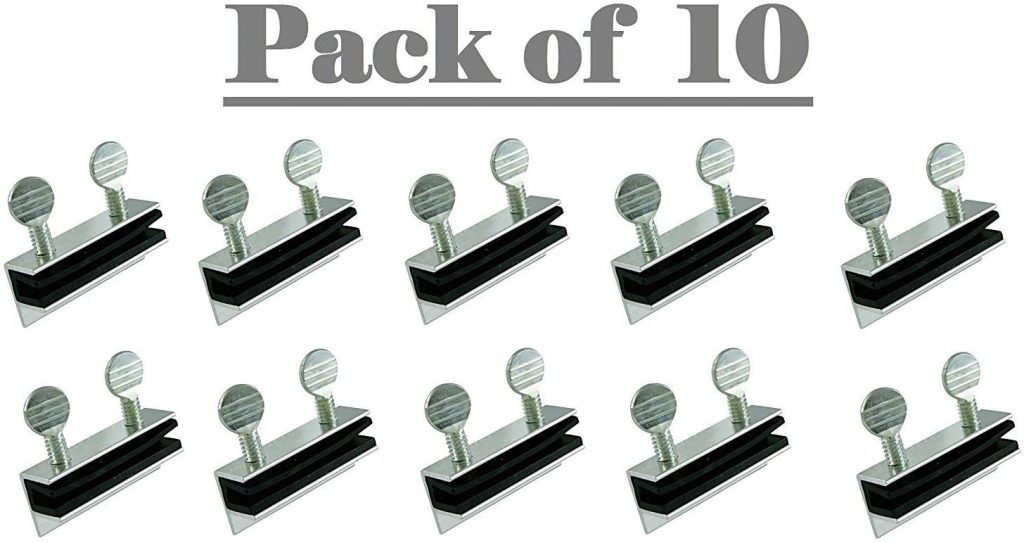 Lion Locks is integrated with a double thumb screw and manufactured using heavy-duty aluminum. The double screw design adds a stronger grip for mounting it on the window track or the sliding doors.
It securely locks the sliding doors keeping it in a closed, ventilated position. The lock doesn't require any tools to install. The locks prevent the forceful opening of the door from outside.
Additionally, being easy to attach, it can be installed in minutes. You need to place the slider lock on the sliding door on the lower or upper track. They are perfect for sliding glass doors, patio doors, retractable screen doors, sliding storm doors, and sliding doors.
Key Features:
Heavy-duty aluminum materials used along with inner vinyl lining that prevents damages
Secured locking facilitated by additional gripping power
Fits on tracks up to 3/16 inches without
Rectangular shape with Aluminum, Silver finish
Pros
Compatible for Swing hinged and on pocket doors
Deep bolts prevent lifting off the track
0 drilling required
Prevents forceful impact from outside
Cons
Thick Rubber pieces on its edges
Substantially Long screws included
Toledo Locks' Best TDP-02S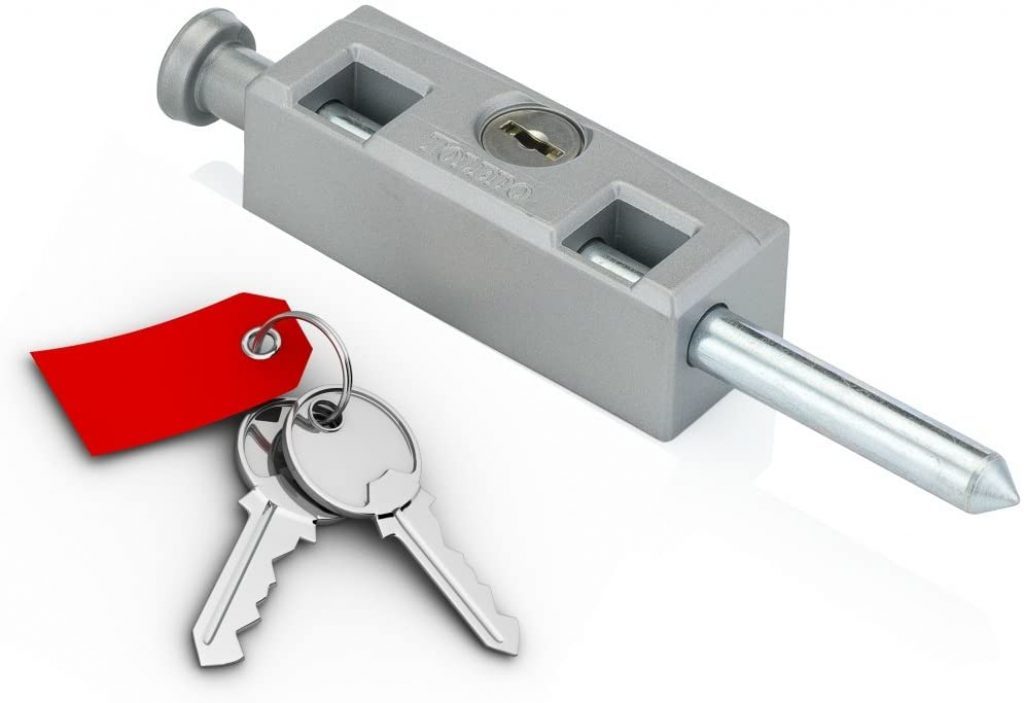 This heavy-duty lock is suitable for interior and exterior use. The sliding door security bar works perfectly on regular hinged doors. The fast and easy installation requires drilled holes of 1/8″ diameter. The vandal protection is added when the lock activates to hide the mounting screws.
The bolt contains concealed screws and is made of hardened steel. These qualities keep the bolt tamper resistant, and it remains in place. The anti-theft design includes two hidden screws that help prevent tampering.
Installation can take some time, but you can follow the instructions which are smooth and precise. You can lock and unlock with the keys that come with this lock. The set of keys is helpful, especially if you want to keep toddlers safely inside and away from balconies and pools.
Key Features:
Prying resistant, strong case
Most excellent locks in their class
Modern styling and solid hardware
Rectangular shape with Aluminum, Silver finish
Pros
Compatible for Swing hinged and on pocket doors
Deep bolts prevent lifting off the track
Keys included
Hacksaw and boltcutter resistant metal
Additional concealed screws
Cons
One end of the locking pin has a plastic piece that may break out quickly
Average build quality
Pro-Lok EPL-106-W Patio Door Lock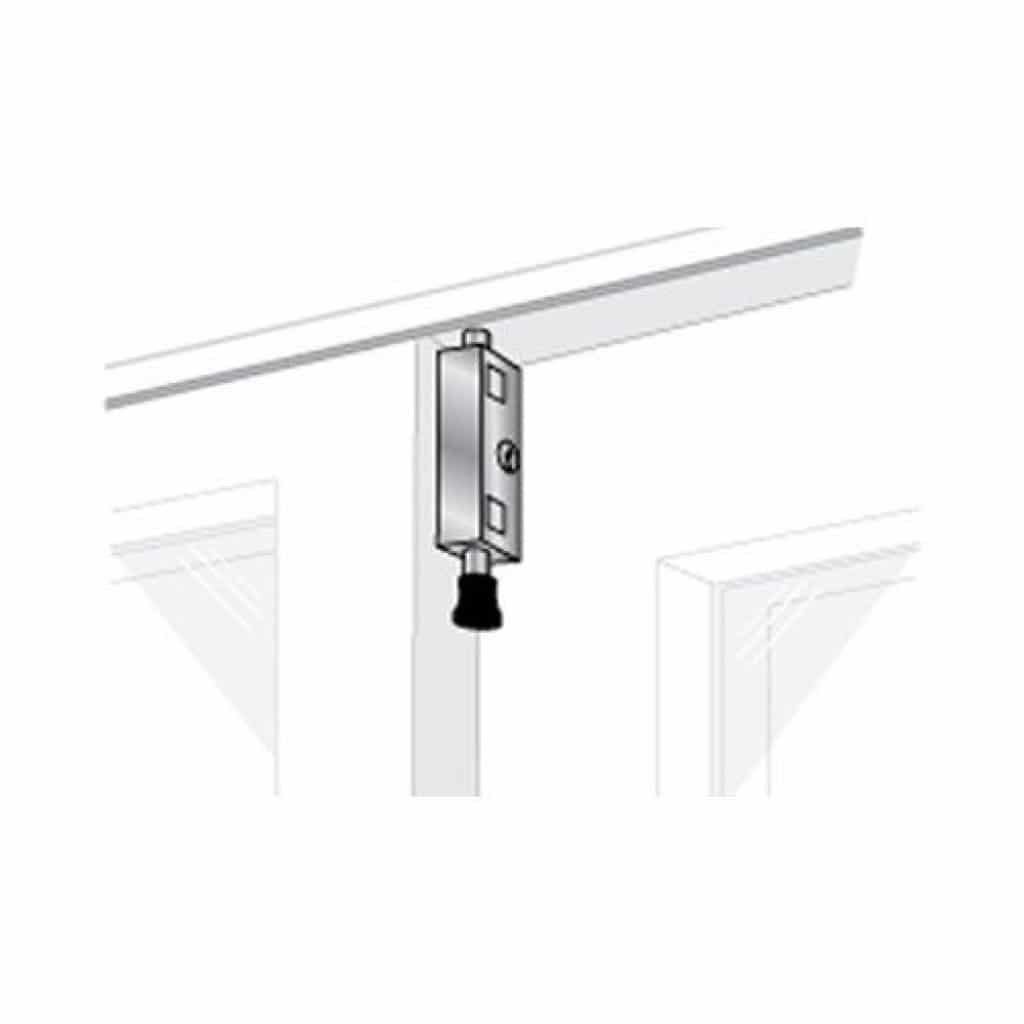 The patio door lock bar is made of heavy-duty steel bolt preventing lifting and sliding of the door. The sliding glass door can be adjusted easily for ventilation, as the key lock is available to secure position. Pin and rectangular housing are suitable for 1-3/8″ – 1-3/4 inch thick doors and a drill hole of 1/4″ inch in the fixed-panel rail. Key Features
Key Features:
Simply push the pin up to lock and use a key to secure
Simple locking mechanism
The lock is installed at a height, so it stays out of children's reach
Pros
Easy installation
High durability as it is made of steel
Color-White
Cons
Need to drill a hole on the slider
Hard for a short person to lock/unlock the door 
Suncoast Hardware Single Mortise Lock
Suncoat single mortise lock bestows an elegant and modern feel making an ideal option for patio sliding glass door security bar. Ensuring privacy, the rustic design of this lock is adaptable to a variety of doors, and it is easy to install.
Key Features:
Size measures 3.8 x 1.6 x 0.5 inches
45° keyway
Single mortise lock
3-11/16″ center to center attachment hole spacing
Pros
Secure lock for sliding doors
Adjustable hook design
Made of steel for incredible durability
Cons
Instructions for installation not included
Fasteners not included
Patio Sliding Door by Hausun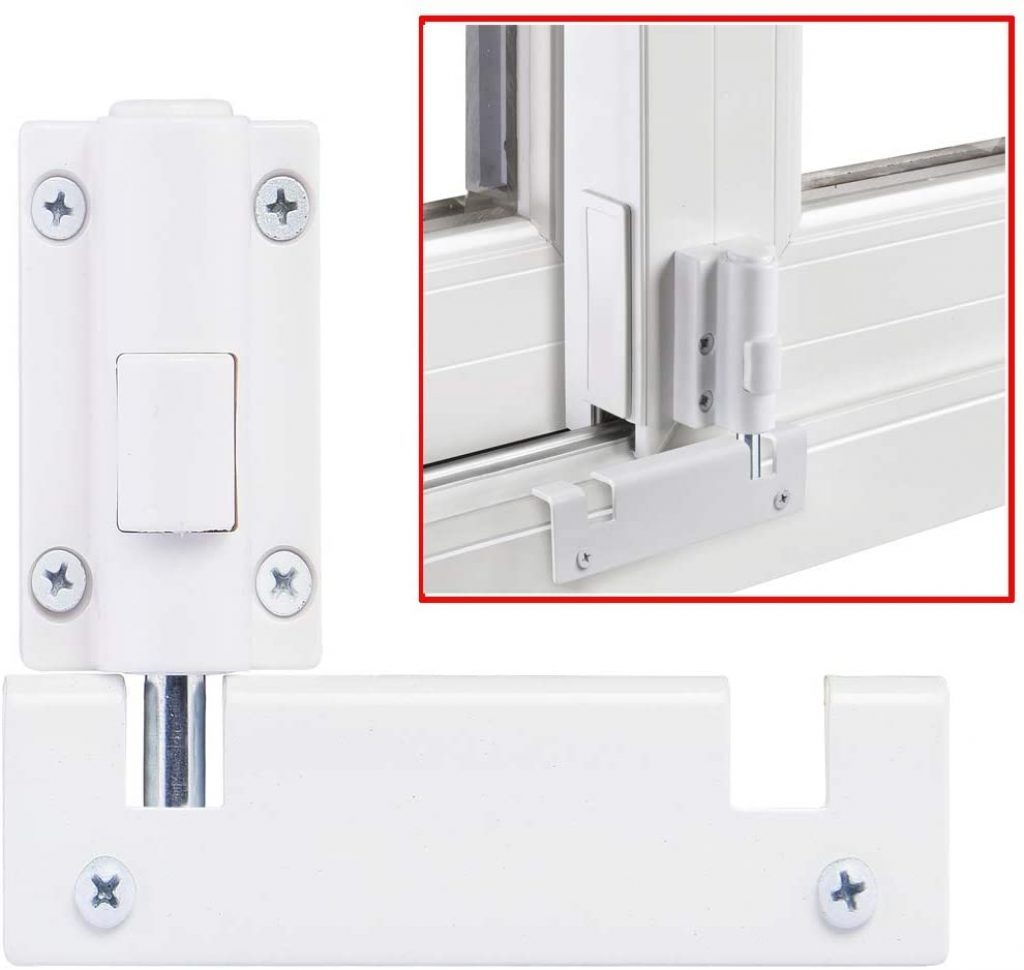 Patio sliding door lock comes with a double locking mechanism making it virtually impossible to lift the door off its track. It provides over 1000lbs of forced entry load tension, and these locks are great because they usually have two operational positions.
The two channels allow the door to be locked in a closed position and let it opened slightly for ventilation. You can install at top or bottom rail if you want to keep it away from children then install it on top; otherwise, it can be foot operated.
Key Features:
ABS+ Aluminum material
Double locking action
Spring-loaded
Easy installation
Pros
Works both with left and right sliding doors
Attractive and functional
Best for price
Color- White
Cons
Does not work on outside tracks
The lock itself is made of plastic other than metal bolts
Ideal Security SK110W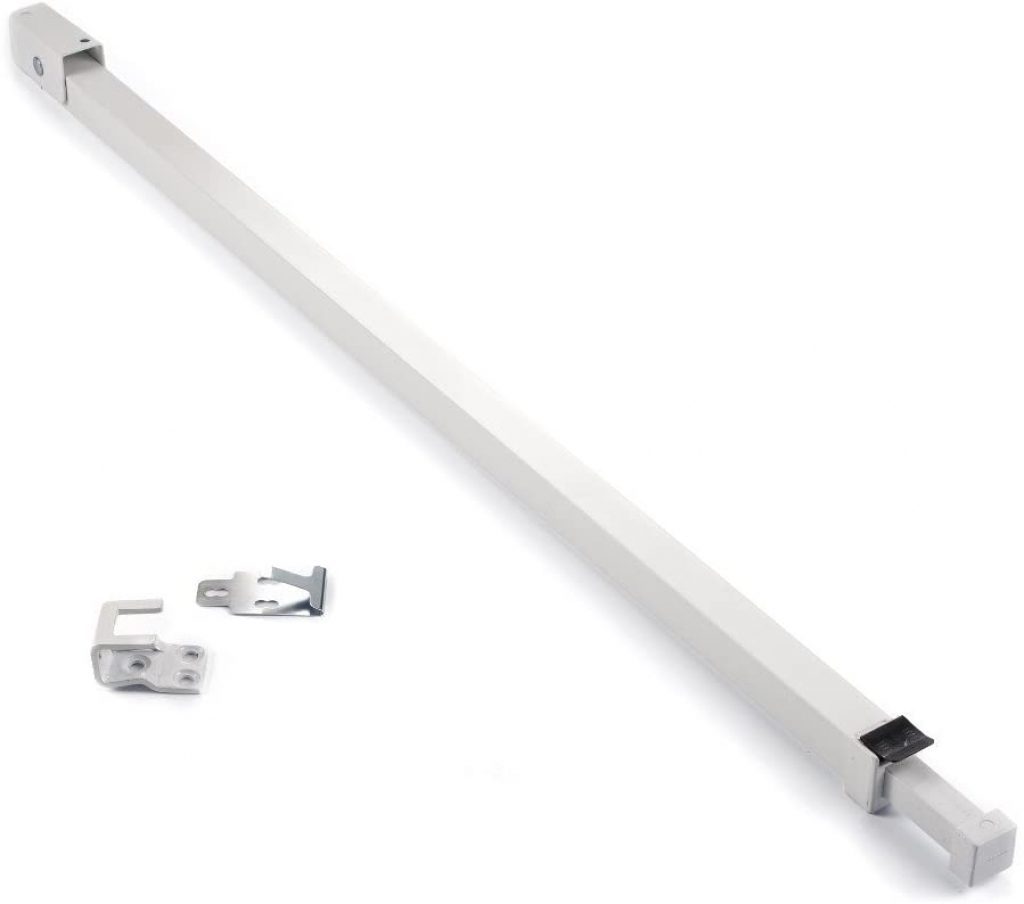 Selected as the best sliding door security bar by Business Insider, the ideal SK110W Patio Door Security Bar is integrated with the unique child-proof feature.
The Anti-Lift Lock feature adds safety, acts as a visual deterrent, and increases the security quotient. The new lock features an additional clip that is fitted behind the saddle.
The unique mechanism prevents children from raising the bar and going outside. It also is useful to protect against any possible intrusion. The visual deterrent added in the middle of the door makes it appealing besides being functional.
Key Features:
One-Touch adjustable option for ventilation
Installs on 25-3/4 inches to 47-1/2 wide doors
Fits on the door jamb and door frames in 2 positions
Child-proof Anti-lift lock technology
Pros
Extruded aluminum makes it both durable and lightweight
Easy to install without the need for cutting and drilling
Easy to adjust and lock at any width
Child Safe & Appealing Design
Visual deterrent prevents burglars from seeing through it adds extra security  
Cons
Aggressive usage might break the latch in the long run
Defender Security S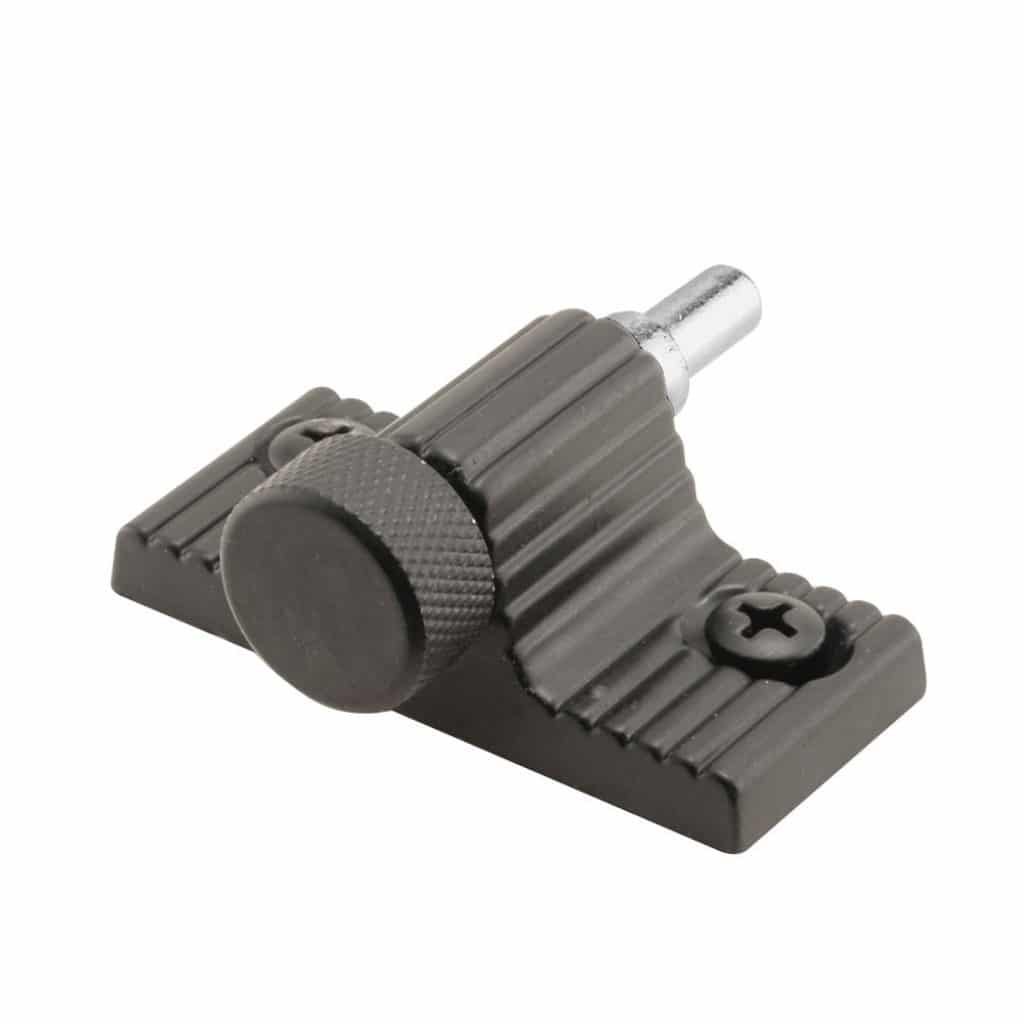 To offer additional security protection, Burglabar is integrated with a self-locking hinge. It works great with both sliding windows and patio doors. Installing it takes a few seconds without the need for additional tools.
Made from a robust, transparent material called LEXAN, it utilizes a specialized adhesive to bond as if it has been welded. It is an ideal yet affordable solution offering advanced locking protection for your house.
Key Features
Self-licking hinge offers a tight fit
Additional protection thanks to its construction using LEXAN and unique 3M adhesive
Child-proof lock
Pros
Easy and Quick to Install
Fits perfectly
Highly Durable 
Affordable
Lightweight
Cons
May break if installed incorrectly
Patio Guardian PDG01-W Patio Door Lock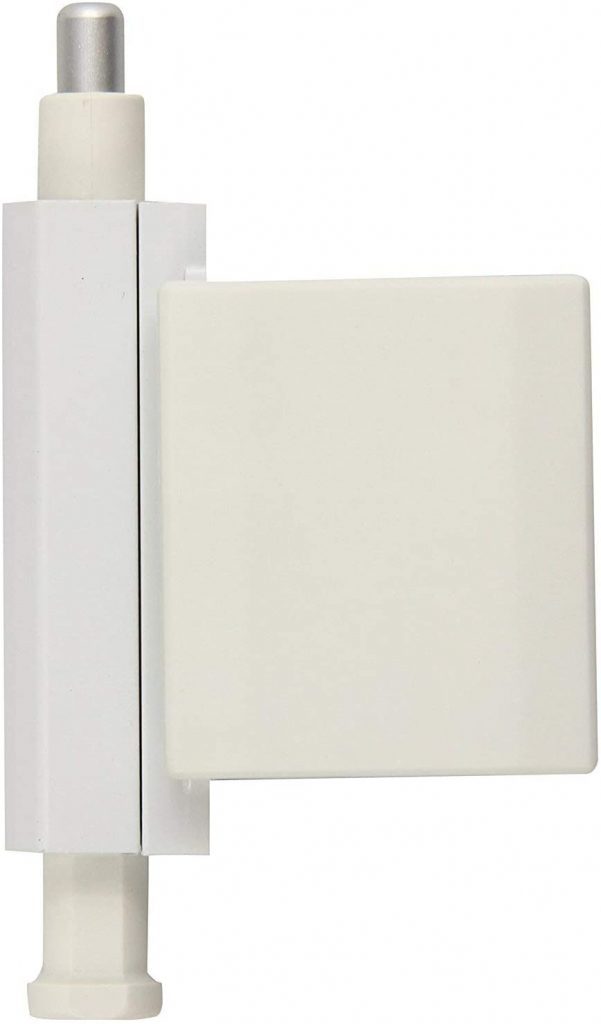 The white-colored lock fits perfectly on sliding patio doors. It not only offers the required security but also is a cost-effective safety solution for protecting against unwanted entry to the house.
The lock is easy to install and is a child-safe solution. It also offers protection on patio doors having fixed doors on its outside and a sliding door inside.
Key Features:
Compatible with aluminum, wooden and vinyl sliding doors
Requires drilling holes on the existing doors
Weighs 9.1 ounces
Pros
Serves a dual purpose of the security device and a child-proofing lock
Allows proper ventilation without compromising on security
Easy to Install
Affordable Product
Child-proof
Cons
Terrible instructions & challenging to understand illustrations
Sliding Door Lock for Child Safety Ashtonbee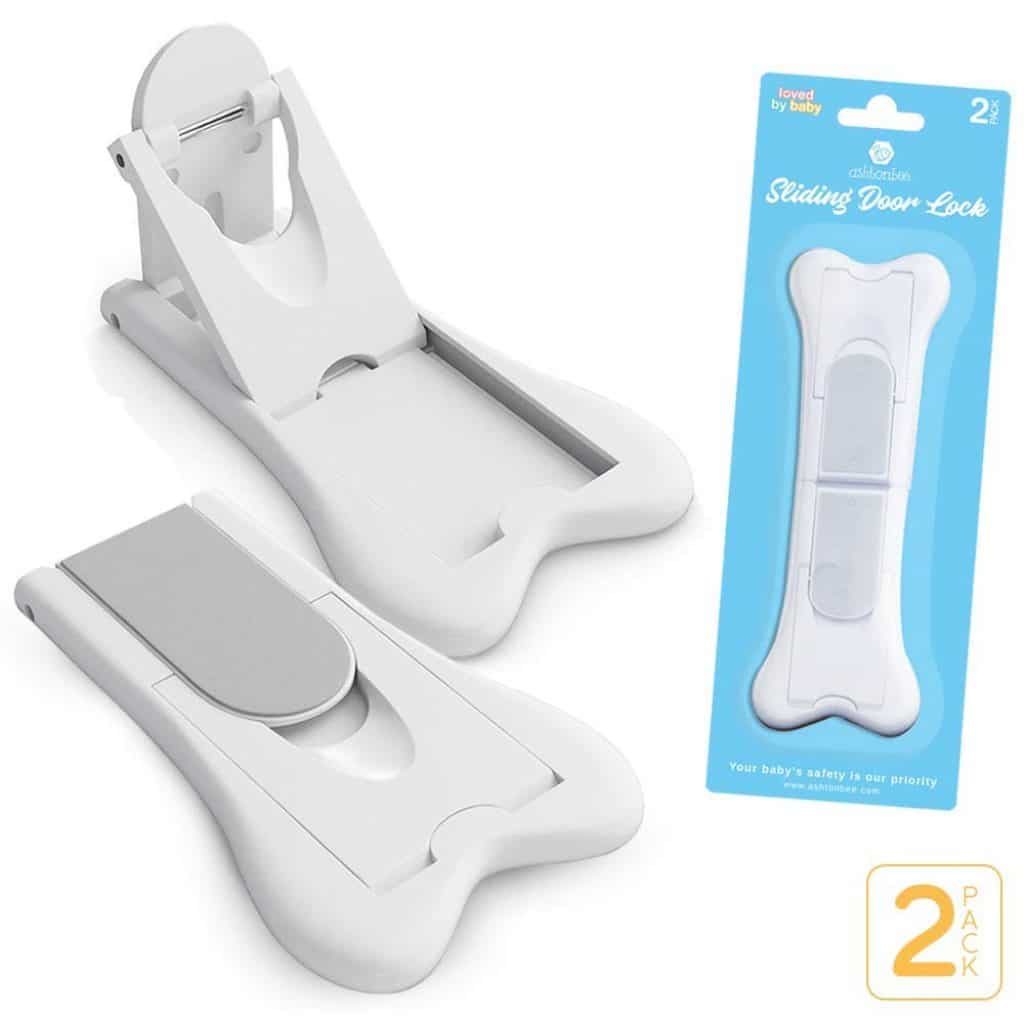 Built to be a child-proof solution, this lock makes babyproofing quick and easy. Only a few seconds are needed to install it on the sliding door. You will have to attach the device using the tape on the door.
The lock is compatible with almost all kinds of door surfaces. Once installed, it can easily withstand any tugs and pulls by the baby. It comes with a keyless design were pressing it down locks the door and flipping it unlocks.
The lock offers added security and restricts babies from venturing into unwanted areas such as swimming pools, balconies, storage areas, and patios.
Key Features:
Compatible with windows doors, storage spaces and multiple entry points offering added security
Made using best quality BPA-Free ABS plastics
Flip to unlock & press down for relocking
A versatile design that blends with your house
Pros
Materials quality used makes it versatile, durable & functional
No fancy tools or gizmos needed to install & Operate
Requires minimal space & seamlessly blends in your house
Baby-proof locking feature prevents children from getting access to off-limit areas
Simple installation by peeling the tape and applying on the surface
Cons
Cannot be removed & reinstalled
The locking mechanism could have been better
3M Sliding Door Lock for Child Safety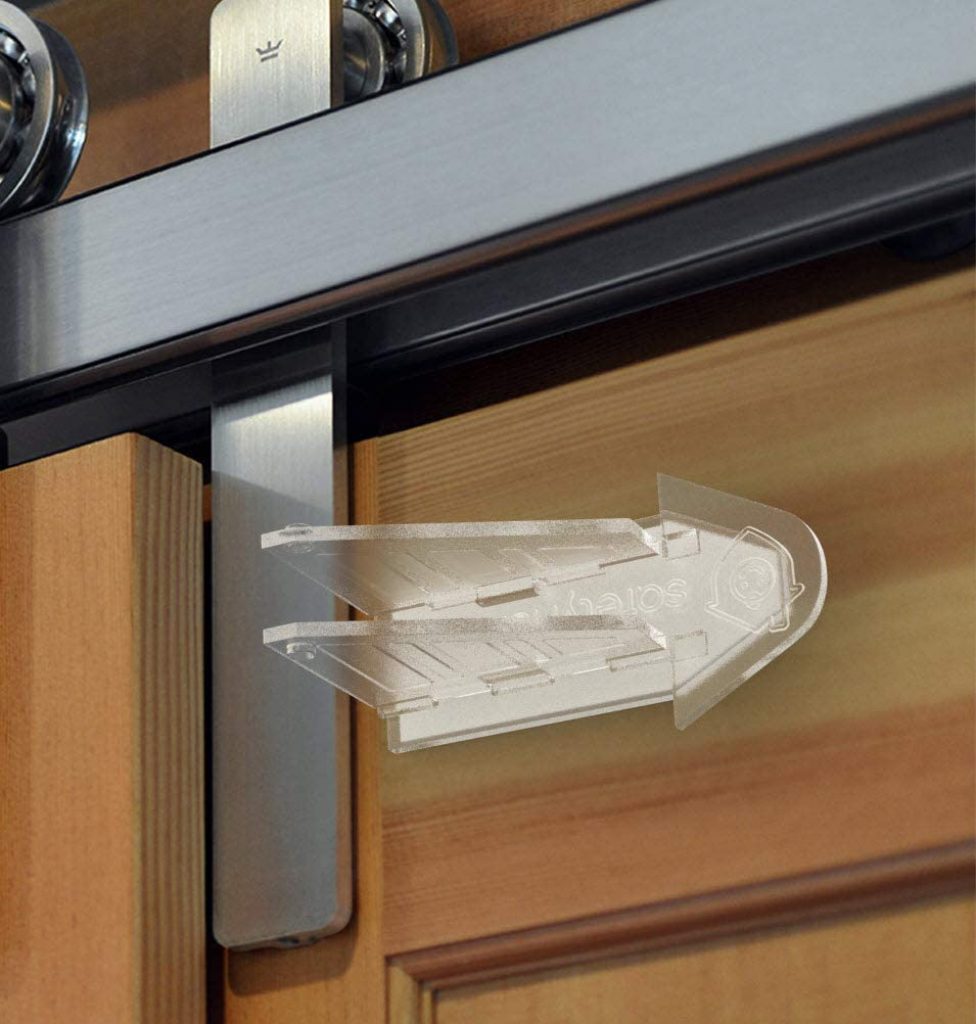 This child-safety door lock has been designed using durable ABS plastics and sticks on any surface using the 3M Adhesion. You only need a few seconds and minimal efforts to install it on the sliding doors ad windows. The secure design doesn't require any drilling or tools.
The lock will both limit or completely stop the kids or pets from opening the sliding doors or windows. The mechanism is straightforward and can be locked or unlocked using a single hand. The versatile design uses sharp ABS plastic sticks that stick on most surfaces, including wooded, aluminum, and plastic materials.
Key Features:
4-Pack for Sliding doors and Window Lock Security
Child Lock measuring 3.5 inches to 3 inches
Window Stopper safety latch with foldable sides providing lock-free access
3M Adhesive installation offering complete lock or limiting access
Pros
Multipurpose Design
Compatible with doors & windows
Baby-proof mechanism restricts wandering unsupervised outdoors
Easy to install & maintain
Space efficient keyless locks
No tools required for installation
Easy to remove
Cons
The average quality of materials used
Conclusion
You have gone through reviews for the best sliding glass door locks but consider some of the critical points before buying the one for the sake of your home safety. You must find the operating mechanism of the lock. Can it be operated easily by all the people in your home? Older people with reduced strength can open or close the door using the lock when no one else is at home. Someone with arthritis in hand can work well with a smart lock. Locks with alarm are also good to use.
In case you are looking for purchasing a durable yet affordable door lock, then we advise buying the Burglabar 2 Pack sliding door locks. On the other hand, if you are looking to purchase a premium door lock, then our pick would be LOCKiT! Black/White Double Bolt Sliding Door Lock