The10 Best POE Security Camera Systems In 2023
If you're looking to secure your home or office full and have complete peace of mind, then go for the best PoE security camera system. The topnotch PoE security cameras serve as powerful deterrents discouraging thieves and burglars from attempting a break-in. Nevertheless, in the worst possible case scenario where a burglar breaks in despite installing an outdoor PoE security camera, you'll always be able to claim recompense from your insurance provider.
Any premium-quality PoE security system will never fail to record evidence of housebreaks, thereby ensuring that you'll be able to make insurance claims, provided you took out an insurance policy.
What is a PoE security camera system?
The PoE in the PoE security camera system is an acronym which stands for Power over Ethernet. PoE tends to be an innovative and rapidly evolving technology that enables cables or wires not only throughput power but the network (2G/3G/3G/$G) as well.
If you experience issues while managing several cables (and who does not), including tangled or knotty cables, then the PoE system is your best bet.
Any conventional home security camera system needs two distinct cable connections during setup-one for supplying power and another for linking with the LAN or WAN.
However, a PoE-compatible security camera can be connected to a network and also receive power supply from only one cable known as the Ethernet cable.
Best POE Security Camera Systems
Reolink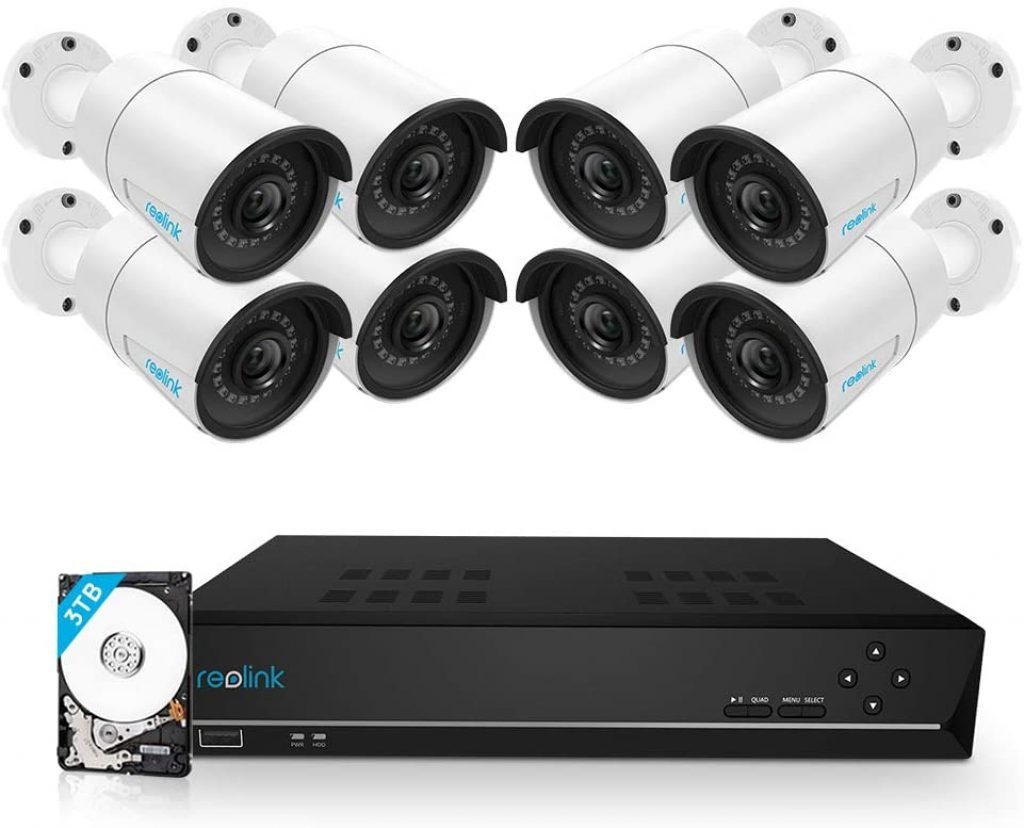 The Reolink 16Ch PoE Home Security Camera System is one of the best PoE security camera systems you can go for.
This PoE security camera system comprises eight 5MP IP cameras, every camera having a 2560 x 1920 pixel resolution. When you install this 16-channel channel PoE camera system, you can rest assured that your home or office will be almost immune to break-ins.
With a total of eight cameras keeping guard round the clock, you can take it for granted that this PoE security camera system capture every detail.
You have preinstalled 2TB HDD (replaceable by up to 4TB of storage) to ensure that you can record footages consistently without missing anything. A single PoE cable powers the system runs videos and audios, which make the installation process amazingly simple.
The Reolink app lets you access videos via your iOS/Android phone or tab as well as your Mac/Windows PC.
Tech Specs
Item weight: 24.1 pounds
Resolution: HD 2560×1920
Night vision: 65-100ft, 18pcs IR LEDs
Lens: 80°@4.0mm
Storage: 3TB hard disk
View angle: Horizontal: 80°, Vertical: 58°
Cameras: Supports up to 4 cameras
Product Dimensions: 14.5 x 11.6 x 14 inches
IP66 durable weatherproof metal housing
Daylight sensor (day/night auto switch)
Pros
16-channel 5MP PoE camera system enables you to see everything in detail
Captures footages and images within a radius of 100ft at night
Replace the existing analog network and connect with NVR port
Security camera system starts recording instantly through the HDMI monitor
Cons
No manual or documents included that will help the user with setting up the system
Even the Reolink website is not user-friendly
Reolink 4K PoE Security Camera System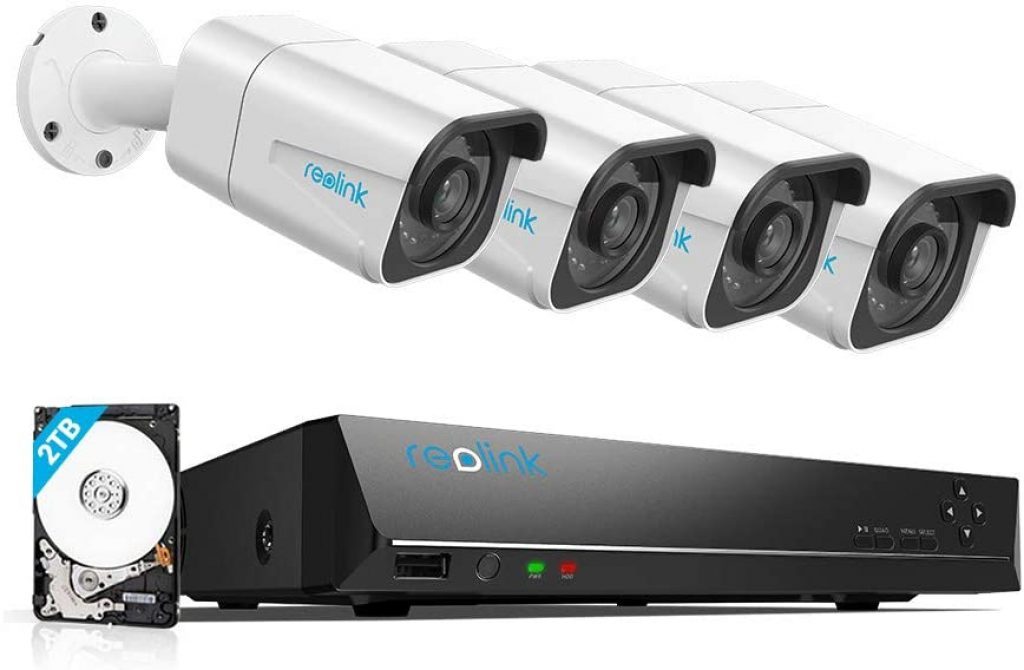 Another PoE Security Camera System from Reolink that can be branded as one of the most performance-oriented 4K PoE security camera systems.
This Reolink 4K PoE Security camera system delivers images having a 3840 x 2160 pixels resolution, which means you get to see everything vividly.
This security camera system holds a mirror to what exactly is happening around your home inside out.
The eight-channel security system works perfectly for companies that require indoor/outdoor surveillance and also for small and medium-size homes.
The IP66 waterproof and weatherproof casing around the cameras enables this 4K PoE security cameras system to function smoothly 24/7 and throughout the year.
You can playback footages and watch live recordings by connecting your Android/iOS tab smartphone or tab with the security system via the Reolink app.
Tech Specs
Item weight: 13.95pounds
Resolution: 3840 x 2160 pixels
Night vision: 100ft, 18pcs IR LEDs
Lens: 80°@4.0mm
Storage: 2TB hard disk
View angle: Horizontal: 97°@ 4.0mm
Cameras: supports 8 IP cameras
Product dimensions: 14.8 x 7.7 x 11.4 inches
4mm lens with 97° FOV (horizontal) 51° FOV (vertical)
Pros
Free of cost Reolink app facilitates remote accessing of all cameras
24/7 recording thanks to the preinstalled 2TB HDD
Supports installation of the external hard drive (up to 4TB) for additional backup
Extremely user-friendly plug & play PoE security camera system
4K Ultra HD Reolink cameras display crystal clear images without any distortion
Waterproof, durable, and resilient
Cons
No ONVIF support
H.265 compression algorithms are not available
Fast forward functionality not available on NVR recorder
Amcrest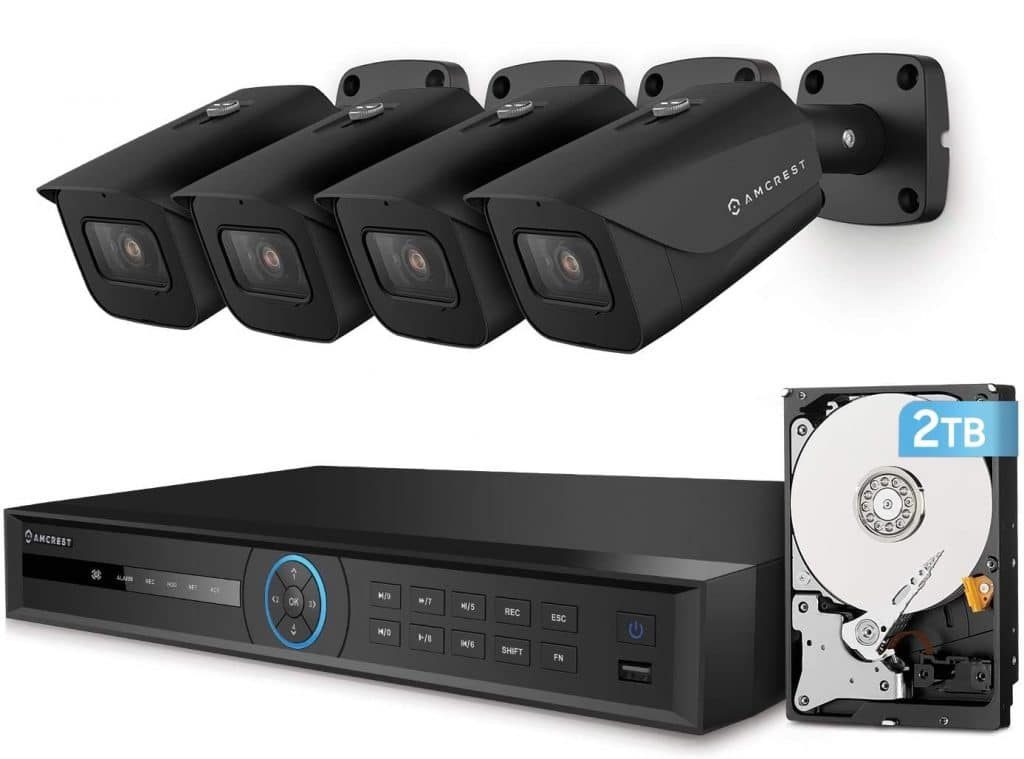 The 4K 8MP PoE Security Camera System w/4K 8-Channel NVR by Amcrest displays images of 3840 x 2160P resolution and records footages at the rate of 30 frames per second.
So, you can bet that you'll never miss a thing when you playback footages and review images captured by this eight-channel PoE camera system.
The cameras have a 2.8mm lens with a stunning 101° field of view (FOV), and IR LED night vision capability implies visibility up to a whopping 164 feet.
The cameras are encased in IP67 weatherproof metal housing, which makes the security system incredibly versatile and handy.
You get more recording time, thanks to the state-of-the-art H.265 compression technology, which helps save overall storage space.
Installation of this Amcrest 4K eight-channel PoE camera system is rendered a breeze, thanks to the system's compatibility with Ethernet cables.
Tech Specs
Resolution: 3840×2160 pixel
Night vision: 164 feet
Lens: 2.8mm
Storage: 2TB hard disk (external support up to 10TB HD)
View angle: Horizontal: 111°
Cameras: supports 4 IP cameras
Standard recording modes like motion detection, scheduled, and manual
Multiple alarm/trigger features
Pros
4 x 4K UHD 8MP PoE cameras use advanced CMOS image sensor and chipset for high-quality recording
Captures images and records footages up to a distance of 164 ft at night
Comes with built-in 2TB hard drives; sufficient storage for all captured footages
Download "Amcrest View" app for smooth plug-and-play installation, configuration, access, and control
320Mbps broadband speed lets you view everything as and when they happen
Cons
40-50% of the reproduced still images, and snapshots are corrupted
The motion detection notifications do not work effectively from outside
HeimVision HM 541
The HeimVision HM 541 5MP PoE Security Camera System with 10" LCD captures crisp and crystal clear images.
On the other hand, the NVR recorder captures and records high-resolution footages that you can view on the 10" LCD monitor.
You can keep an eye over your abode from anywhere on your PC, smartphone, or tab.
Connectivity this HeimVision PoE security is a breeze as you can power on the security system via your existing power cable, Wi-Fi router, and the included 65ft Ethernet cable.
You get instant alerts, messages, and emails about suspicious activities around your home on your smartphone.
The 8-channel, 5MP NVR is equipped with the capability to be hooked up with an additional 4pcs set of 5MP PoE cameras.
Tech Specs
Item weight: 12.8 pounds
Dimensions: 12.2 x 9.1 x 10.2 inches
Night vision: 65 feet
Storage: 1TB hard disk
View angle: Horizontal: 180°
Cameras: supports 4 cameras
One 8-channel 5MP network video recorder (NVR)
4 x 65ft Ethernet cable with waterproof connector
Pros
Intuitive motion detection and night vision
Round the clock recording and playback
Easy plug-and-play (Included 65ft Ethernet cable)
8-channel 5MP NVR expandable for using with additional 5MP PoE cameras
Easily mountable on the ceiling or wall thanks to 3-axis mounting bracket
Cons
Trial and error strategy several times for motion detection work to expectations
ZOSI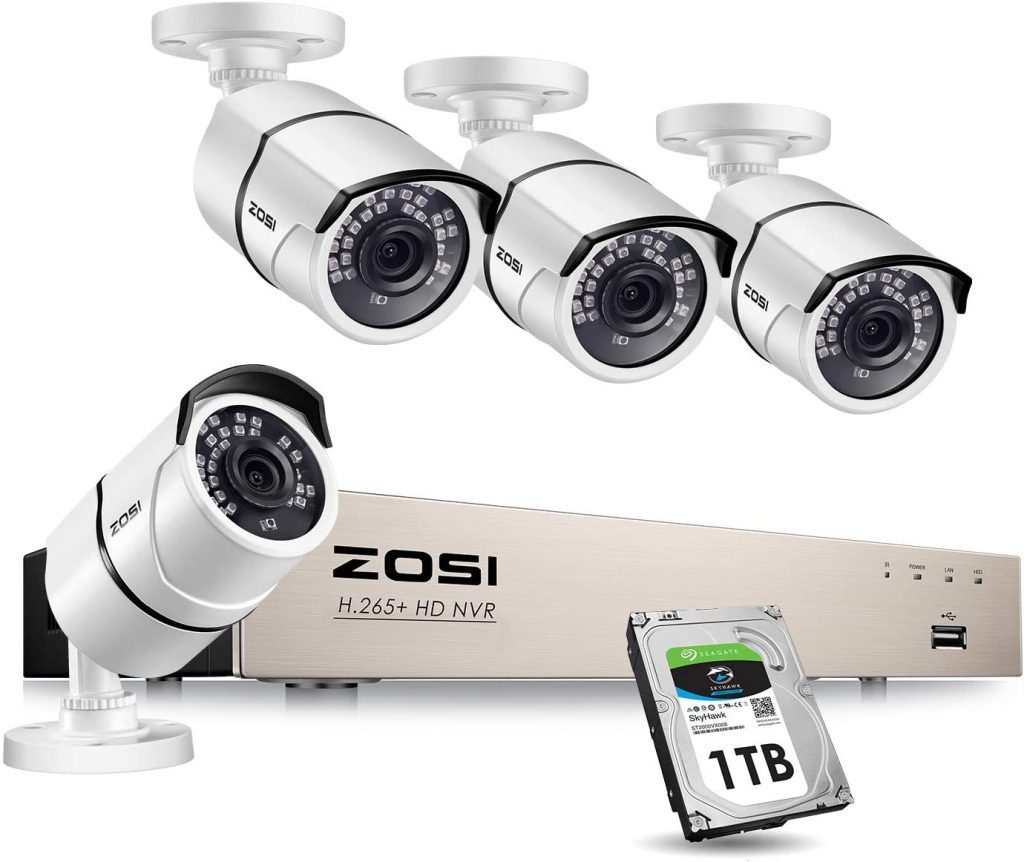 The network video recorder of the ZOSI PoE home security camera system is capable of recording 5MP ultra high definition videos.
You can view in real-time as the NVR records footages as well as playback the videos at a convenient time.
This home security camera system supports HDMI 4k/8MP (3840 x 2160) throughput, thereby allowing you to watch all recordings on your HDTV.
The ZOSI POE Home Security Camera System takes full advantage of the H.265+ technology, enabling you to save up to 90% storage in comparison to standard H.265.
The H.265+ delivers smoother video streaming without sacrificing image quality.
You receive power supply and footage signals via a single PoE Ethernet cable, rendering this security camera system very user-friendly.
Tech Specs
Item weight: 11.8 pounds
Resolution: 1080P
Night vision: 120 feet
Lens: 2.8mm
Storage: 1TB hard disk
Cameras: supports 8 IP cameras
Dimensions: 17 x 12.5 x 7 inches
H.265+video coding
Pros
Instant alerts & motion detection features can be customized
Smooth pairing with ZOSI view or ZOSI smart app for checking
Playback and view videos and snapshots on your smartphone, PC, or tab via Wi-Fi or /3G/2G internet anytime anywhere
Cons
Not suitable for use as the main surveillance system in a home or office
IR takes an inordinately long time to adjust to changes in natural light reflection
Amcrest 4MP Security Camera System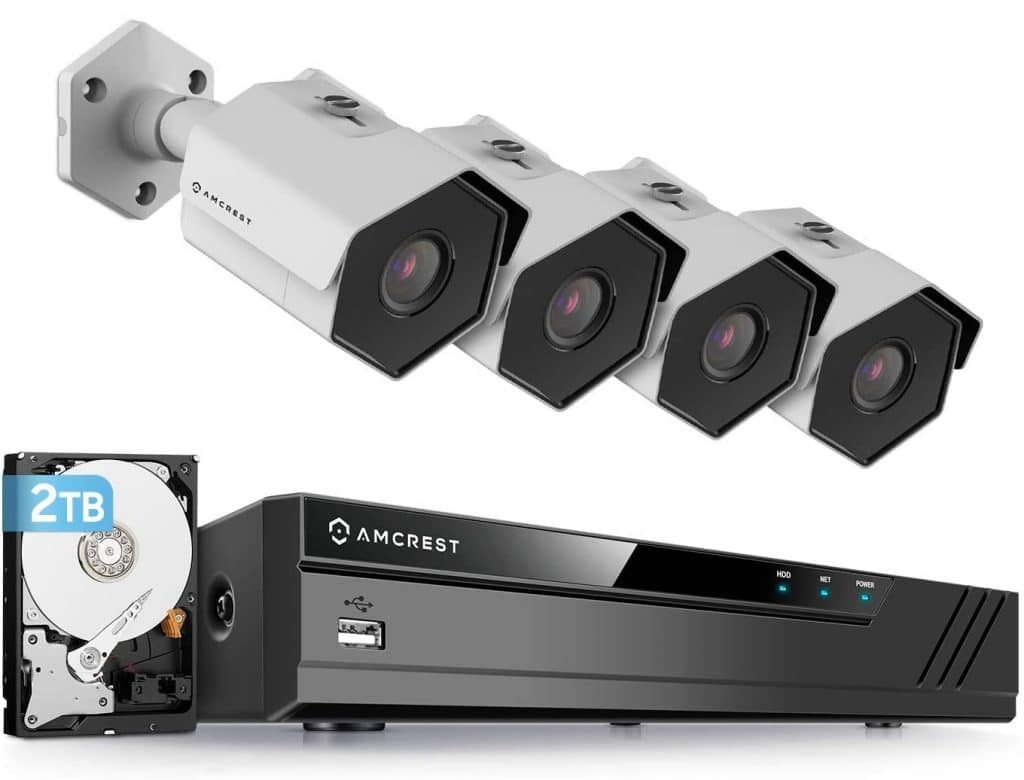 The USP of this 4MP PoE Security Camera System from Amcrest has to be its built-in H.265+ compression technology, which helps save immensely on storage.
And the greater the storage space, the higher the total footage quantity you can record and backup.
The H.265+compression technology compresses recording and image data without compromising on ultra HD video quality.
The network video recorder can document footages in 1MP, 2MP, 3MP, 4MP, 5NMP, 6MP, and 9MP (4K) resolution.
You simply need to download the Amcrest View App on your iOS/Android phone, Mac/Windows PC, for accessing recordings locally as well as remotely.
The included Ethernet cables allow you to hook up and monitor the entire security camera system.
Tech Specs
Item weight: 1.1 pounds
Dimensions: 6.3 x 6.3 x 5.5 inches
Resolution: 2688x1520P
Night vision: 98 feet
Lens: 2.8mm & 3.6mm
Storage: 2TB hard disk
View angle: Horizontal: 90°
Cameras: supports 4 IP cameras
Pros
State-of-the-art H.265+ compression technology helps save upfront on storage
80Mbps speedy throughput to view everything in real-time without distortion
Instant accessing of footages, snapshots & playback by scanning QR code via 'Amcrest view' app on NVR
Easily configurable, accessible, and controllable: effortless plug-and-play installation
Cons
The large size of the cameras make them remarkably conspicuous
Cameras are somewhat incapable of capturing shots of fast-moving objects and traffic
SAANCE 1080P XPOE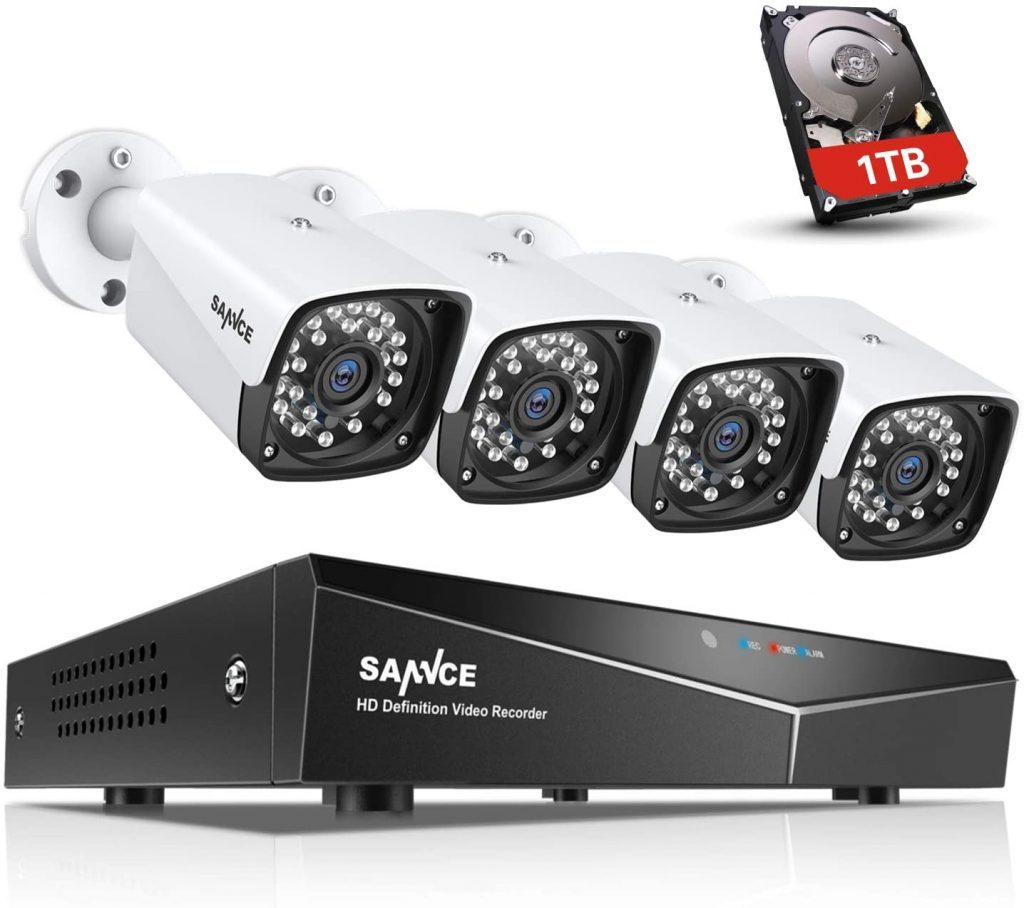 The XPOE Security Camera System with 1080P network video surveillance capability comes equipped with a host of versatile features.
For a start, the plug-and-play functionality means you can get the PoE cameras up and running with only a single Ethernet cable.
Then again, the slightest of suspicious movement or tapping in the vicinity of your home or office will trigger the motion detection alarm.
The PoE security cameras are reinforced with responsive IR night vision capability, enabling them to capture everything at night within a 30m (100ft) perimeter.
The 1080P video resolution capacity means that this XPOE security camera system from SAANCE captures everything in detail with clarity.
All four cameras are housed in sturdy IP66 weatherproof metal sheaths, which protect the units from inclement weather, dust, and rainwater.
Tech Specs
Item weight: eight pounds
Package Dimensions: 15.4 x 12.3 x 6.9 inches
Resolution: 1080P
Night vision: IR 100ft night vision
Lens: 2.8mm
Storage: 1TB hard disk
View angle: Horizontal: 360°
Cameras: supports 4 IP cameras
4-channel system
1 x 4 Ethernet cables
Pros
Wish goodbye to installation; easy setup and power via a single Ethernet cable
Steady signal transmission made possible through Ethernet cables
XPOE security camera system accessible locally without internet
NVR captures and records stunning footage in 1080p resolution
Preinstalled 1 TB hard drive furnishes adequate space for backing up recordings 24/7
Cons
NVR does not come with a remote control that would have monitoring everything easier
Setting up this PoE camera system will call for professional assistance
ANNKE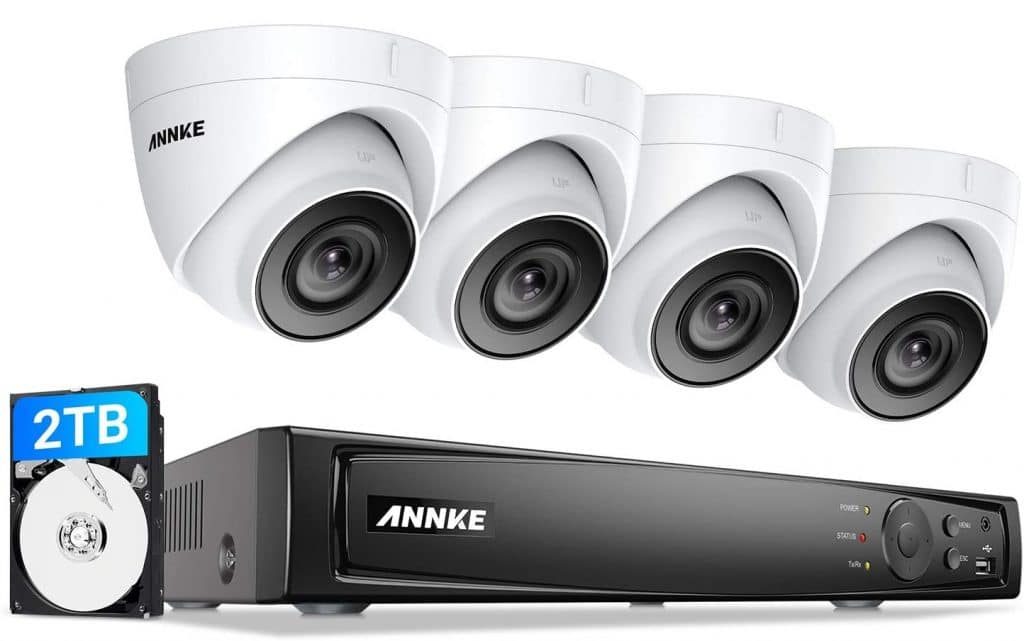 The ANNKE 8-Ch 5MP PoE Security Camera System with 4K NVR and upgraded H.265 compression technology is one of the best PoE security camera systems around.
And for good reasons, the superior 5MP HD system ensures that you can view subjects and objects situated far away.
At the same time, you never miss the subtle details your eyes more often than not, cannot distinguish.
Embedded with innovative PoE technology, this home security camera system springs to life and transmits vivid video signals via a single Ethernet cable.
EXIR- array night vision LEDs ensure that the security system frames everything within a boundary of 100ft. H.265+ superlative video encoding technology squeezes transmission bandwidth and compresses storage consumption without sacrificing video streaming quality.
Tech Specs
Item weight: 9 pounds
Dimensions: 15.1 x 12.6 x 11 inches
Resolution: 3860 x 2160p resolution
Night vision: 100ft
Lens: 2.8mm
Storage: 1TB hard disk
View angle: 120° FOV
Cameras: supports 4 IP cameras
Pros
Hassle-free 3-stage installation, thanks to advanced PoE technology
Save upfront on setup costs; you do not have to mount power outlets
Supports upgrading up to eight 8MP PoE IPC for playback, recording, & live viewing
Reduce chances of bogus motion detection alerts by marking out specific areas
H.265 motion detection technology compresses transmission bandwidth & maximizes storage
Cons
NVR does not include a remote
Does not come with Ethernet cables
Hornbill 4K PoE 8-Channel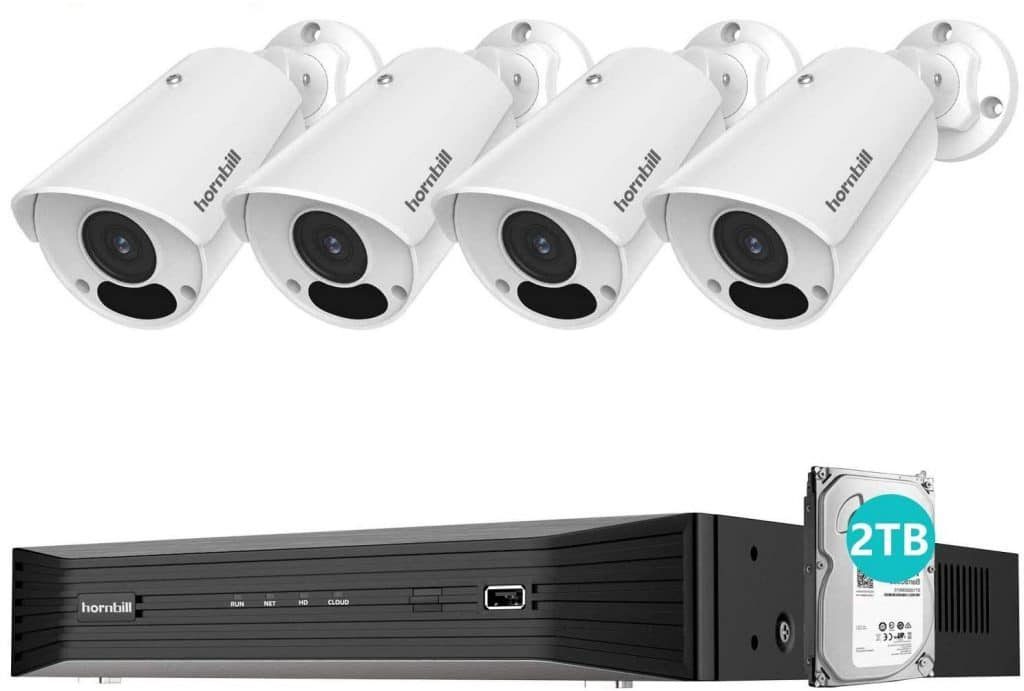 Opting for the Hornbill 4K PoE 8-channel security camera guarantees complete peace of mind as your home remains impregnable.
This intelligent PoE security camera system alerts you immediately of any impending housebreak, thereby keeping your home off-limits to burglars.
PoE compatible cable extending up to 330ft allows you to install the security camera system easily.
The same Ethernet cable also enables 2G/3G/4G throughputs allowing the security camera to receive digital signal for recording, playback, and live to view.
You can take advantage of the 'Guard Viewer' free app for checking out camera feeds in real-time and also backup footage on your tab, PC, or phone remotely.
This Hornbill PoE security camera setup sends you motion alarms via email or app, thus keeping you posted on happenings around your home.
Tech Specs
Item weight: 16.95 pounds
Package Dimensions: 17.9 x 9.4 x 17.5 inches
Resolution: 3860 x 2160p resolution
Night vision: 100ft
Storage: 2TB hard disk
View angle: 153° Wide Angle
Cameras: supports 8 IP cameras
NVR resolution: 4K (8MP)
1 x 4 bullet 4K camera
Free Guard Viewer app
Pros
Built-in 2TB HDD offers more than adequate storage for backing up recordings 24/7
4K UHD PoE security cameras furnish vivid and clear details, even with digital zoom-ins
153° wide FOV ensures that you do not miss any detail, no matter how trivial
Cameras encased in IP 67 waterproof & robust housing
Cons
Silica gel required for installation not provided
Night vision images are not distinguishable
Included 65ft Ethernet cable not lengthy enough
Swann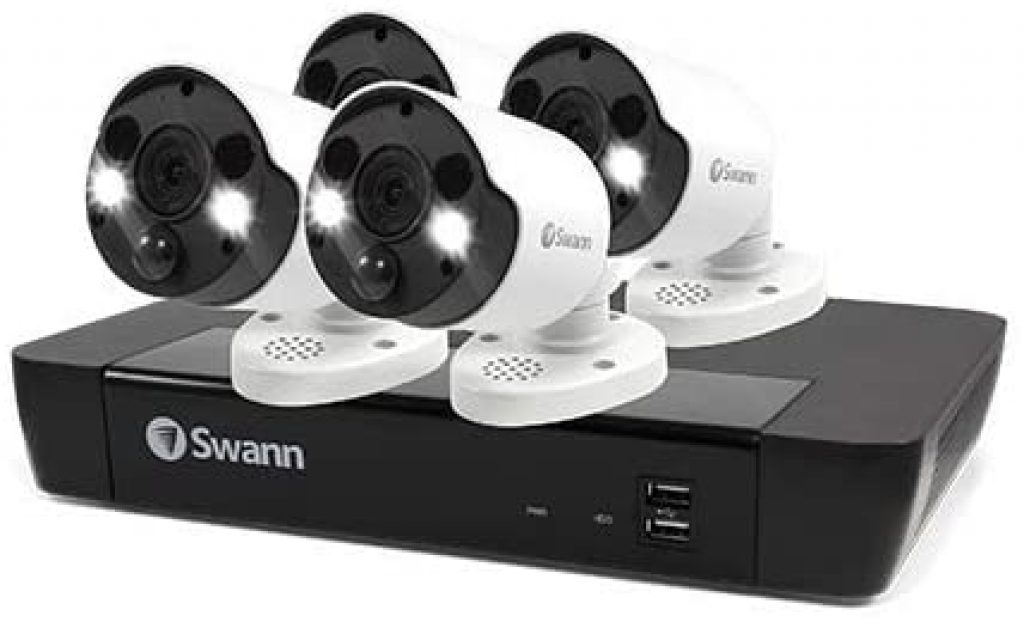 The Swann Security Camera System comprising four eight-channel PoE security cameras with 4K UHD NVR with numerous versatile features can keep your abode fully secure.
For a start, it features thermal sensors that immediately detect unwanted intrusions and suspicious activities, and informs you via push notifications.
Tough weatherproof cameras, capable of enduring the elements, never drop guard all through the year.
Downloading the Swann Security App to your phone, tab, or PC lets you view live recordings and playbacks anywhere anytime.
4 K UHD, with four times the 1080p full HD resolution, lets you see fast-moving traffic, faces, and even registration plates of vehicles.
Tech Specs
Item weight: 13.7 pounds
Package Dimensions: 11 x 16.9 x 11.6 inches
Resolution: 1080p
Night vision: 130ft
Storage: 1TB hard disk
Cameras: supports 4 cameras
Four thermal sensings 4K PoE security cameras
PoE NVR 4K UHD NVR for HD video surveillance
Pros
Very reliable and effective wired video surveillance system
4K Ultra HD footage enables you to see everything very clearly
Four security cameras have thermal sensors & spotlights that switch on automatically when they sense heat
Intuitive infrared night vision can record footage in black & white  and color up to 40m and 35m respectively
Cons
Quick start manual does not mention details about how to take advantage of the features
Automatic firmware update does not install on its own, making it difficult to use push notifications
FAQs
Do You Need The Internet To Activate and Operating The PoE Security Camera System?
Yes, you can power on and operate any PoE (power over the internet) security camera system without an internet connection. You can hook up your PoE security camera system with your existing power supply for activating it and connect it to your Wi-Fi router for remote viewing through the net.
However, you'll need an internet connection once you're out of the wireless router coverage area for viewing recordings in real-time and running playbacks.
Analog or digital IP (internet protocol) simply need a single Ethernet cable for powering on as well as transmitting data simultaneously.
Alternatively, you can use your home's power supply to operate the PoE security camera and connect it with a laptop or PC via a USB jack for data throughput.
Are PoE cameras better than Wi-Fi compatible security cameras?
Wi-Fi security cameras send data via digital signals. The most noticeable benefit of using a Wi-Fi security camera is that you can power it on and operate it by linking it with a wireless router.
However, you'll still need a wired connectivity source for managing it outdoors up to a specific range.
Using a Wi-Fi security camera for securing your home or office makes sense if your internet connection transmits signals at high speeds.
That said, opting for a PoE camera is more practical as you just need one Ethernet cable for power supply and data transmission.
The signal strength offered by an Ethernet cable is much more powerful compared to a Wi-Fi router.
Do all Ethernet cables support PoE?
The 802.3af PoE standard works fine for networking gadgets that need approximately 13W electrical power. However, you'll come across numerous PoE-enabled devices that require over 13W of electrical power.
Bear in mind that network connectors and cables can deal with more power, but proprietary PoE devices with high-power ratings do not tend to be backward compatible with the standard 802.3af PoE.
That being said, IEEE introduced a new standard-PoE Plus or 802.3at to accommodate the high-powered PoE compatible devices.
How much power do PoE cameras use?
Most of the PoE security camera brands available in the market follow the IEEE 802.3af standard. PoE security camera models and brands that abide by this IEEE standard usually use 15W of electrical power for continuous and smooth operation.
Conclusion
So, there you are-10 Best PoE security camera systems that can throw an impenetrable security ring around your property. We reviewed two models from Reolink and Amcrest, one model each from Heimvision, ZOSI, SAANCE, ANNKE, Hornbill, and Swann. While the majority of the PoE security brands we assessed were priced over $400 like Reolink, Swann, and Hornbill, there were a couple that was quite affordable, like ZOSI, SAANCE, and ANNKE.