The 10 Best Pocket Door Locks In 2023
Over decades sliding doors have been popular because of their practical design, ease of handling, and lightweight. The best places to install one are bedrooms, closets, and bathrooms. But you might have a headache to keep them locked.
Install a pocket door as a gadget to secure your doors. The primary purpose is offering protection, security, and privacy. The mechanism within this solid metal case puts pressure on the latch to block the door.
You must use a key or a thumb turn for locking or unlocking the door. We have reviewed some of the best pocket door locks and compared them with regards to design, safety, and other important parameters to help you select the perfect option as per your needs.
Best Pocket Door Locks
1. Keyed Pocket Sliding Door Lock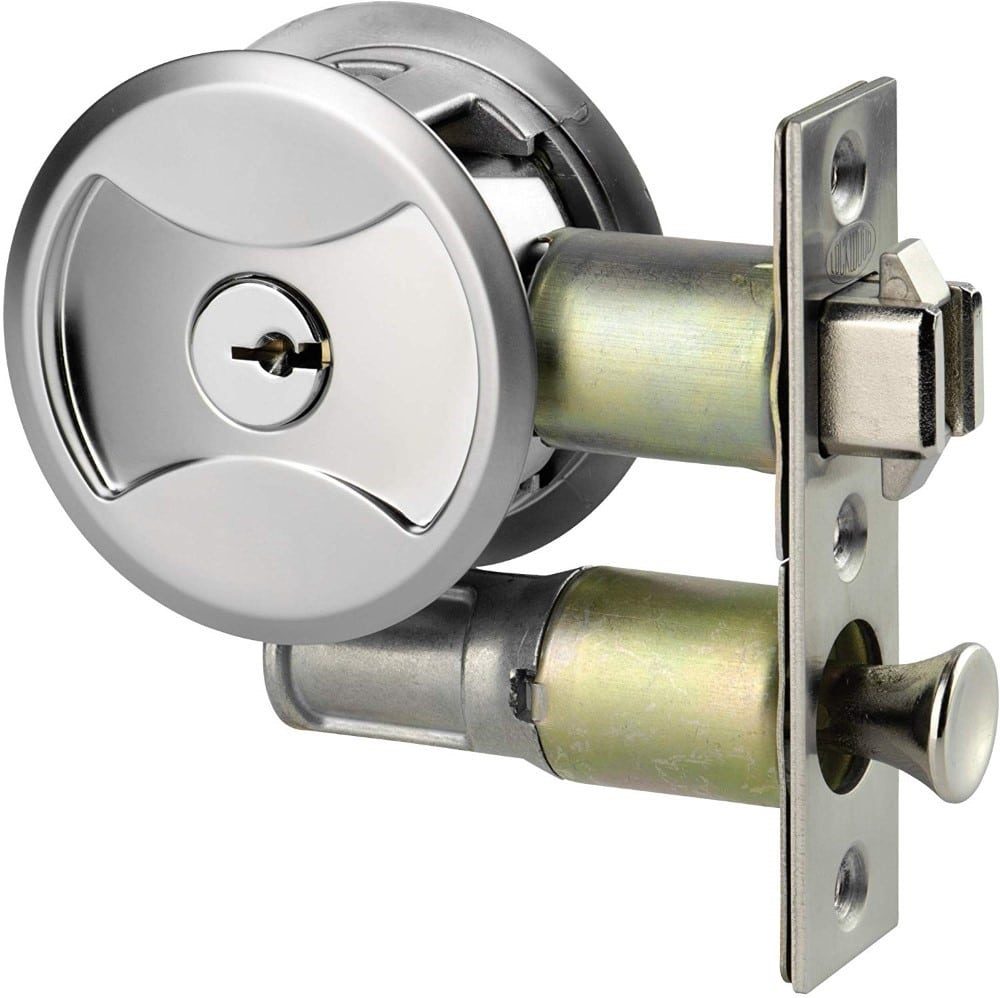 The elegant, modern, and innovative design is aesthetically pleasing, making it appear classy. It takes care of the privacy aspect, and the roundish design helps in adapting to different kinds of drilled doors with a thickness of 54mm. Ideally, it is the perfect addition for any security solution and blends well with the home décor.
It comes integrated with a unique lockable solution that offers a key locking and turns functionality to protect the secondary external application that interconnects with the cavity of the sliding door.
Key Features
Fits on standard 54mm doors
The fitted flush on the panel of a sliding door offers full recess inside the door cavity
Lock and unlock using a key from outside, use a turn-plate from inside
The innovative retractable door pull is highly appealing
Attractive Satin Pearl Finish – Color Matte Silver
Pros
Innovative Retractable door and modern design makes your door appealing
Easy to fit on a standard 54mm door having a 60mm backset
Perfect for interior doors
Lasts for 30,000 and more turn cycles
Withstands 3kN pull force
Cons
Can be difficult to install on all door sizes
Rough handling can damage the functionality
2. Citiloc Round Privacy Pocket Door
Compatible with different kinds of perforated doors, the oil bronze finish makes Citiloc appealing. It offers additional resistance from various agents. Merely turning the thumb turn from inside locks and unlocks the door.
Besides being light in weight, compact in design, and easy to install, the dark finish complements dark wooden doors perfectly. If you wish to add a touch of luxury, Citiloc Round Bed is a good pocket door lock.
Key Features
Privacy pocket door latch easily fits with standard bore using a 2-3/8″ Backset
The roundish design doesn't require cutting any new notches on the door
Oil Rubbed finish US11P (Bronze color)
Pros
Light & Compact Design
Durable & resistant
Blends well with dark wooden doors
Adapts well with different door types
Sturdy enough to secure & maintain the privacy
Cons
Latch might fail in 1st use if used inappropriately
Not easy to install on all door sizes
3. Stone Harbor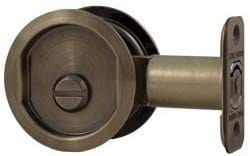 This functional lock not only secures your gate but looks gorgeous. A simple push of the finger opens the latch face and converts into a pull for the door. The company has integrated style knobs and levers to secure the interior of your house. The inside turn button locks and unlocks the hardware. You can unlock it from outside by rotating its exterior privacy mechanism if required.
This pocket door lock is recommended for master bedrooms, office cabins, bathrooms, and other areas that require privacy.
Key features
2 3/8 inch & 2 ¾ inch backset options available
The face of the latch opens with a simple push of the finger & converts into a pull to close the door
Stylish locks & levers
Pros
Easy to open knobs & simple to operate locks
Made from high-grade materials
Aesthetically appealing
Works well with multiple door types
Cons
Installation is not easy
The mechanism may wear out with the use
4. Prime-Line N 7367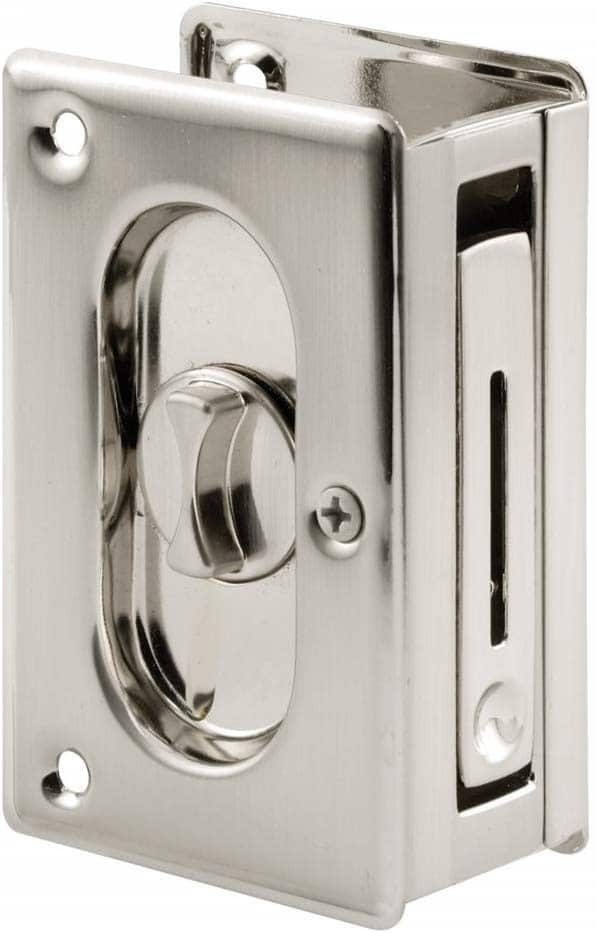 This uniquely designed pocket door lock has a reversible lock that works well with both left and right-hand uses. The lock adapts perfectly with different kinds of perforated doors between 1.38 to 1.75-inch thickness. It is built from superior solid brass that ensures it lasts for years. A simple turning the thumb turn from inside locks the door. It also comes with step-by-step installation instructions to mount it using a screwdriver.
Key Features
Installs well on doors having 1.38 to the 1.75-inch thickness
Deluxe pocket door privacy lock with pull
Solid brass construction
Reversible Mortise lock for both right and left-hand operation
Pros
Easy-grip design facilitating simple yet quick-locking & unlocking
Easily replace old or broken locks
Comes with a detailed installation booklet
Adjust well on both 1-3/8 inch and 1-3/4 inch thick doors
Supports mortise installation
Solid brass construction ensures durability & superior look
Cons
Thumbturn could have been of a better quality
Defective lock rings were found in some models
5. Kwikset 335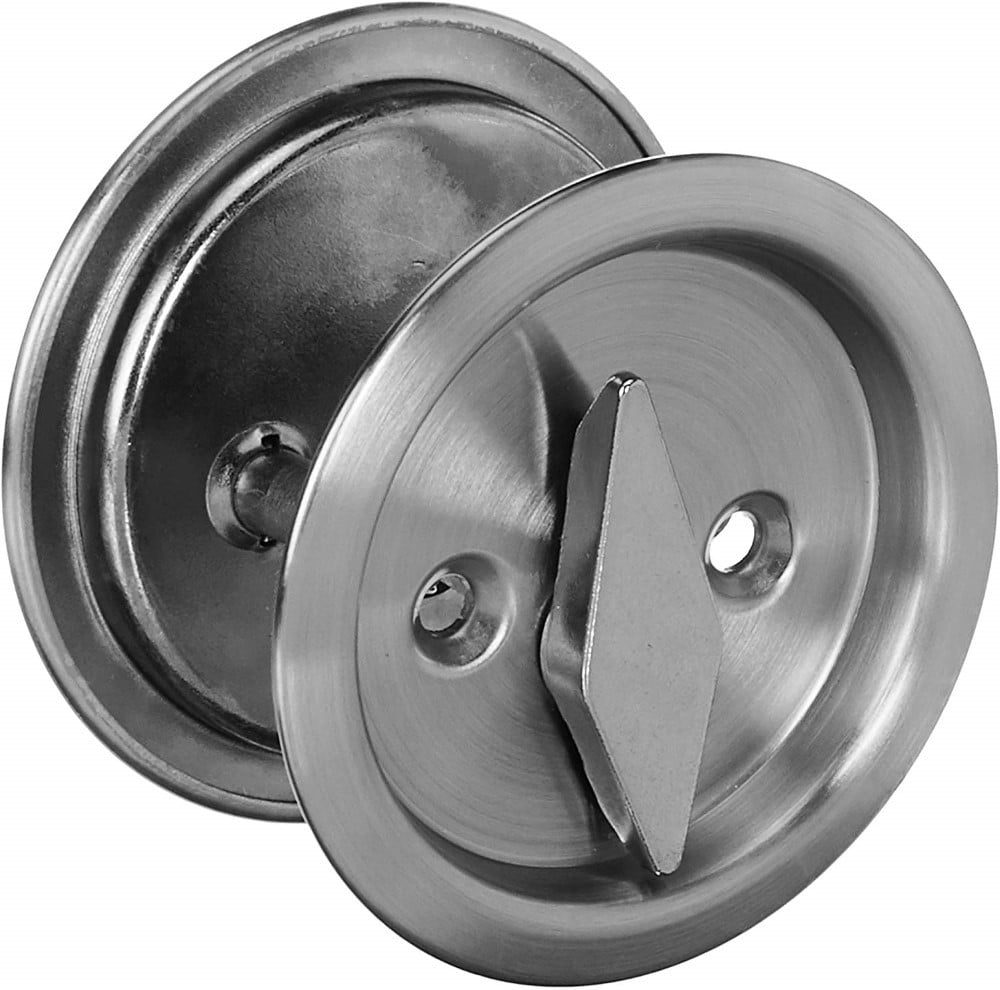 Kwikset 335 bestows a modern and elegant feel that makes it an ideal option for your bedroom or bathroom doors. Ensuring privacy, the rustic design adapts well to standard drilled doors that are about 2.3 inches thick. The door lock is very easy to install, and a simple drill would do the job.
The satin nickel finish gives a great looking appearance to the decorative lock on your doors. If aesthetics and compatibility of different designs with your interior matters to you, this is the product to go for.
Key features
Important premium grade technology & design
Roundish design
The adjustable latch that blends well with different door preparations
2 2/8 inch latch backset
½ inch latch throw
An easy locking mechanism that works with simple turn piece inside the lock
Pros
Modern & elegant design
Adjustable latch
The roundish design doesn't require cutting new notch
Easy to install & operate
Cons
Average durability
The mechanism may fail within months if not properly cared
6. Ives by Schlage
Schlage is a known brand, and the 42B15 pocked sliding door lock is another sturdy product offered by the company. It is very easy to use and keeps your doors secured. We love the spring-activated feature, which facilitates locking and unlocking with a simple push. The USP of this product is the two-way locking feature that can be used from either side of the door. This feature is highly recommended for shared bathrooms between a bedroom and the guest room.
Key Features
Unique Ives design that facilitates the emergency release of the bolt from the outside
Spring activated design
Brass grommet installed on the cap release hole protects the finishing of the doors
Pros
Easy to operate
Includes emergency release of the bolt
Offers feather touch action
Locks from both sides
Aesthetically appealing
Cons
No instructions to install included
Challenging to install
7. SCHLAGE LOCK CO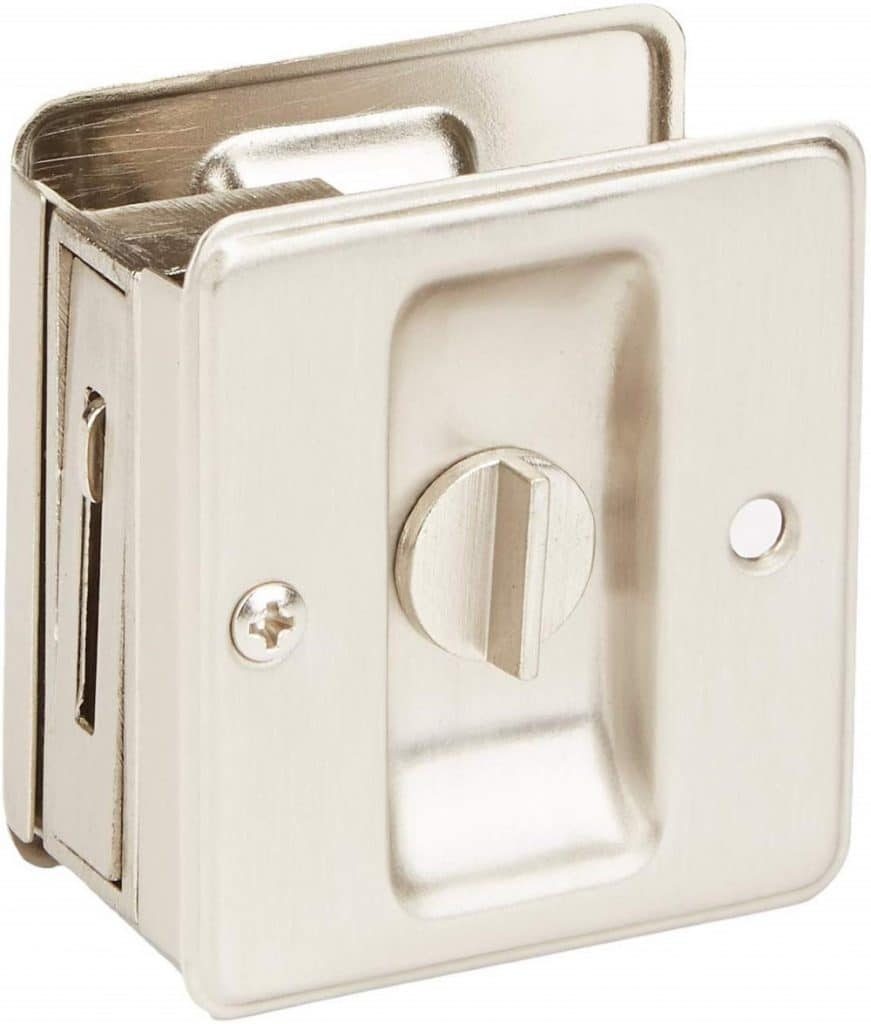 This pocket door lock with key is your choice if you are looking for an affordable option. Offered by Schlage, the build quality of this lock is commendable. It comes pre-assembled and is very easy to install using screws. The mechanism locks the door easily, and installing it does not take much time.
Made from solid brass construction, it fits well indoors that are 1 3/8″ to 1 1/2″ thick. It comes with reversible plates that facilitate opening from both left and right directions. Although it does not have the high-end features as some other locks would offer, the quality and features are a very good offering at its price.
Key Features
Solid brass construction
Reversible plates
Satin Nickel Plated
Measures 1-1/2″ D x 2-1/4″ H
Pros
Simple design
Durable
Privacy features allow locking the door from inside
Affordable
Cons
Difficult to turn at times
Average build quality
8. Kwikset 335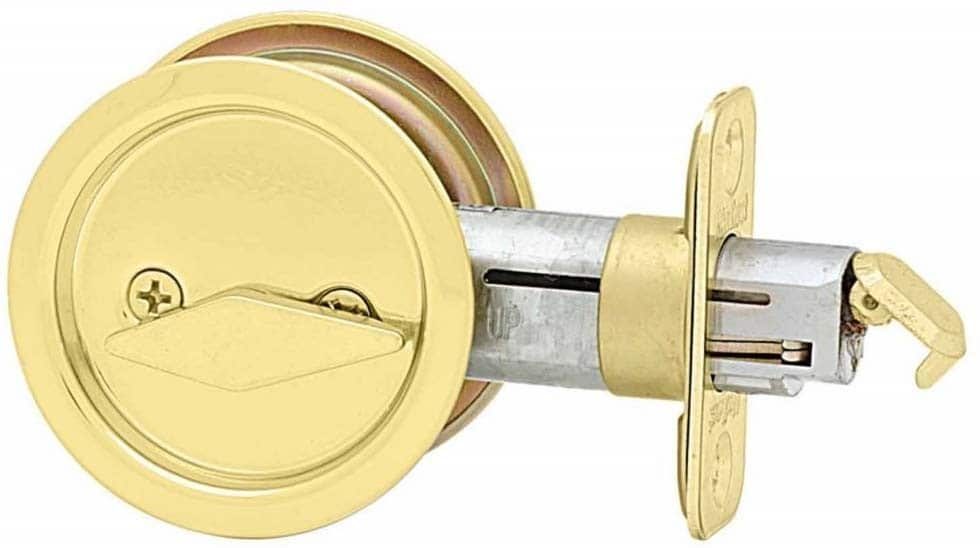 Kwikset is a reputed brand that has been operating for the past five decades. The 335 Round pocket door lock with key looks exceptionally premium thanks to the satin nickel finish. These locks are perfect for your bedroom or bathrooms.
Designed for 2-1/8″ drilled doors, it takes some time to install. A professional carpenter can install it in a few minutes. You only need a drill and cut a portion for the latch to install. Being easy to use, the lock can last for months or even years, even in tough conditions.
Key Features
Roundish design
Includes an adjustable latch that fits standard door preparations
Comes with a two 3/9-inch latch backset
½ inch latch throw
The locking mechanism works by simple turn piece inside the lock
Pros
Easy to use & lasts for years
Nickel finish makes it corrosion resistant
Affordable pricing when compared to different door locks
Cons
9. Dynasty Hardware Pocket Door Latch
Offering great privacy, comfort, and style, the dynasty hardware round bed/bath pocket door lock with key adapts with any perforated doors. The roundish design refrains from the need for drilling a new notch on your door. The lock comes with a satin nickel finish that looks striking and bright. It is certainly a great addition to your interiors. The integral blend of classic and modern decorations suits all door types and colors.
Key Features
The door latch fits standard doors with a thickness of 2-3/8″ Backset
Roundish Design
Suits interior door locks that require privacy
Locks by turning inside thumb turn
Has emergency unlock option outside
Rusting oil rubbed bronze finish
Pros
Modern, durable & resistant design
Satin nickel finish gives a premium look
The small yet discreet design offers the required security guarantee for privacy & comfort
The premium look blends well with all door types & colors
Cons
Not easy to install
Mechanism tends to wear out with time
10. Deltana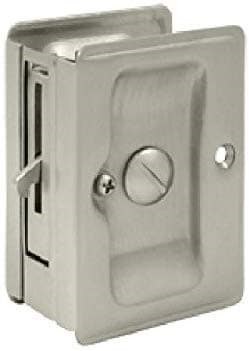 Backed by superior service and quality by Deltana, the SDLA325U15 is made from premium grade materials. The door lock looks premium and is meant to last for years. The satin nickel finish bestows a sturdy look while the metal plates make this product much thicker as compared to other models. It also ticks all the right areas when it comes to privacy and safety for your rooms.
Locking and unlocking require turning the thumb turn from inside. Fitting on most perforated doors, it comes with an installation kit too. A couple of drills and a screwdriver is all that you need to easily install it on your preferred door, be it the bathroom or your bedroom.
Key Features
Three ¼" x 2 1/4:" measurement
Suited for 1 3/8″ to 1 ¾" thickness
Includes privacy function & integrated with mounting hardware
Multiple fine finish options also available
Pros
Premium quality finishing
Easy to install
Lasts long
Rectangular shaped
Includes fasteners
Cons
May break with rough handling
The latch can get stuck while turning the thumb turn
Few Things To Consider When Buying a Pocket Door Lock
Now that you have gone through the reviews for the best pocket door locks, you might be confused about some terms and features. To help you understand the things that you should always consider before buying a pocket door lock, we present information regarding some of them.
Thickness
Check out the thickness of your door and select a lock accordingly. On average, the thickness of a door is usually between 2.13 to 1.38 inches.
New or old door
If installing the lock on a new door, it is more likely that it is not perforated. Hence, drill a hole according to the screw size using a drilling machine. If it is an old door, check if the holes are in the right condition or need to be repaired before installing the lock.
Materials
The market has various options. A door lock could be made of stainless steel, brass, bronze, or iron. Gold and silver are also an option but can be highly expensive. When selecting a product, make sure you select the one that can withstand strong impacts and regular usage. The lifespan of sturdy materials is relatively more than average quality materials.
Affordability
Most of us would like to buy a product that is affordable and offers value for money. However, expensive models are indeed meant to last for a considerably longer period. But considering a model that is made from sturdy materials and comes at competitive pricing can be the right way forward.
We recommend that you never compromise on quality as the locks are meant to be used several times a day. While steel is regarded as a strong material, titanium door locks are much stronger. However, the latter would be expensive and settling for a stainless steel variant when affordability is a matter should be an intelligent decision.
Design
The design does matter as a door lock can complement the interiors of your house. Select color and material based on the door color and the ambiance of the room.
Closing Mechanism
Although most pocket doors work in the same manner, you get to choose from two types of pocket door locks. The thumb turn locks come with a metal arm and the key locks look like the universal locks we have been using.
Latch Types
Observing latches of the pocket doors closely will make you understand that they are different from the conventional latches used for the swinging doors. The conventional latches are characterized by the curved bevel on its edges. The latches for the pocket doors have beveled edges and are usually symmetrically integrated with a straight metal piece. They also do not retract when coming in contact with the surface. There is a thumb turn or a key that lets you lock and unlock the door.
Some pocket doors come with adjustable latches. The latch gets thicker on each turn of the key or the thumb turn. Some locks have multiple latches installed within. The more the number of latches, the more secured and resistant the lock is. Hence, depending on the level of security needed, you should select the latch type for your sliding doors.
FAQ's
Can you put a lock on a pocket door?
Yes, you can put a lock on the pocket door. Measure the thickness and check the door's color before selecting the lock. 
Can you lock a pocket door from both sides?
Yes, it is possible to lock a pocket door from both sides. You can do that by installing a pocket door lock that comes with a keyway on both its sides. You only need to insert the key and turn to lock and unlock the door. 
Who makes the best pocket door hardware?
The manufacturers who make pocket door locks using stainless steel make the best quality products. They are sturdy, bright, and elegant. Some of the popular brands that offer great quality products include the likes of Citiloc, Dynasty Hardware, and Kwikset. Each of these brands has been manufacturing door locks for the past several decades. 
How do you install a pocket door handle?
Installing a pocket door handle is simple, but dependent on the mechanism it runs on. A basic door handle can be installed in 4 simple steps. The 1st step requires precisely marking the area that needs to be cut in the door.
Ensure you follow the right sizes as the cut on the door needs to be perfect. Now cut the marked areas using a multi-tool. Initially, you might have trouble handling the blade, but with a couple of attempts, you should be able to cut along the lines comfortably.
Now the next step would be to attach the latch. Drill a couple of pilot holes and install the latch using the screws provided. Now mark the striker plate location and screw the plate along with the latch. 
Conclusion
SCHLAGE LOCK CO SC991B-619 Sliding DR Lock tops the chart for being the most affordable and stable option. On the other hand, if you are looking for a premium product that not only looks great but lasts for years, then the Citiloc Round Bed/Bath Privacy lock is the one to buy.
However, it does not mean the other products are not worth purchasing. We recommend reading the reviews closely and understanding the offerings. After all, each requirement of a customer is unique, and there is an option that serves the need of almost every type of requirement.