The 7 Best Parcel Box For Home In 2023
Having a secure anti-theft parcel slot in your premise saves you from unwanted headaches. People often find their deliveries missing from doorstep in their absence.
In the worst case, they even realize that their parcel box security layer is not that hard to crack. It indeed raises the bar of an ideal mailbox.
We all need a parcel drop box for home that will keep our deliveries safe until we're back. Keeping that in mind, we have created a list of the best mailboxes available in the market that you can buy one for yourself.
Let's have a look at the list.
Best Anti-Theft Package Box List
1. Architectural Mailboxes 6900B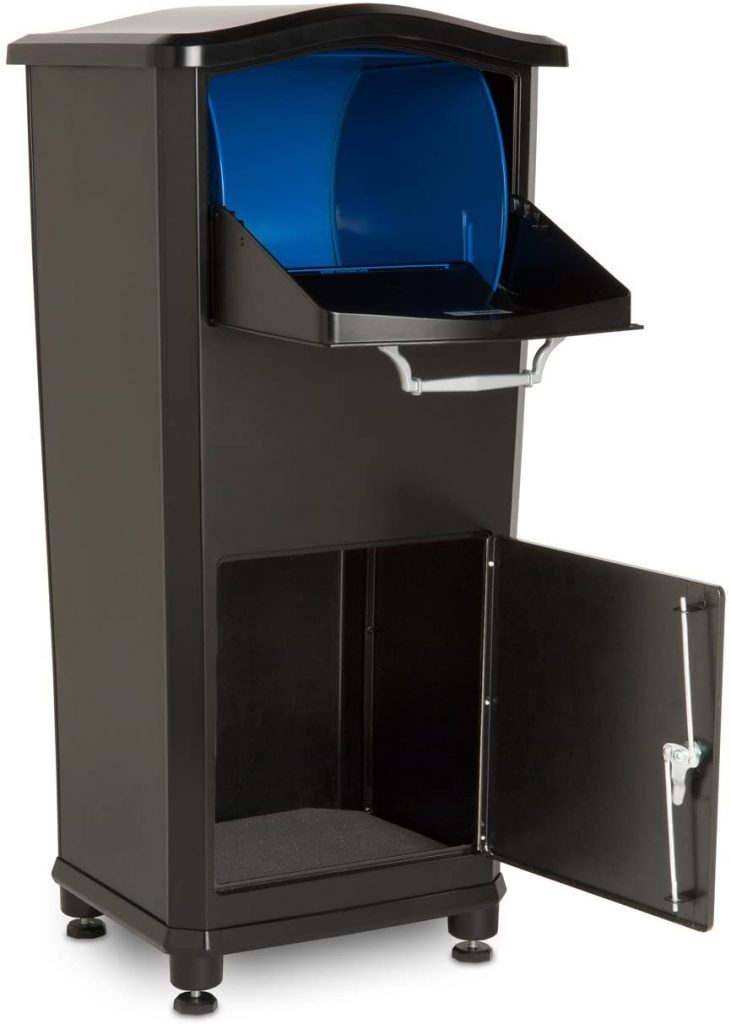 If your mailbox expects big boxes often, its rotating drum (11.5 x 7.3 x 9.3) would be your ideal bet.
Architectural Mailboxes Elephantrunk requires two keys to unlock its 3-layered security systems to access parcels. You can securely bolt it to the ground and level its height from the bottom as per your need.
Your returned parcels get easily picked up by the carrier from its separate outgoing partition. Surprisingly, it also features a vacation stopper that does not allow unwanted deliveries to flood in until you want them to be.
Architectural Mailboxes products always comply with USPS quality standards. Construction-wise, it features cast aluminum and heavy gauge steel to offer maximum security from unwanted intruders.
With a bit of curb appeal drum design, its shape is sure to remind you of your childhood days for sure.
Highlighted Features
Protected by US patent 6719195
3-point locking mechanism
Vacation stopper
Shock-absorbing cushions
Adjustable leveling feet
Pros
Aluminum and galvanized steel body
Holds up to 3-4 weeks of normal load
Easy mounting process
Cons
Not suitable for FedEx or UPS express boxes
2. Architectural Mailboxes 6200B-10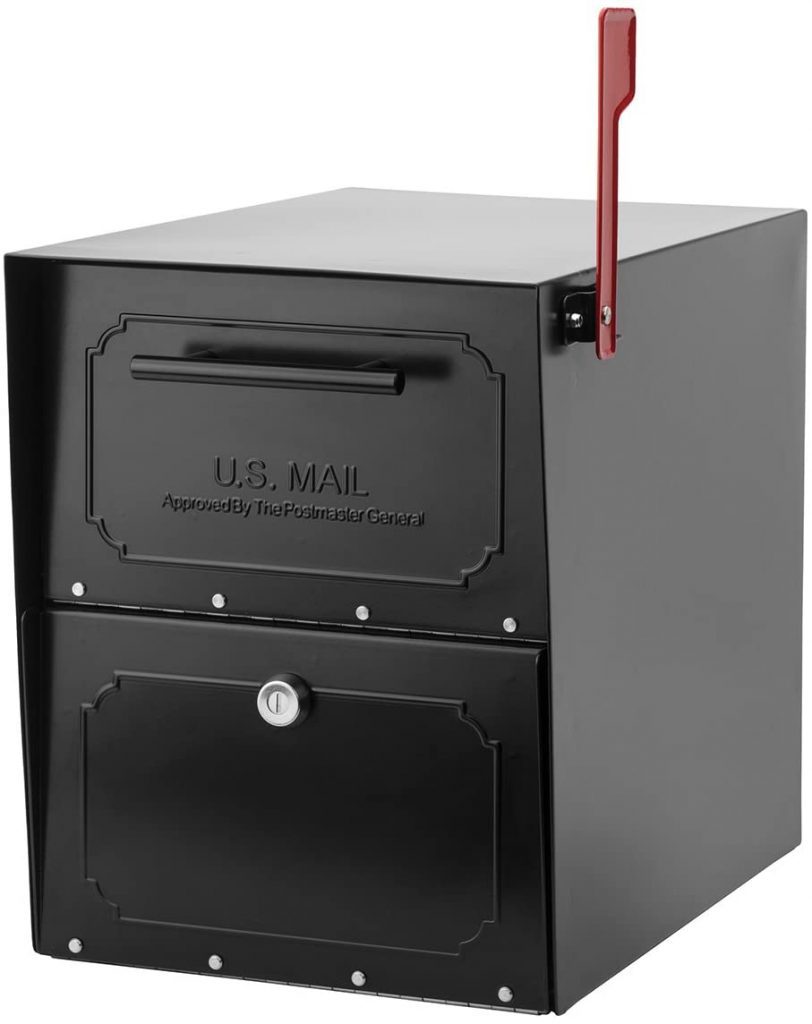 The Architectural Mailboxes 6200B-10 is a highly secured parcel mailbox featuring an ultramodern locking system. The box comes with an anti-prying lock system that keeps your parcels safe from forced entry, vandalism, and identity theft.
The body of the box comprises of thick galvanized steel combined with corrosion-resistant powder-coated exterior and interiors.
Besides, to keep your mails and parcels dry in unfavorable climates, the manufacturer has included rubber seals on the doors.
Including the body, all other hardware including hinges, covers, and bottom part of the box also comprised of corrosion-resistant materials.
The parcel box also comes with a pick-resistant stainless steel lock with exclusive double-cut keys, ensuring optimum safety from lock picking tools.
Although it weighs 23 pounds, you can easily mount the mailbox on a pilaster or column. The presence of pre-drilled holes makes it even easier to mount.
Highlighted features
Pry-resistant lock
Rubber seals
Powder coated to avoid corrosion
Discrete outgoing mail clip
Pro
Galvanized steel build
Spacious
Suitable for a pilaster or column
Cons
Interior hinges are not rust-resistant
3. Step2 Express Package Delivery Box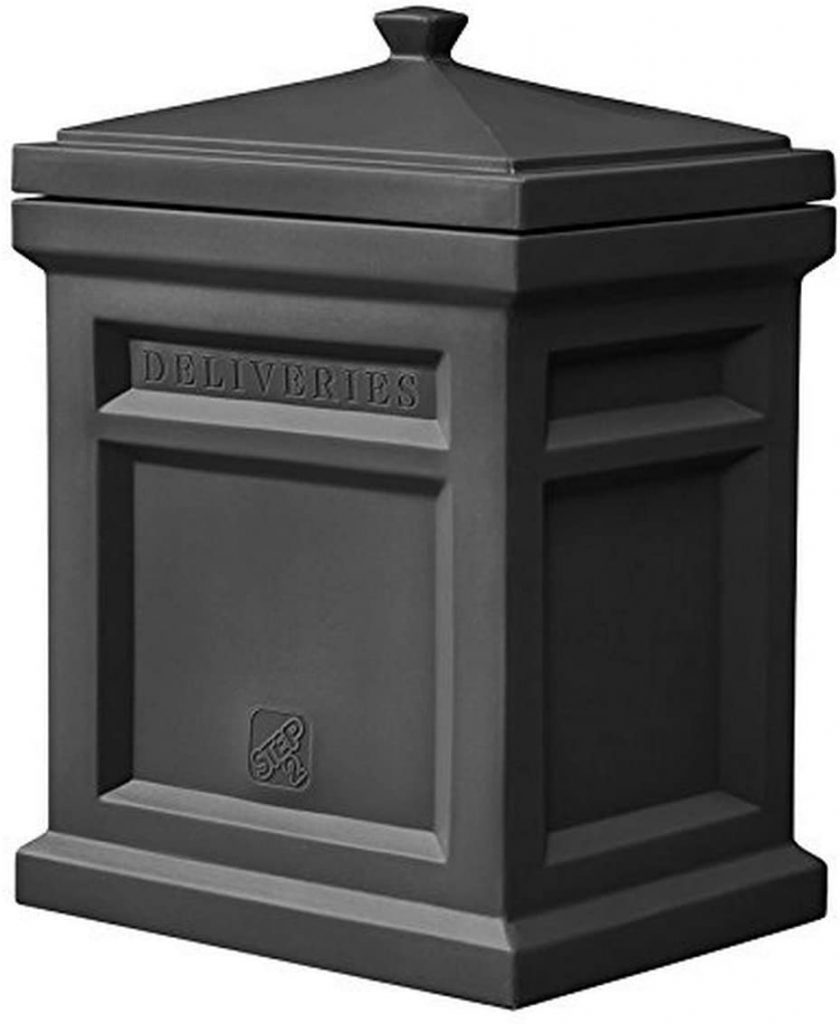 While the postman patented Architectural Mailboxes 6200B-10 works more as the deterrent, Step2 583199 Express box offers a subtle appeal.
It is an affordable yet durable package delivery box for your home and office. The box includes a removable lid that allows you to retrieve large-sized packages with minimum struggle.
The express box comes with a traditional design that blends perfectly with any home. The express box is made of a durable and sturdy plastic body that keeps your packages dry and safe even during heavy rains.
You can easily install the box on the porch or anywhere on your property with a strong mounting device. The sides are highlighted which makes it easier for carriers to find your parcel box.
It features a wide and spacious interior- so much big that you can make room for a midsized box easily.
Highlighted features
Removable lid for easy drop and retrieval
Marked for easy identification
Spacious interior
Rustproof plastic construction
Pros
Available in three unique colors
Easy to install
Low maintenance
Cons
Way too large than regular size parcel boxes
4. CleverMade Parcel LockBox S100 Series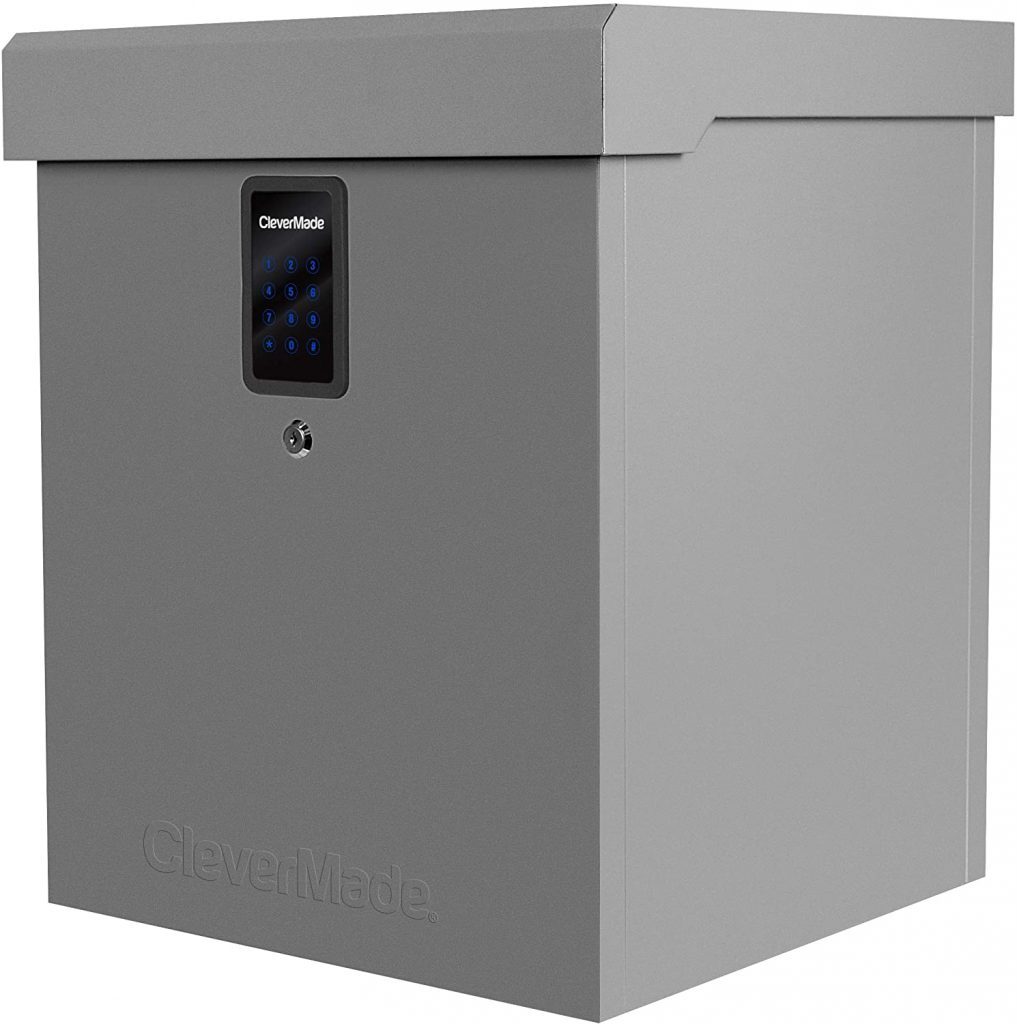 As the name suggests, CleverMade Parcel LockBox S100 Series features a cleaver anti-theft technique to secure your package. It allows you to create a personal code for retrieving your parcels.
Unlike traditional locking systems, you don't have to give share keys with carriers for dropping packages. Simply share your security code and expect a safe delivery. Every time you retrieve the parcel, reset the code for ensuring high-end security.
The parcel lockbox features a robust reinforced stainless steel body with hydraulic struts adding longevity and flawlessness to the lid. The box comes with a wood and concrete anchoring system that allows you to easily mount them on wooden, stone, brick, and concrete floors.
The box includes four open holes precut to anchor screws from inside the box. The parcel box with code boasts of a weather-resistant coating to effectively safeguard your belongings from rain, hailstorms, snow, and wind.
The box also includes an additional manual key lock. You can use it as an alternative in case the batteries go off in the digital lock.
Highlighted features
Integrated hydraulic struts
Illuminating and programmable digital lock
Manual locks with keys
Alkaline batteries for cold weathers
Pros
Heavy-duty reinforced steel construction
Batteries included
Comes with concrete and wooden drill bit
Cons
A bit difficult to access the screw holes
5. Danby Parcel Guard – Smart Parcel Box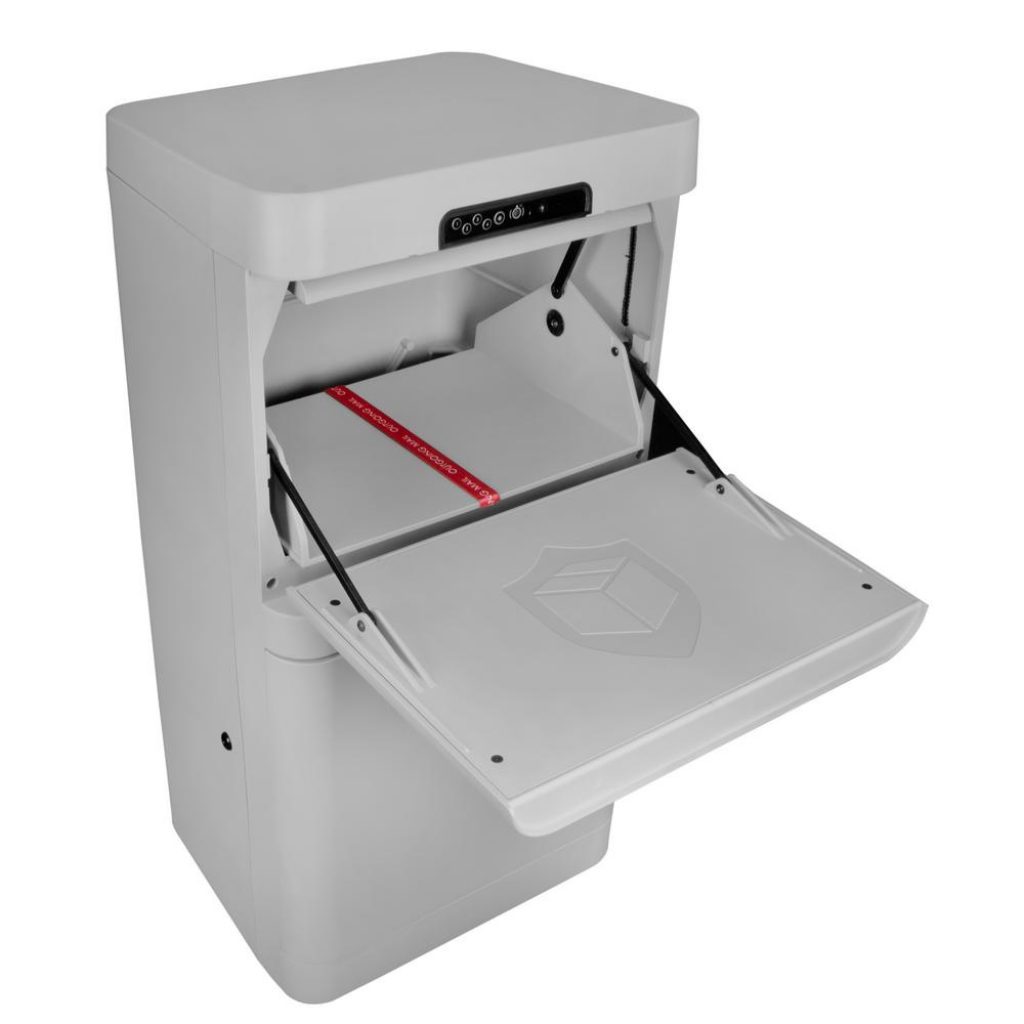 The Danby Parcel Guard security mailbox comes with an all-advanced real-time mail delivery notification system. Every time a parcel is dropped inside, you will automatically recieve a notification.
It comes equipped with an anti-theft drop slot followed by a plastic shelf that acts as a deterrent to any parcel thief. To make the frame more sturdy and weather-proof, the manufacturer has designed it with structural web plastic.
You have motion-sensor cameras to track suspects live from your laptop screen.
It seamlessly connects to your home Wi-Fi to provide uninterrupted security and alarm system. Danby mailbox also comes with a weight monitor so that you can prevent overloading.
Furthermore, with the iOS/Android compatibility, you can lock or unlock your mailbox with a single click.
Highlighted Features
Real-time mail delivery updates
Motion-sensor camera and alarm system
Unlock/Lock through App
Structural Web plastic construction for longevity
Pros
Wi-Fi connectivity
Scratch-resistant
Weight monitor
Remote-access
Cons
Comparatively small space
Installation is a bit complex
6. Parcel Defender
Unlike our last pick, Winfield Parcel Defender mailbox is good for old people who are bad at memorizing long passwords. It comes with a door handle to easily retrieve incoming mails and lock the front door without compromising security.
With a weatherproof compartment, it protects your parcel or mail from rough weather conditions.
Moreover, the compartment can easily hold a number of small-sized parcels. On top of it, you get an anti-prying security system for better privacy and safety of your belongings.
It has been designed using thick heavy gauge galvanized steel that can handle years of use without any issues. While powder-coated steel prevents corrosion, the black coat finish gives it a sturdy design.
You can either choose to mount it on a wall or fix it to the ground as per your requirements.
Highlighted Features
Freestanding locking system
Weatherproof holder compartment
Heavy gauge galvanized steel construction
Door handles for easy mail retrieval
Suitable for big parcels
Pros
Sturdy and convenient design
Free-standing set-up
Easy-installation process
Cons
Not approved by U.S. Postmaster General
Comparatively smaller opening for parcels
7. dVault Full Service Vault DVCS0015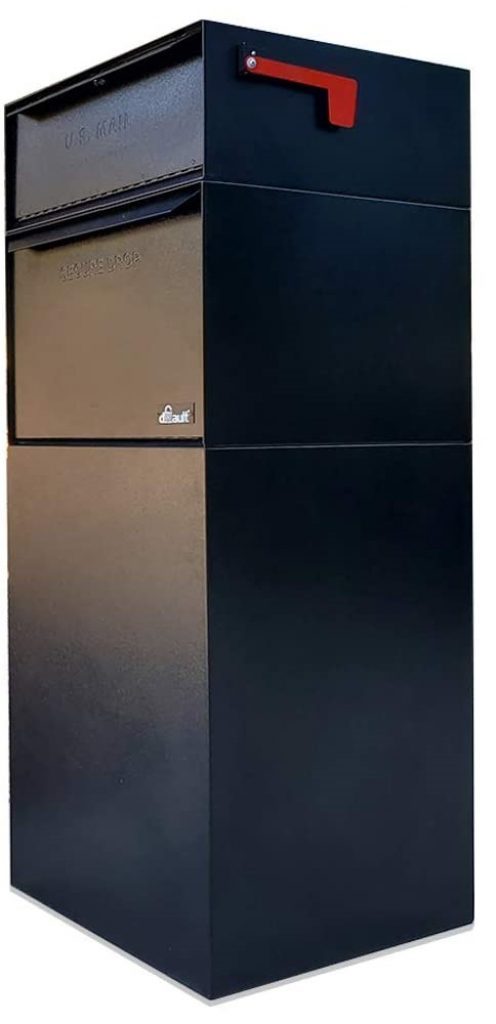 A single-compartment mailbox is not enough? You need dVault Full-Service mailbox as it comes with two different compartments – a patent dropbox and a dual hook posi-locked storage compartment.
The upper compartment is specially designed to hold mails while the bottom one is for big parcels. Hence, no need to worry about big package thefts from the doorstep.
The manufacturer has used cutting-edge technologies to ensure that your deliveries stay safe until you reach home.
The mailbox has been designed using heavy-duty galvanized steel construction which can withhold years of usage and harsh weather conditions.
Hinges and fasteners give it more resilience and durability against mail thieves. Furthermore, the mailbox also comes with a five-year warranty and is USPS approved.
Highlighted Features
Dual compartments
Patent security drop door
Dual-hook posi-locked storage compartment
Heavy-duty 16 gauge galvanized steel construction
Pros
Durable powder-coated finishes
Stainless steel hinges
USPS approved
Key-locked access door opening
Cons
No security for outgoing mails
Conclusion
The market is full of options but we have tried to list best parcel boxes ranking high on customer satisfaction. However, with new product launches every now and then, we expect to curate this list from time to time. For that, keep us posted with your valuable feedback in the comment section below.