The 13 Best Outdoor Security Lights In 2023
One of the great ways to secure your home is by installing an outdoor security light. This gives you peace of mind as it enhances the safety of the house.
There are various options to choose from, but you have to find the best outdoor security lights for your property. Make sure to opt for the best motion sensor security lights that fulfil your requirements.
The factors to be considered include design, range of light, reaction speed, and brightness.
These lights are necessary to protect your possessions from intruders. Motion sensors in security lights are an excellent preventive way and cost-effective security measure.
Advantages of Having an Outdoor Security Light
Outdoor security lights offer many advantages, such as:
Prevents unwanted guests
Security light prevents you from unwanted guests from entering your property, and they may be any human beings or animals. Motion detecting security lights are designed specifically to detect and frighten animals.
Provides peace of mind
Outdoor security lights provide peace of mind when you are on vacation or spend a night out a far from home. Homeowners do not want to leave the lights on all the time, so motion-sensing lights will turn on only when some anybody approaches the property.
Prevents theft
These lights make it difficult for intruders to roam around the house, especially with the in-built camera, and potentially prevent theft that may happen.
Gives homeowners an insurance break
A well-lit home has less chance to be burglarized, and this can lower the premium on insurance.
Best Outdoor Security Lights
1. Ring Floodlight Camera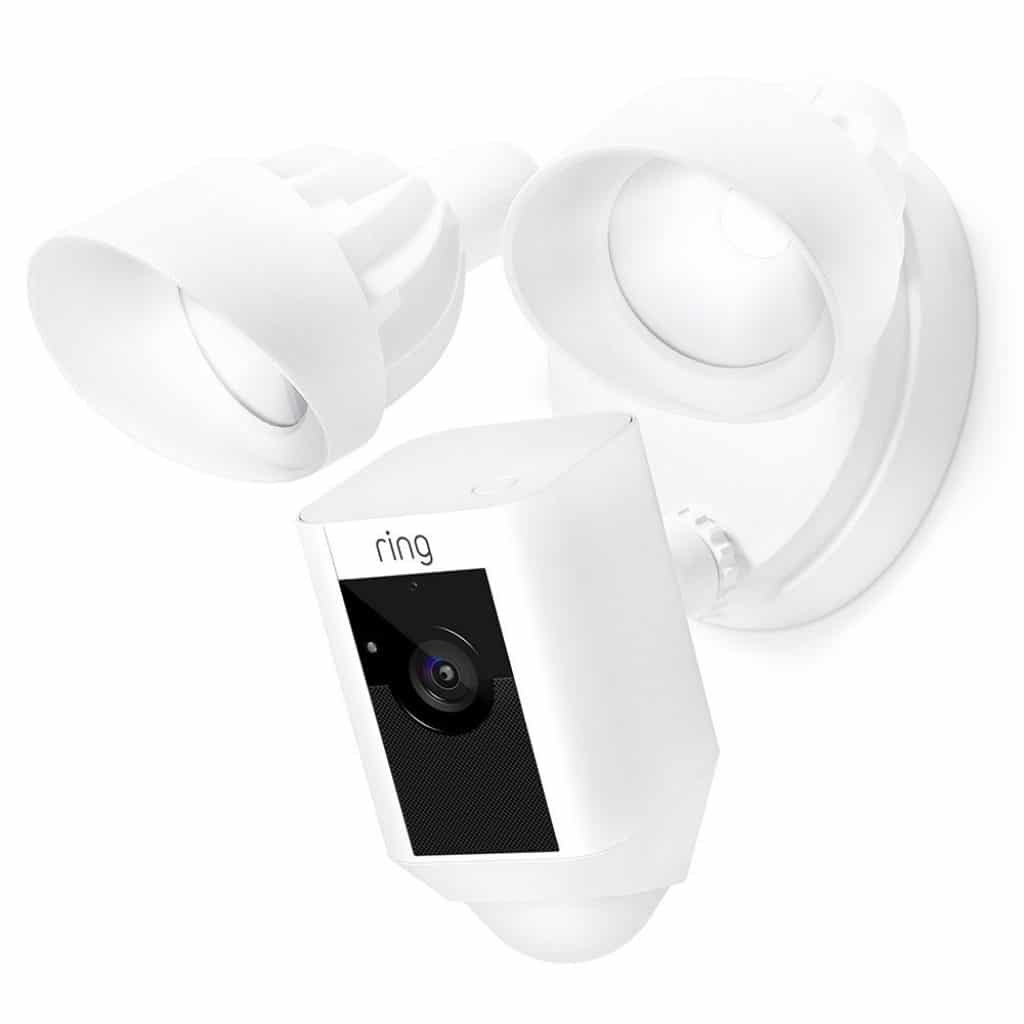 It's time to replace your outdated outdoor security lights with this Ring Floodlight Cam that has a motion-activated HD camera with lights, siren, and two-way talk.
You can see, speak, and hear people outdoors on your property. Just shine the lights on all blind spots and sound the alerts on suspicious activity. You can do these activities from your tablet, phone, and PC.
The smart design makes it stand out in the market, and the in-built camera adds to its features. Connect the camera to Alexa and get a notification when it detects any motion.
This makes you aware of the visitors and happenings outdoor. Use a compatible echo device to communicate with your guests. All the features can be controlled by your smartphone, PC, or tablet.
Highlighted Features
Records 1080 HD video
Live view and infrared night vision
Ultra-bright floodlights along with a siren
Works with Alexa
1800 lumen super bright light
2. Arlo Lights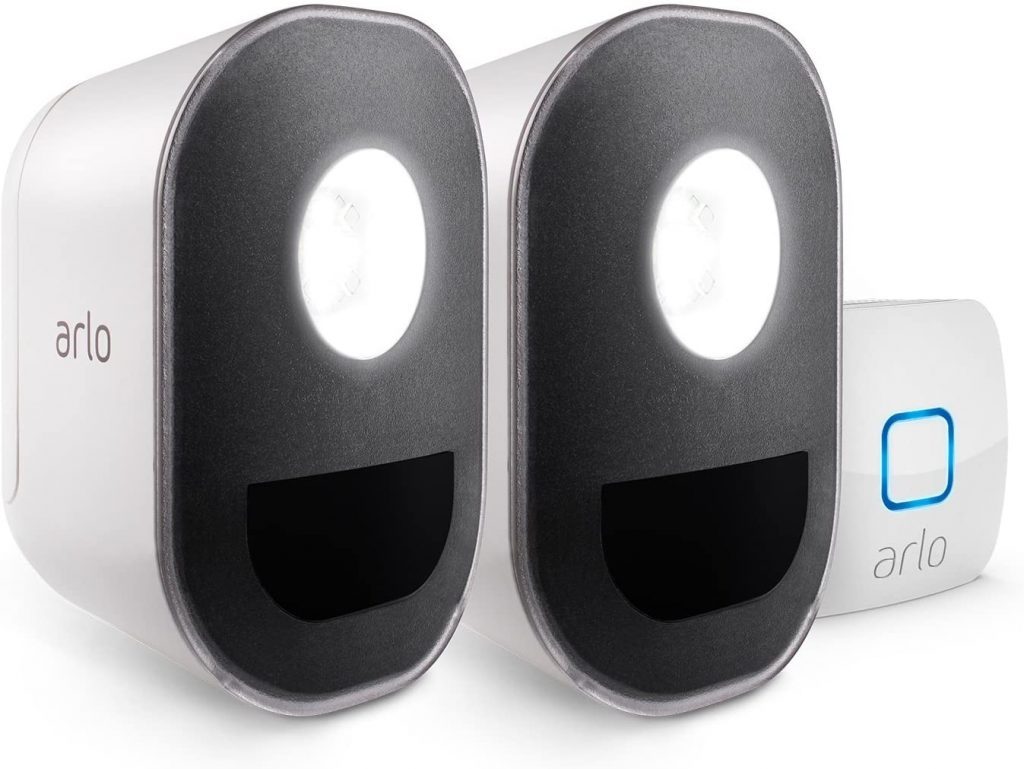 Arlo security light is a weather-resistant, 100% wire-free, smart, and super bright LED light. You can easily personalize the settings of the light from a remote location, and get instant notifications at detection of any motion.
Adding Arlo security lights allows you to cover more angles. Adjust the beam width, brightness, flashing patterns, and colours from the Arlo app.
Long-lasting rechargeable batteries included can be used to run the device. You may also use the Arlo Adapter or Arlo Solar Panel.
IFTTT integration enables interactions with smart home devices. Schedule your lights for when you are on vacation, work, or at home. It works with Alexa so you can give a voice command to let your lights turn on and off.
It is also compatible with all Arlo security cameras.
Highlighted Features
These lights are weather-resistant, and IP65 certified to work outdoors and indoors
Long-lasting and convenient rechargeable battery
Use Arlo app to automate and manage the lights from anywhere
Get instant notification on your email or smartphone
400 lumens bright LEDs
Fully customizable: change colours, flash on or off, adjust beamwidth and more features
3. Maximus – Compatible with Alexa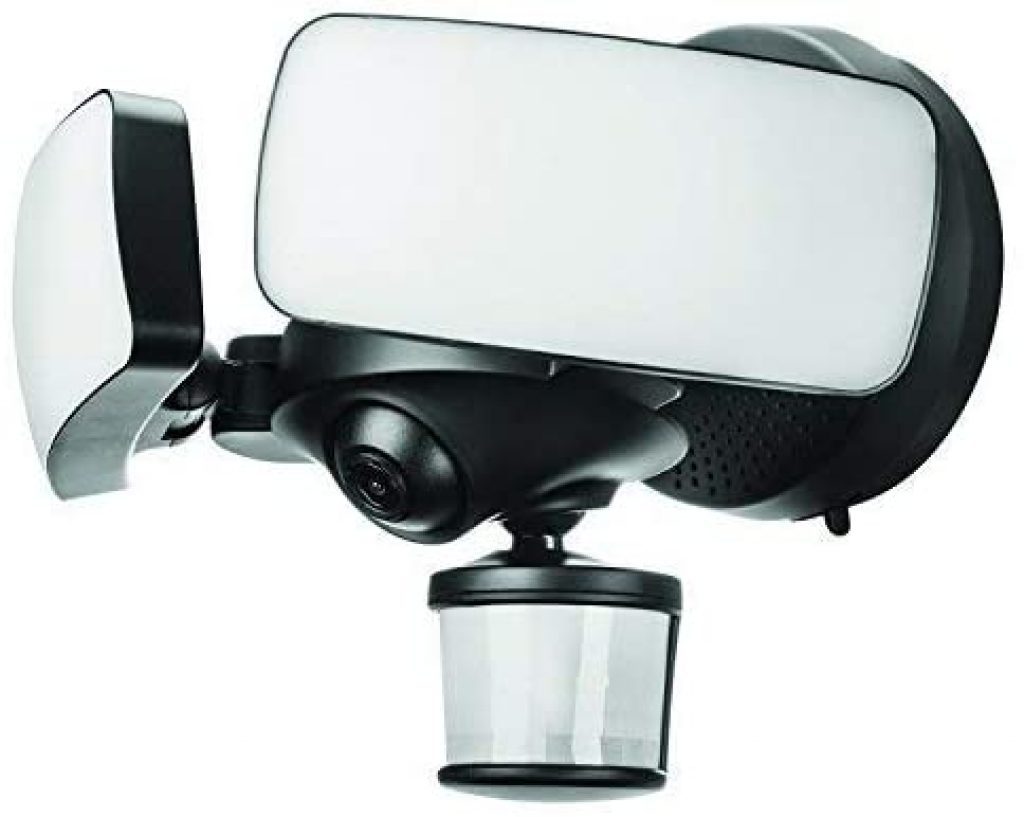 Maximus Camera Floodlight is an elegant and weatherproof LED light that comes with an intercom and security camera installed.
This is one of the best home security lights that detect people nearby and sends a notification to your Android or iOS device. It works with Google Assistant and Alexa.
You will receive notifications of visitors automatically, and you can speak and record their visits. The advanced technology allows reviewing the visits from anywhere.
It records the events from beginning to end automatically. For peace of mind, you can share the camera with your family or friends.
Highlighted Features
1080 HD camera with 155° field of view
Live-view access anytime from anywhere on your mobile phone
270°70ft wide detection rate
Adjustable motion sensitivity
Automatic greetings
Built-in quality microphone and speaker enabling two-way talk
Emergency siren of 115 dB
Adjustable and dimmable LED panels distributing lights evenly at night
Weather-resistant
4. Home Zone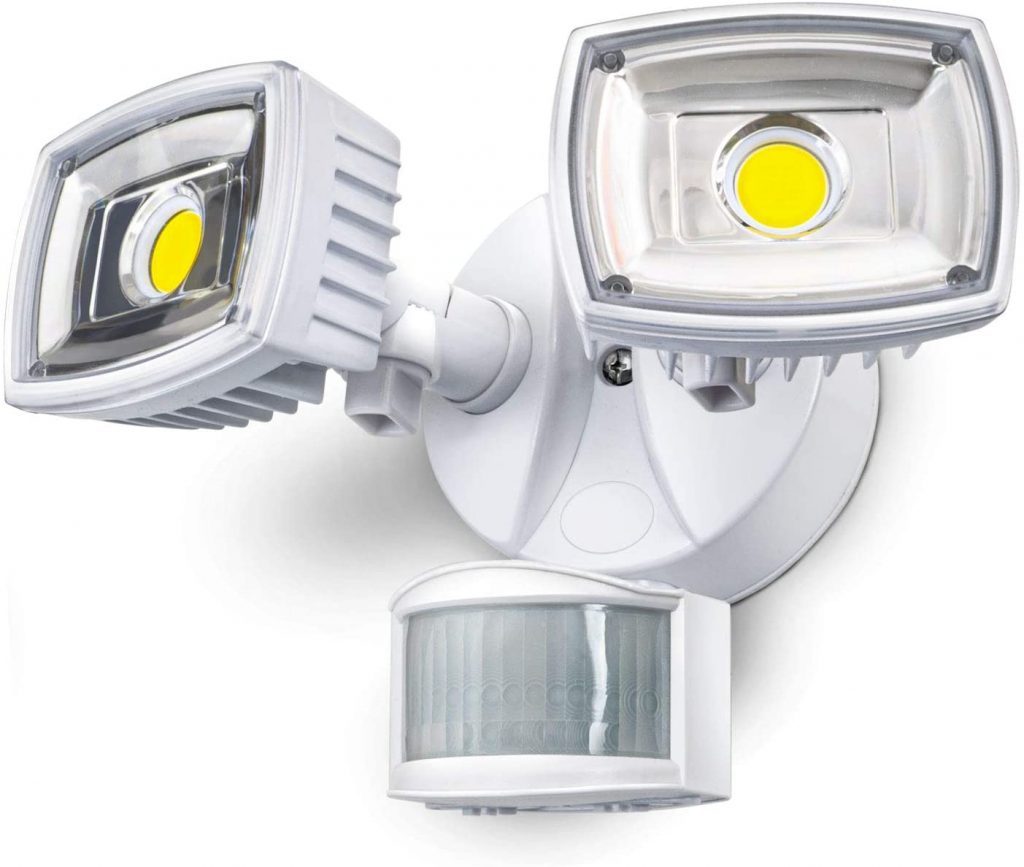 Home zone outdoor motion sensor floodlight is a long-lasting and reliable solution for additional home security.
All new motion sensor lights are equipped with two super-bright LED bulbs with a lighting output of nearly 2000 lumens white light.
The twin head motion security light is affordable and has an estimated lifespan of approximately 20 years with normal usage.
The low wattage requirement with a long life span results in significant cost savings.
Highlighted Features
Motion detection for full 180 degrees and range up to 33 feet
Ambient adjustable light sensor with power control on time from 120s, the 60s, and 30s
Customize sensor positions and lighting head to cover desired areas
Light heads are made with aluminium die casting and rubber seal for protection from outdoor conditions
The LEDs last up to 5X longer than traditional bulbs
5. Aootek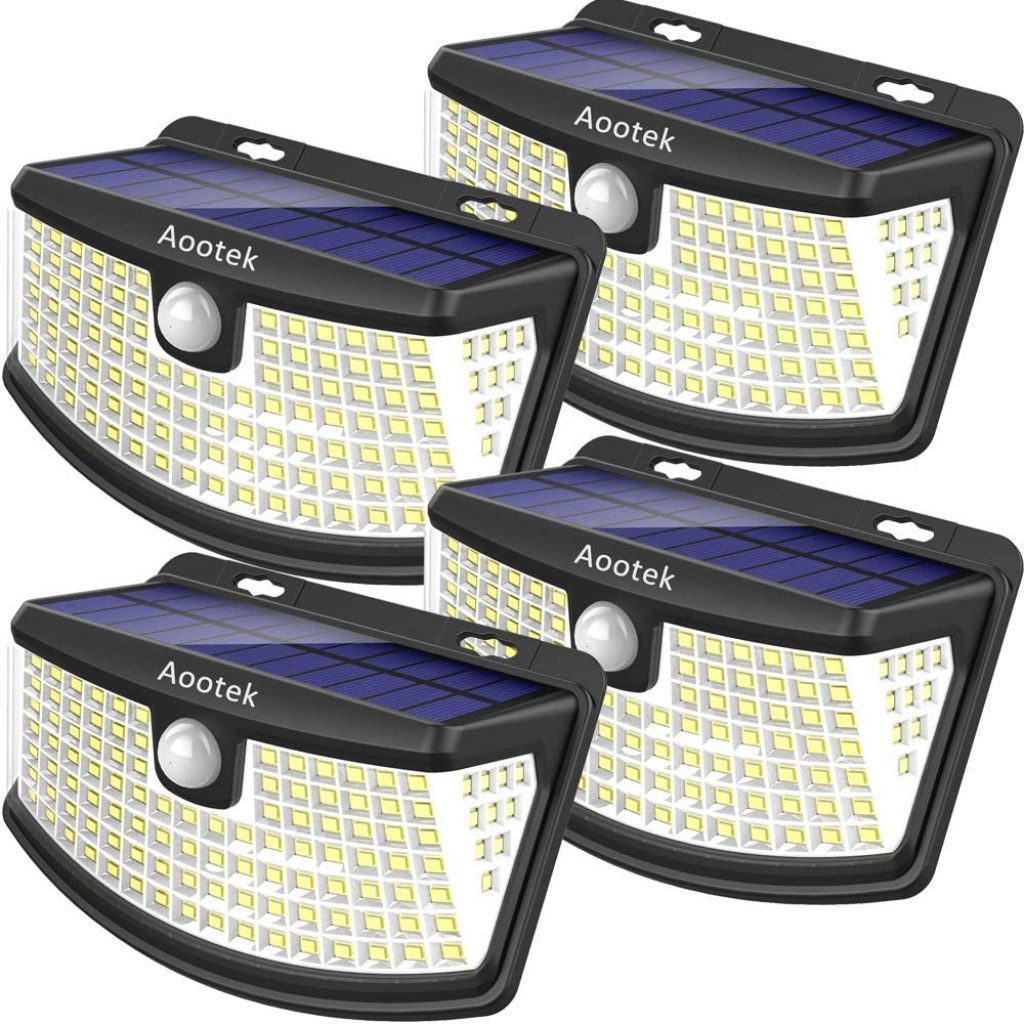 Aootek New solar lights have a smart brightness control mode, and the light stays throughout the night, and on motion detection, it becomes brighter.
It can detect people up to a distance of 26 feet at an angle of 120 degrees. The lithium-ion 2200 mAh rechargeable battery is brighter and long-lasting.
The high-efficient ultra-bright LED lights to come with wide-angle illumination that improves lightning utilization. The PET laminated solar panel is energy-saving with premium LED lights.
This waterproof and heatproof security light is perfect for the porch, patio, garden, pathway, etc. These lights are designed appropriately to withstand extreme weather conditions.
Highlighted Features
Solar-powered lights with 3.7 volts
Highly efficient LEDs
Motion sensor and waterproof
Made of ABS material
6. Baxia Technology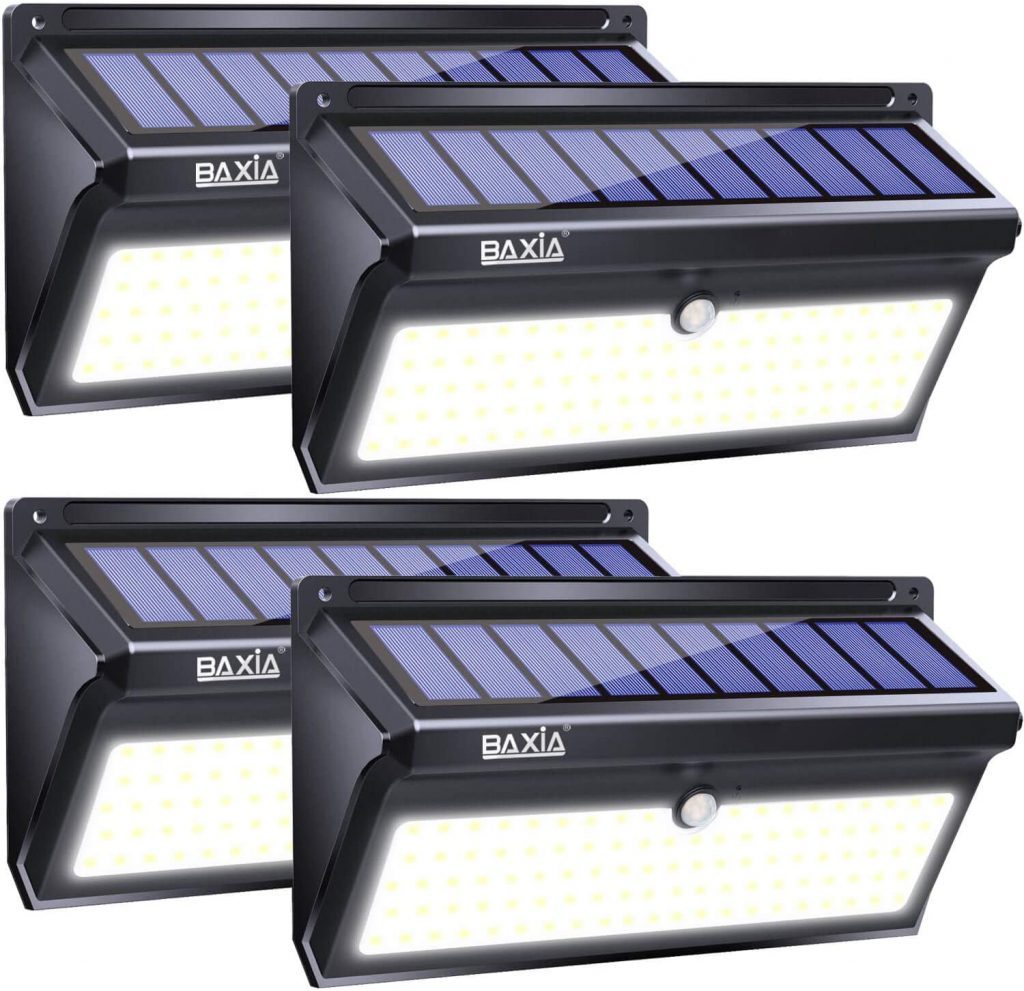 Baxia Technology offers valuable solar security LED light that creates luminosity with up to 2000 lumens superior to other versions as well as other products available in the market.
It meets the lighting and security requirements perfectly. These solar lights absorb sunlight and store in high capacity 2600mAh battery.
The conversion rate is 17%, ensuring long lighting time. The solar light has a sensitive sensor ball head that can detect motion up to the distance of 10-16 feet with a 125-degree angle.
Furthermore, it features an intelligent PIR motion sensor. In night or darkness, the lights turn on automatically and last for about 30s.
Highlighted Features
2000 lumens bright lights
10-16 feet motion detection
Super bright with 100 LEDs
Charging time 6-8 hours in sunlight and works up to 8-12 hours
Made of superior quality ABS
2000 lumen bright solar light
Auto light up in the dark
7. LITOM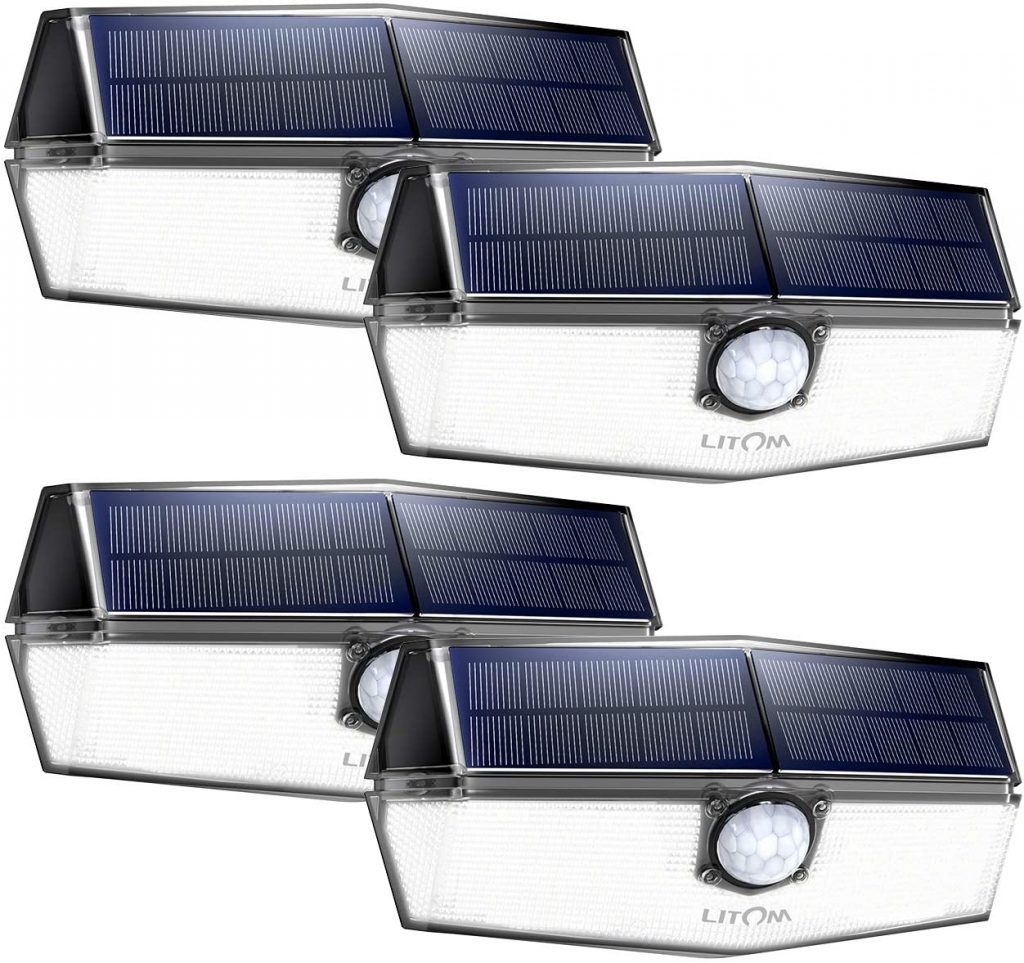 LITOM solar light charges during the day and lightens the nights. This solar light can operate in three modes, the high mode for motion detection and medium and dim light mode all night.
It gradually lights up on and off, which makes it unique and comfortable to use. One press on the back button will set it in mode 1; in the second press, it will flash twice, and in the third press, the light will flash three times.
One more press after the third press will change the light back to off mode.
It has an energy conversion efficiency of approximately 20.5% due to PET laminated solar panel. This means it is highly effective and faster while charging.
120 high-intensity LED beads increases utilization of light, and wider illumination is offered by 120-degree wide-angle design. The light can illuminate the space up to 323sq.ft.
It is perfect for long term use and is more durable because of the diamond-like illuminating shell, which makes the light uniform.
Highlighted Features
It detects motion up to 10-26 ft at a 120° angle.
High energy conversion rate up to 20.5%
Offers 30000hours+ service time
Heatproof and waterproof
Works in 3 lighting modes
8. Amico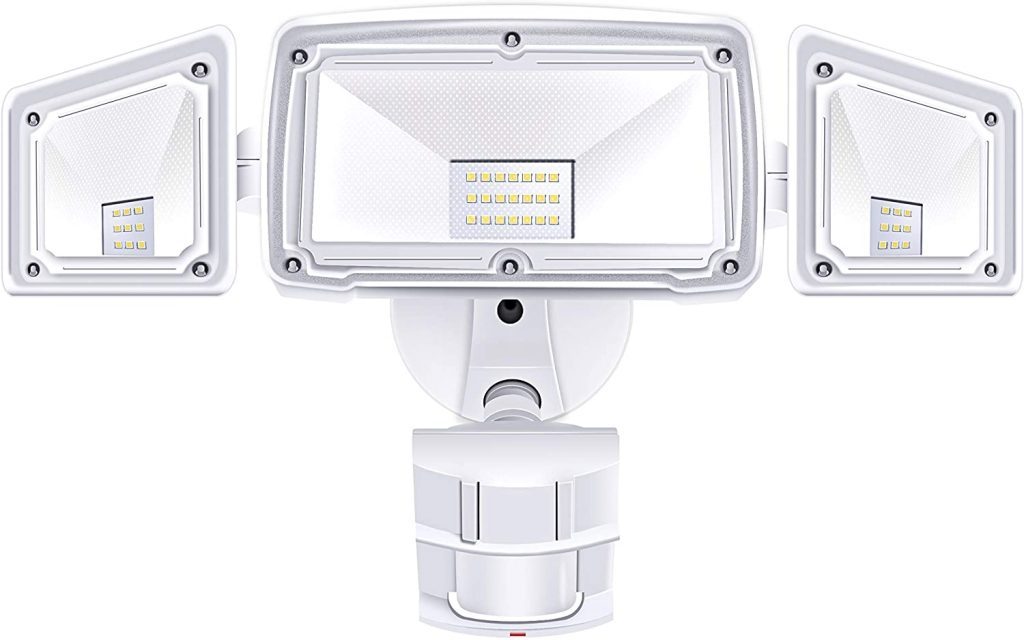 This outdoor security light by Amico gives a brightness of 3500 lumens with 40W LED unit output, which is equivalent to 200W halogen light.
It saves electricity bills up to 88% offering excellent output. The installation is simple even for beginners, and this outdoor LED security light can be mounted on a wall with few wiring steps.
The 180-degree swiveling angle detects motion, and security lights automatically turn on. It can sense people up to max. 49 ft. You can adjust lens hoods, motion sensors, and light heads to different angles.
The security lights are IP65 waterproof, and its durable, water-resistant design ensures safety for outdoor applications and protection from sleet, snow, or rain.
It is a perfect lighting solution for workshops, garage, storage rooms, industrial workstations, equipment rooms, etc. The motion sensor works commonly at three modes but does not lights up in day time except for the test.
Highlighted Features
Super bright LEDs
Works in three modes
It detects up to max.49ft
Infrared motion sensor
Power 40W and 3500 lumen
9. JJC LED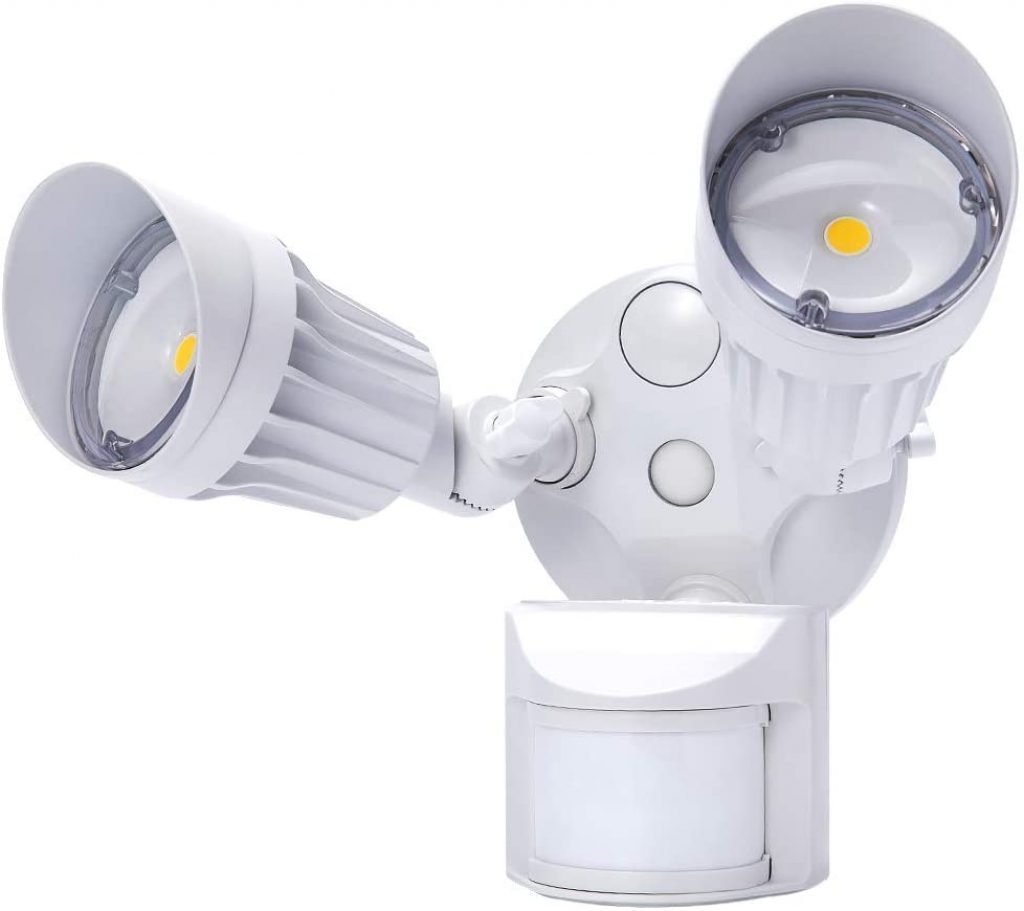 Protect your properties with these floodlights by JJC. The wide-angle design makes it perfect for door lighting and your yard.
The in-built motion sensors detect motion and choose to free three modes.360-degree motion sensor adjustment allows you to change the direction of the sensor.
Flexible light head and 360-degree rotation cap make it convenient to use. The advanced motion sensor has a 180- degree sensing angle with the range of 65ft, making it suitable for home and other use. It works in three modes, i.e., On-Time Mode, Auto mode, and D2D mode.
IP65 waterproof rating ensures its resistance to weather and UV exposure along with erosion and anti-rusting. It is made of die-casting aluminum and produces high brightness of 2000lm and excellent heat dissipation. It saves up to 80% of the electricity bill.
Highlighted Features
Aluminum Shade material
Waterproof and motion sensor
Working temperature -4 to -122degree Fahrenheit
View Angle vertical: 150-degree max Horizontal: 360-degree max
10. GoerTek Solar Lights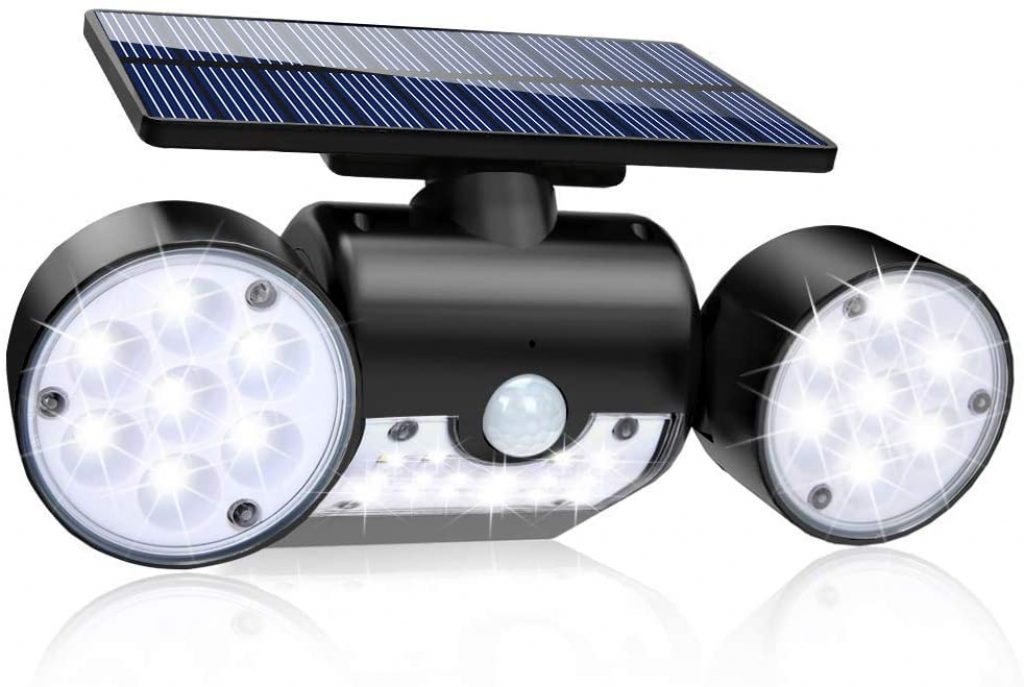 This solar light by GoerTek comes with a PIR motion detector sensor and covers a wide area because of 360-degree solar panel and rotatable spotlights. It lights up whenever someone approaches your property.
The solar lighting has 16 LEDs in the middle and 7 *2 LED lights on both sides to meet outdoor lighting conditions.
It has a body motion sensing built-in that can detect distance up to 26 feet and has a view angle of 120 degrees.
It can light up to 30 seconds after identifying animals or human beings and then changes to dim mode automatically.
The built-in light sensor turns on at night and turns off during the day automatically. The lights have a conversion efficiency of about 17% and come with a replaceable lithium battery. IP65 waterproof rating makes it perfect for outdoor installation.
Highlighted features
It detects up to max.26 ft
View Angle: 120 degrees
Energy conversion efficiency 17%
Waterproof
Built-in PIR motion sensor
11. Luposwiten Solar Lights Outdoor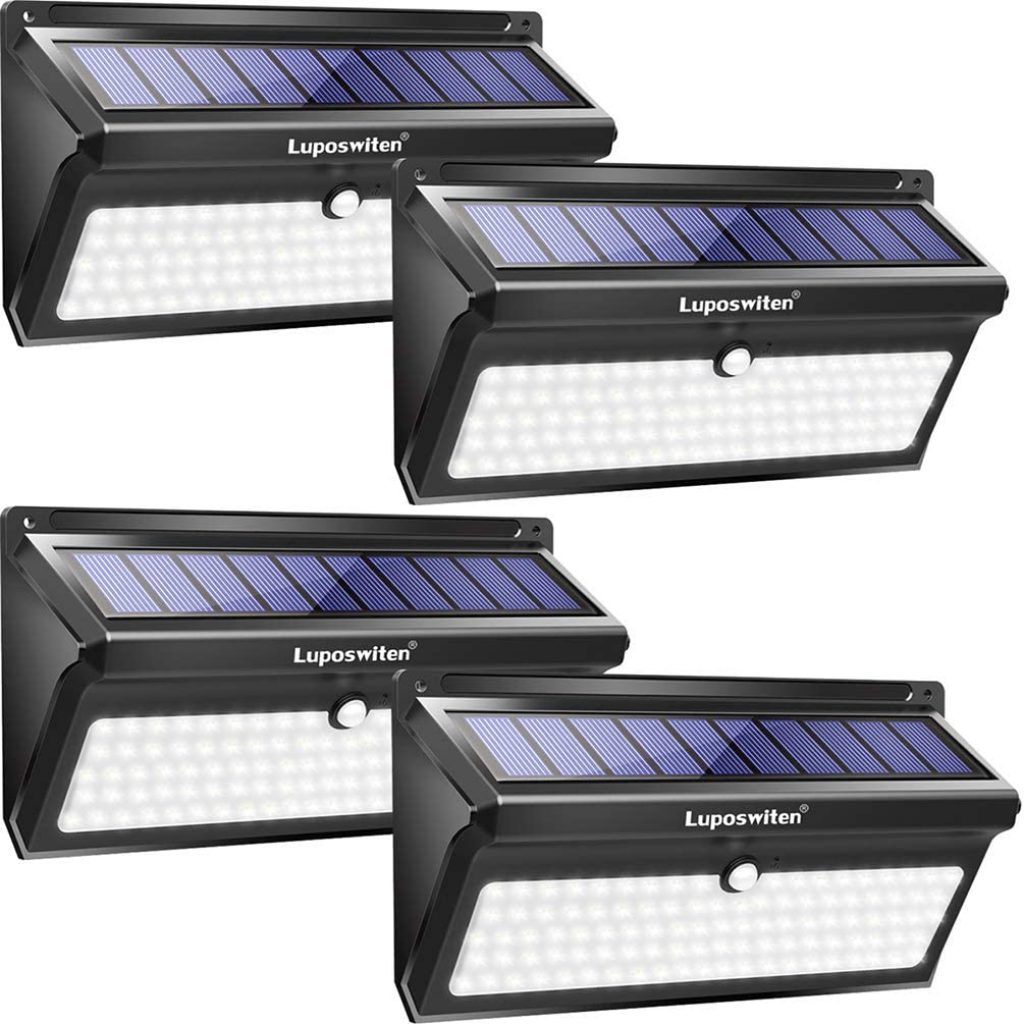 Install Luposwiten Solar Lights and bright up your nightlife in no time. This super bright 100 LED light provides illumination up to 2000lumens. It comes with a rechargeable battery of 2600mAh that supports long working time.
The lights have a 125° wide sensing range and ha a sensitive sensor ball head. This solar sensor light can detect up to 16ft distance.
Thos 100 LED bright solar lights are an excellent option to illuminate your yard and pathways.
Once it detects motion, it lasts for the 30s. It has only on/off mode (No Dusk to Dawn, No Dim) to maximize the lifespan, which leads to 50,000hours.
Highlighted Features
LED Beads come with 100LEDs
It offers a brightness of 2000Lumens
Lithium-ion battery included
Motion sensor range up to 26 feet
Stay on and Dim mode not supported
8-12hours charge Time under direct sunlight
12. Lepower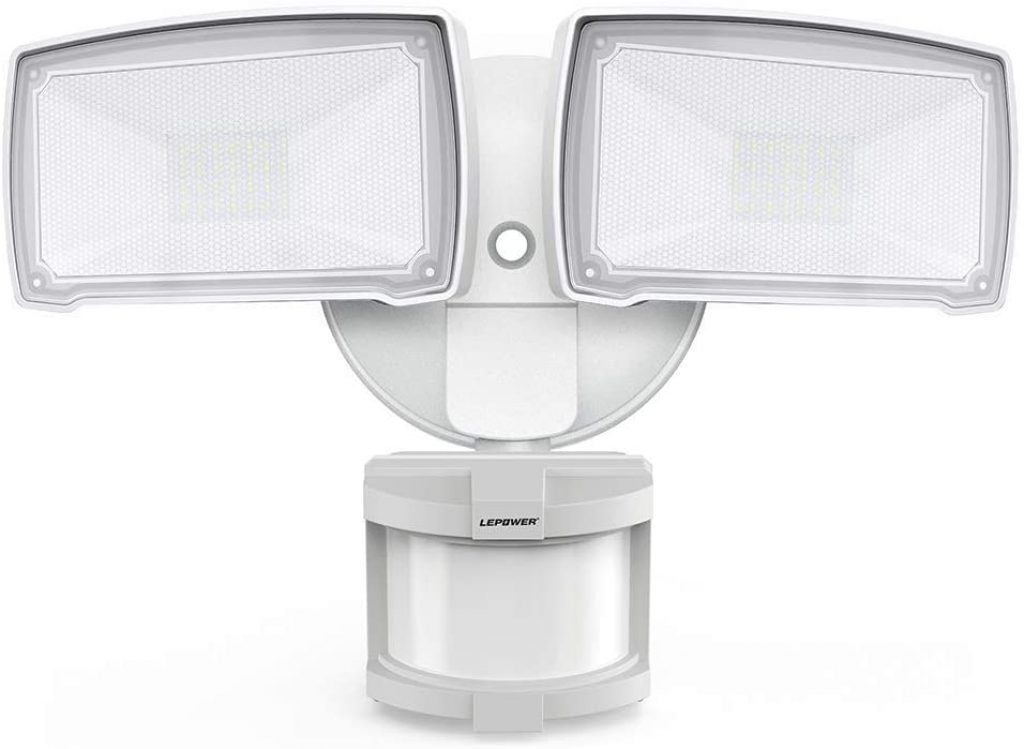 LEPOWER is more sensitive and has a full aluminum material design for a better experience. The upgrade IP65 waterproof is perfect for outdoor use and ensuring its ability to withstand heavy rain, snow, or sleet.
It is perfect for use in the back yard, porch, garage, walkway, etc. The motion sensor is upgraded and can sense up to the range of 72ft with a 180degree detection angle.
The lighting time is 10s-10min when the security light is triggered. The aluminum design makes it effective in spreading the heat and increase the life span up to 50,000+ hours.
Highlighted Features
Lifespan: 50,000 Hours+
Material: except motion sensor head, all-aluminum
Motion sensor range up to 72FT,
Lighting time(Max 10min),
No affect by infrared rays
Energy Saving, Not Dimmable
The optical designed lens gives better illumination
13. Amico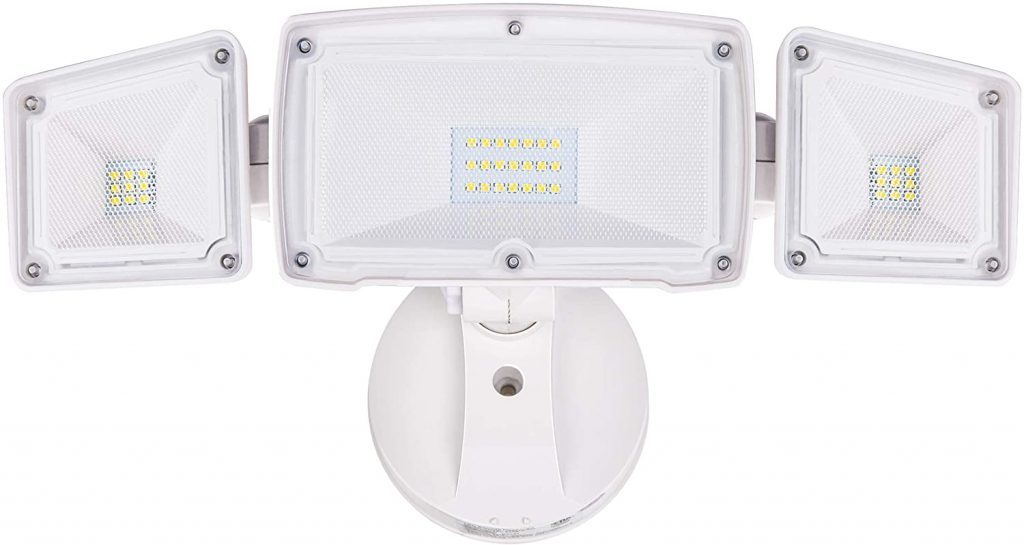 Amico floodlight is super bright with three LED light heads made of die-casting aluminum material. It produces 3500-lumen brightness with good heat dissipation.
With the usage of this LED light, you can save up to 80% of the electricity bill. Multi-functional and customizable design makes it easy to use. It has an IP65 waterproof rating that ensures that it is perfect for the yard, stair, entryways, workshops, etc.
It has a long life rating of about 50,000 hours with consistent and good performance. ETL certification shows its outstanding quality and provides sufficient lighting and more safety to your property.
Highlighted Features
Made of metal and plastic
ETL certification for excellent quality
Good heat dissipation
3500 Lumen brightness
Long life of 50,000 hours
FAQs
How bright should an outdoor security light be?
Lumen measures the light that comes out from the light bulb. The floodlight or security light should be brighter to spot danger. These lights should be in the range of 700-1300 lumens.
What is the brightest security light?
There are varieties of security lights available in the market, but choose the one that fits your budget and fulfills all your needs. Choose the light with motion detection, camera, and high lumen so it can spot the person coming to your property. The brightest security light available in the market is of 10,000 lumens. 
Does leaving switched on lights deter burglars?
Studies have shown that well-lit streets reported fewer crimes. Moreover, motion-detecting lights add a layer of security. Most burglaries are not planned, and they are the result of opportunity. Leaving the indoor lights on at night is not an effective way to prevent burglaries, so you must adopt some smart strategies too.  
Conclusion
Outdoor security lights are the excellent options to illuminate your backyard, porch, or garage and protect your home. For this purpose, you have to choose the best outdoor security lights. Simple outdoor lights with in-built motion sensors will help you achieve the goal, and there are more sophisticated security lights that give extra features making it more useful.