The 11 Best NVR Security Camera System In 2023
It's quite impossible to monitor two different places simultaneously, but NVR security cameras can cover a wide area. These excellent home surveillance systems can help prevent intrusions and they are easy to install. If you are looking to buy the best NVR security camera system, this guide covers some of the best camera systems. Each surveillance system has its own specific strength and varying camera resolution, and other advanced features.
What is NVR surveillance system?
A network video recorder, commonly known as NVR is an advanced computer system in the form of a software application that records digital format videos to a USB drive, disk drive, and an SD memory card. NVR systems are often used on an IP camera surveillance system.
How many types of NVR are there?
There are three main types of NVR recording systems: Cloud service systems, Network Video Recorders, and Video Management Software. Each system has its own unique capability and set of functions.
Best NVR Security Camera System
Reolink 8-Channel NVR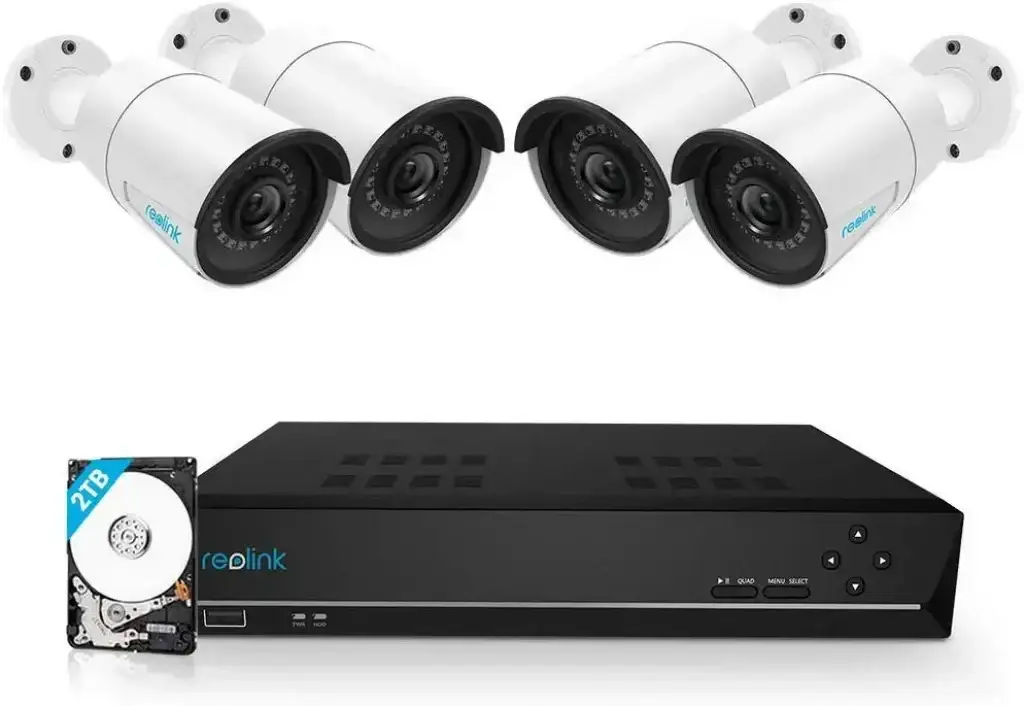 The robust Reolink camera is the best Poe NVR security system due to its exceptional features, including HD detailed images both during the day and night, and night vision that can cover up to 100ft. This PoE security system comes with network cables that allow for easy set-up.
And unlike most CCTV DVR systems, video recordings from this IP security camera cannot be damaged by faulty cables and will still maintain excellent quality. The camera comes with remote playback and in-built 2TB Hard Disk. You can record videos for a period of ten days without the need for overwriting.
By installing the Reolink app on your phone, you can playback the videos on your smartphone anytime, anywhere. These 5MP cameras allow flexible operation as they are well-equipped with 8 Reolink ports that allow you to add extra dome or bullet cameras. Additionally, the camera has smart motion alerts and the cameras run simultaneously 24/7.
Additional features:
Supports up to 8 cameras
Playback: 4 cameras record simultaneously
Lens: 80°@4.0mm
Built-in microphone
Viewing angle: Vertical: 58°, Horizontal: 80°
Technical specifications
Viewing angle: Vertical: 58°, Horizontal: 80°
Storage: 2TB hard disk (built-in)
Video outputs: HDMI, VGA, HDTV, and Monitor
Image Sensor: 1/2.7″ 5MP CMOS (2560 x 1920)
Pros
Easy to use
Flexible operation and supports Wi-Fi cameras
Great picture quality
The camera supports a multitude of micro SD cards
Cons
The HD card slot has incredibly tiny screws that when dropped, might be difficult to find.
Motion detection is not 100% accurate
Amcrest 4K NVR Security System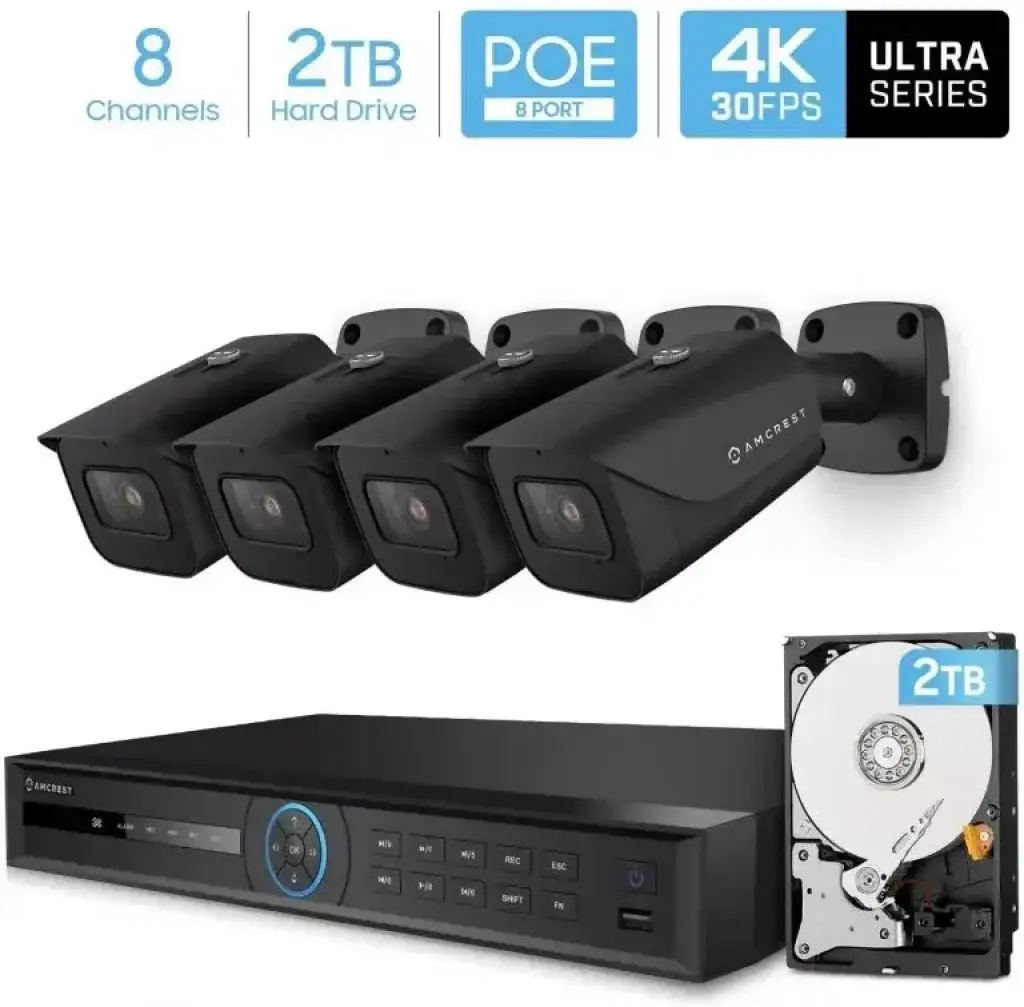 With an in-built 2TB Hard Drive and Playback technology, Amcrest is one of the best NVR security camera systems. It features 8 channel recording and comes with the latest video compression technology, as well as live view support. The cameras provide 12MP resolution and have a night vision of up to 164ft.
The camera has a stunning 8MP resolution and is easy to set up and control. Once you install the ''Amcrest View'' app on your phone, you can access instant live viewing. For added convenience, you can manage all your PoE and Wi-Fi cameras via an Ethernet cable connected to your home network.
The camera comes with well-packaged extras including a network cable, USB mouse, and installation guide. What's more, the camera comes with the latest image sensor technology with a 111° wide viewing angle, which enables you to cover more ground. In addition to supporting both Wi-Fi and IP cameras, the NVR system also includes a USB backup.
Additional features:
H.265 compression technology enables you to enjoy longer recording times
Remote access using Mac Browsers and Standard Windows
Multiple alarm/trigger events
Pre-installed 2TB Hard Drive
Technical specifications
Weatherproof: IP67 Outdoor
Lens: 2.8mm
Night vision: 164ft
Storage: Local PC, NAS, and Amcrest Cloud
Resolution:4K
Pros
Better visuals even in low quality 
Extra configuration features when compared to older models
Crisp images than older models
Smoother video
Cons
No audio
No micro-SD card option
Not ''zoomed-in'' as you may expect
ZOSI Security Camera System with NVR Recorder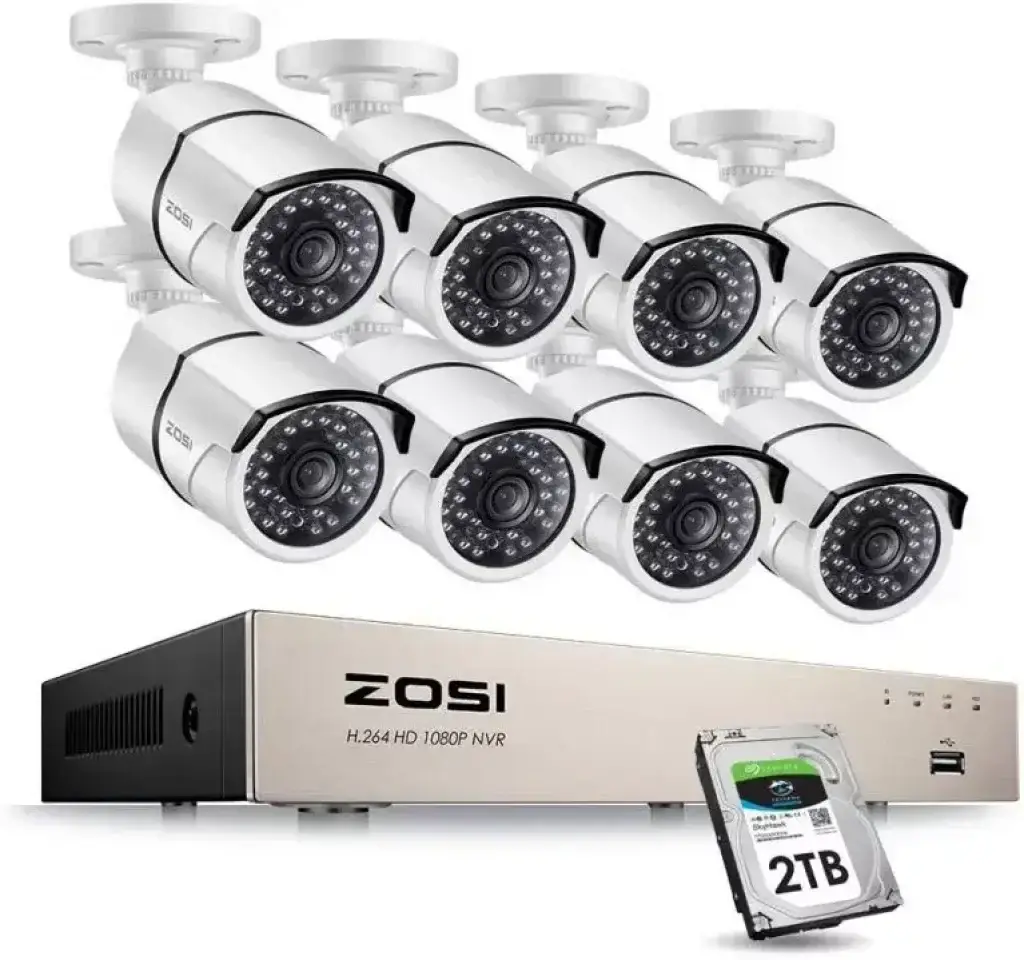 This robust PoE home security camera enables customized motion detection alert and you can focus on essential areas like windows or doors, and provide automatic alerts when it detects movements. ZOSI smart app allows you to get motion alerts directly on your phone. It allows continuous recording and you can record everything that is happening.
The camera also has a recycle record option that enables you to overwrite old video files. For local viewing, you don't need to set up a network. Simply connect the camera system directly to your monitor via VGA/HDMI port and get multiple camera views on your screen. With a remote app on your smart device, you can enjoy live viewing straight from your phone or computer.
It has 100ft night vision when it detects low light, and this enables you to see clear images even at pitch darkness.
Additionally, it has aluminum housing that makes it suitable for tough weather conditions. When installing the system, you don't need data and power cables, and instead, only require an ethernet cable. It supports BNC and VGA outputs as well, and the cable layout is neat and tidy.
Additional features:
Local and remote payback
Viewing on multiple devices simultaneously
Intelligent and secure recording
Customizable and advanced motion detection
Technical specifications
Cameras: 8 Channels full
Encode capacity: H.264
Video output: BNC, HDMI, VGA
Color: CMOS with ICR
View angle: 95°
Pros
Easy to install
Interactive user interface
Exceptional images
Great motion detection
Cons
Not easy to access the recordings on your PC
The app that you use to view the cameras on your phone often has errors and disconnects multiple times.
Not very sturdy 
SMONET Security System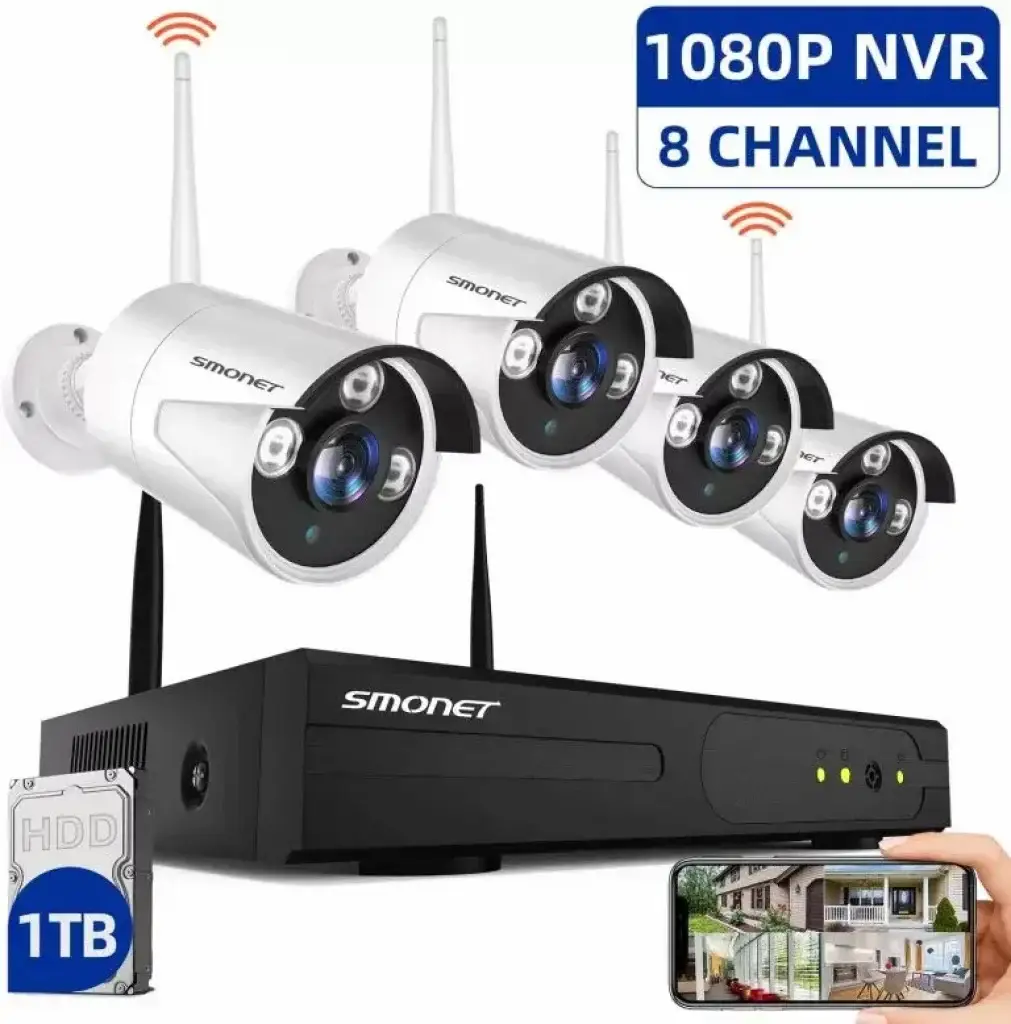 With a pre-installed 1TB Hard Disk and 8 channel cameras, this is the best wireless NVR security system for indoor and outdoor use. This 960-pixel camera system comes with a powerful IR-LED night vision and is waterproof as well. The camera has an excellent wide view angle that allows you to cover more areas of your business or home.
These durable outdoor cameras are IP66 dustproof and waterproof grade, as they come with a robust weatherproof casing. This makes them suitable for use in tough weather conditions.
The wireless camera security systems provide stunning video and pictures, and you can enjoy live video, as well as video recordings and real-time playback.
In addition to providing 24/7 monitoring and recording, you will not miss any precious moment in your business or home. More importantly, you can easily customize all the security cameras differently to suit your surveillance needs. The system allows simultaneous viewing directly on your smartphone and you can playback videos as well.
Additional features:
Supports HDMI, VGA, Monitor, and HDTV video outputs
Advanced H.264 video compression
Pre-installed 1TB Hard Disk
960P wireless camera
Technical specifications
Encode capacity: H.264
Weatherproof: IP67
Support: Recording/Video Preview
Night vision: 65-100ft
LEDs: 3pcs
Pros
Easy installation
Excellent Wi-Fi range
Good night vision
Study and weatherproof
Cons
The app that allows you to view the cameras on your phone has multiple bugs
Camera antenna can easily break
No external mic
No voice support
Firstrend 8CH 1080P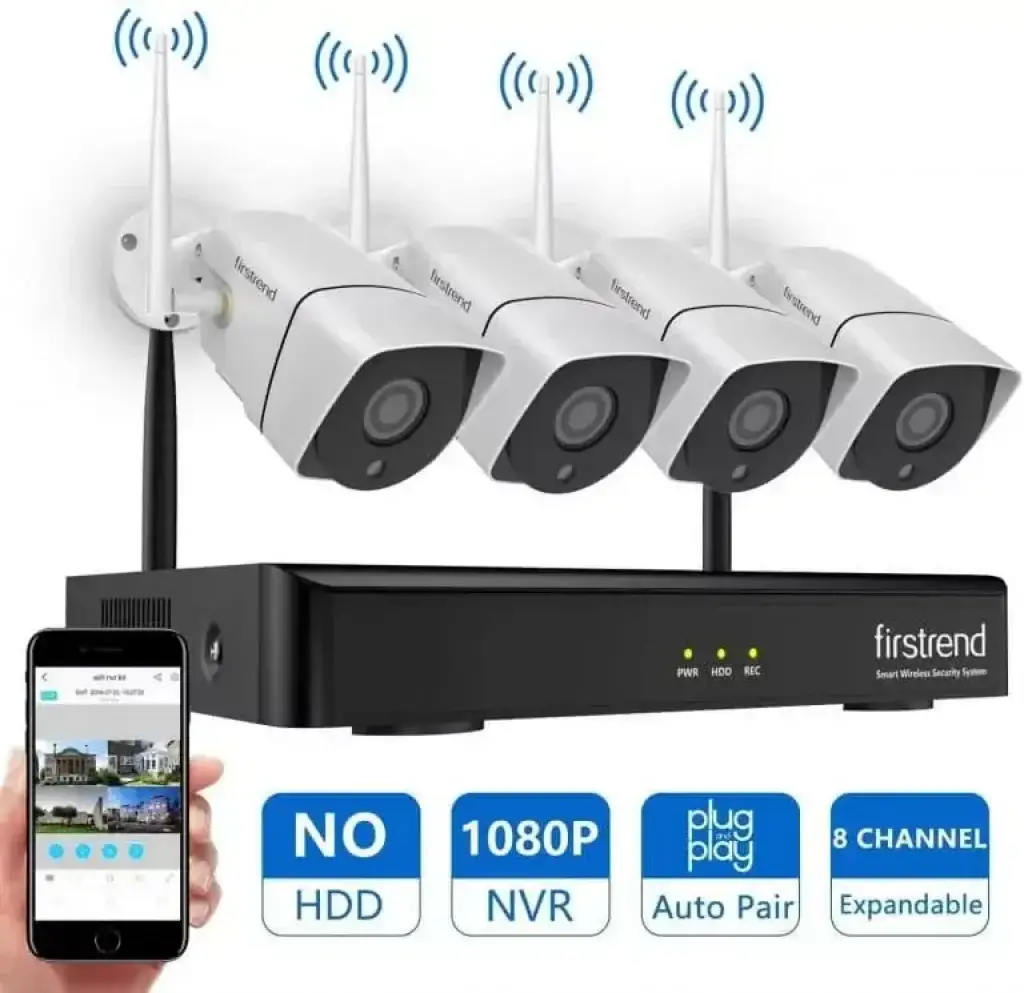 Paired with an auto pair, this is the best NVR security system with a remote view. Simply connect the NVR and cameras to a power adapter and you are set. In addition to providing playback and remote viewing, the camera system supports motion and backup detection. It is compatible with PC, tablet, Android and IOS systems.
Additionally, it produces crisp and sharp 1080P images. It is easy to install and can support 8 cameras simultaneously for playback and view the recording.
And with an excellent 65feet night vision, you can protect your home during the day and at night. This wireless camera system is weatherproof as well and hence suitable for both indoors and outdoors use.
Additional features:
72 degrees wide view angle
3.6mm lens
2.4 GHz network connectivity
24 Hours surveillance
Technical Specifications
View angle: simultaneous remote viewing
Cameras: 8 NVR cameras
Night vision: 65ft
Weatherproof: IP66
Pros
Excellent video quality during daytime and at night
Very quiet NVR
Simultaneous remote viewing on smart devices
Great customer service
Cons
No pre-installed hard drive
There are only a few screws to adjust the camera's angle, which is not enough. 
The camera has a small base
ZOSI 8CH 1080P NVR with 1TB Hard Drive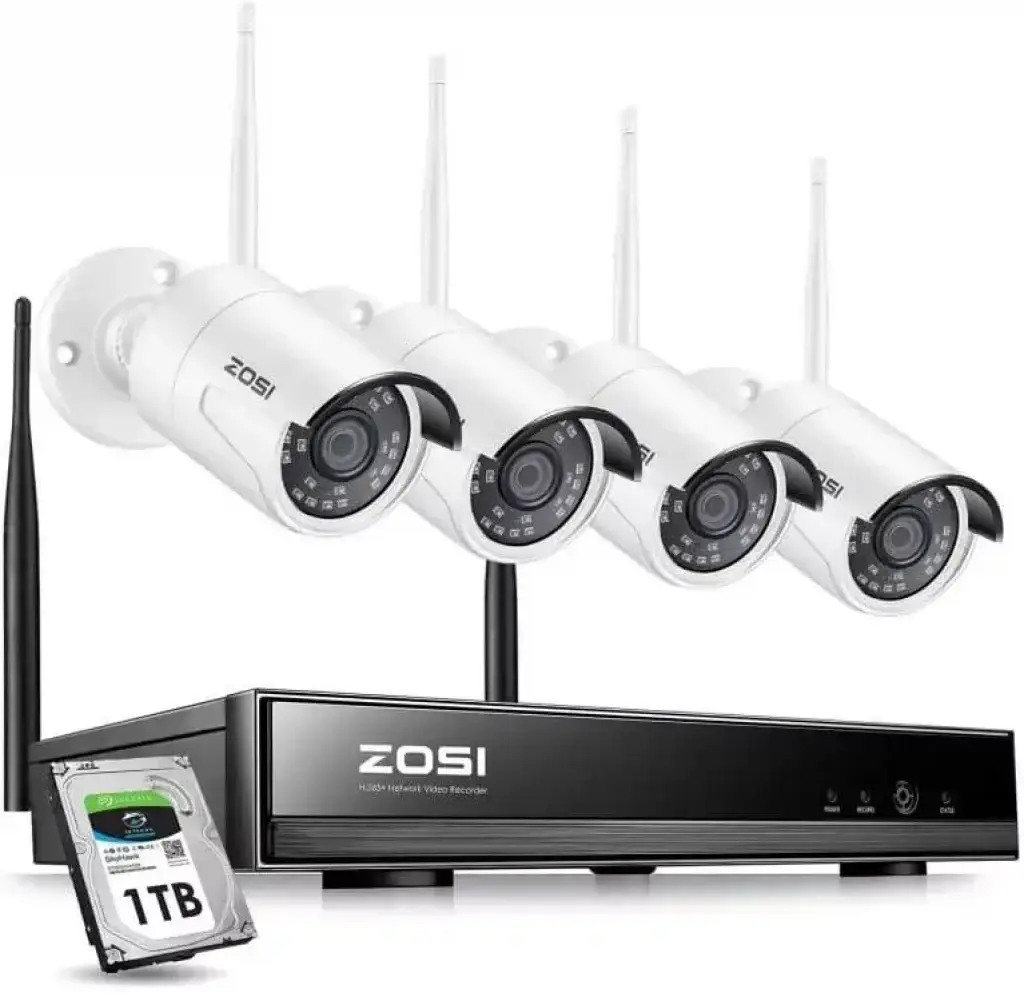 Suitable for both business and home, ZOSI is the best wireless NVR security system. It has remote and playback capability and comes with 1080P image sensors to produce stunning video and audio. With dedicated Wi-Fi, the camera has an excellent long distant transmission and can provide surveillance to an area of about 350m.
You can connect the camera to your router using an Ethernet cable, and all the cameras are wall and ceiling mountable.
This enables you to find an excellent location with the best mix of discretion and deterrence. The camera system comes with powerful 1080p cameras that provide excellent 65ft night vision.
Moreover, the cameras are weatherproof as they come with durable aluminum materials. For added durability, the cables are properly threaded on the mounting stands to prevent interference and vandalism.
Additional features:
Advanced H. 265 technology that enable double compression to maximize storage space
Customizable motion detection
Wi-Fi capability
Technical Specifications
Storage: 1TB hard disk (built-in)
Weatherproof: 1P66
LEDs: 3.6mm
Cameras: 8 channel
Night vision: 65ft
Pros
Great motion control
Easy installation
1080p HD images
Weatherproof
Cons
Limited Wi-Fi range
Poor instructions
SAFEVANT 8 Channel Home NVR Systems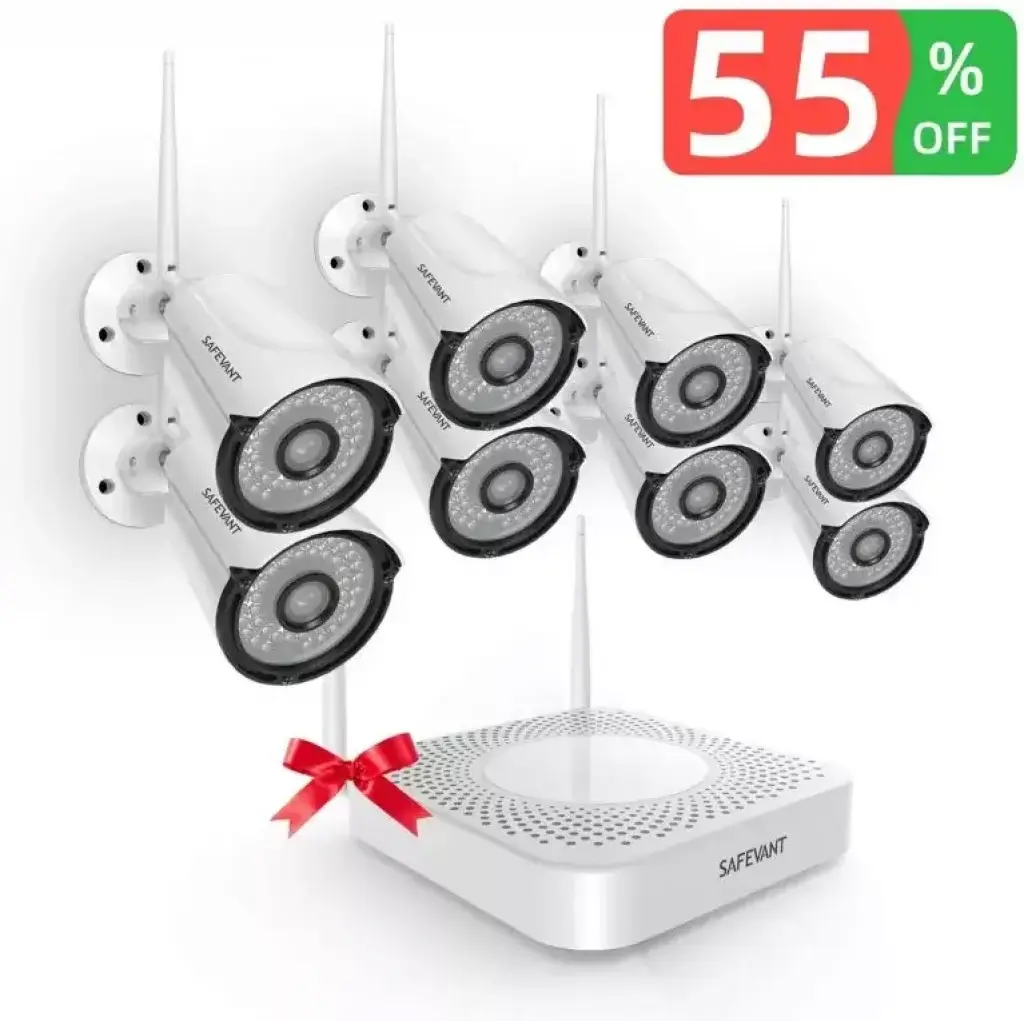 With 8 cameras for both outdoor and indoor use, this is the NVR security camera system that provides super clear images. It has a great night vision that can cover up to 20m/65ft.
Moreover, the camera comes with a pre-installed 2TB Hard Disk that allows continuous recording. The best thing is that you don't need any cables to operate this camera system. It's totally wireless!
It's easy to install and enables you to enjoy remote access anywhere, anytime provided you have Wi-Fi/data on your smartphone. You can install the CMS software on your PC or laptop to view the surveillance system remotely.
The camera has great motion detection and when the camera detects any movements, it starts recording instantly.
This is an IP66 waterproof NVR security camera system and that makes it suitable for outdoor use. Users enjoy great customer support as well.
Additional features:
Support PC/IOS/Android view
8 channel NVR Recorder
Support playback/recording/live preview/USB backup
Weatherproof
Technical specifications
Night vision: 20m (65ft)
Lens: 3.6mm
Cameras: 8 channel waterproof cameras
Storage: 2TB hard disk (built-in)
Pros
Easy installation 
Quality images
Motion detection
Cons
Errors when you view the cameras on your phone
Camera quality affected by the quality of Wi-Fi connection
Swann 8 Channel 4 Camera Security System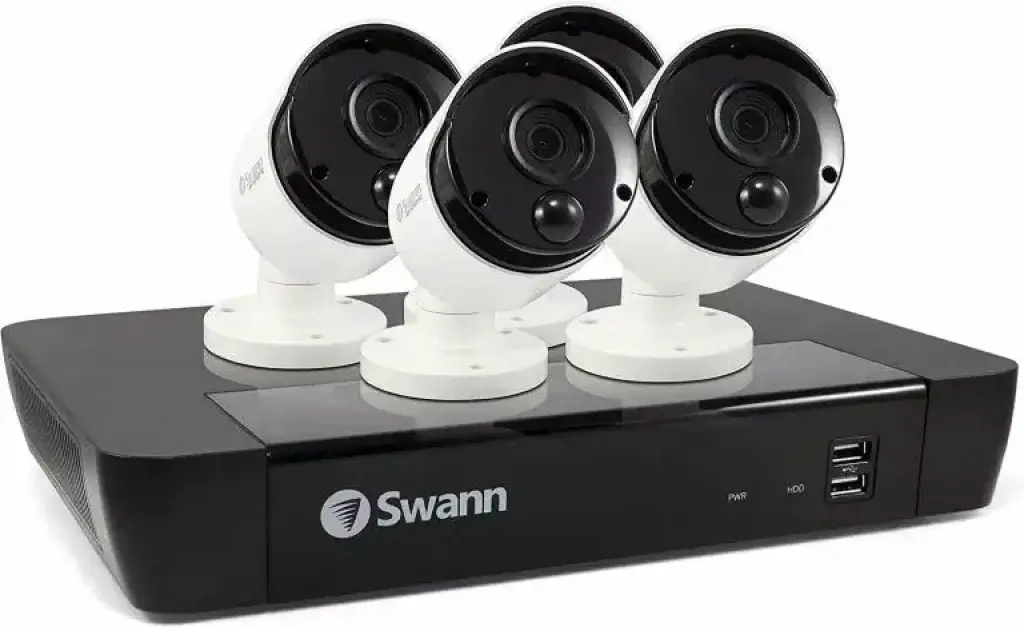 Swann 8 channel camera is the best NVR security system with audio in the market. It's now easier to monitor what's happening in your home in real-time. You can give commands via the Google Assistant app on your phone or stream video recordings from the cameras directly to your TV.
The camera also comes with PIR sensors that assist in thermal sensing detection, and they automatically trigger video recording when they detect moving objects like cars and people. The true detect feature provides video recording as well, minimizing false alarms that might be caused by weather and small animals.
This Wireless surveillance system has built-in audio that can identify voices and noises. You can record conversations in real-time to ensure your kids are well taken care of if you have hired a nanny.
More importantly, the camera enables you to save image snapshots directly to your email account, and you can create a security system to protect the images when stored in the cloud.
You can get instant push alerts when the surveillance cameras detect warm objects around your property like cars and people, which enables you to act swiftly and prevent crimes or suspicious activity.
This 8 channel surveillance camera is suitable for businesses and homes that need both indoor and outdoor monitoring. The surveillance system comes with 4 HD cameras and you can add 8 more cameras on the system.
In addition to providing live and playback recordings, the camera system is weatherproof as well and this makes it great for use in any climate. It can withstand dust, sunshine, snow, and rain.
The cameras can see well even in pitch darkness and can cover up to 60m at night with their powerful infrared technology.
The camera provides advanced face detection, as well as person detection and perimeter intrusion detection.
When the camera detects any movement through these invaluable features, they automatically start recording and send real-time notifications to your smartphone.
Additional features:
Free in-built video storage
Heat and motion sensing
Compatible with Alexa and Google assistant
Technical specifications
Cameras: 4K Ultra HD
Detection: Facial recognition
Weatherproof: IP66 ethernet cables
Night vision: 130ft
Storage: 2TB hard disk (built-in)
Pros
Saves the use of cables
Easy setup
Face detection and motion sensors 
Quality images
Cons
Poor instructions
Remote connectivity is not 100% foolproof
Hiseeu 8 Channel NVR System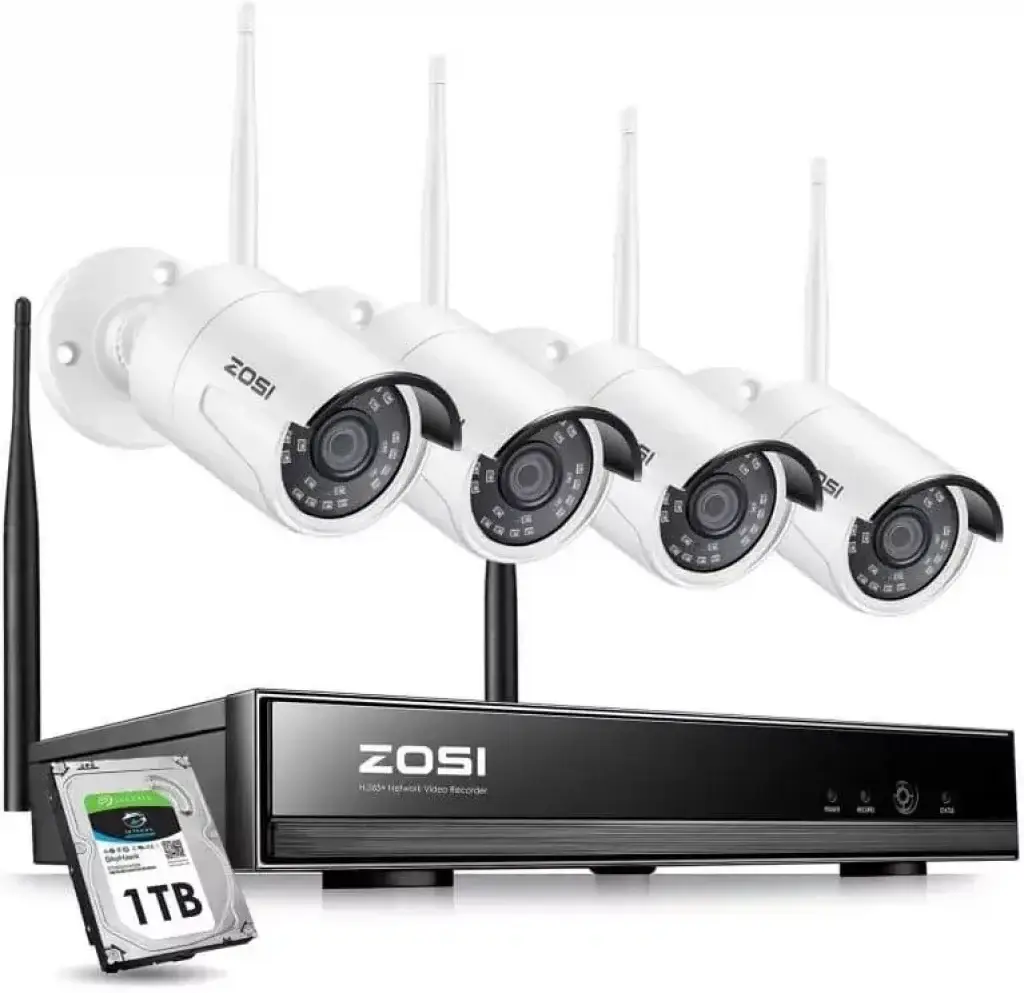 With H.256 double data compression ability, this is the best NVR security camera system that provides excellent video quality. It allows the 4Pcs Full HD cameras to record high-quality videos even with low bandwidth. In addition to reducing network bandwidth, the camera system can save more than 50% of storage space.
The camera system comes with a pre-installed 1TB hard drive and will provide continuous video recording 24 hours a day. The wireless camera system also allows extensible camera extension for added support. This wireless waterproof camera is suitable for outdoor use and can withstand tough weather conditions.
The surveillance system also allows for remote viewing anywhere, anytime. You can view live videos directly on your smartphone or IOS system.
Download the ''EseeCloud'' app on your smartphone and view playback video recordings on the go. The camera has a wide view angle and provides sharper images and stunning details. And with IR-LED technology, night vision can cover a distance of up to 65ft.
The camera has aluminum housing that makes it robust and durable. You are also guaranteed to receive the best technical support in case you have any problems with the system.
Additional features:
Strong anti-interference and great night vision
Supports alarm triggered motion detection
Remote and playback capability
Wi-Fi enabled.
Technical Specifications
Camera: 8 Channel NVR System
Weatherproof: IP66
Night vision: 100ft
Storage: 1TB hard disk (built-in)
Pros
1080p HD images
Playback and live video
Easy installation
Robust and weatherproof 
Cons
Reolink 16CH 5MP PoE NVR Security Camera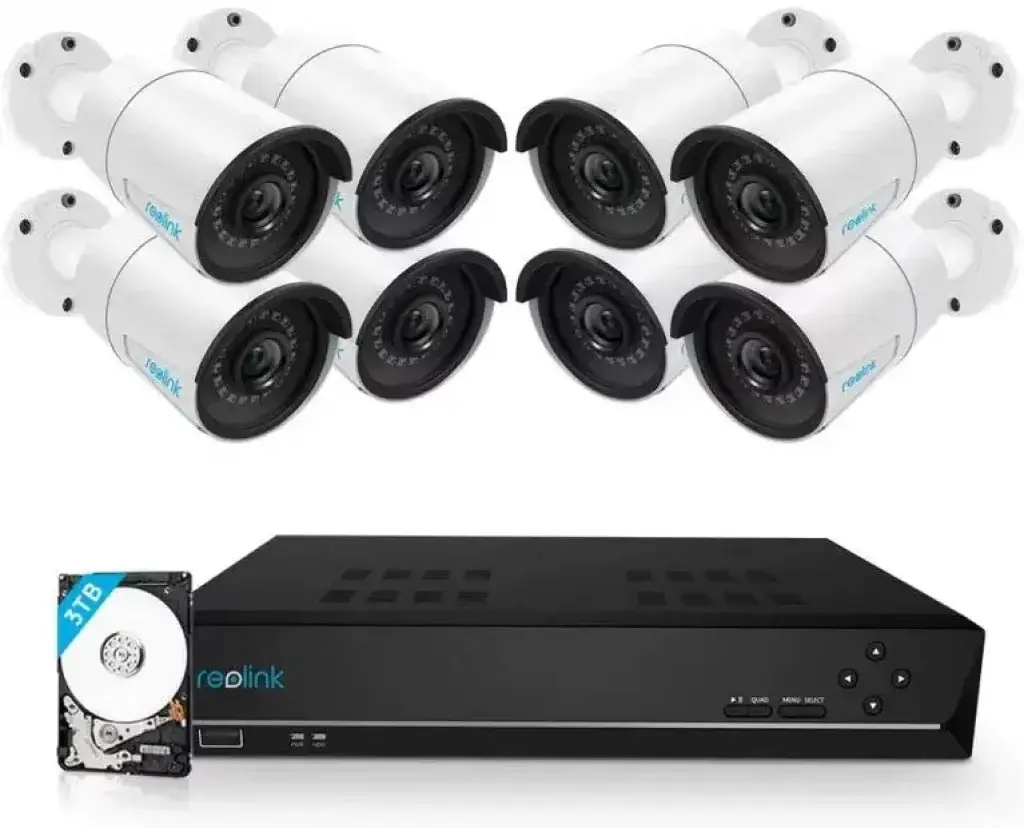 Combined with 5MP IP cameras and super recording ability, this is the best 4k NVR security system. It produces a stunning display with 1080p resolution. You will have the opportunity to record sharp and detailed 1400p images. The camera allows for continuous protection and recording and comes with a built-in 2TB hard disk. All the cameras can record videos simultaneously and you never have to worry about missing any detail.
Audio, video, and power all run through one PoE cable, which makes installation easier. Cameras require ethernet wiring for easy setup and you don't need to buy additional cables.
The camera system also supports reliable remote access where you can view live video recording on your smartphone or computer (Mac/Windows). Moreover, you can watch playback and live streams instantly to stay informed at all times.
The camera also provides smart motion notifications when it detects moving objects. It triggers an alarm when it detects any movements in your property. The surveillance camera automatically sends alerts/notification directly to your smart device.
It allows flexible operation as well as it works well with both Reolink 4MP and 5MP IP cameras. In addition, it offers you the flexibility of adding an extra Wi-Fi camera for 24/7 recording.
Additional features:
Supports 16 IP cameras
HDMI, VGA, HDTV or Monitor video output
Play 4 cameras simultaneously
Pre-installed hard disk
Technical Specifications
Encoding capacity: H.264 compression
Cameras: 16
HDD Capacity: 1x external port, 2x internal port, 4TB for each port
Power: Ethernet sockets
Night vision: 65-100ft
Pros
Easy to set up
Great motion detection
Night vision
Plays 4 cameras simultaneously 
Cons
Ethernet cables might be faulty 
You can't get full HD on a screen with low resolution
OOSSXX 8-Channel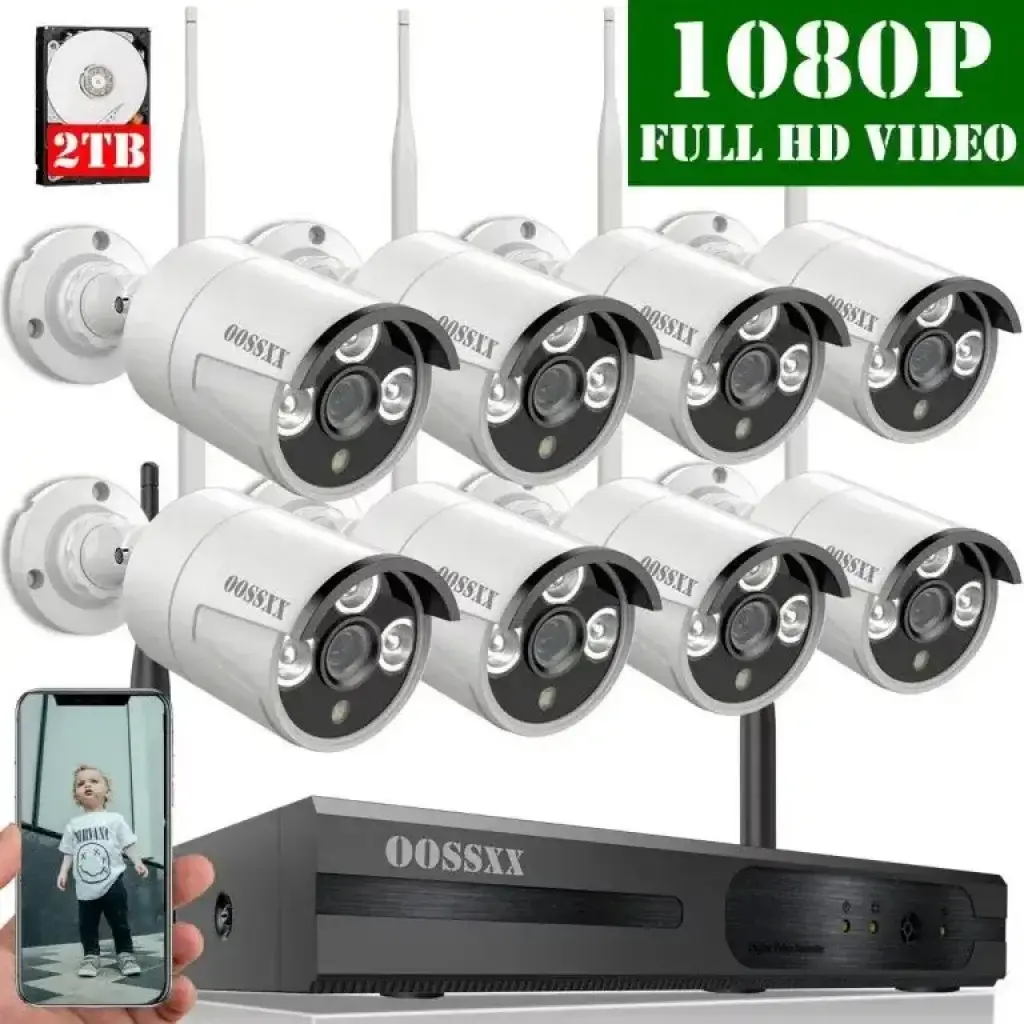 The OOSXX 8-channel security camera is metal weatherproof and is designed to perform well in tough environmental conditions. The camera system can work exceptionally well even in the rain, wind, moisture, and other extreme weather elements. It has a robust quality that ensures long-term usability and is commonly used for both private and commercial security solutions.
It's best tailored for remote viewing on mobile devices and IOS systems and you can run it on your home network using the NVR as your central hub.
Besides having the ability to watch the video in the system's internal network, you can remotely view all the cameras on your smartphone. Simply download the ''Eseecloud'' app on your phone (Android or IOS) and enjoy simultaneous camera viewing on your phone.
You can also watch video recording remotely on the app anytime on your phone provided you have Wi-Fi or mobile network. Playback videos locally on a large screen monitor/TV by connecting the HDMI cable on your NVR system.
This is the best security camera system as it allows you to utilized customizable motion detection zones, such as windows or doors as needed. More importantly, motion sensor sensitivity can help to prevent triggering false alarms.
When the cameras detect motion, they automatically activate a security response to alarm you of a potential intruder. It sends an image alert directly to your email and triggers an automatic video recording that is saved in the pre-installed 2TB hard drive.
Additional features:
Snapshot email alert
Wireless waterproof cameras
Supports camera extension
Weatherproof
Technical Specifications
Cameras: 8 pcs IR Bullet
Storage: 2TB hard disk (built-in)
Weatherproof: IP66
Pros
Excellent motion detection
Great image quality 
Night vision
Pre-installed 2TB hard drive
Cons
Limited Wi-Fi range
Extended range antenna
System can't display all the 8 cameras simultaneously 
Poor customer support
Things To Consider While Buying an NVR Security Camera System
Since there are many different types of NVR surveillance systems in the market, there are a few things you need to consider to ensure you get the best NVR security camera system. Here are some of the features to look out for.
Superior HD video
Essentially, there is limited comparison when you compare HD videos with older devices that use analog technology. For starters, HD technology has better resolution and the display offers sharper clarity and detail. When shopping for an NVR surveillance system, you should compare multiple HD cameras in terms of megapixels. The best thing about HD cameras is that they allow you to digitally zoom and provide excellent picture quality than old analog cameras.
NVR versus DVR
You can either opt for NVR or DVR units as they usually have similar functionality. Both types of technologies can help you to live view or record videos, and you can watch the recordings on your smartphone. The only difference between these types of cameras is the cabling used, and so the type of camera system you decide to buy will depend on your surveillance needs.
Cameras
With many styles of cameras, you are spoilt for choice as far as NVR surveillance systems are concerned. Most people opt for bullet-style cameras as they are popular for their sleek housing. Others prefer dome-shaped cameras as they are discreet and low profile. Again, the type of camera you choose to get will depend on your specific needs.
Storage
Another important thing to consider is storage. If you want to buy a surveillance system with more storage space, you should opt for a camera system with a pre-installed hard drive. Cameras that allow you to add extra storage via the micro SD slot are also preferable.
Motion Detector
Most popular NVR surveillance systems come with motion detection alerts, however some models are definitely more accurate than others. In addition to relying on the alerts of your NVR system, installing a dedicated motion alert alarm will ensure you have reliable and accurate information when a trespasser enters your home.
FAQs
1. Can NVR work without an internet connection?
NVR systems can work even without internet access. Just ensure the cameras are connected properly. If you want to install the NVR security system in an off-grid location and any other remote area without electricity or internet connection, you can consider getting a surveillance system with an IP camera, which allows you to enjoy live streaming on the go.
2. Where should NVR be placed in a home?
You can either place the NVR system indoors or outdoors on a high ground. Where you decide to place the camera depends on your surveillance needs. NVR camera surveillance systems should be installed in a secure area that has the best access to wiring areas, like the utility room. For companies with an IT room, this is an ideal area to install the NVR.
3. Can NVR record audio as well? 
NVR surveillance systems can also record audio and you can get a camera system with microphone input. NVR recorders usually receive a digital signal from the cameras, and the video quality is far better when compared to DVR systems. On NVR systems, ethernet cables are responsible to carry audio and all surveillance cameras with microphones can record audio to the NVR.
4. Will any IP camera work with any NVR?
There are many types of IP cameras that are compatible with NVR on the market. You should choose the right one that suits your needs. Because all IP cameras have their own specific user interface and different camera options, not all IP cameras can work with all NVRs.
Conclusion
The 8-channel Swann surveillance camera is the best NVR security camera system on this list. It comes with built-in audio and supports Google Assistant. It is Alexa compatible, weatherproof and provides face detection as well.
Let us know if we have helped you choose the NVR system for you.