The 10 Best Night Vision Security Cameras In 2023
In the times when robberies are happening at their prime and kidnappings have become daily news, it is extremely important that you eradicate anything suspicious happening in your space. With the best night vision security camera, you can rest assured that your property, belongings, and loved ones are safe from any kind of harm looming them even at the night.
As the night time is the most common hours for malicious activities like robberies, kidnappings, and break-ins, you must install a night vision camera with optimal range so that you can see anything that's malicious even in the pitch dark.
We know there is a lot of hassle when it comes to choosing the best outdoor security camera with night vision. This is the reason we have created this list, where we have already researched the top ten outdoor wireless security cameras with night vision for you.
We have tried to provide a detailed review of each of the products so that you can make an informed decision.
Let's jump right into it.
Best Night Vision Security Camera Reviewed
These night-vision cameras have been personally picked by us after plenty of research. We have also used some of them to understand their features.
So, it is going to be a completely personal review from our side. These are products that we think are the best at the moment.
Let's get started.
ZUMIMALL Rechargeable Camera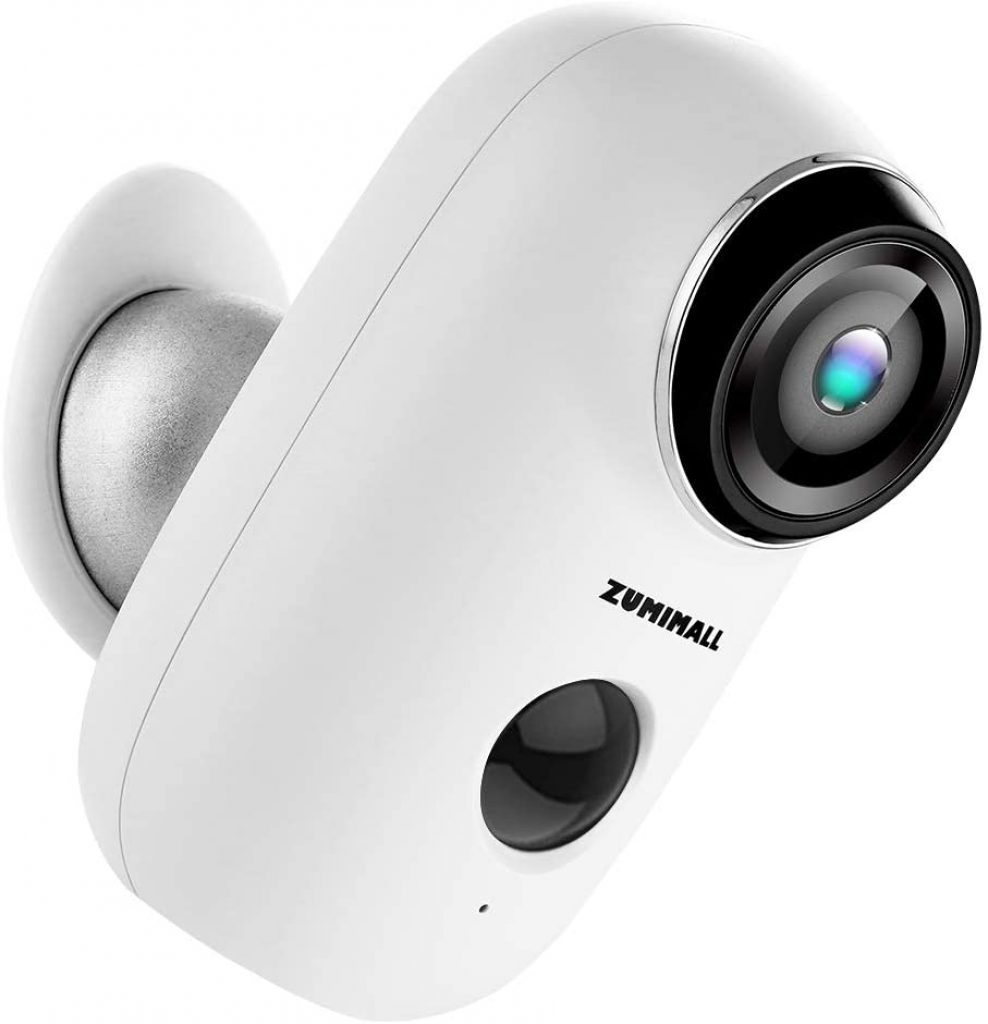 If you are looking for a security camera that can help you keep your property surveillance 24/7, then you have the right product here.
This battery-powered night vision camera from ZUMIMALL is all you need to keep your property secured at night. Because of its small size, this security camera can be used outdoors as well as indoors.
This weatherproof security camera with night vision can withstand different environmental factors including the heavy rains.
Highlighted Features
The 6000 mAh battery can power the camera for up to 2-5 months without any issues upon fully charged.
It is easy to install and use. All you have to do is find the right spot to place the camera.
The camera is completely cordless and wireless. This makes it possible to install it anywhere you want.
ZUMIMALL night vision camera is waterproof and delivers a crisp 1080p HD image quality.
You can store the recordings in an SD card or use paid cloud storage.
Technical Specs:
Advanced PIR motion detection (32Ft)
Two-Way Talk speaker mic
IP65 Weatherproof Certified
Movement alert notifications
PROS
Plenty of features that you generally only find in expensive cameras
High-quality camera lens
Compatible software for mobile apps
Siren feature activated via smartphone or tablet
CONS
The cloud storage option is paid
No zoom/tilt/pan
REOLINK Argus 2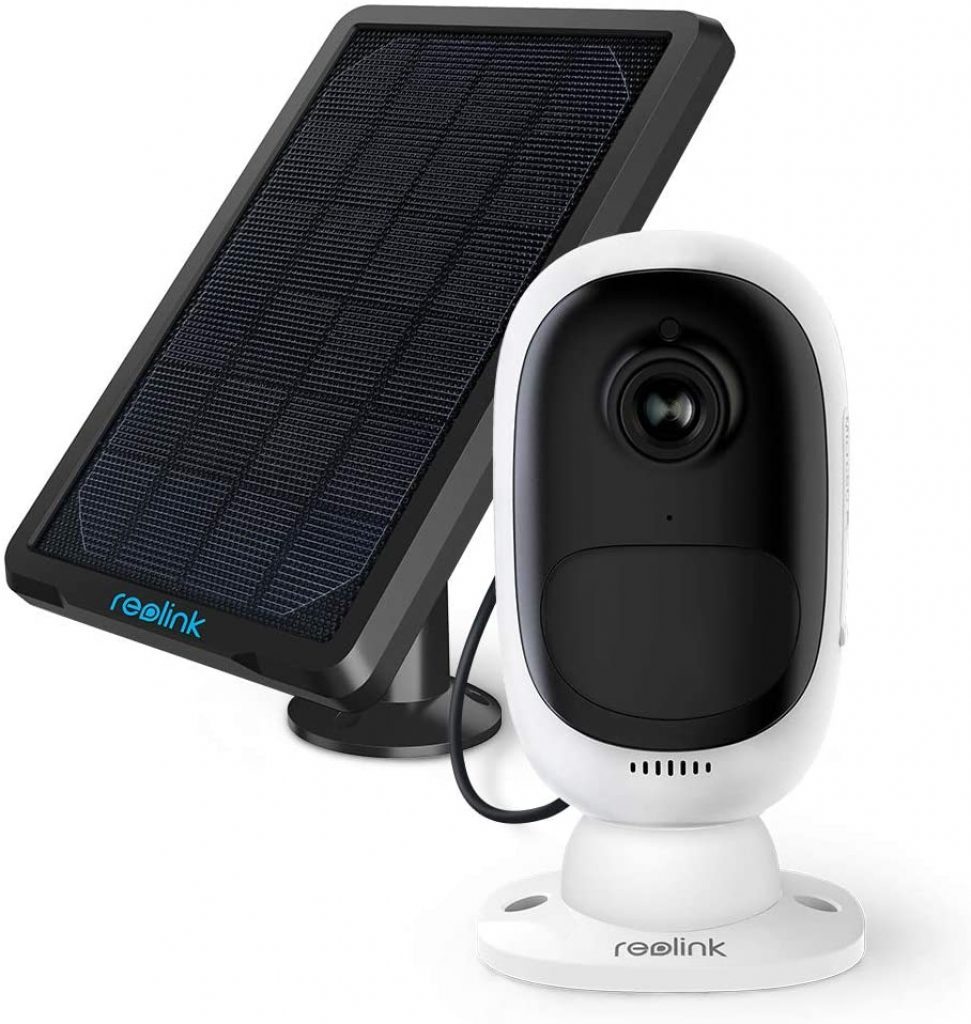 Argus 2 from REOLINK is considered the best outdoor night vision security camera for so many reasons.
For starters, it comes with a rechargeable battery that is solar-powered. You can mount it anywhere from walls to trees, ceilings, or anywhere you think will provide the right surveillance.
You don't have to ever think about recharging the camera as the solar panel will make sure that the camera operates at its optimum level at all times.
Highlighted Features
It is Google Assistant and Alexa enabled.
This camera is completely wireless and comes with a solar panel.
It offers a stunning and vivid 1080p HD display and night vision.
It is equipped with infrared LEDs that can provide you up to 33ft night vision.
The recordings can be stored in the SD card up to 60GB, as well as cloud storage
Most importantly, you can remotely access your camera using the free REOLINK software through your smartphone.
Technical Specs:
Starlight night vision (33ft)
PIR motion sensor
Customized siren
Encrypted cloud storage
PROS
Works with Google Assistant and Alexa
Remote access gives ultimate assurance
Two-way talk features allow you to talk to your loved ones through the camera
Flexible storage options
CONS
AMICCOM Wireless Surveillance Camera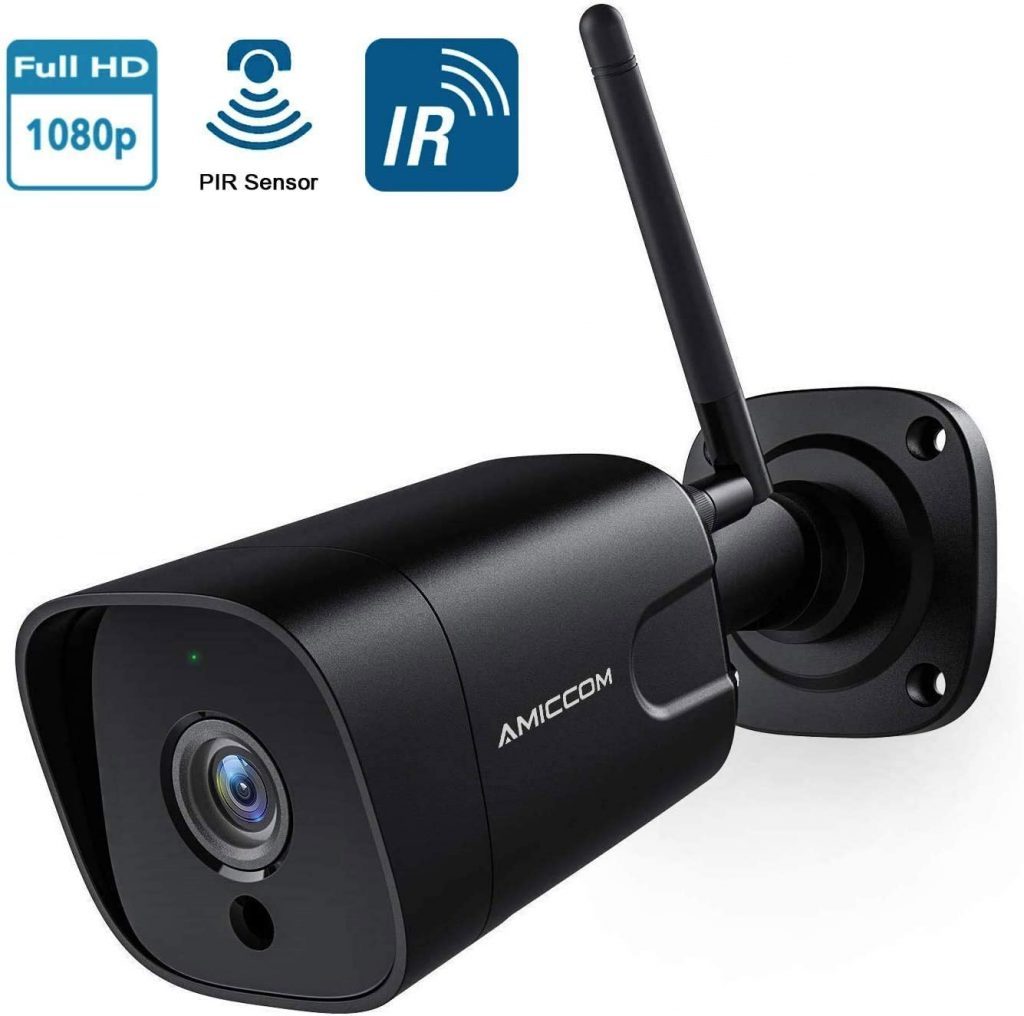 AMICCOM is one of the most prominent brands known for manufacturing quality outdoor wireless security cameras with night vision.
This night vision model from AMICCOM is known for its durability. That is, it can withstand heavy rains and even sub-zero temperatures, and other harsh weather conditions without compromising the quality of surveillance.
Here is what you need to know about it.
Highlighted Features
The most prominent feature of this sturdy camera is the smart PIR motion detection and alert.
It captures high-resolution images in 1080p and thanks to its 3.6mm wide-angle lens, the camera covers more space with utmost clarity.
With the two-way audio system, you can communicate with your guests while allowing you to ward off unwanted guests.
The camera works 24/7, where the recordings are stored in an SD card up to 128GB.
It is IP66 waterproof certified, meaning it can withstand even the harshest weather, even storms, and heavy snowfall.
Technical Specs:
Videos in 1920×1080
Temperature Resistance (-4°F to 122°F)
1080p live video
FHD night vision (100° viewing angle )
Multi-user access
PROS
IP66 weather resistant rating, making it the sturdiest outdoor camera
Comes with talkback and fourth option, allowing you to talk to people without physically opening the door or gate
Motion detection immediately triggers the alarm to warn users of intruders
Full HD surveillance
CONS
Supports only 2.4Ghz Wi-Fi network
The app is incomprehensible
ZUMIMALL Outdoor Wireless Camera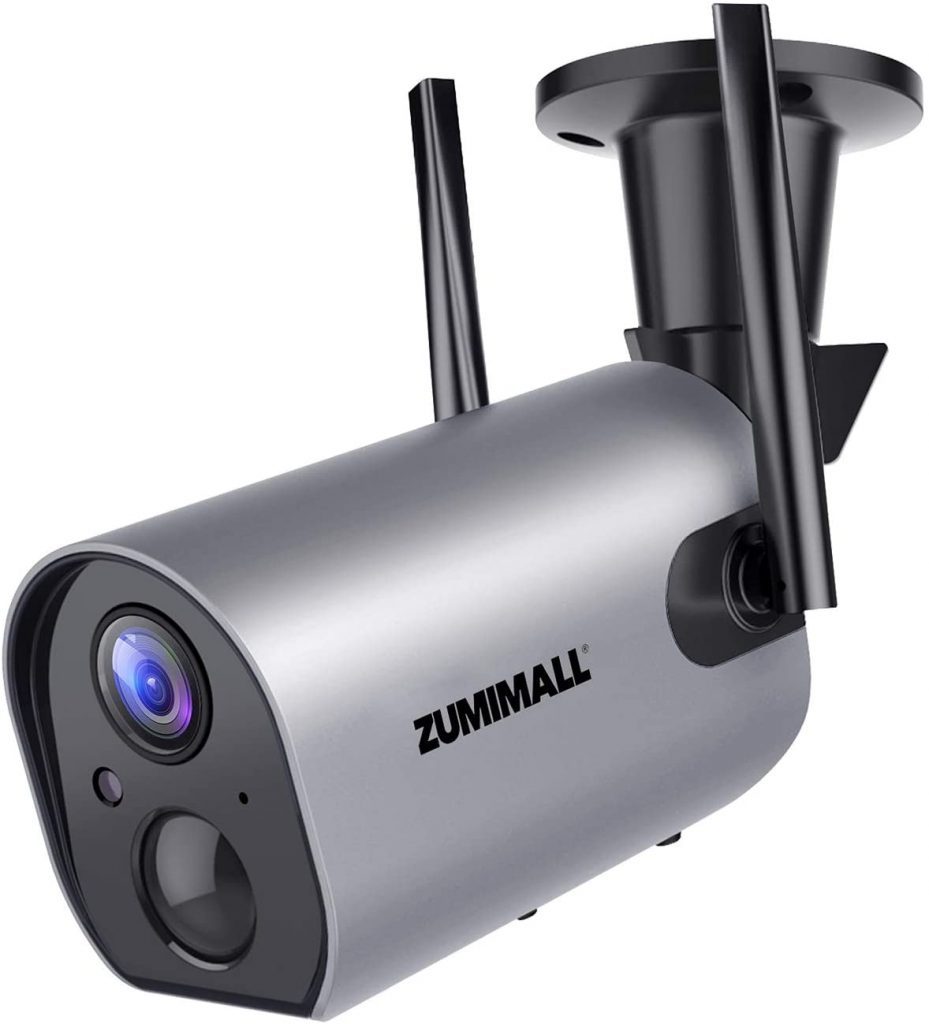 This is another surveillance camera from ZUMIMALL that we found is worth including in our list of Best Night Vision Security Camera.
While it is slightly pricier than the previous model, it does come with additional features that will make surveillance quite comprehensive.
Highlighted Features
It is powered by an incredible 10400mAh battery that can last up to 6 months after fully charged.
Its salient features include Alert Notification and improved PIR motion detection.
The camera is equipped with four infrared lights for IR night detection.
It is IP65 weatherproof and vandal-resistant that means it can withstand even the harshest weather conditions with temperatures ranging from -4°F to 140°F.
With its multiple remote access features, your entire family can access real-time video surveillance at the same time.
Technical Specs:
Multiple viewing options
IP65 certified
Built-in microphone and speaker
2.4G Wi-Fi network
PROS
Top-quality camera lens
Supports Android and iOS
It is waterproof and dustproof
Lasts up to six months once completely charged
CONS
Alerts can be sometimes sporadic
HeimVision HMD2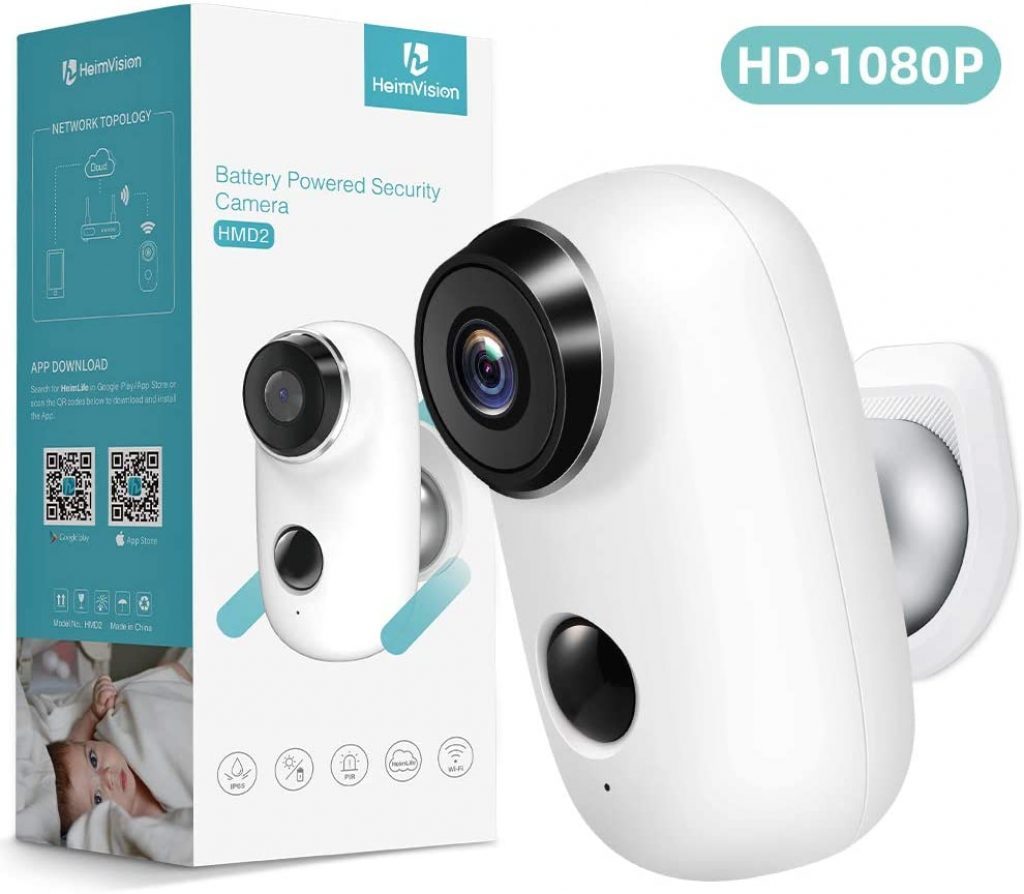 If you are looking for the Best Night Vision Security Camera that fits right under your budget and proves efficient in keeping an eye on your surroundings, then you can look into the HMD2 security camera from HeimVision.
It is one of the best security cameras in terms of features and value for money.
Highlighted Features
It is solar-powered and runs on a rechargeable battery. It is completely wireless and is compatible with the HMS1 Solar Panel.
HeimLife is an exclusive app dedicated to this camera, which is available for download on the App Store and Google Play.
The 130° wide-angle lenses with 1080p night vision and HD resolution clearly capture every motion in the dark.
HeimVision camera features smart PIR body detection technology that detects mammals with body temperature 98.6°F (37°C).
The camera is IP65 weatherproof certified. Meaning, you can use it both outdoors in extreme weather conditions as well as indoors.
Technical Specs:
HeinLife Cloud Service
HeimLife app
PIR sensors
Magnetic mount
PROS
The app is simple that provides flawless navigation
It has an incredible battery life of 100 days
Sound, picture, and night vision are clear
Quick and easy setup
CONS
The seal proof tab in the back of the camera doesn't keep the water out
Many users have found it difficult to integrate the SD card with the APP
YI Night Vision Outdoor Security Camera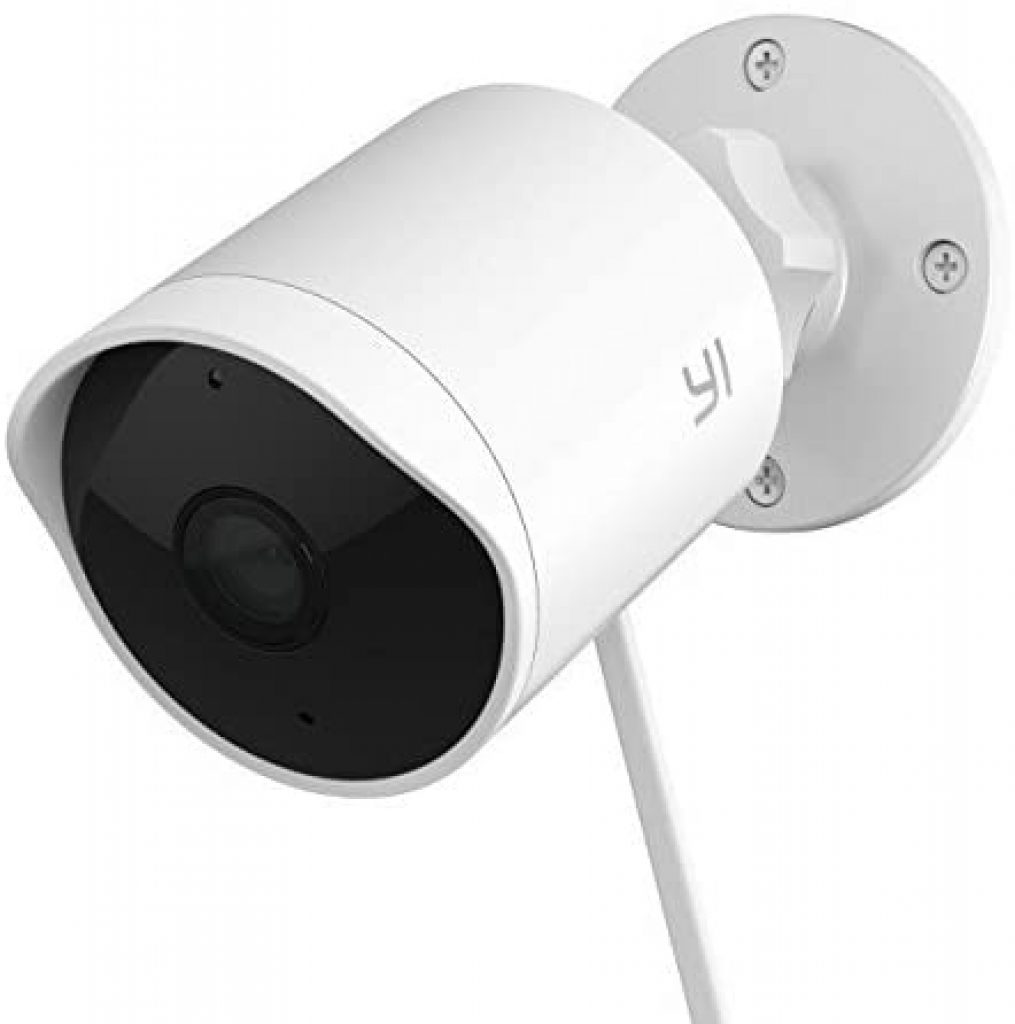 This is one of the most affordable security cameras available in the market.
While it is priced cheaply, don't underestimate it when it comes to the features it offers.
You will get everything from HD video quality to efficient night vision and weather-resistant features, among others, in this budget-friendly model.
Highlighted Features
The most prominent one includes the operational 24/7 Emergency Response Service.
The camera combines a 110° widen angle lens with 1080p resolution for better clarity. The universal ball mount ensures coverage in every direction.
It is equipped with 12 infrared LED beads that provide first-class night vision experience even in pitch dark and that too up to 50ft.
YI has designed it with a 360° noise-canceling hypersensitive microphone that eradicates unwanted environmental noise for better sound quality.
You can get the benefits of the YI cloud, which offers you a 1-month free trial.
Technical Specs:
YI Cloud
12 infrared 850nm lights
Recording at 20 frames per second
YI Home App
Weatherproof (-5°F to 122°F )
PROS
Its 24/7 Emergency Response Service is powered by Noonlight that has certified dispatchers
The camera as an excellent two-way integrated audio system that makes communication smooth and clear
It uses highly sensitive algorithms to provide accurate details and avoid false alerts
The emergency response service is great
CONS
It is wired
Poor quality lens
Conico Home Security Camera with Cloud Storage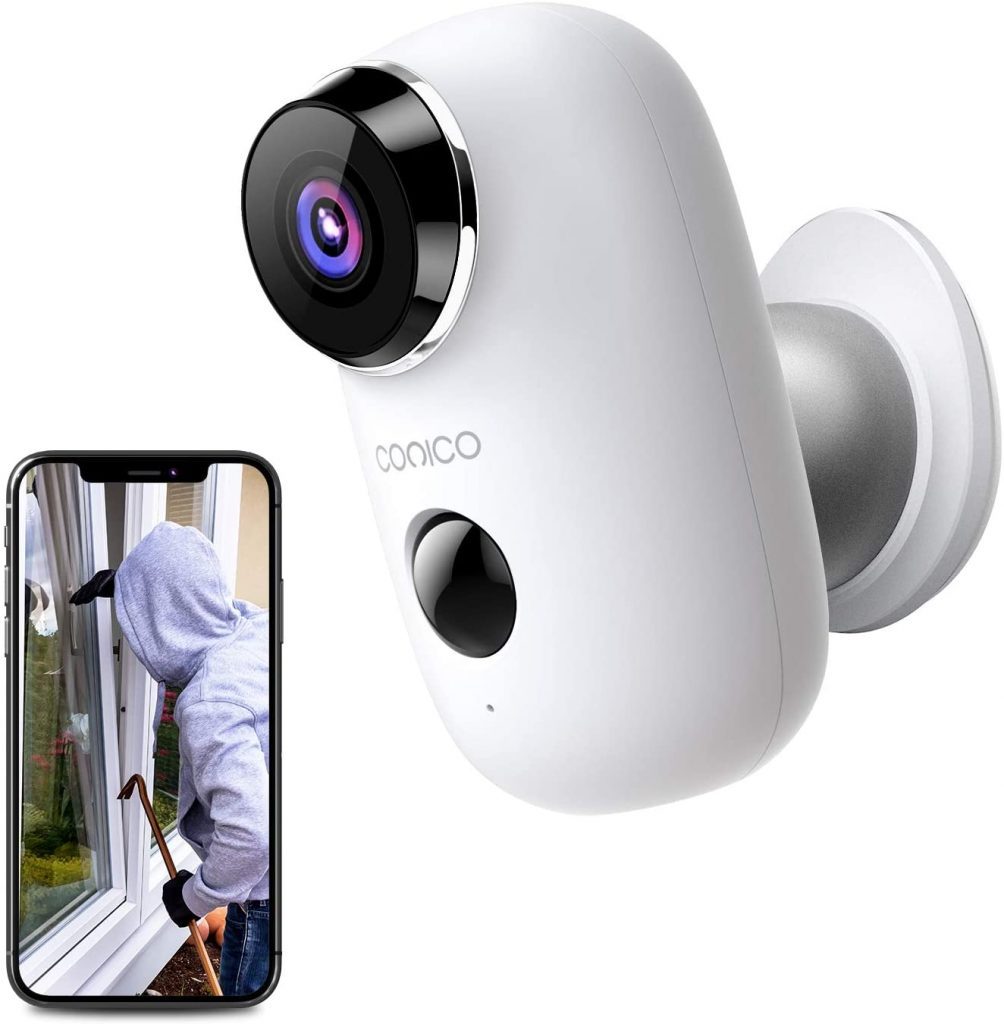 If you are in need of an indoor camera for your home office or for the backyard where your children play, you can consider having this camera installed.
Conico is a prominent brand when it comes to manufacturing surveillance kits. What makes it the best night vision security camera is the features it comes with.
Highlighted Features
This camera from Conico is completely wireless. It is powered by a built-in 6000mAh rechargeable battery that can last for weeks.
A great feature of this home security camera is that it has a 130° viewing angle supported by a 1080p high-resolution display.
The night vision feature can capture quality videos up to 32ft in pitch dark. And the intelligent PIR body detect feature sends alerts instantly.
The camera is easy to use and install. All you have to do is find the perfect spot for the camera to mount.
The camera supports micro SD storage up to 128GB, which you can extend through cloud storage.
Technical Specs:
CloudEdge App
IP65 weatherproof
130° viewing angle
Live video and playback
PROS
It allows you to share video with your family
The IR night vision of up to 32ft is quite great
No cord hassles
The battery lasts longer
CONS
Adhesive for the mount is weak
KAMTRON Security Camera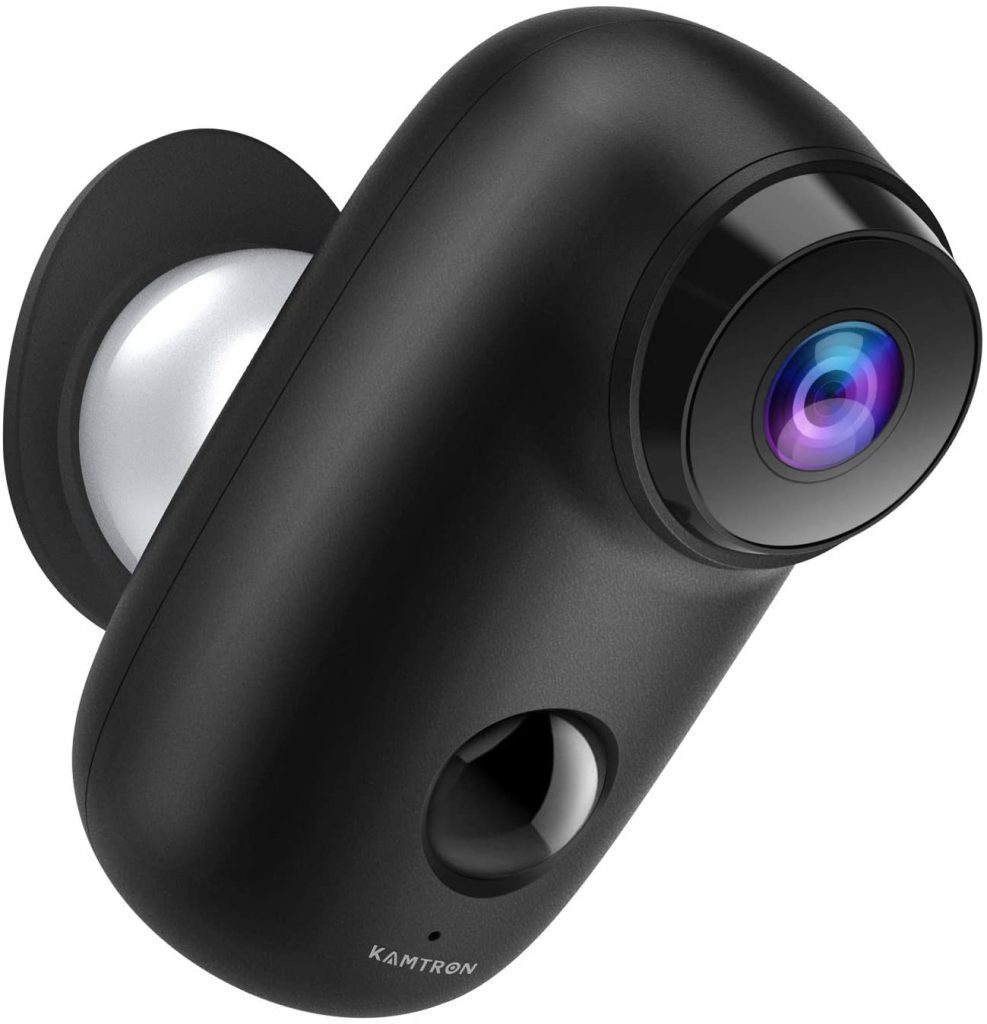 Eight on our list is the KAMTRON waterproof wireless outdoor camera. What makes it the outdoor wireless security cameras with night vision is that it is developed with advanced PIR motion sensor technology, which reduces false alarms caused by bugs, rains, etc. You will definitely love this model.
Highlighted Features
KAMTRON is a completely wireless camera and is powered by a 6000mAh battery that promises to last up to five months when fully charged.
The IR night vision and smart PIR motion sensor ensure that the video quality isn't hindered, and the sensors only react to living things with the temperature above 30°C.
The camera supports micro SD storage up to 128GB and the Encrypted Cloud Storage that is secured by 1024bit RSA Encryption.
It can tolerate heavy rain, wind, storm, heat, and snow. It can operate effectively up to -4°F and up to 131°F.
The 130° viewing angle covers a wide area with crystal clear image quality.
Technical Specs:
CloudEdge App
IR night vision
PIR motion sensor
IP65 waterproof certified
Solar powered
PROS
The camera is perfect for monitoring home, schools, commercial spaces, warehouse, and elsewhere
It is crisp and clear at night
Encrypted cloud storage ensures optimum safety
Remote access to mobile application
CONS
Some users have said that the picture quality is nowhere near what is advertised
May not be suitable under extreme weather conditions like heavy rain
OnPoint Lorex 4K Night Vision Camera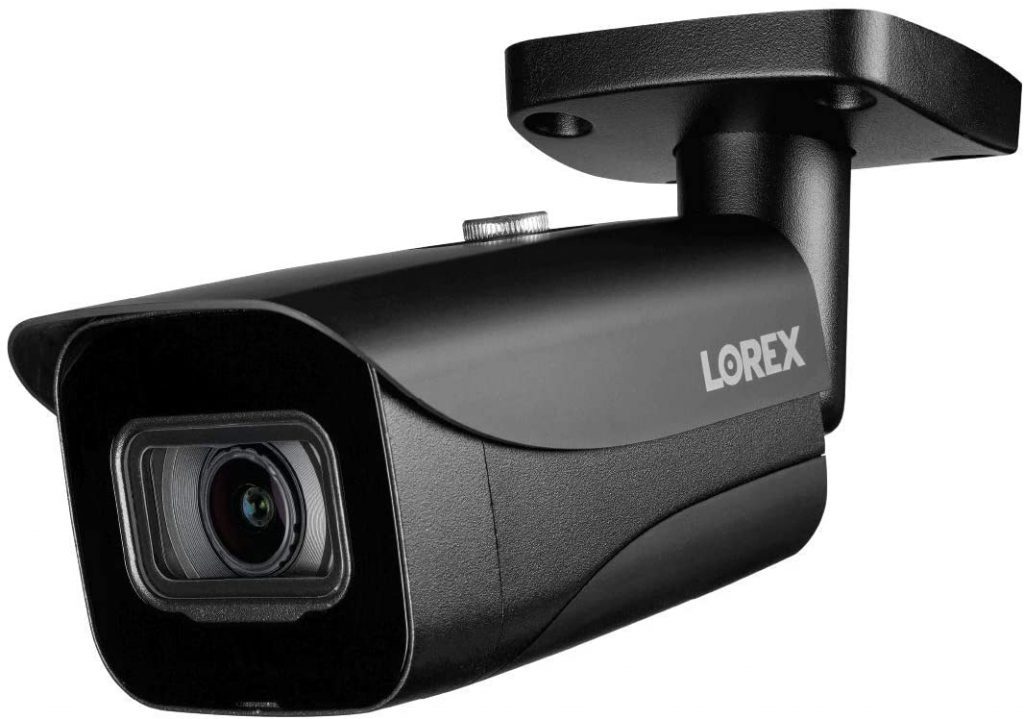 This is an incredibly high-end night vision camera for those who have a large space to cover and don't want to invest in multiple cameras.
The most significant aspect of this night vision camera is its 130ft color night vision feature that offers optimal coverage.
Highlighted Features
The camera promises 4K Ultra HD resolution, which is quite commendable.
It features color night vision (CNV) that ensures pictures and crystal clear and of optimum quality even in the pitch dark.
The long-range infrared night vision with a 111° viewing angle promises clear vision and coverage up to 40 meters.
It is a corded night vision camera. That means it provides round the clock monitoring and surveillance without draining out of power.
The camera also features superior digital zoom capabilities.
Technical Specs:
4K Ultra HD 8MP camera
IP67 weatherproof rating
Advanced person and vehicle technology
Realistic color representation
PROS
It is quite a powerful camera
The color night vision functionality captures superior quality nighttime recording
Its smart motion technology easily distinguishes between people, vehicles, and other activities, limiting unwanted alerts
Wide angle viewing for compete coverage
CONS
It is corded
Its price may want you to consider other options
NexTrend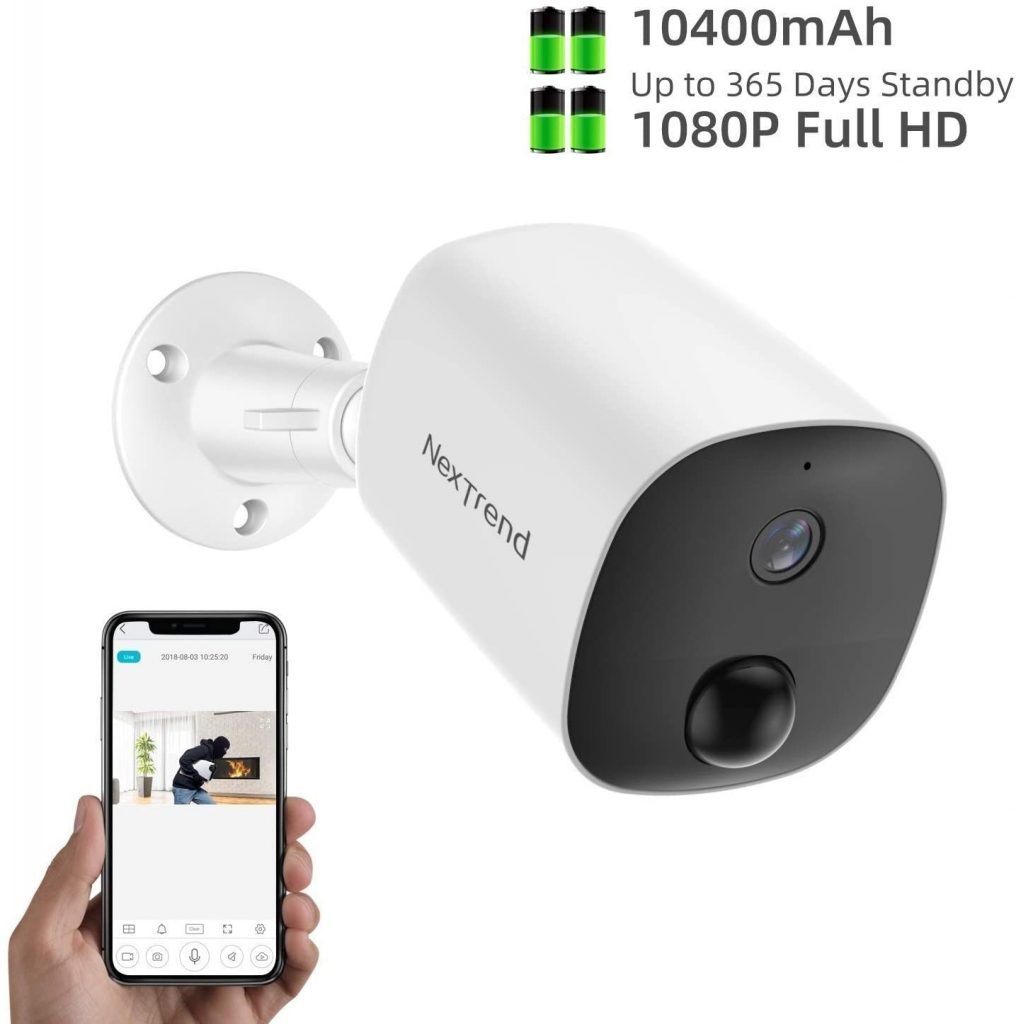 Last on our list of the Best Night Vision Security Camera is the model from NexTrend.
It is a versatile surveillance camera that can be used indoors and outdoors, as well as for baby and pet monitoring.
Here is what you need to know about this night vision camera.
Highlighted Features
It has a built-in 10400mAh rechargeable battery that can run for a maximum of 180 days without any interruption.
The camera offers 1080p full HD and night vision. And thanks to its 90° viewing angle, the camera captures a smooth and vivid live stream.
It features a PIR alarm that sends a direct alert to you only when animals and humans come in contact with the camera.
You will enjoy real-time recording with two-way audio that allows you to keep in touch with your loved ones when you are not at home.
The camera is IP65 weatherproof certified, making it one of the best outdoor wireless security cameras with night vision.
Technical Specs:
Cloud storage
Multiple-account viewing
Playback on smart devices
Built-in 4-pack rechargeable batteries
PROS
The PIR motion detection is extremely handy
The night vision allows you to see clearly up to 25ft
It has an impeccable battery backup
The camera also supports cloud storage making storing videos much easier
CONS
The low viewing angle is a problem
The app is a bit lagging
Frequently Asked Questions
People have a lot of questions in their minds about surveillance cameras. We have picked the top 4 from the internet to provide a reasonable answer.
Which security camera is best for the night?
As you know, traditional cameras don't work at their best during nights. To ensure optimal surveillance, you will have to look for outdoor wireless security cameras with night vision. Only a night vision camera can provide you with a clear picture of the outside or the inside, even in darkness. With that said, night vision cameras are your best bet if you want to strengthen your night security.
How can I improve my night vision security camera?
Here are some tips to keep in mind to improve your night vision security camera.
Enhance your outdoor lighting with Security Floodlights.
Install additional infrared light sources alongside your night vision camera as it can improve the coverage.
Keep bright lights out of the night vision camera's view.
Eliminate or reduce nearby reflected IR as it may affect the night image.
Choose the right spot for the camera to mount where it isn't affected by wind, rain, or any other elements.
Choose the night vision camera according to the setting of the place you are going to install it.
Clean the camera lens once in a while with proper solutions.
Why is my security camera blurry at night?
Most people have complained about their night vision cameras being blurry during nights. According to experts, this problem is related to infrared light reflecting on the camera glass or any reflective elements that are closer to the camera. The main causes of these problems include:
Dust or scratches on the camera glass
Reflection from objects nearer to the camera
Defective or missing rubber ring around the camera lens
Bad lens problem
These are the primary factors that might be causing blurriness in your night vision camera.
Q4. Do all night vision cameras have red lights?
While the majority of the night vision cameras give off red lights, not all of them do. These red lights are infrared LEDs that are necessary for night vision. You can turn them off during the day time. There is a reason why IR LEDs are installed in night vision cameras. The benefits include:
Illuminates the camera view
They detect black and white picture of anything by detecting the heat give off
Wrapping Up
That's it! This is our review of the best night vision security camera available in the market. We have tried to put all the essential details into the review so that you don't have to look elsewhere for answers.
Still, we would recommend that you should do your own research keeping the points we have mentioned. This will help you make a better decision.
If you have any questions regarding the products or anything about night vision cameras you want to ask us about, we are happy to help.