The Best IP Security Camera Software For Windows (Free & Paid Plans)
Now that we're deep in the digital age, there are dozens of methods to enhance your home's security. There are video doorbell cameras, floodlight cameras, CCTV cameras, and even methods to turn old mobile phones into security cameras. However, internet protocol (IP) cameras are still some of the most well-known and widely used ways to protect one's property.
IP cameras are always reliable devices that allow you to watch over your home and loved ones remotely, but their use often highly depends on the programs you use for them. There are many compatible applications you can choose from, both free and paid. So, how do you know which one to use?
In this article, we'll be discussing what you need to know about IP camera management software. To help you choose the best one to install on your Windows computer, we'll also review some of the top-rated monitoring free and paid software out there. Read on to learn more!
What Is An IP Camera?
An internet protocol (IP) camera is a type of digital camera that functions much like any other digital camera, but it has the ability to receive and transmit data through IP networks. These cameras are popular for property surveillance, and unlike the typical closed-circuit television (CCTV) system, these devices do not usually need a local recording device. They can operate through a network connection and a recording software.
Far from the first models invented in 1996, modern IP cameras are incredibly versatile. They now offer many ways to connect to your monitoring device. You can use a wired connection via an ethernet cable, or you may also opt for a wireless connection through a Wi-Fi router.
What Do You Need An IP Camera Software For?
You will need a network camera software for your IP camera because these applications enable you to use your device to the fullest. These programs often have a myriad of features that allow maximum control over your IP camera.
Some surveillance software allow you to receive alerts when the IP camera detects unusual movements in the area, and others also have two-way audio features that you can use to hear and talk to a person near the camera. With these programs, you can also record and monitor the footage on your device.
Some Of The Best Windows IP Camera Software To Consider
If you're looking for the best IP camera software for Windows, you're in luck. There are many programs with free and paid plans for you to choose from. They each have their own advantages, and you're sure to find one that suits your needs, preferences, and budget.
Here are some of our top picks for IP cam recording software:
Blue Iris
This software is one of the most prominent recording and monitoring programs you will encounter. Blue Iris is an affordable video security application that offers complete DVR security control over your IP camera with just your PC. The software allows you to use a system of up to 64 cameras, which is highly convenient if you're looking to set up multiple IP cameras around your property. It's ideal for homes and even small businesses.
Blue Iris has a "multiple view" option that enables you to watch over multiple parts of your home at once, and this works well with its multi-camera compatibility. The program also can detect any suspicious movements or sounds in your home, and it sends alerts directly to your email or your mobile phone.
This wireless camera software has a smooth interface, and to enhance your home's security, it even has artificial intelligence (AI) that analyzes if the movement is generated by a person. This significantly reduces false alerts.
The software is compatible with Windows 8.1 and higher, but the website recommends an operating system (OS) of Windows 10 to 11. Its plans are both affordable and do not require a monthly subscription. You may opt for an LE Version that supports 1 camera, with a one-time payment of $34.95. Alternatively, you can go for the Full Version that costs $69.95 and supports up to 64 cameras. They offer a 15-day free demo version for you to try it out and see if you like the features.
You can download the software on their website.
PROS
Easy To Set Up
Smooth Interface
AI Reduces False Alerts
CONS
Manual May Not Be Beginner-Friendly
Free 15-Day Demo
One Time Payment of $34.95 for LE Version (Supports 1 Camera)
One Time Payment of $69.95 for Full Version (Supports Up To 64 Cameras)
ZoneMinder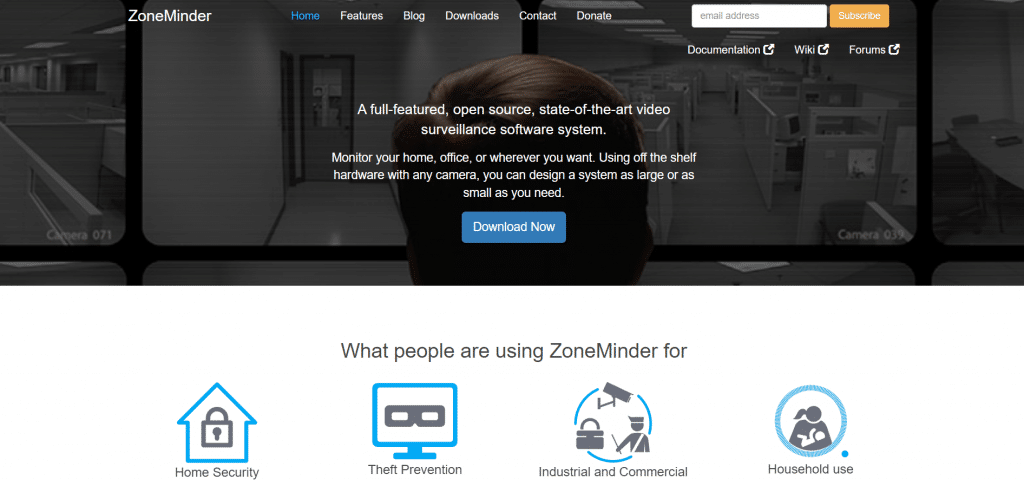 ZoneMinder is a free WiFi camera recording software you can use for your IP cameras when you're on a budget. It allows you to monitor your IP camera without recording, but it also enables permanent recording, as well as recording after detecting movement.
One of its best features is that it offers advanced AI-powered object and person detection with third party programs like EventServer and zmMagik. It also is compatible with most IP camera hardware, making it a versatile software. You also can access its companion apps on Android and iOS.
An important thing to note is that ZoneMinder is a Linux-based software that offers no Windows support, so you may not be able to use it on your Windows PC. However, you can use it on the Windows Subsystem for Linux.
You can download ZoneMinder here.
PROS
Compatible With Most IP Camera Hardware
AI-Powered Object And Person Detection
Partner Mobile Apps
CONS
Not Compatible With Windows OS
ContaCam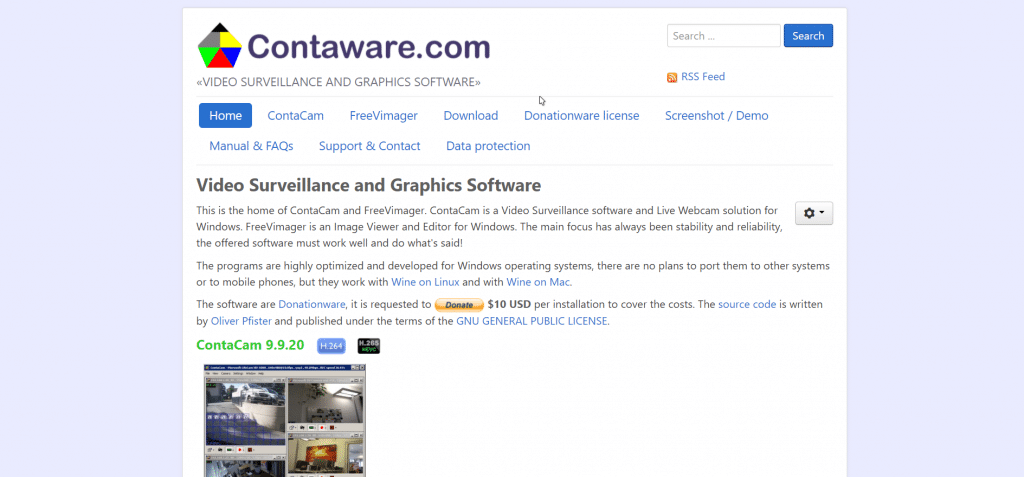 ContaCam is a free IP camera software you can use for your home, and it's also a viable security solution for small and medium enterprises. It's rather easy to install and simple to use because of its uncomplicated user interface. The program is fast and light on operating power, so even older Windows PCs can run it smoothly.
Although ContaCam boasts a simple and intuitive design, this does not translate to a lack of features. The software offers what you would want in an IP cam software, such as motion detection with alerts, a Plate Recognizer feature for detecting license plates, multiple-camera setup support, cloud compatibility, and person detection AI.
This advanced monitoring software is compatible with IP cameras and webcams, and you can run it on Windows 7 or higher. It's a free program, but you can opt to donate $10.00 to support the application's development.
You can download ContaCam here.
PROS
Simple And Intuitive User Interface
Motion Detection With Alerts
Plate Recognizer For Detecting Car License Plates
Cloud Compatibility
Person Detection AI
CONS
Some Customers Reported Struggles With Pairing IP Cameras
iVideon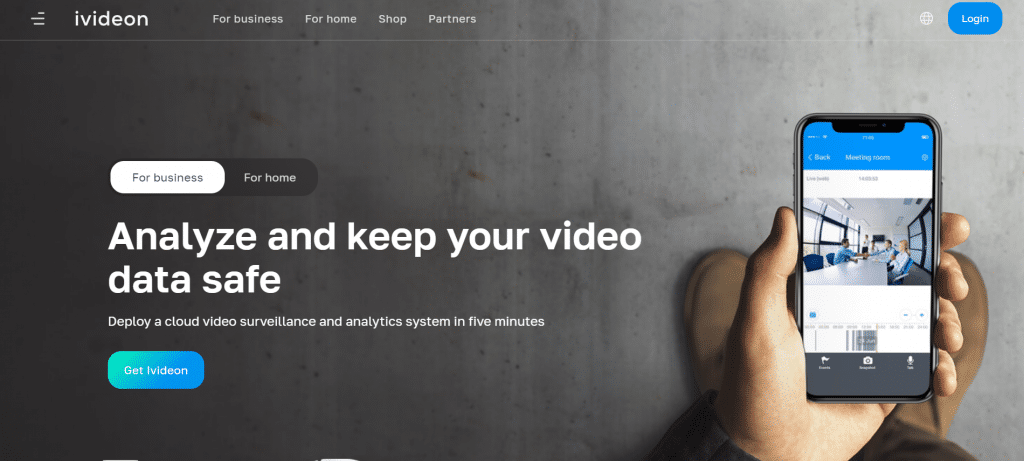 When it comes to free WiFi camera recording software, iVideon is one of the best ones we'd recommend. Its performance is top-notch and delivers more than one could expect from a free program.
The software has two versions available: one for home and one for business. With that said, its dedicated editions make it such a versatile yet simple-to-use platform. It can notify you of any sudden movements even when you're away, and its performance remains powerful whether you're using it on a smartphone or your PC. The program can even detect flickers in light fixtures to ensure that you act on electrical issues and other problems promptly.
You can run iVideon on Windows, Linux, Mac, Android, and iOS. Download this IP camera software for free here.
PROS
Clean And Streamlined Interface For Maximum Ease Of Use
Motion Detection With Alerts
Light Fixture Detection
Compatible With Multiple Operating Systems
CONS
Some Customers Find The Notifications Too Sensitive
Perfect Surveillance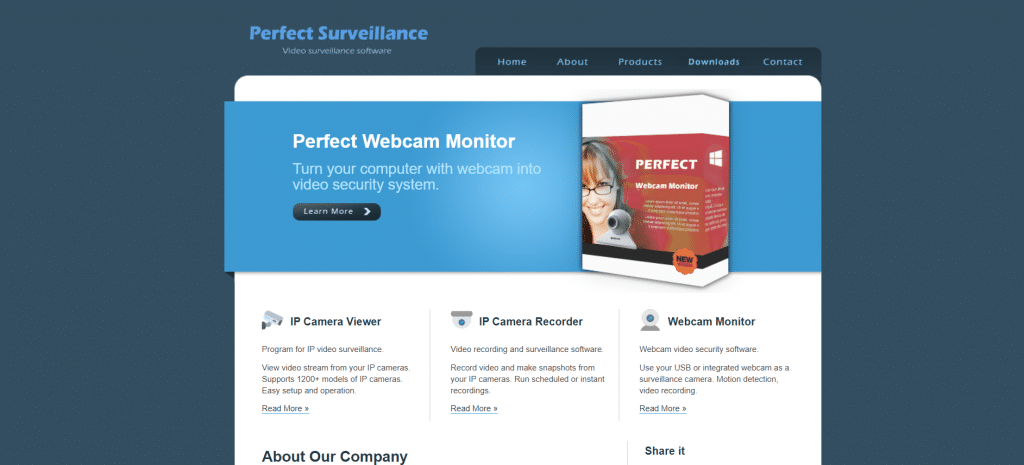 You can conveniently record the activity in your home even when you're away with Perfect Surveillance. This free application supports more than 1200 models of IP cameras, and it's ideal for homes and small businesses.
This monitoring and recording software can be protected by a password so that you can ensure that your data stays safe and protected. Another great feature of this program is that it has a built-in video player that allows you to review footage without having to install or open third-party applications. You can also schedule the recording times so that you can conveniently record when it matters most.
Perfect Surveillance is compatible with Windows XP and higher. It's free to download on their website.
PROS
Scheduled Video Recording
Password-Protected Remote Connection
Built-In Video Player
CONS
No Mobile Compatibility
No Customization
Anycam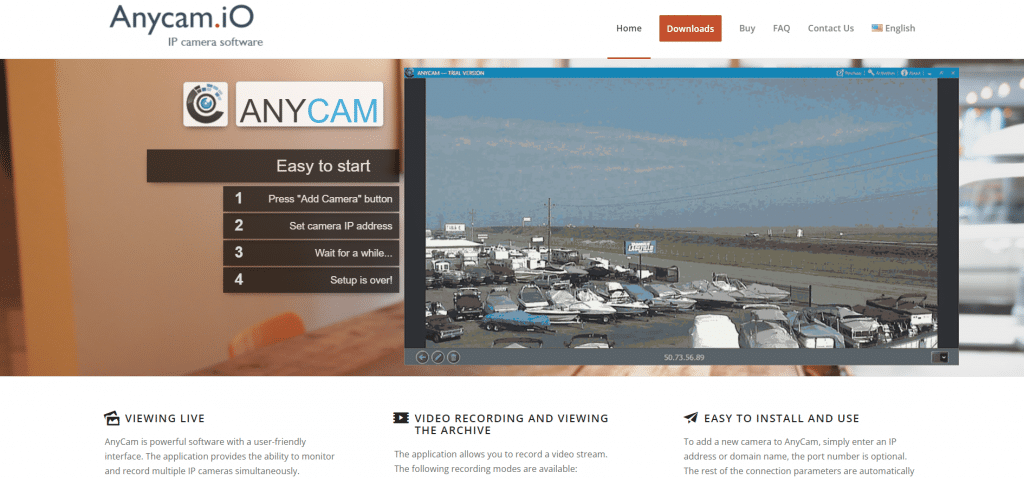 Anycam is another great IP security camera software if you need something basic to protect your home. It's a simple program that works with many types of cameras, and its interface is quite simple and easy to understand. It's fairly straightforward to set up as well.
When it comes to features, Anycam does not have too much to offer, but it remains a reliable software for the job. It has free and paid plans, allowing you to work with it at any budget.
The free version supports a single camera and has a limited recording time, while there are $39, $47, and $59 licenses that require one-time payments. All updates to the software are free, and the program is compatible with Windows 7, 8, and 10. You can download it here.
PROS
Works With Almost Any Camera
Free And Paid Plans
Easy To Set Up And Use
CONS
Limited Recording Time With Free Version
Free Version
$39 License Can Support Up To 4 Cameras
$47 License Can Support Up To 8 Cameras
$59 License Can Support Up To 32 Cameras
Security Eye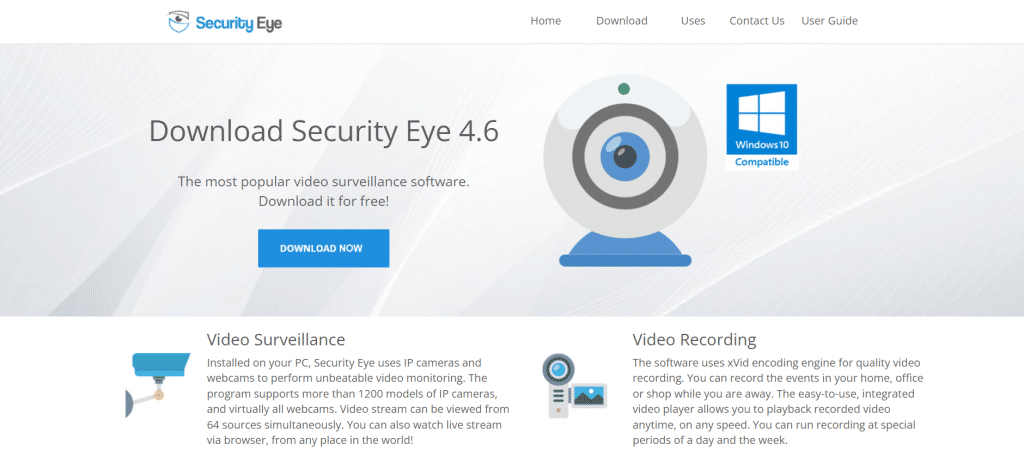 Many users love Security Eye because of its unbeatable video monitoring features. It supports more than 1200 IP camera models and nearly all types of webcams. One of its main tools is its reliable motion detection and ability to send alerts to your email or mobile phone when it detects unusual motions.
Scheduled monitoring is another great feature of Security Eye, as it allows you to customize when you want to record events. The program makes use of the xVid encoding engine to support high-quality footage. It's free as well, so it's a great application to download when money is tight.
The software is compatible with Windows XP, Vista, 7, 8, 8.1, and 10. You can download it here.
Pros:
Cons:
Pricing:
PROS
Works With More Than 1200 IP Camera Models
Scheduled Monitoring
High-Quality Video Support
CONS
Requires 1GB RAM and 2GB HDD Storage Space
EyeLine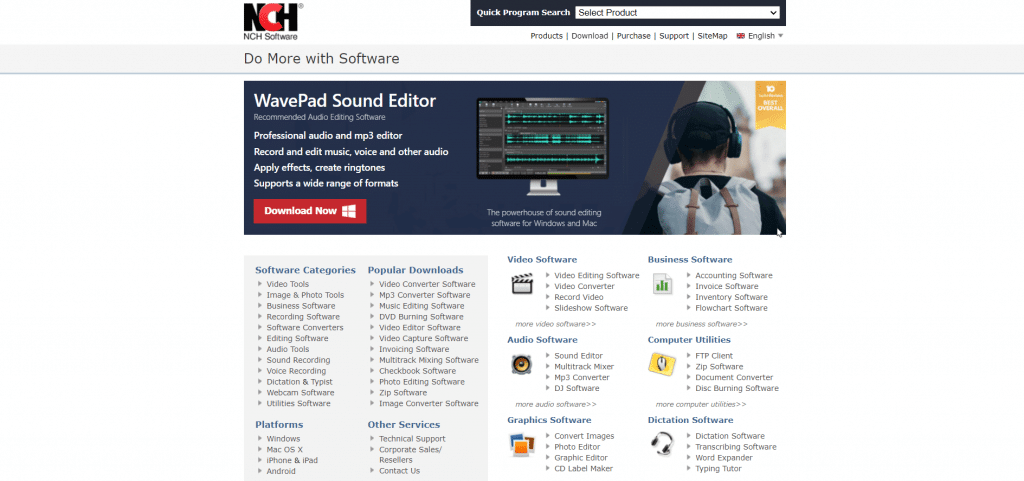 EyeLine is another reliable IP security camera software that can monitor more than 100 cameras simultaneously. It has motion detection features and can send you notifications right away. You can also program it so that it does not capture small, irrelevant movements. Moreover, it allows you to watch footage in real-time and record them for later playback.
The program is compatible with Windows XP and above. It offers a lot of paid options, as well as a continuous subscription paid quarterly. You can download it here.
PROS
Motion Detection With Alerts
Online Access
Multiple Paid Options
CONS
Response Times May Be Occasionally Slow
$70 (Fully Featured, Single Camera)
$139 (Fully Featured, Up To 3 Cameras)
$259 (Fully Featured, Up To 7 Cameras)
$498 (Fully Featured, Unlimited Cameras)
$82.98 Quarterly Plan For Fully Featured, Unlimited Ongoing Subscription
How Do You Choose the Right Security Camera Software?
What makes cameras perform well are the software platforms they run on. From there, we can safely say that the best camera is one that has fully maximized the software, offering you all the functions you need.
That said, when choosing the right security camera software, you need to consider compatibility. As amazing as it may sound on paper, you first need to know if it works well with your device. If your camera offers a zoom function, for instance, make sure that the software supports the feature.
In most cases, you'll want to investigate if your camera brand offers a camera software made inhouse. By investing in the same brand, you can rest assured that compatibility won't be an issue.
However, don't skip the final step—always test it out before the purchase. By making sure that things are in working order, you guarantee the best value for your money.
Conclusion
Getting IP cameras for your home is always a good way to protect your property, but you'll also have to consider installing the right software as well. You need to choose the right program that is compatible with your devices, has all the features you need, and fits your budget. We hope this guide has helped you find the software that works for you!