The 10 Best Indoor Security Camera System In 2023
When you are worried about what's happening in your home in your absence but don't want to invest in a high-cost home security system, then an indoor security camera can be an excellent choice to consider.
This gives you the convenience to keep a check on your kids, pets, or valuables in your home. An indoor security camera is a perfect tool to monitor your home from afar.
But not all security cameras are created equal and differ in capabilities. Some cameras can send notifications; some have alarms on detecting any activity, and some offer two-way audio. Thus it is essential to install the best indoor security camera for your home.
Things to Consider Before Buying an Indoor Security Camera
Check out some key features when choosing the indoor security camera for your home. With these features in mind, you can purchase the best indoor security camera for the security of your home.
Quality and Resolution
You do not want a security camera that cannot capture the face of the intruder. Grainy photos are of no use in this case. Before purchasing a camera it is important to stay well-aware if it features a high resolution output capturing crisp images backed by superior video quality.
A decision of 1280 x720 is good enough, and if you can spend some extra bucks than 1920 x1080, a full HD resolution camera will be the perfect one.
IP cameras are bestowed with excellent quality, supporting the zoom-in feature on any particular person or object. Most manufacturers are focusing on making the highest resolution IP cameras for the best results.
Usually, security cameras have 720 p resolution, and better ones have a resolution of 1080 p, and the best one has a higher range.
Field of view
The area which you want under surveillance should be covered with a camera. The preferred recording angle depends on the field of view. But for expansive space or general surveillance, a higher viewing angle gives the best coverage, so for observing every corner of an area, a 120-degree angle is perfect.
Intruders adopt multiple smart techniques and in case they learn that a camera will only tile 180 degrees, they will go behind the camera. Modern security cameras can rotate vertically and horizontally known as tilt and Pan, respectively. The best cameras rotate up to 90° vertically and 355° horizontally.
Recording
Cameras use memory cards to store images and video clips, which is an affordable option. Choose the camera that can record as well as feed it to the cloud.
Storage Space
Most of the cameras have expandable space, and they can be inserted with 16GB,32 GB, 64GB, and at most 128 GB. There are few with inbuilt storage.
The cheaper and ancient ones store images in the DVR with a hard disc. High-resolution cameras take a lot of space, so memory card should be inserted. If storage becomes full, then further recordings will not be saved and lost automatically.
Infrared LED's and Lens
Check for the infrared lights when you buy a security camera. These are small red lights present around the camera lens and used to increase night vision.
The more number of infrared lights result in a clear and better view. These lights help to know that camera is working. It's a good idea to select a focus lens offering broad coverage.
The more is the field, the better is the footage covered. Night vision is also an essential factor, and it can be risky if your camera cannot record or cover anything at night.
Power Supply and Battery Backup
Battery backup is essential in case of a power outage. Your camera can still function if it has a battery backup.
Notification and Alerts
Alerts and notifications are essential in case of any incident happened. This factor is dependant on the specs of your camera as it should be equipped to send emails or text alerts the moment sound or motion is detected. The recognized face may be known or unknown, it should send alerts for all.
Swivel Features
Most of the indoor security cameras can be manually swiveled or tilted to focus on a specific viewing area. If a camera has a swivel and tilt function, then you need not do it manually for surveillance more vast space.
A right tilt or pan or swivel security camera facilitates lens movement and most of these follow moving objects when users are watching the live feed.
Security
We buy a security camera to be secure. The camera needs to be capable of encrypting internet transmission besides supporting multiple security protocols.
Scheduling
Scheduling is worth considering while buying an indoor security camera as it allows specifying and modifying what you need from the camera system. It turns on and off the camera at times whenever it is not required. You can record what it detects.
Best Indoor Security Camera System
1. Google – Nest Cam IQ Indoor Security Camera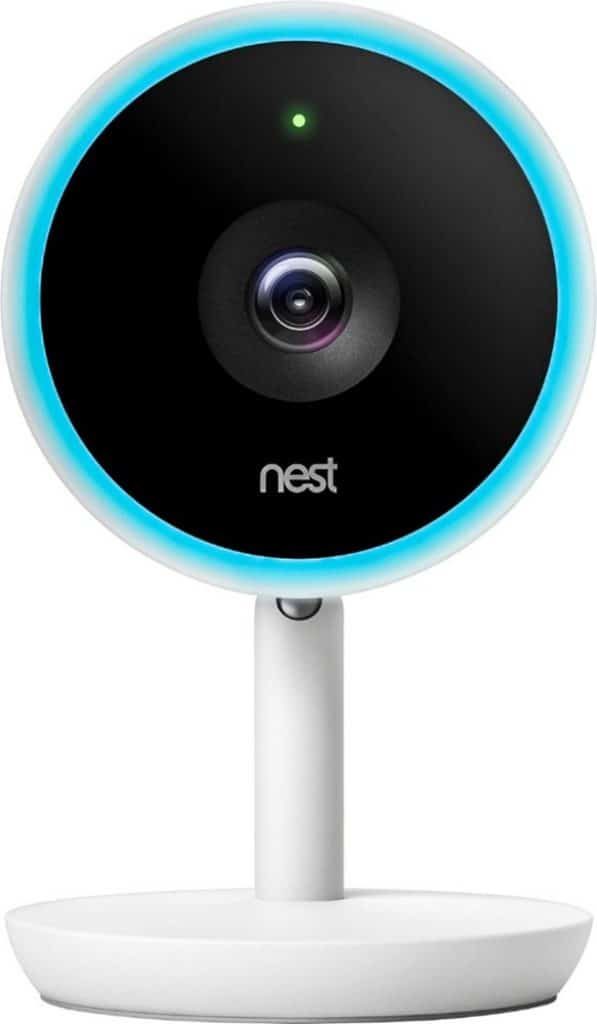 Google-Nest Cam IQ Indoor Home Security Camera can detect the difference between objects and people. The combination of infrared LEDs and HDR provides clear visibility 24/7. The speaker and microphone are present for secure two-way communication. It comes with a power adapter, power cable, and quick start guide to get you started.
This indoor camera works with Amazon Alexa, Hue, Nest, and Google Assistant. The camera can stream the video, and also it is equipped with motion and sound sensors.
Bluetooth or WiFi is required for network connectivity. This is smartphone compatible and works perfectly on operating systems like Apple iOS, Android, Windows, and Mac.
Technical Specs
4K sensor, HDR imaging, and 12x digital zoom
HD Talk and Listen for seamless conversation
130° view in 1080p HD day/night
Snapshot history-3 hour
Operating temperature Min-32°F, Max-104°F
Cloud Storage
Pros
Offer clear video and automatically zoom in to track intruders
Live to stream
Smartphone compatibility
Easy installation
Cons
Expensive
Nest Aware subscription is required for some features
2. Arlo Ultra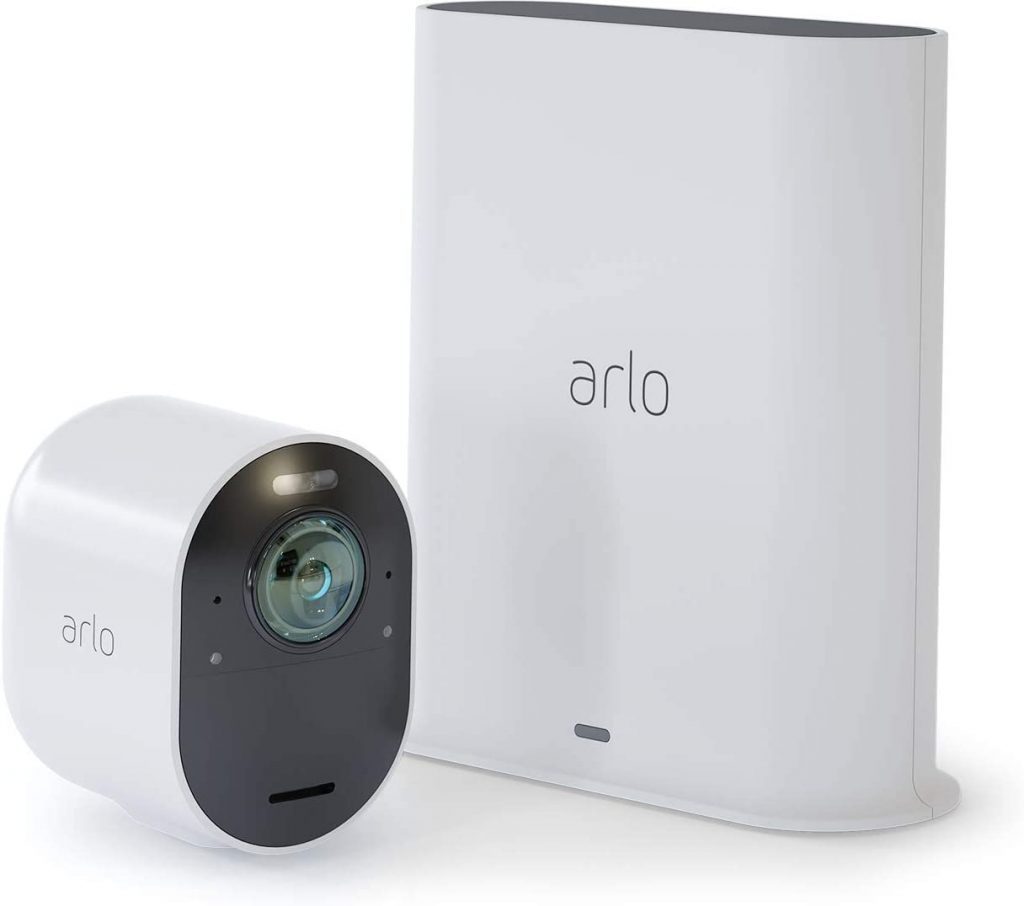 Arlo Ultra wireless indoor security camera gives ultimate mind peace with excellent audio and video quality. Install this camera easily and monitor your business or home with a wide-angle view.
See more details with Ultra 4K, zoom in on objects. You can see color video at night with an integrated spotlight and advanced night vision.
The camera comes with advanced noise cancellation technology that minimizes the noise from the background and offers bright and two-way conversations.
The rechargeable battery is long-lasting, so it works uninterruptedly.
Technical Specs
180° field of view
4K and HDR advanced image technology
Works with Alexa and Homekit
850nm infrared LEDs with IR cut filter
Pros
Weather-resistant device
Noise cancellation technology
Superior audio and video quality
Included one year Arlo smart premier
Cons
Expensive
Can log in from one device only at a time
3. Blink Indoor Camera (Updated XT2 Indoor Smart Security Camera)
The Blink Indoor Camera is a perfect security camera that runs off two AA batteries and wirelessly communicates with a small base station that is connected to the WiFi network.
This case is weatherproof and comes with a mounting bracket. Blink app is robust, and it is compatible with iOS 10.3, Android 5.0, or Fire OS 5.1 operating system. Two ways audio and you can talk to visitors through the Blink Application on tablet or smartphone.
Technical Specs
1080p HD vision during the day with infrared HD vision after dark
110° field of view
Camera frame rate-Up to 30 frames per second
Pros
Extended battery life
Works with Alexa
Use indoors and outdoors
No wiring, tools and professional installation needed
Cons
One year limited warranty
Requires a subscription to save footage
4. Ring Indoor Cam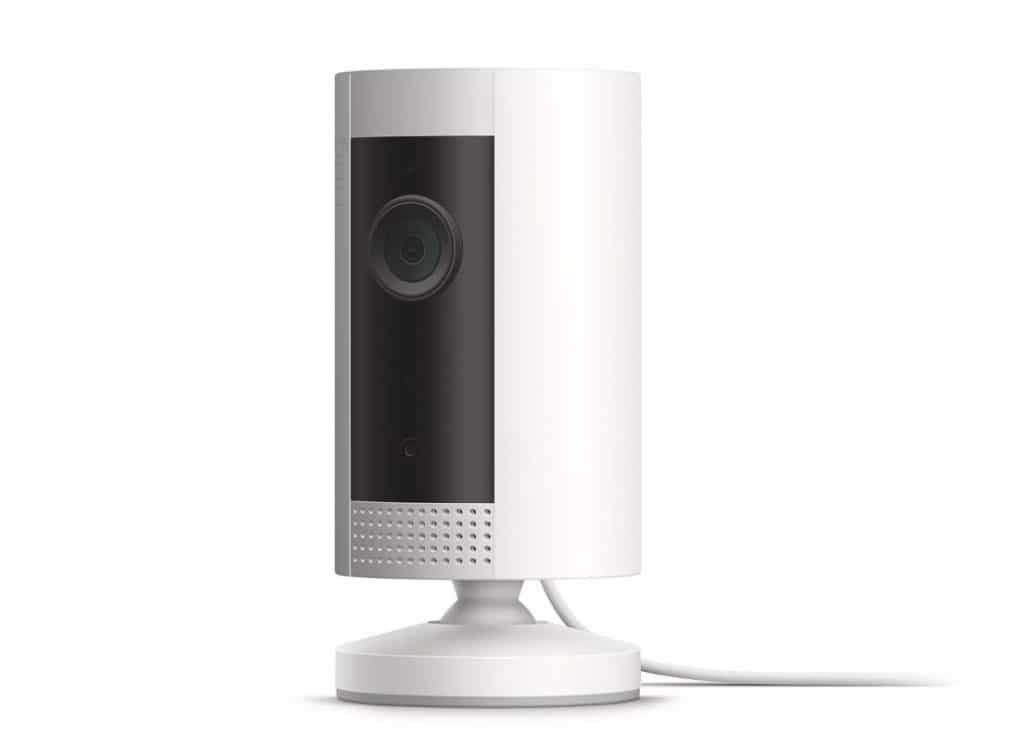 This plug-in compact indoor camera lets you see, speak, and hear people and pets from a device such as your phone tablet or echo device.
Monitor your entire home by installing one or multiple indoor cameras to all Ring devices in the Ring application. You can check in your home with a live view any time through the Ring app.
This indoor cam can be set up easily by connecting to WiFi and plugging into a standard outlet. You can place it on a flat surface or wall mount with the mounting bracket.
Pair it with Alexa echo for added peace of mind, and it helps you to keep an eye on your home. It comes with a power cord (6.5 ft.), security sticker, user manual, screws, and wall anchors.
Technical Specs
1080p HD, Live View, Night Vision
Field of view 140° diagonal, 60° vertical 115° horizontal
Operating temperature: -5°F to 113°F (-20°C to 45°C)
Pros
Noise cancellation
Two-way communication
Standard power outlet plug-in
Installation time: 5 minutes
Cons
Needs high-speed internet
5. CANARY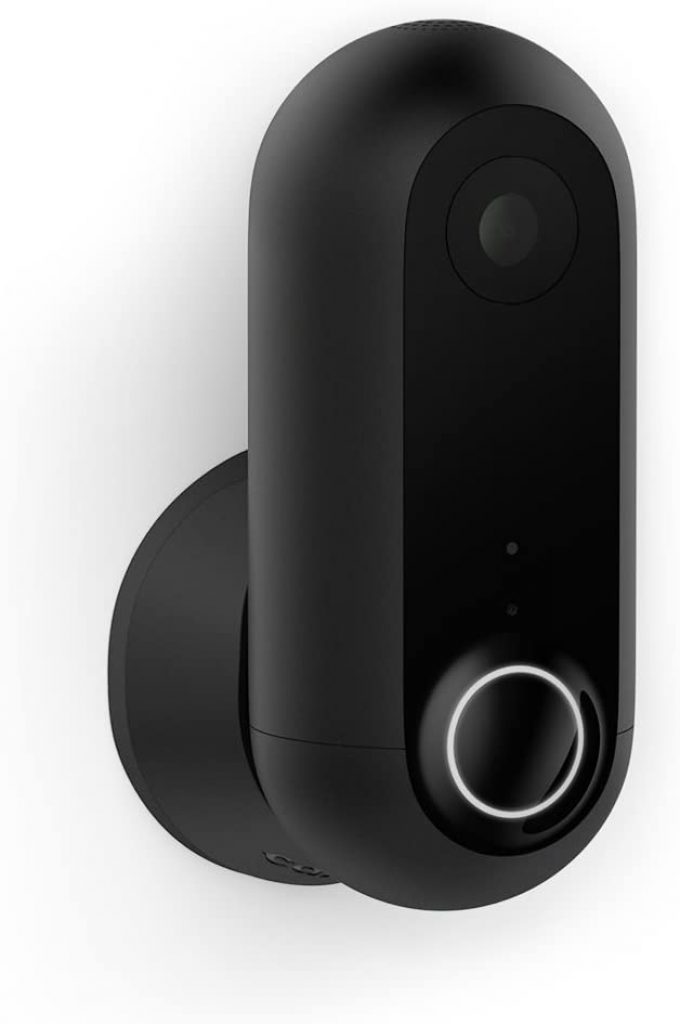 Canary Flex camera has a good balance of features and excels in monitoring. This is dual-powered that is either plug-in or wire-free, depending on your preferences. This camera is both easy when it comes to installation and compact in size.
The cam has been designed ruggedly in comparison to similar price cameras. Canary Flex has tough weatherproofing, and it is tested as snow-proof and rain-proof.
The intelligent feature includes alerts that are directly sent to the phone. The other features include a 360° swiveling base.
Technical Specs
Field of View: 116° wide-angle lens
AI- Intelligence & Person detection / smart alerts
Emergency Services One-touch – Local , fire, police, EMT numbers all pre-populated in application
Powerful HD camera with night vision
Pros
Works wire-free or plugged in
Works with Alexa for voice control
One-touch emergency services
Built-in speaker and microphone
Cons
Some cases show the delay in notification
6. YI Home Camera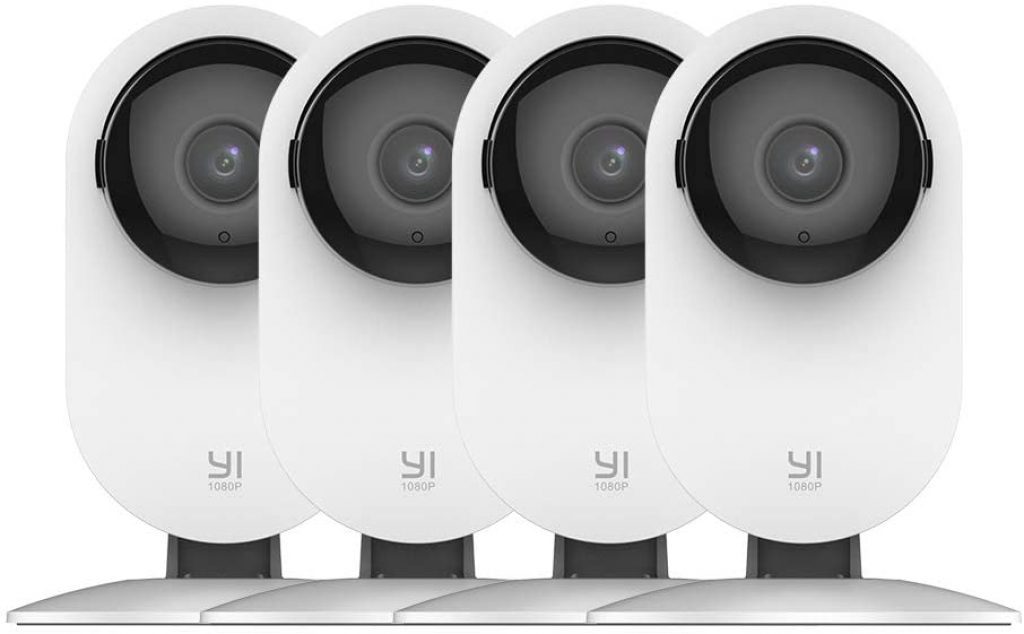 YI Home camera comes with a lot of features at an affordable price. A big selling point of this camera over competing products is that its application supports five devices so you can share the camera monitoring with your family members.
It offers one week of cloud storage that is unlimited (with paid plans up to 30 days). The activity alerts include motion detection along with a baby crying feature allowing you to monitor an infant.
It offers natural-looking video due to lens distortion correction feature. The application works on PCs and mobile phones.
Technical Specs
Full 1080p resolution with 15 FPS
24/7 HD video recording
Automatic night vision
Multifunctional stand.
Cloud Storage
Pros
Lens distortion correction
Motion sensor
Easy installation
Cons
The Momentum HD Wireless can be a better deal
7. Littlelf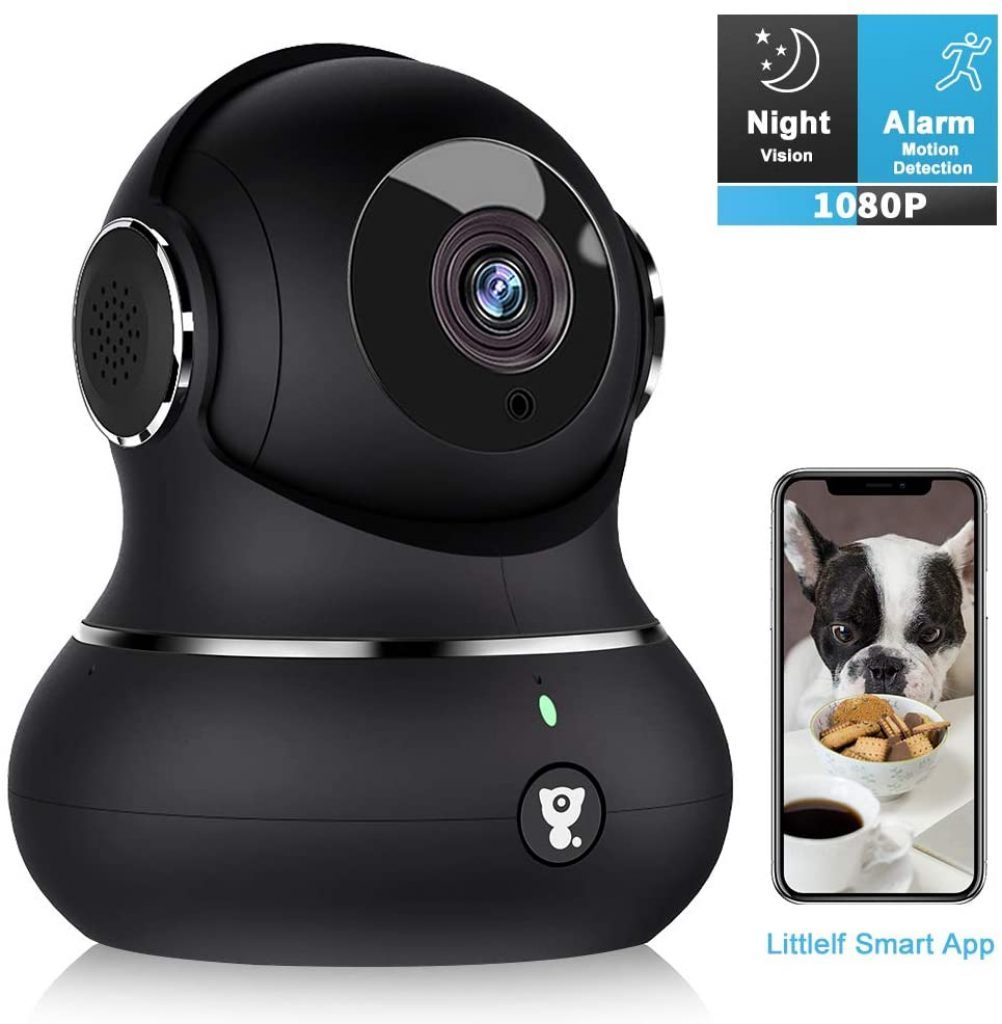 Little Smart camera features a smart perceive technology for movement detection. Once movement is detected, your phone that has a 'little smart' app installed will get an alert notification, and you can quickly check the happenings at your home or office.
The movement detection sensibility can be adjusted manually, or you can auto turn the sensibility, and the camera will move with the object movement.
The camera has a built-in speaker and a microphone. It has an IR-cut intelligent switch that changes its mode as the light changes. The night vision distance in pitch dark is up to 33 feet.
Technical Specs
1080 HD & Smart Tilt/Pan
Wide-angle view horizontal 355° and vertical 110°
Built-in speaker and microphone
Double storage(cloud and memory card)
High-level encryption technology
Pros
Cloud storage (90 days trial free)
Two-way communication
Supports multiple users at a time
High-level encryption
Cons
8. Wyze Cam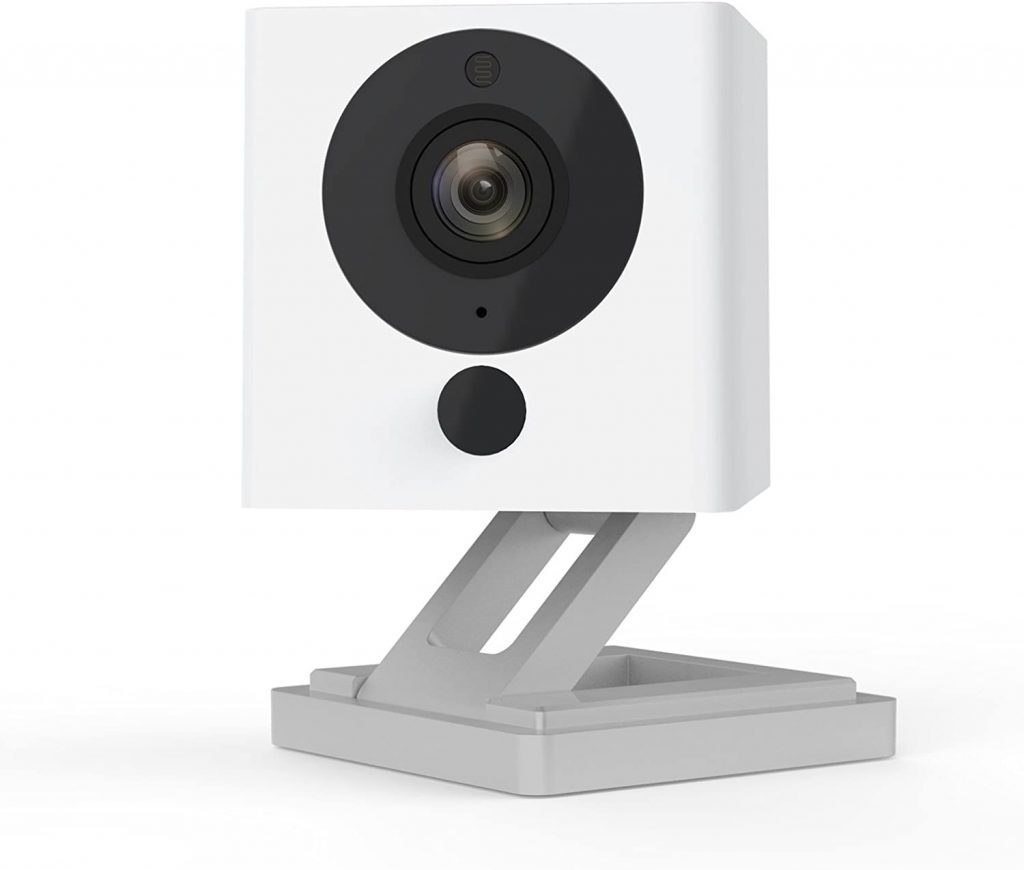 The Wyze Cam motion detector tracks even the small movement in the room. It delivers clear, fast, and live stream footage directly to the smartphone day and night.
You have to install the Wyze App on your smartphone (Android and iOS). As soon as cam detects any motion or sound, you will receive an alert that can be viewed up to 14 days.
The latest motion tagging feature easily identifies motion in playback videos and live streams. It supports 2-way communications. With its small size, you can use it fits anywhere.
Technical Specs
1080p -1080p HD live streaming
2.8mm focal length and 110° wide-angle lens.
8x digital zoom
Four infrared LEDs for night vision up to 30' in pitch dark
Pros
Two-way communication
Cloud and micro-SD storage
Works with Alexa
Cons
No battery
No weatherproof
9. HeimVision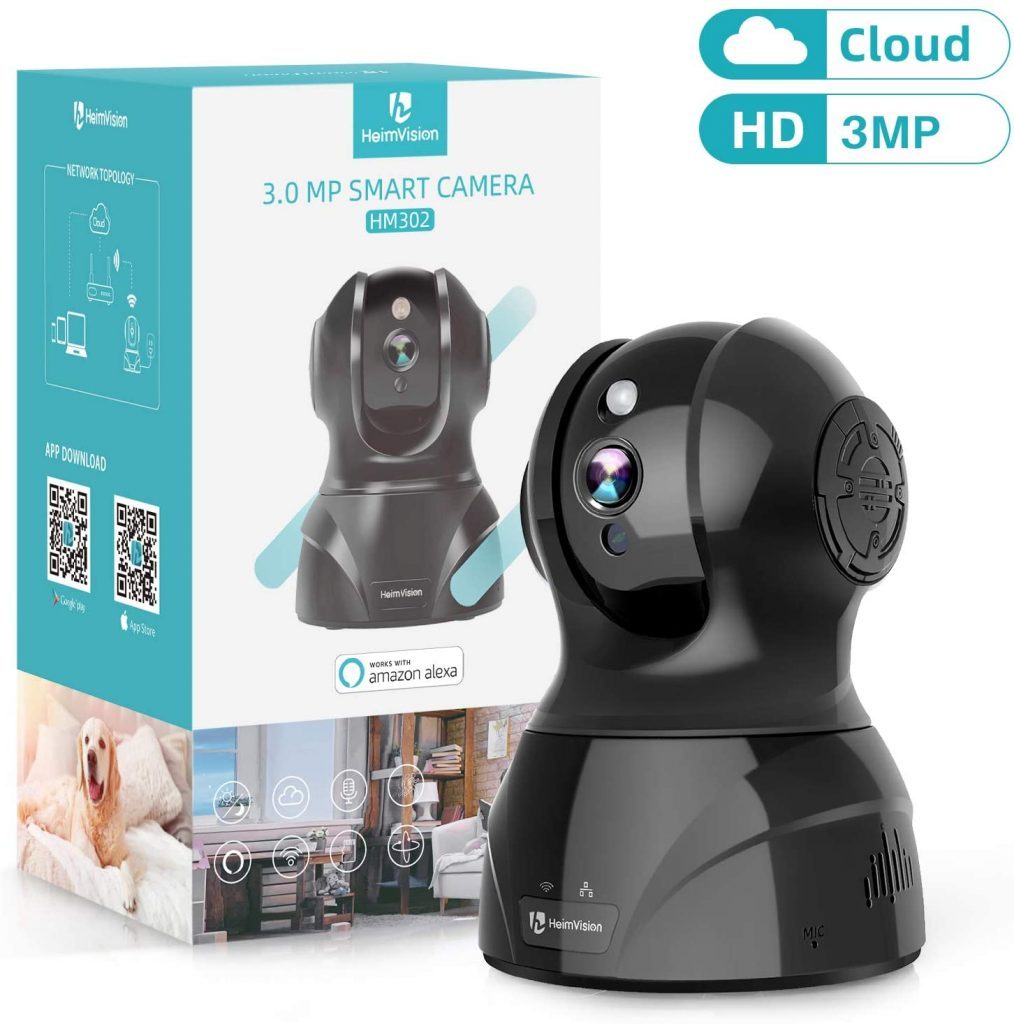 HeimVision 3MP security camera (wireless) is the latest product of the HeimVision home camera series that are upgraded fully with regards to functions and quality.
It provides superb quality videos, more accurate face/motion/sound detection. The camera has cloud storage besides being compatible with Alexa.
It records 24/7 and supports more than one user to view images and videos from anywhere. The excellent resolution offers clear views, and horizontal, vertical rotation allows remotely control by tilting, panning, and 4X zooming.
Technical Specs
2560*1440 HD Resolution
110° wide-angle glass lens
350° horizontal and 100 ° vertical rotation,
3Mega-Pixel Ultra-HD Live Video
Support Tilt/Pan/Remote Control with 4X Zoom
32 feet vision range in the absolute dark
Pros
Friendly cloud service and micro SD storage up to 128 GB
Compatible with Alexa
Supports multiple users simultaneously
Anti-noise speakers and microphone
Cons
Not compatible with 5 GHz WI-Fi
10. Wyze Cam Indoor Smart Home Camera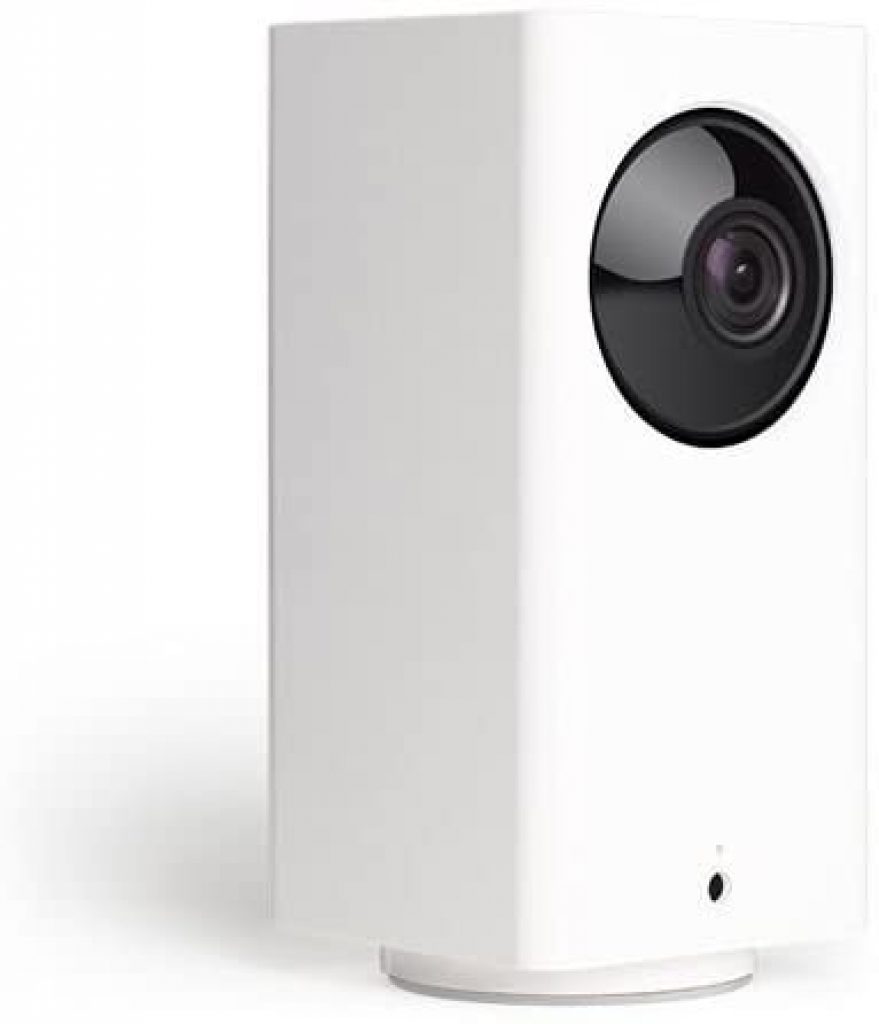 This Wyze Cam model is fitted with a wide range of handy features such as the pan, zoom, and tilt options that gives you great control while using it remotely. The Wyze app enables you to zoom in and out as and when required.
It comes with a 360° rotation feature to cover the entire space. It also has a 93° tilt feature for vertical movements.
It can be paired up with any smartphone and the setup process through the app is real easy. You can also use the 2-way audio feature that allows you to speak to your friends and family if needed.
The device also comes with a dedicated motion and sound recording feature which automatically records 12-second video clips and stores them on free cloud storage.
It does so whenever it detects some movements or sounds. This video stays accessible on the cloud storage for 14 days.
Technical Specs
Field of View:360° lens & 93° vertical range
1080p Full HD live streaming
Night vision: 30 Feet
4X digital zoom
Supports 8GB to 32 GB FAT32 MicroSD
Pros
Excellent night vision
Easy installation
Live Stream from any location
Compatible with Alexa & Google Assistant
Cover about 30 feet through night vision that uses 6 infrared LEDs
Cloud Storage
Cons
Average Video Capturing Quality
Installing Micro-SD can be a bit tricky
Conclusion
When you choose the best indoor security camera, it makes you confident about your home security. Fixed security cameras are cost-effective, but it depends on the specifications.
Choosing a wireless indoor security camera with some range of motion can be a good choice. Security cameras are different in their own way. Each brand and model has a specific feature and you need to compare them base don your specific needs to select the perfect option suiting your requirements.
With this guide, you can be more confident in choosing proper security equipment for your home. This security system helps you to keep an eye on happenings even you are asleep or afar from the house and also alerts you of any mishap.