The 9 Best Hard Wired Smoke Detectors In 2023
A vital safety measure in households, smoke detectors literally save lives. They are critical for early detection of fire, and they make such a noise that even the heaviest sleeper is sure to wake up.
As fires and deadly smoke travel very fast, without a detector, you would not be able to know about the fire at the earliest moment. It is recommended by fire safety officials that you have at least one alarm on each floor of your house, including the basement and the attic.
The detector is alerted to the start of any smoke and the alarm will make you aware that there is smoke in the house. It is also important to know that smoke alarms are not enough. Carbon monoxide is also a very dangerous gas if released in your home, so it will be wise to buy an alarm that can detect carbon monoxide as well.
Of course, you can buy a combination of the two of them, but buying an alarm can be a little tricky. We hope our buying guide helps you make an easier decision.

Best Hard Wired Smoke Detectors
1. Google Nest Protect Wired Smoke and Carbon Monoxide Alarm
This hard-wired detector interacts with your android or İOS smartphone using a free application. The detector has both built-in Bluetooth and wireless capabilities. Not only it can detect both fast-burning fires and smoldering fires but also carbon monoxide gases. It also has a split spectrum sensor that detects both fast-moving and slow-burning fires.
When any of the problems are detected, Google Nest gives off a loud alert and you can silence it from your smartphone. This device also has a voice alert which will inform you where the fire is and what you have to do. The alarm also has a green night light to show you that everything is working as it should.
Pros
Sends a message to your phone if there is a problem or the battery is running low
Silence false alarms from your smartphone
Detects and informs you of where the smoke is and what to do next
Has a green light at night to show that everything is working
Lasts for 10 years
Easy to install
Cons
More expensive than other models on the market
Can't turn off the low battery alert from the app
2. Onelink Smoke and Carbon Monoxide Detector with Home Speaker
2 in 1 detector, Onelink detects both smoke and carbon monoxide gases. It has a smartphone app, which can be used on both Android or Apple systems, so alerts can be voice-activated. The product can send an alert to your phone and at the same time give off an alarm and inform you where the alarm was triggered.
Onelink also works with the Alexa system in your home, therefore you can ask Alexa the state of your alarm, as well as being able to connect with any brand of detector. The device also doubles as a speaker that you can also connect to Alexa. Track your alarm's battery from the convenience of your smartphone to ensure the battery has enough juice.
Pros
Smartphone app
Can connect with your Alexa system
Can connect with any other brand of system
85-decibel alert
Fire, smoke and carbon monoxide detector
An adapter plug
Built-In Speaker
Cons
Difficult to set up
Software has problems not all alerts are recorded
3. Kiddie Smoke & Carbon Monoxide Detector
This easy to install detector helps detect smoke and carbon monoxide gases in your house. The detector measures the levels over time and informs you with an alert if the levels are too high. You can interconnect it with other devices from the same brand, such as smoke detectors and heat sensors.
It has a backup battery if there is a power cut. It also has a test-silence button so you can reset the alarms whenever you need to. It comes with 10 years warranty, and the batteries last just as long. The detector has light patterns to warn if the device needs replacing or the unit needs servicing.
Pros
Green light to indicate normal levels
Can connect with other devices
Easy to install
Measures levels over a period of time
10-year warranty
Cons
Needs to be connected to other same brand devices

The connection to other devices can be difficult
4. Firex Hardwire Smoke Detector
This detector has technology that can alert you when you have a fast-moving fire earlier than many other devices. It also has a battery backup if you have a power outage. Firex can connect with other devices including some other brands as well as having a front-loading battery component, so you do not have to remove the unit to change the battery.
The ionization sensor system ensures that the alarm can detect invisible fire particles before photoelectric sensors. Also, this detector comes with a 360-degree mounting bracket that allows the alarm to be attached at any angle. The unit also has re-stripped wires for easy installation.
Pros
Easy to install
A loud alert system
Back up batteries
Front-loading battery
Compatible with other brands
All interconnected alarms will sound when one goes off
Cons
No smartphone application
5. First Alert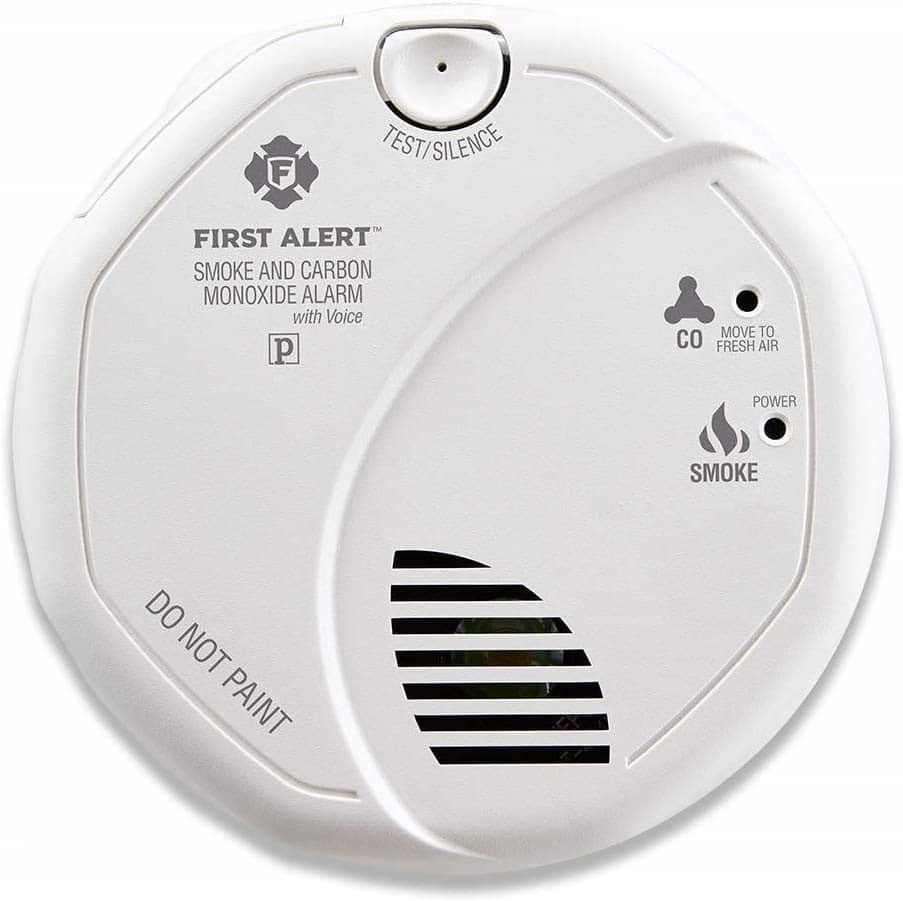 Both a smoke, fire, and carbon monoxide detector, First Alert is one single device that solves many problems at the same time that is why we have included this device in our best hard wired smoke detectors list. The device has eleven pre-programmed places in your household, so it can alert you of any problems from all over your house. It can also connect to other devices of the same brand and has a 10-years warranty.
This product includes electrochemical carbon monoxide sensing technology as well as photoelectric smoke sensing technology, this technology helps detect smoldering fires and also has less chance of false alarms. The unit has an end of life chip that starts to beep to inform you that the product needs changing.
Pros
Easy to install
Detects both fire and gases
Alerts you when the batteries need replacing
Information about where to place the alarm in your house for the best coverage
Has photoelectric smoke sensor, so helps reduce the chance of false alarms
The easy-access battery door
Voice feature
Cons
Complaints of false alarms
Not compatible with other brands
Doesn't detect the rooms the alert is coming from
6. First Alert Hardwired Smoke Alarm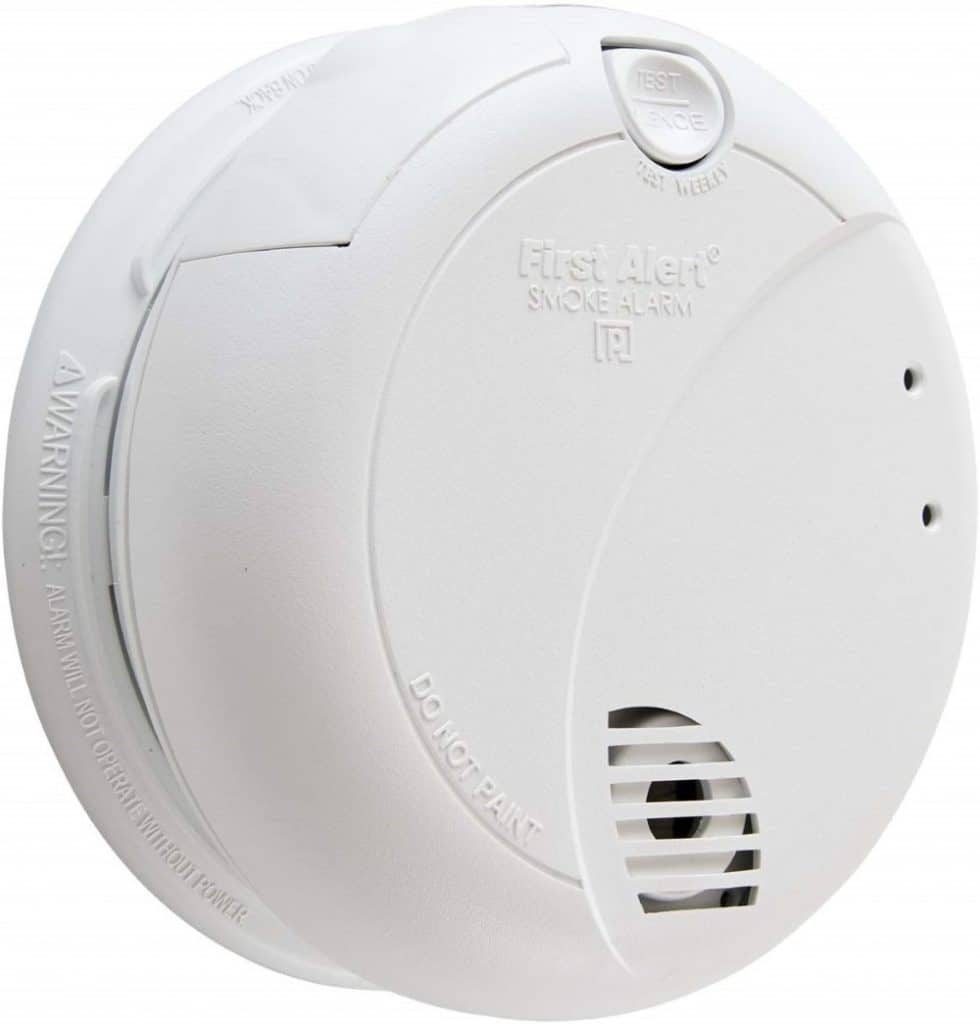 This First Alert smoke detector can be used to detect fires in homes, offices, schools and other workplaces. It can be linked up to 18 devices (12 other detectors and 6 alarm systems like bells or horns). It is compatible with other BRK and First Alert alarms. First Alert has a very loud alarm sound when a fire is detected as well as an advanced photoelectric smoke sensor, which can detect smoldering fires and smoke.
The product also has a latching alarm indicator which shows which alarm has been triggered. This product has a 10-year warranty and at the same time meets the UL standards.
Pros
Photoelectric sensor for detecting smoke
Back up battery system
Easy installation
Locking feature for tampering resistance
Connects with other alarms
Power indicator shows the location of the alarm
Cons
Batteries included in the pack are not long-lasting
False alarms
Not as compact as other alarms
7. Universal Security Instruments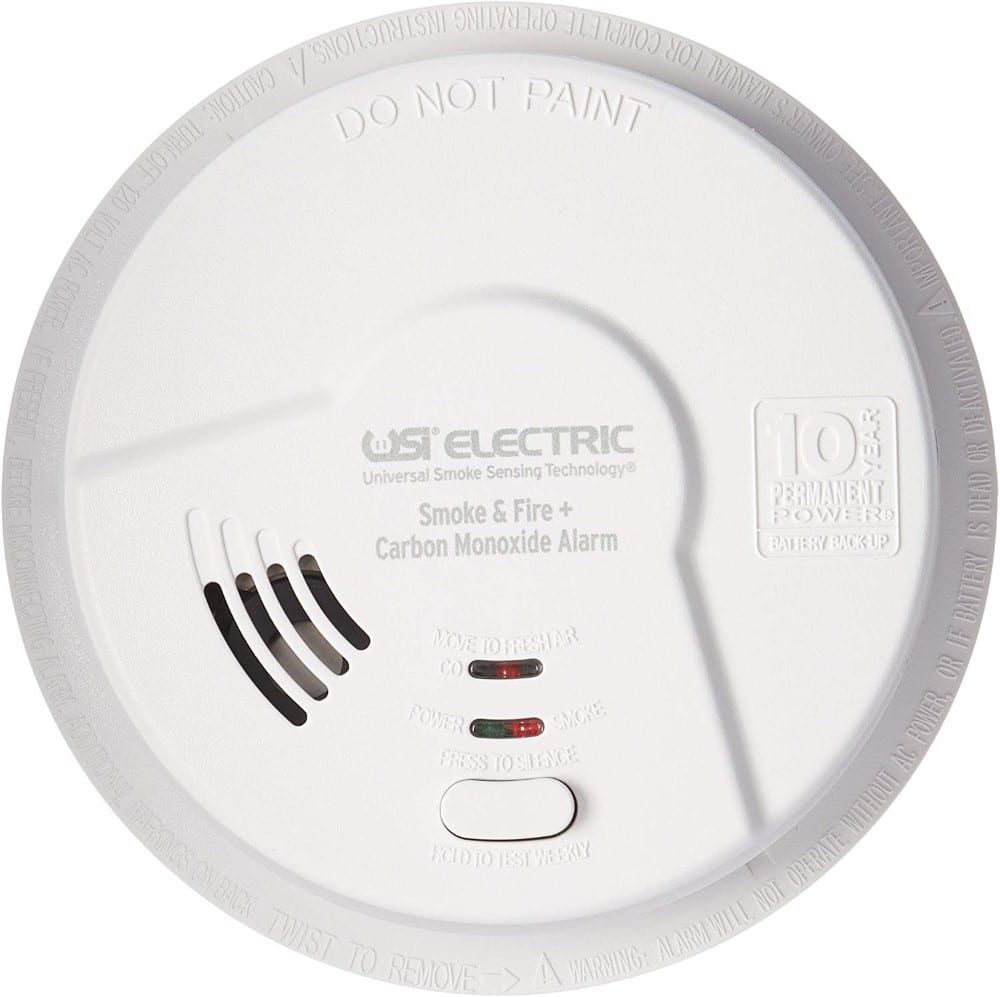 3 in 1 alarm, Universal Security provides information about the temperature and compensation. Easy to install with a battery pull-tab, it features a 10-year sealed battery. Because of the universal sense smoking technology, the alarm can sense fast-spreading fires, smoke and also carbon monoxide gases.
The device also has microprocessor intelligence to minimize false alarms. The product also supplies 10-year permanent power alkaline batteries that are more eco-friendly than the normal batteries. The product contains both ionization and photoelectric sensors. It is recommended that alarms contain both of these forms of technology to ensure a quick response to all kinds of fires.
Pros
Eco-friendly
10-year sealed battery
3 in 1
Universal sense smoking technology
Photoelectric and ionization technology
Microprocessor technology
Cons
No smartphone software
Can cause false alarms
Difficult to reset
8. First Alert Hearing Impaired Smoke Detector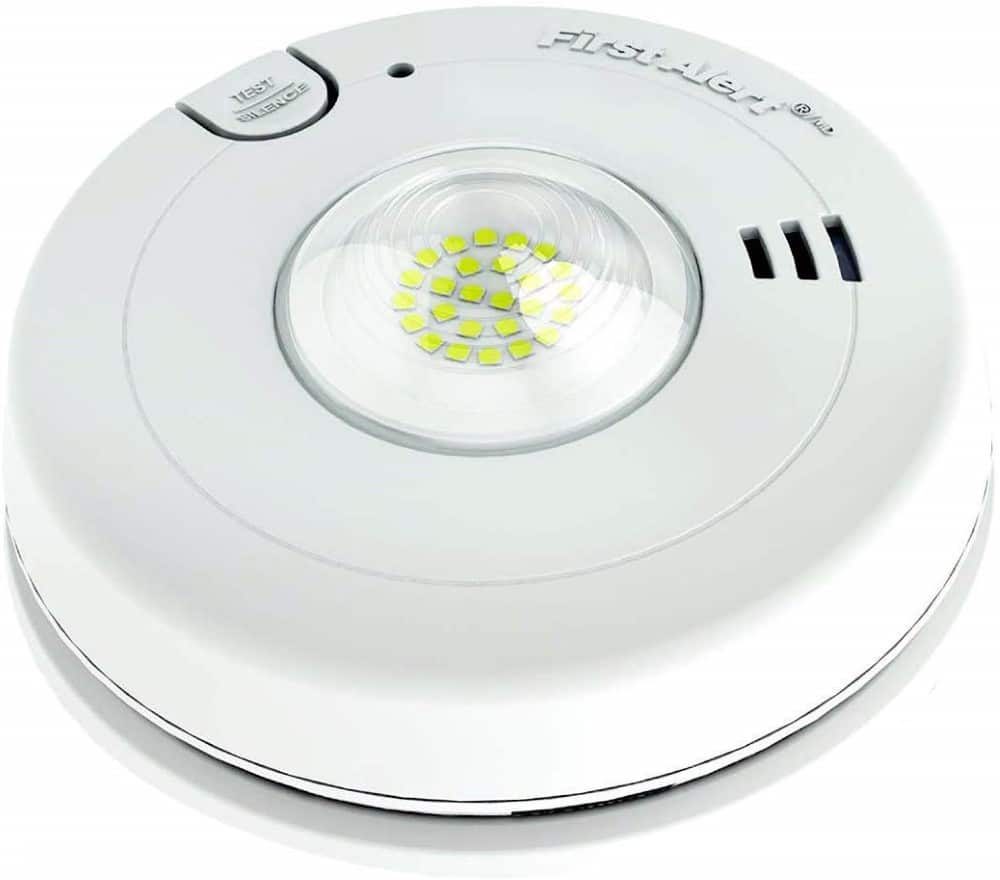 A smoke alarm with a light strobe, First Alert is an economical friendly device that comes with a 10-year sealed battery. Thanks to this device, you don't need to replace the batteries. Not only it gives a sound alert but also has a built-in stoplight, which gives alerts for people with hearing problems.
The smart strobe allows you to see the difference between smoke and heat and it can be connected with up to 12 more detectors. The alarm can be paired with other detectors to ensure safe coverage all over your home. The alarm warns you about the battery life but not only beeping but also using the flashing light system.
Pros
Eco-friendly
Has a 10-year sealed battery
Strobe light for nonhearing people
Can connect to other devices
Cons
Strobe light doesn't work on the backup battery
Alarm not loud enough
No software
Basic design
No detection of carbon monoxide
9. Kidde i12060
Kidde has a front battery pull-tab so it is very easy to replace the batteries. The device is also easy to install and mount. It connects with up to 18 more devices for smoke, carbon monoxide gas and comes with a 10-year warranty.
It has a hush feature that can quickly silence false alarms. The product gives a red warning light when the battery needs changing. The product is easy to use with a one-button design. It has a dust protection cover to reduce the chance of false alarms.
Pros
Can connect with 18 more devices
Front battery tab
Easy operation
Easy to install
One button operation
Uses ionization technology
Large mounting base
Tamper resistance feature
Dust cover
Cons
Can cause false alarms
Only detects fire or smoke
Suggested Read : Secure Home Without an Alarm
What To Look For In a Smoke Detector?
Without a question of doubt, smoke alarms save lives and before buying, you need to think carefully about which product will protect your family the most. The type of product you will buy is an important factor.
Power source

You have to decide if you will buy a battery-powered alarm or a hard-wired alarm. One of the most important factors is getting an alarm that can be connected to each other. Battery-powered alarms cannot do this.
Being connected means that when an alarm detects a fire or smoke, all the alarms are activated as well. Hard-wired alarms are connected to your house wiring system therefore they always have a power supply and a back-up battery.
Sensor type
Alarms have different kinds of sensors. The first kind is the photoelectric. These sensors use light to detect smoke.
The smoke particles set out the sensor, which in turns activates the alarm. Ionization smoke detectors use a radiation and ionization chamber to detect the smoke. When smoke enters the sensor chamber then the alarm is activated.
These kinds of alarms are more sensitive than photoelectric kind. The last kind is dual sensors that have both photoelectric sensors and ionization sensors.
As there are two different kinds of sensors it is very unlikely that any smoke or fire can get past these alarms, but because they are more sensitive, they can be prone to more false alarms, which can be very annoying. These alarms also have higher price tags.
Life span
It is important to check the manufacturing date during shopping. Some alarms may have been sitting in a stockroom for a long time and if they were manufactured a long time ago, it is recommended not to purchase them as the standards may have changed. These products have a maximum of 10 years shelf life, so if you buy a product made 5 years ago, then you can only get 5 years more out of it before you have to replace it.
UL stamp
The alarms that you purchase should have a UL stamp on them. This shows that they meet the underwriters' laboratories standards. Make sure that the alarms you will choose are in line with the current standards.
Sensitivity and Accuracy
Of course, you want a sensitive alarm but not one that goes off every few hours. Over time alarms can become dirty with dust particles and therefore become oversensitive or in some cases less sensitive. That is why the ongoing maintenance of these alarms is vital.
You should give a sensitivity test to your alarm every year and the manufacturer's guide usually tells you how you can do this. You want your alarm to be accurate and not give off false readings, so doing a test before buying or reading reviews about that particular device is important.
FAQ's
Which is better, hardwired or battery smoke detectors?
Battery-powered alarms are much easier to use, but if you have a hard-wired alarm, it means that it is connected to your electrical system at home. It also means that more than one alarm can connect with each other. So, if an alarm goes off in another part of the house then all the alarms will sound.
This gives a better piece of mind. At the same time, you need to make sure that the hard-wired alarms have a backup system in case of a power outage. Many people forget to change the battery of their smoke detectors and notice it when it is too late.
It is always important to test your device on a regular basis. Usually, once a month is recommended.
Why does a hardwired smoke detector beep?
Most hard-wired detectors include a battery in the system that works if you have a power outage. If this battery is running low, then you need to change the battery. This can get complicated so when you are making this purchase find one with an easily accessible battery flap, so you don't have to dismantle the whole alarm to change the battery. You should always change the battery as soon as the beeping starts; you could always set up a reminder on your smartphone to change the batteries every three months, for your peace of mind.
How do you stop a hardwired smoke detector from beeping?
Even if you have replaced the battery you will need to reset the alarm. You need to find the reset button. If you can't find it check the instructions manual, then hold the button for 10 to 15 seconds. This will reset the alarm and the chirping noise should stop.  If it doesn't, check if the battery needs replacing.
Conclusion
Buying an alarm for your house is a very important decision. The first decision you must make is whether you need a multi-functional alarm that detects not just fire but also smoke and carbon monoxide. There are many types of alarms on the market.
The multi-functional alarms are more useful but are usually more expensive, but at the same time, you would have to buy two different alarms if you are using any sort of heater in your home that can release carbon monoxide gases. Hard wired alarms are easy to install, and they also come with back up batteries in case of a power outage. Make sure that you can connect the different devices so that an alarm in any part of the house can be heard.
Maintenance of these alarms should be part of your routine, once a month they should be reset and tested, batteries should be replaced every three months and sensitivity tests should be done at least once a year. While alarms give you peace of mind, make sure that you keep them functional so that they are not there just for show.