The 8 Best Glass Break Detectors In 2023
Of all the investments that you make in your entire lifetime, there's no gainsaying that your home is the priciest. Therefore it does not bear emphasis that you'd want to accord an impregnable wall of security to your abode all-around. Nowadays, you'll come across a wide range of alarm and sensor system for adding an additional layer of security to your home.
One such less popular yet crucial home security system that could ward off intruders and housebreakers and help check burglaries is a glass break detector.
Setting up glass break detectors or sensors is one of the most affordable and easiest ways of safeguarding your home. If your home has numerous windows and doors with glass frames, then installing one or more glass break sensors keeps your dwelling protected.
The best glass break detector comes with a built-in wireless sensor that automatically sets off the alarm when an intruder attempts to break-in by shattering the window or door glass.
A wireless glass break detector is usually a standalone security system that can be made to work together with the existing security system of your home. The best glass break sensor will alert you that a burglar or robber is attempting to force an entry via the window long before the alarm sounds.
Best Glass Break Detector & Sensor
EVA LOGIK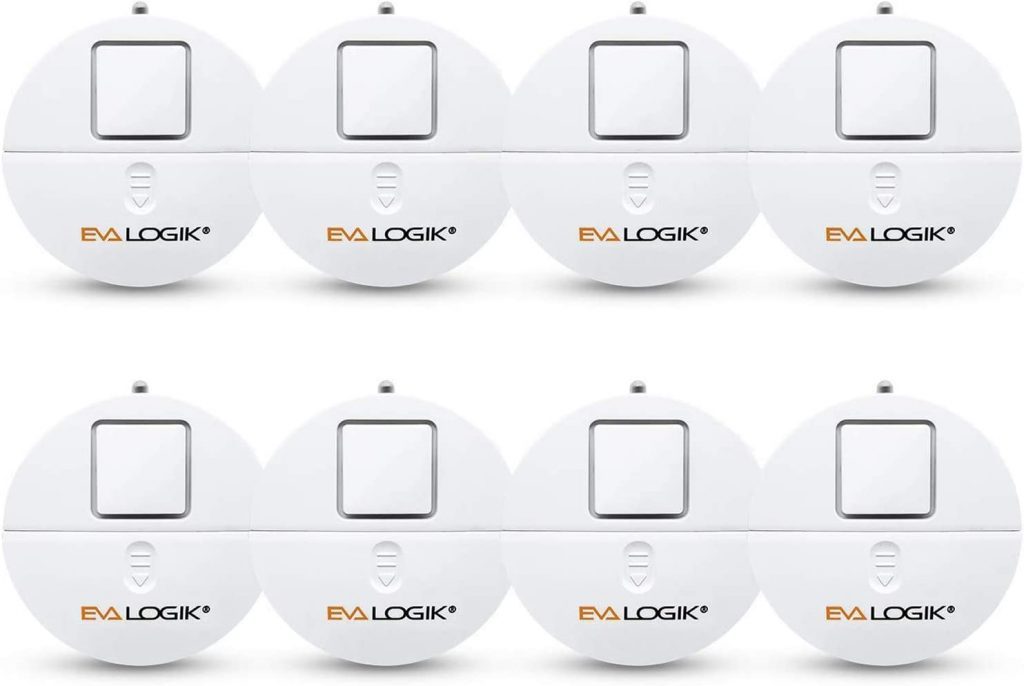 The EVA LOGIK Modern Ultra-Thin Window Alarm with Loud 120dB alarm and vibration sensors serves as your home's perfect first line of defense.
The wireless sensors embedded in the window security system automatically senses vibration, sounding out a 120dB alarm, alerting you of an attempted break-in.
Being ultra-slim this wireless glass break detector from EVA LOGIK is perfectly compatible with installing on almost any type of window.
Installing the device is also very easy; you simply have to strip the security alarm system and attach it to a window's glass pane.
Technical Specifications:
Guarantees against false alarms
Goes off immediately when an intruder or burglar tries to break-in
LED indicator light wants potential housebreaker that the window is secured
Just unwrap and install; no need to install wiring
Continuous flashing of LED light indicates that it's time to change batteries
Pros
1-year warranty from the manufacturer
Ergonomic design
Easy installation
User-friendly
Across-the-board compatibility
No fake or bogus alarms
Cons
The alarm goes off only if there is a hard knock on the window
Very difficult to detach from the window for replacing batteries
SimpliSafe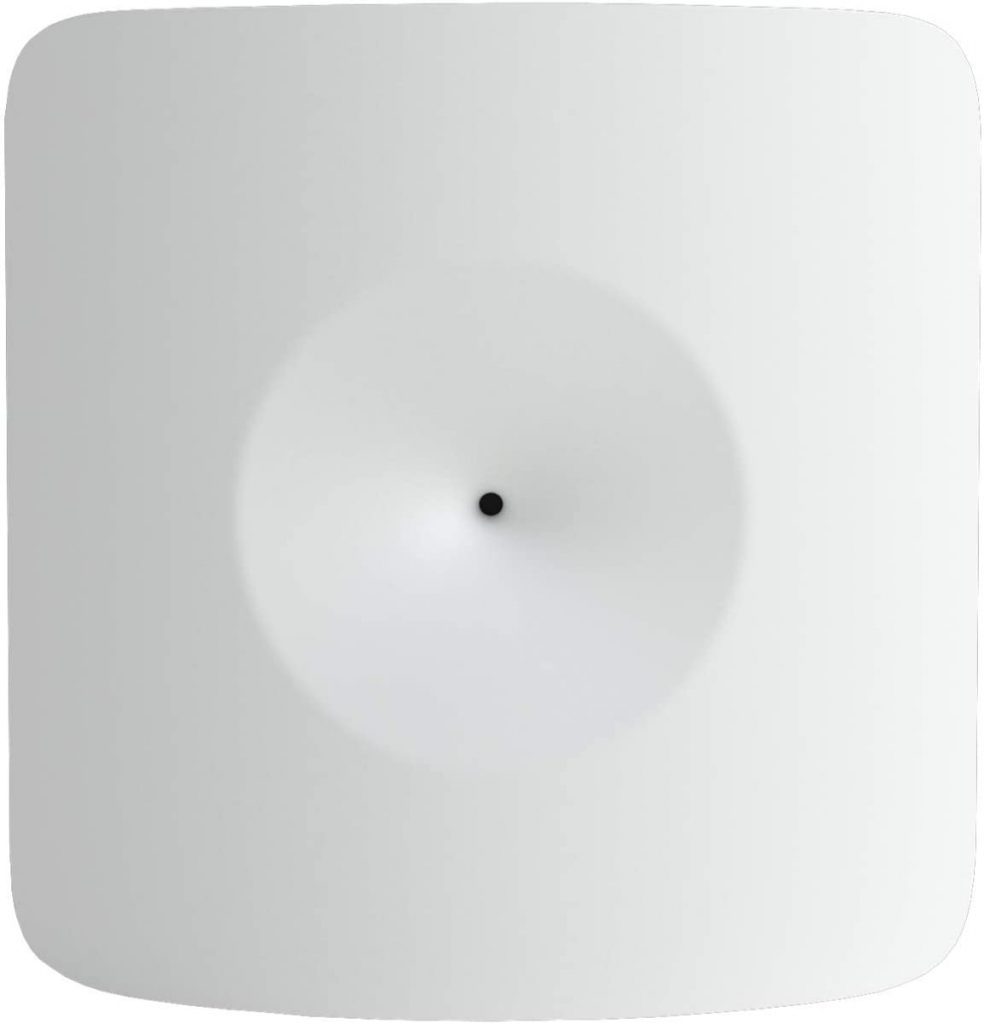 If you're looking to impart an impenetrable layer of security to your home, then the glass break detector from SimpliSafe is your best bet.
SimpliSafe is one of the best glass break sensors that has been designed and created with painstaking care.
Consequently, this wireless glass break detector can easily distinguish between a gentle tapping and a burglar trying to smash the window.
You can install this wireless security device straight away on your window or door as it comes with preinstalled adhesive and batteries.
Technical Specifications:
Very user-friendly; preinstalled with adhesive and batteries for using right away
Mounting plate and two screws included for stable installation
Companionable with SimpliSafe Home Security System
Receptive to sound in a 20ft radius
Designed innovatively to differentiate between gentle tapping and forceful smashing
Pros
Extremely versatile; companionable with different brands of home security systems, including SimpliSafe
SimpliSafe Home Security System can work in concert with a maximum of 100 sensors
Additional hardware (mounting plate and screws) supplied for steady set up
Can be installed directly onto the window
Cons
Many customers have reported that the device did not work when it was supposed to
Honeywell 5853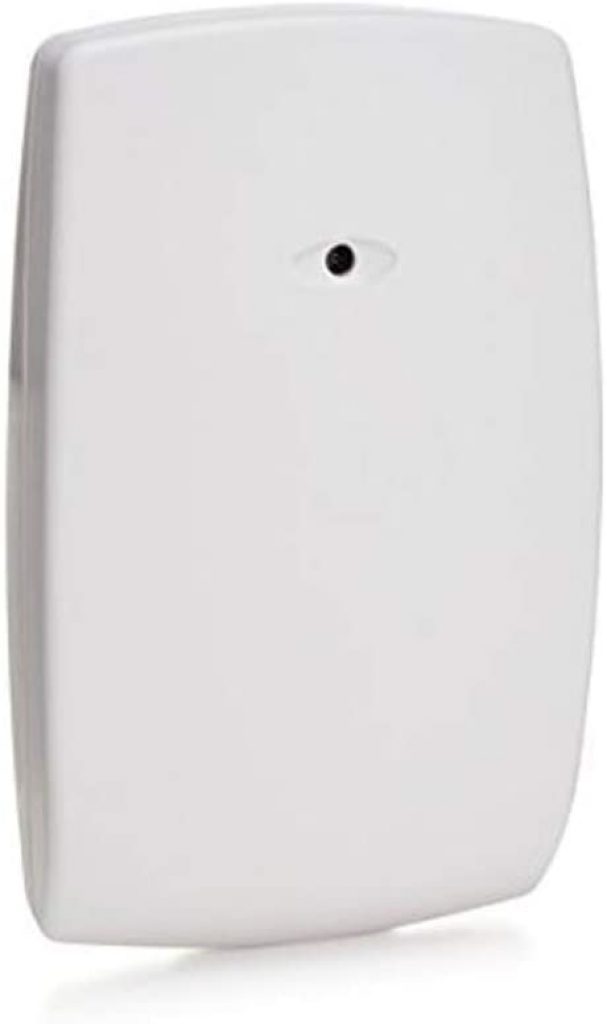 This Best Glass Break Detector (Wireless) from Honeywell is not only aesthetically appealing but very performance-oriented as well.
This wireless glass break sensor has been designed with meticulous care which makes it immune from emitting false alarms.
Giving off bogus alarms is negated, thanks to parallel (instead of sequential) processing of sound data.
The 5853 glass break detector from Honeywell features a FlexCore™ signal processor that processes sound frequency and amplitude extremely fast, thereby maximizing detection sensitivity and minimizing false alarms.
Technical Specifications:
Replaceable batteries
Extended battery life
Remote activation of test mode
Four distinct sensitivity settings
Trendy and tamperproof profile
Pros
Mountable on any ceiling or wall within a 25 feet range
Separate LED indicators for alarms and test mode
Can be set up with any 5800 Series wireless security system
FlexCore™ signal processor exploits ASIC technology for parallel processing of sound data
Faster sound data processing maximizes detection and minimizes chances of false alarms
Cons
May not be compatible with some brands of home security systems
CATSONIC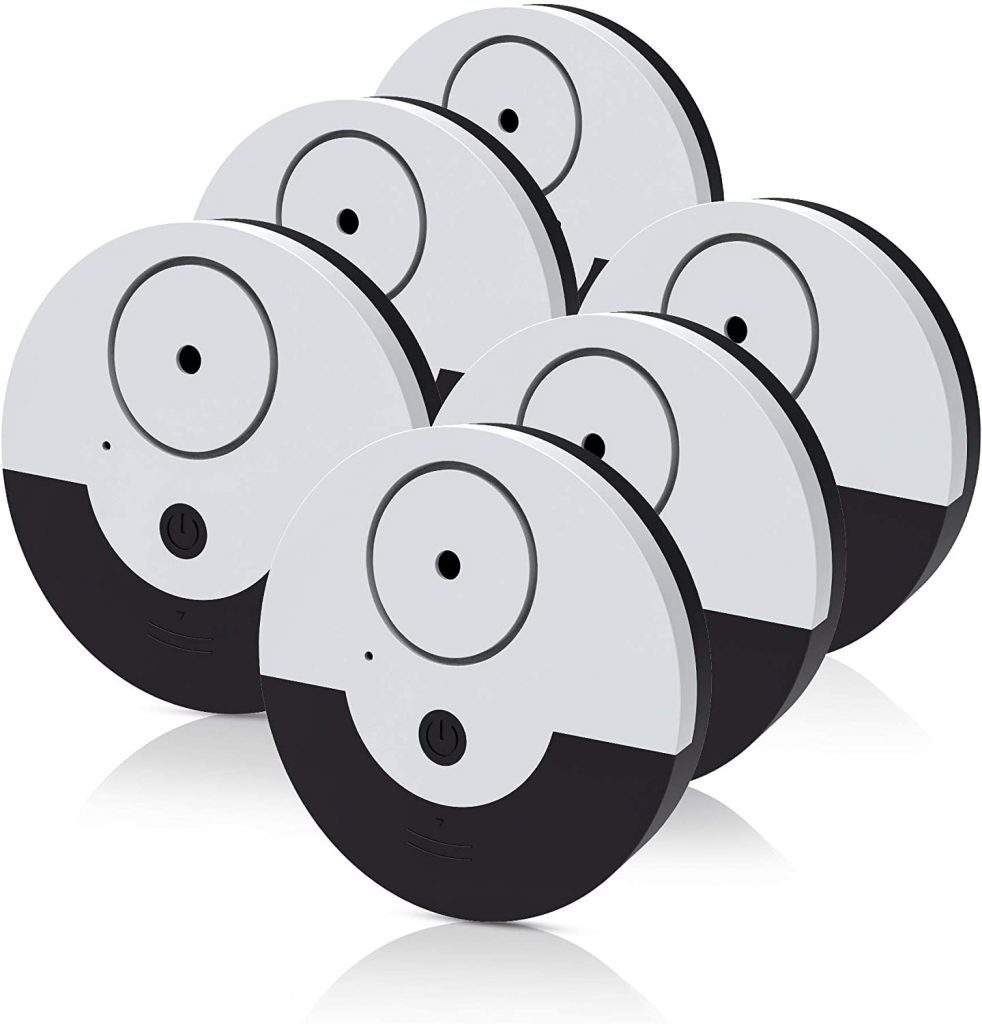 If you're looking for a wireless glass break detector that sounds the alarm every time somebody tries to break into, then look no further than CATSONIC.
The premium window alarm device set from CATSONIC comes equipped with a state-of-the-art vibration sensor capable of detecting the slightest impact or vibration on the glass window.
The 130dB siren implanted in this best glass break sensor will raise a loud alarm, compelling the intruder to stop in his tracks.
This is a very user-friendly wireless glass break detector as you can install it right out of the box.
Technical Specifications:
Instantly detects shock, impact, and vibration on window glass
Can be installed on any type of glass window in a jiffy
Comes preinstalled with a 130dB siren
Magnetic sensor extremely receptive to vibrations and shocks
30-day trial offer with cent per cent money-back guarantee
Pros
Alarm with a magnetic sensor that detects the slightest of tremors and taps
Magnetic sensor safeguards sliding windows and doors
Is ready to be installed and used almost immediately
130dB siren gives off a loud alarm, alerting everybody
Cons
The deafening noise of the alarm could disturb neighbors
Suggested Read: Ways to Secure Windows Without Security Bar
Interlogix Acoustic
The perfectly round Interlogix Acoustic Glass Break Detector has been designed and engineered to perform, keeping your home fully secure.
This wireless glass break detector is highly sensitive to vibrations and sounds resulting from glass being broken by burglars.
This device makes the most of 'Pattern Recognition Technology' for detecting the mildest signs of glass smashing and breaking.
Technical Specifications:
Test this best glass break sensor simply by clapping your hands
Can detect breaking glass patterns within a 25-foot radius (maximum 7.5m distance between glass and sensor)
360° coverage pattern
Senses the slightest vibration or sound of breaking glass
Pros
False alarm immunity or protection 25% more efficient than other comparable brands
Exploits Pattern Recognition Technology  for detecting breaking sound
Maximum detection range; 25-feet radius
Just clap hands for testing sensor effectiveness
Cons
You may need to set up wiring for putting this glass break sensor into operation
seaNpem – DIY kit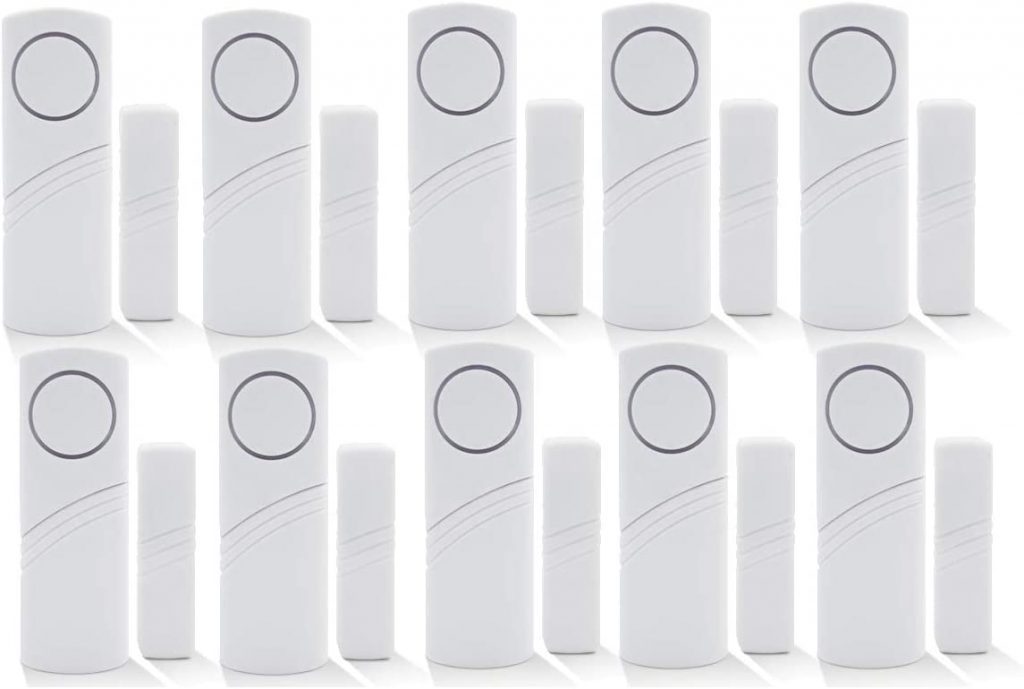 The wireless home security alarm system DIY kit from seaNpem is very advanced and performance-oriented, keeping your property and family fully safe.
You can take this wireless security system along with you during vacations and business trips as it is portable and compact.
The device features a magnetic sensor that automatically detects intrusion, smashing of glass and forced entry.
Adhesive tape on both sides lets you install this device effortlessly on doors and windows.
Technical Specifications:
Easy installation
Resistant to corrosion, high temperatures, and routine wear and tear
Eco-friendly
Impervious to insects and dustproof
Smooth mounting on windows and doors with attached adhesive
Pros
Magnetic sensor detects the subtlest of sounds and vibrations
Lightweight and compact; very portable
Withstands high temperatures, corrosion, wear, and tear
Cons
More suitable for windows than doors
Honeywell Intellisense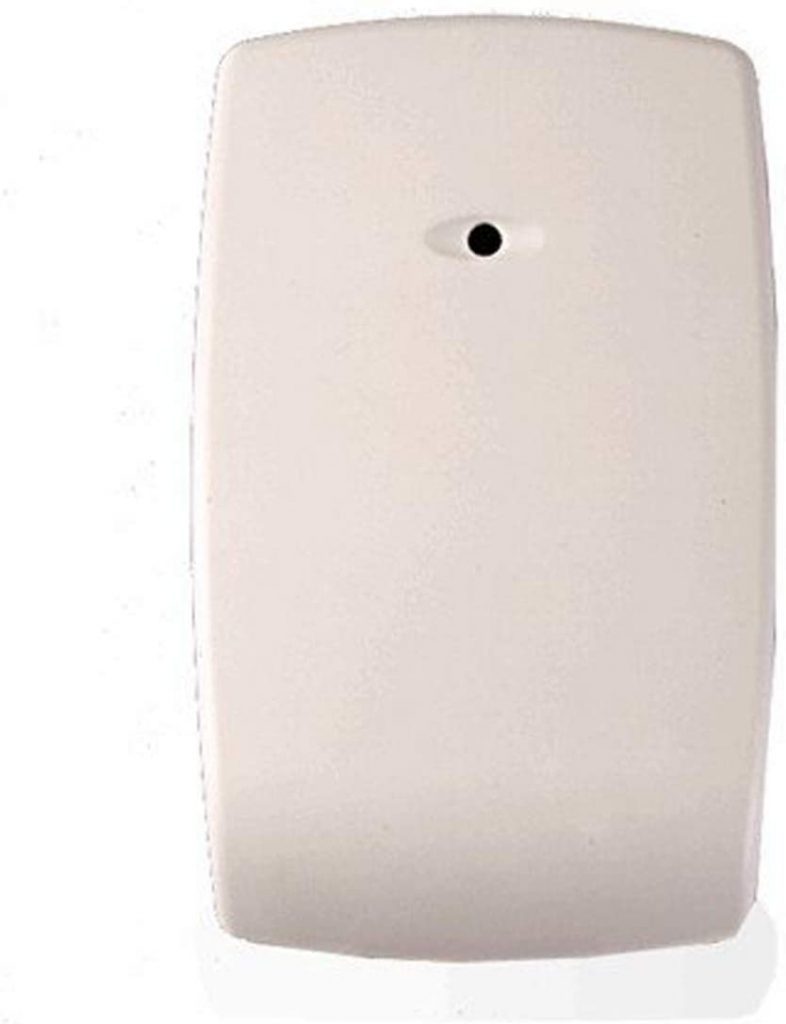 The Honeywell Intellisense FG-1625 Acoustic Glass Break Sensor from Ademco does the job of detecting vibrations and sounds of breaking glass with perfection.
This glass break sensor can be installed on any window or door having a glass panel. You have the option to choose and set the sensitivity level as per your convenience.
Technical Specifications:
Broad-spectrum application
Can be installed on any type of glass
Selectable sensitivity
FlexCore Signal Processor
Pros
Easy setup
The detector can be mounted anywhere
The sensitivity level can be selected as per one's specific needs
Built-in FlexCore Signal Processor
Cons
You may have to hire a professional for installing the unit
EverNary Window Alarm
This Window Glass Break Vibration Sensor Alarm from EverNary alerts you instantly of a break-in by sounding a loud 125db alarm.
It has an adjustable sensitivity system which will allow you to determine how sensitive you want the device to be. Its unique roller vibration sensitivity system also prevents the alarm from going off unnecessarily, such as in the case of rain or strong winds. The EverNary window alarm also has a low battery indicator to ensure you're not left in the dark if your device isn't working.
Technical Specifications:
Adjustable Vibration Sensitivity
Easy Installation: No complicated wiring
Low battery indicator
Loud alarm sound blares instantly, scaring away any intruders
Pros
Ability to adjust the sensitivity of the alarm which is helps negate false alarms
Loud alarm is able to scare off intruders
No fuss installation
Cons
Color of device might stick out quite abit despite it being a slim product
FAQs
Is the best glass break sensor effective?
The majority of homeowners who have used a glass break detector have reported that the device helped in discouraging intruders from attempting to break-in.
The sensors embedded inside the device are very sensitive even to the most subtle of sounds and vibrations. Additionally, dual sound verification mechanisms thwart false alarms.
What can trigger a glass break alarm?
An intruder or burglar trying to break or smash the glass pane of the window or door could trigger the sensor embedded inside the device.
Do I need a wireless glass break sensor on every window?
Whether you need to install a wireless glass break sensor on every window depends on two factors:-1) Range of sensitivity of the device 2) the room size.
That said motion detectors have a nearly similar range as glass break sensors. Most of the glass break detectors reviewed in this article will protect at least three windows from tampering and breaking.  
Can a dog's bark set off a glass break sensor?
Glass break detectors tend to be extremely sensitive and therefore can set off the alarm even by a very low noise decibel.
Hence, a dog's bark can easily activate the sensor of a glass break detector. To deal with this problem, you'll have to adjust the sensitivity of the device/sensor.
Conclusion
We can safely conclude that all the 8 best glass break detectors fulfill the basic conditions for being labeled as an effective home security system. If you have a big house or a mansion, you may need to install a couple or more of these glass break sensors. You'll find products with a wide range of prices.
So, regardless of whether you're looking for a high-end or an affordable unit that fulfills the basic job, you don't need to explore beyond this list.