The 10 Best Garage Door Opener In 2023
There are so many things to consider while buying a garage door opener with your lifestyle in mind. For example, it should have an instant response technology of superior range and clear opening and closing door indicators.
Also, you would definitely expect it to offer a smooth and quiet operation through a powerful DC motor. But is it really possible to select an ideal garage door opener keeping so many factors in mind?
Indeed it would be difficult but at least you could gain knowledge on its different varieties available in the market to narrow down your options
In this regard, let's start this article with one of the most common doubts that most often users face on their first purchase.
Which is Better? A Belt or Chain Garage Door Opener?
The belt drive garage door opener uses a rubber belt that slides through a trolley triggering the door to close or open. On the other hand, the second system makes use of a metal chain attached to a spring to lift and lower your door.
In terms of strength and durability, a chain door opener outsmarts a belt door opener system. The former have more strength to work with heavier doors for a prolonged period of time. However, when it comes to speed and noise, belt garage door openers are proven to have a faster, smoother, and noise-free.
Another factor to consider is the affordability of each alternative. In this case, chain operated openers would be a pocket-friendly option.
You can feel there is no straight forward answer to that question. It all depends on your requirements. Keeping this in mind, let's have a look at the top ten performers in the market to help you make a quick decision without understanding the buyers guide in total
Best Garage Door Openers In 2021
1. Chamberlain Group B1381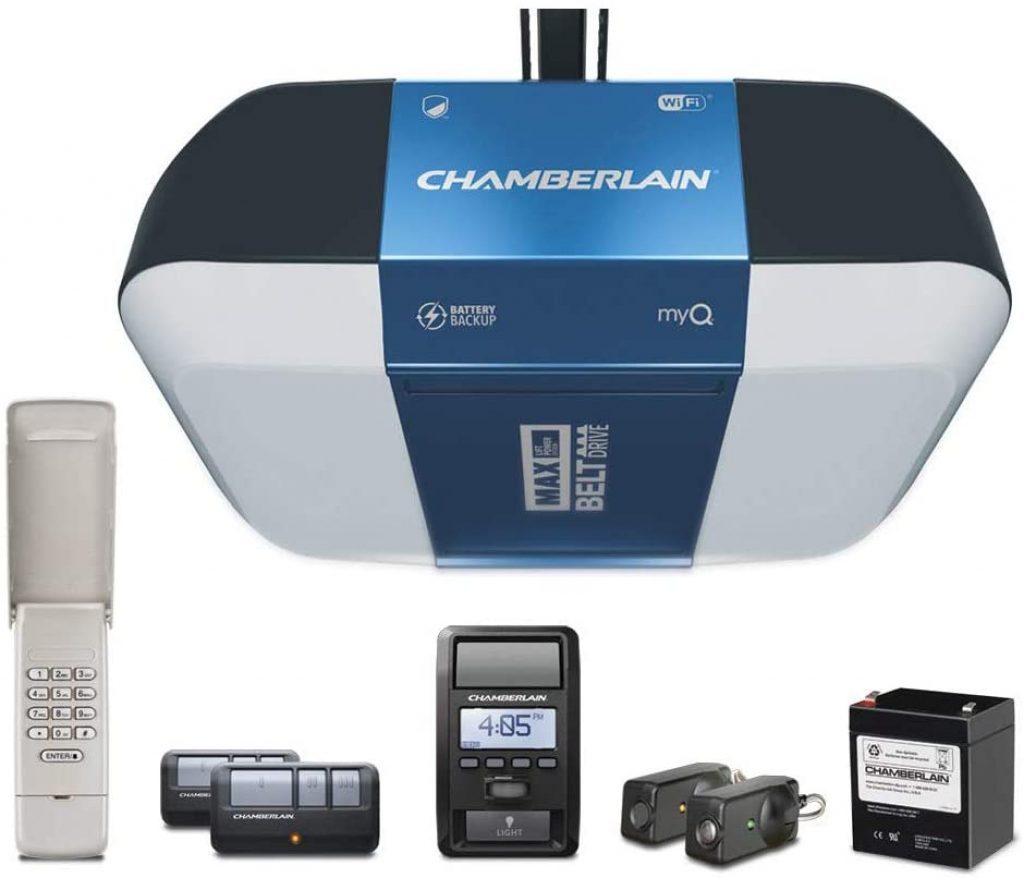 First on our list is the Chamberlain Group B1381 garage door opener that can be controlled from a smartphone application. With three 100-lumen LEDs, it flashes all corners of your garage while giving you an ultra-quiet operation.
With a 1.25 HP motor, the Chamberlain B1381 offers the highest lifting capacity. With an anti-vibration technology, it works well even under an excessive cold, heat, or humid environment.
You can remotely open and close the garage door with your smartphone through the myQ App. Through this app, you can securely invite up to three people to have control access, and receive real-time notifications when it's left open. If you have a room positioned above the garage, you can barely hear any sound with its ultra-quiet belt drive in action.
It also comes with safety sensors, which are easy to install. They will detect any obstructions, and before causing any damage, they will automatically reverse the garage door.
Compared to Workhorse BU100 Garage Door Opener, it's compatible with Google Assistant and Alexa for smart voice assistance.
Specifications
Max lift power: 1. 25 HPS | Voice Assistance: Google Assistant | Connectivity: Wifi | Sensor: 2 | Batteries: 1 Lithium Metal batteries | Installation Method: Hanging | Power Source: AC/DC
Pros
Easy wifi connection
No noise activity
Superior lighting
Internal battery backup
Cons
Difficult for Alexa Integration
2. Genie 3053- V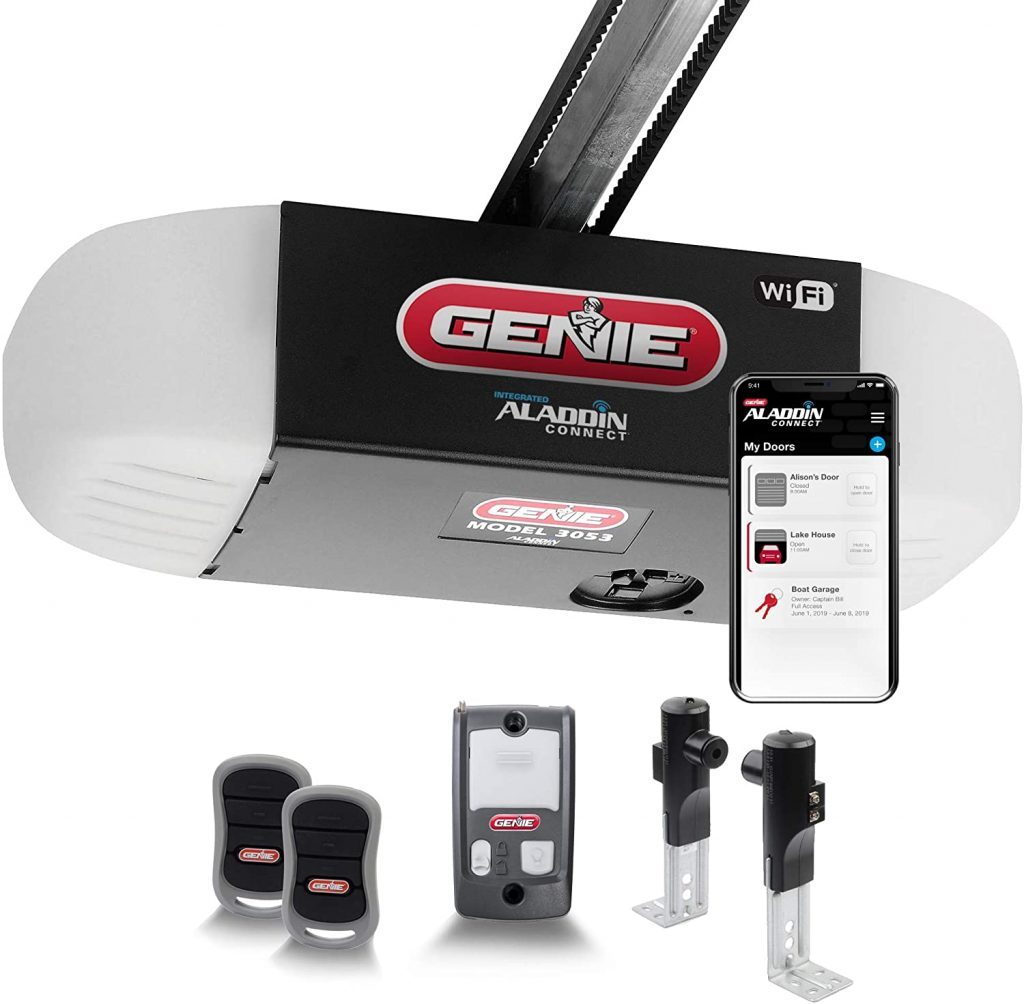 The Genie 3053- V is another smart garage door opener that works with Alexa and Google Assistant. You can control its operation through Genie's Aladdin Connect smartphone system. It is one of the highest-rated garage door openers that sets up virtual keys for individual users.
The integrated Intellicode rolling code technology keeps it secured from any unauthorized access.
You can set more than one admin profiles for its access through two pre-programmed 3-button opener remotes. With a wall control panel and a vacation lock, you can also add extra layers of security to your garage door opener.
For example, the Aladdin Connect application updates you when someone tries to manually operate your door in your absence so that you can take immediate action.
The sensors project an infrared light across the door opening that ensures your family's safety and prevents accidents. Also, you can access the history of opening and closing including dates and times from the application.
With a ½ HPC DC motor and a steel-reinforced belt, it can quietly lift a sectional garage door up to 7' tall.
Specifications
Max lift power: 1/2 HPC | Voice Assistance: Alexa & Google Assistant | Connectivity: WiFi | Sensor: 1 | Batteries: 2 CR2 batteries | Installation Method: Ceiling Mounted | Power Source: Battery
Pros
Good Battery Backup
Ultra Quiet in operation
Manages heavily insulated garage doors
Alexa and Google Assistant compatible
Cons
3. Chamberlain RJO20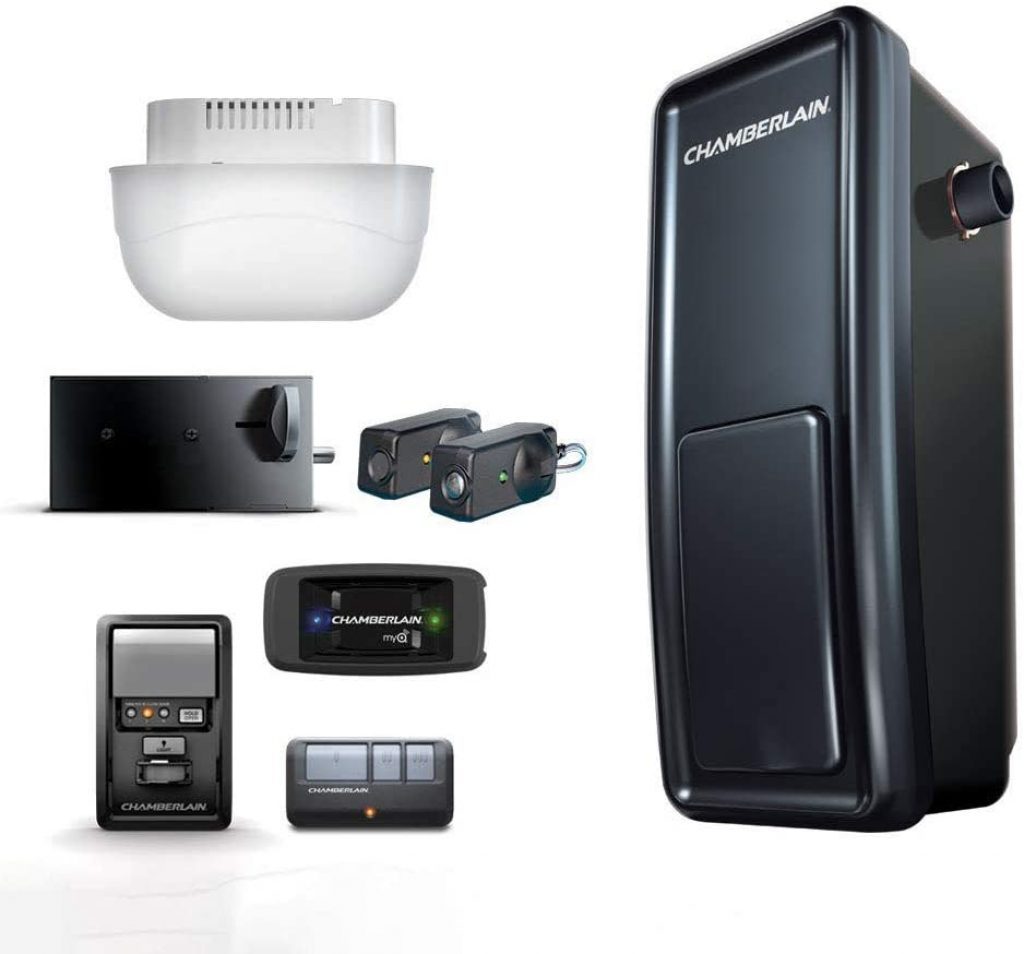 The Chamberlain RJO20 Direct-Drive is a wall-mounted garage door opener that conveniently fits in a tight space on either side of the garage door. This frees up your ceiling for extra storage or oversized vehicles. Just like some of the best garage door opener models, this is also myQ enabled to offer better convenience to the users just like this one.
myQ is a smart garage and access control application to control your garage door and home lighting from anywhere. The myQ smart garage technology works with Amazon In-garage delivery to protect your packages from unwanted thefts and weather damage. You get a status notification and set schedules for the delivery without any hassle.
The proprietary full-encryption technology prevents hacking so that you can be assured to use it on multiple devices. The Auto-Lock feature deadbolts the garage door for secure closure.
If you have an attached garage, this device is virtually silent and devoid of any noise or vibration. It provides superior wifi connectivity than Genie 3053- V door opener.
Specifications
Max lift power: | Voice Assistance: Google Assistant | Connectivity: WiFi| Sensors: 2| Batteries: 1 Lithium Metal | Installation Method: Mounted| Power Source: AC/DC
Pros
Secure encryption for the connection
Easy Installation
No noise or vibrations
Long-distance remote access
Cons
4. Chamberlain B970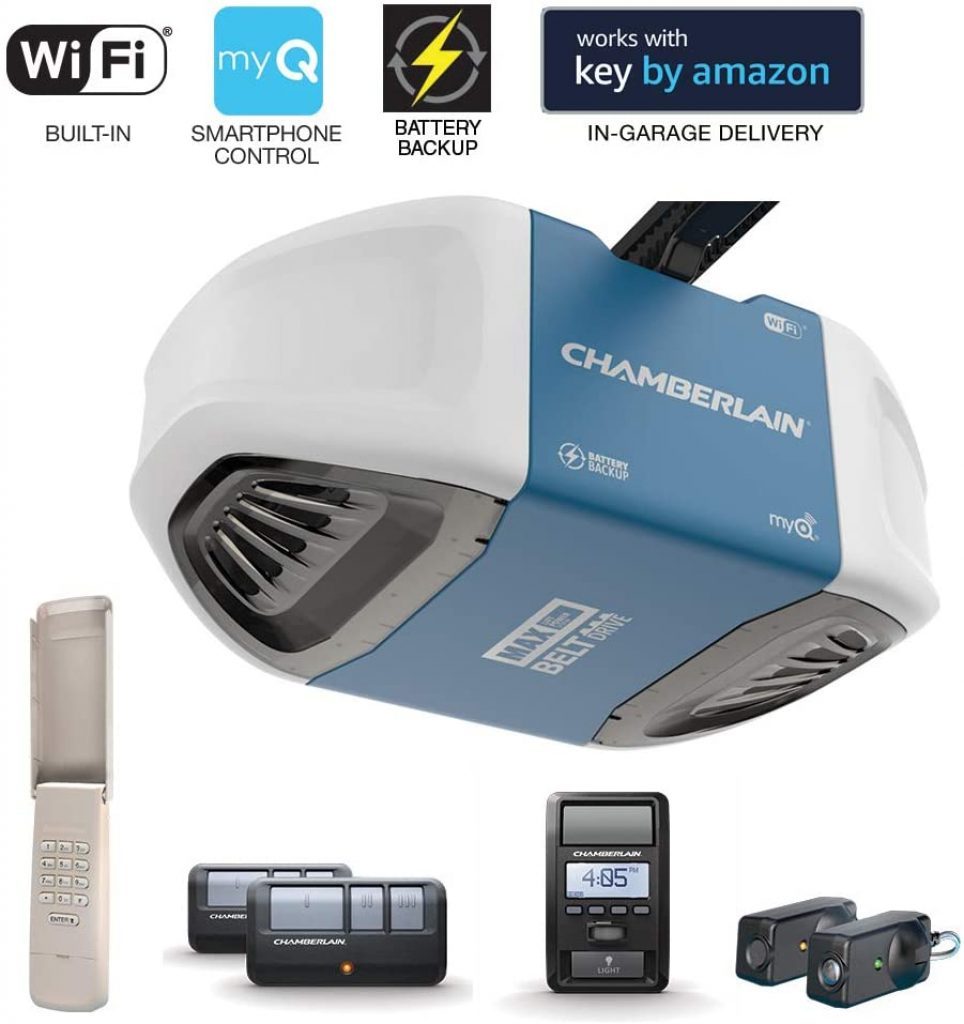 The Chamberlain B970's direct-drive system gives a vibration-free operation for rooms near the garage. The anti-vibration technology runs for years under extreme conditions without compromising on its smooth performance. Its reliability and noise cancellation attributes make it a perfect match for the attached garages.
The built-in wifi and the myQ App enables you to open, close, and get real-time alerts from anywhere. The device includes a wireless keypad, full-function wall control panel, and an enhanced Triband Wi-fi system for superior wifi range, less interference, and better performance.
A long battery backup keeps the unit working for hours when there is a power outage.
With Chamberlain, you get smart virtual protection with every remote click, which sends one out of 100 billion unique codes to your opener. It can be remotely accessed from a distance of 1,500 feet thus giving you a superior range over other garage door openers.
The installation is also very easy with its online video library, and knowledgeable tech support team.
Specifications
Max lift power: 1 1/4 HP | Voice Assistance: Google Assistant | Connectivity: WiFi| Sensors: 2 | Batteries: 2 Lithium Metal | Installation Method: Ceiling Mounted | Power Source: DC
Pros
Durable and strong belt drive
Withstands extreme conditions
Protection against hacking
Cons
Extension kits required for more massive doors
5. Genie MachForce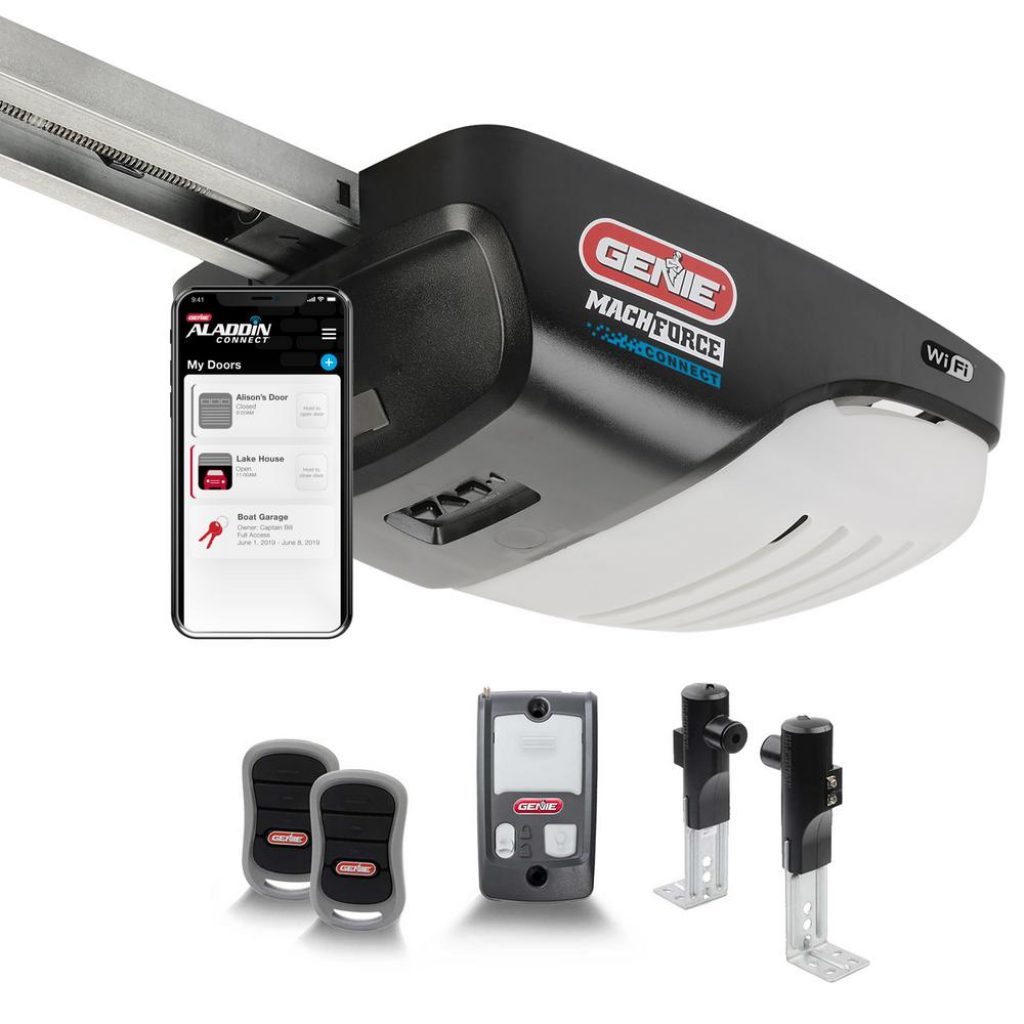 The Genie MachForce comes with smart GenieSense Monitoring and Diagnostic system and lifts 2X faster with its strong 140V DC motor. The exclusive Genie Premium Screw Drive technology makes the garage opener durable to lift heavy doors easily.
It is also regarded as the best smart garage door opener as you can install it with basic hand tools without any professional assistance.
The 2HPc 140V DC motor can swiftly lift the heaviest doors up to 7 feet height. As it is designed with a few moving parts, you get a quiet operation. The MachForce garage door opener comes with HomeLink and Car2U enabled for a hassle-free wireless operation- no additional hardware is required.
It is Alexa and Google Assistant compatible to carry forward your voice command. With Genie's Aladdin Connect, you can grant access to up to 20 users to access your garage when you are not home.
It's very handy when you have the guests coming or an urgent delivery that shouldn't be left outside. It immediately detects any unauthorized intrusion and sends you the signal.
Specifications
Max lift power: 2 HPc | Voice Assistance: Alexa & Google Assistant | Connectivity: WIFi | Sensors: 1 | Batteries: Genie's 140V GBB-BX | Installation Method: Ceiling Mounted | Power Source: Battery
Pros
Rolling code technology
Safety sensor
Smart Home enabled
Ceiling Mounting
Cons
6. Direct Drive 1042V004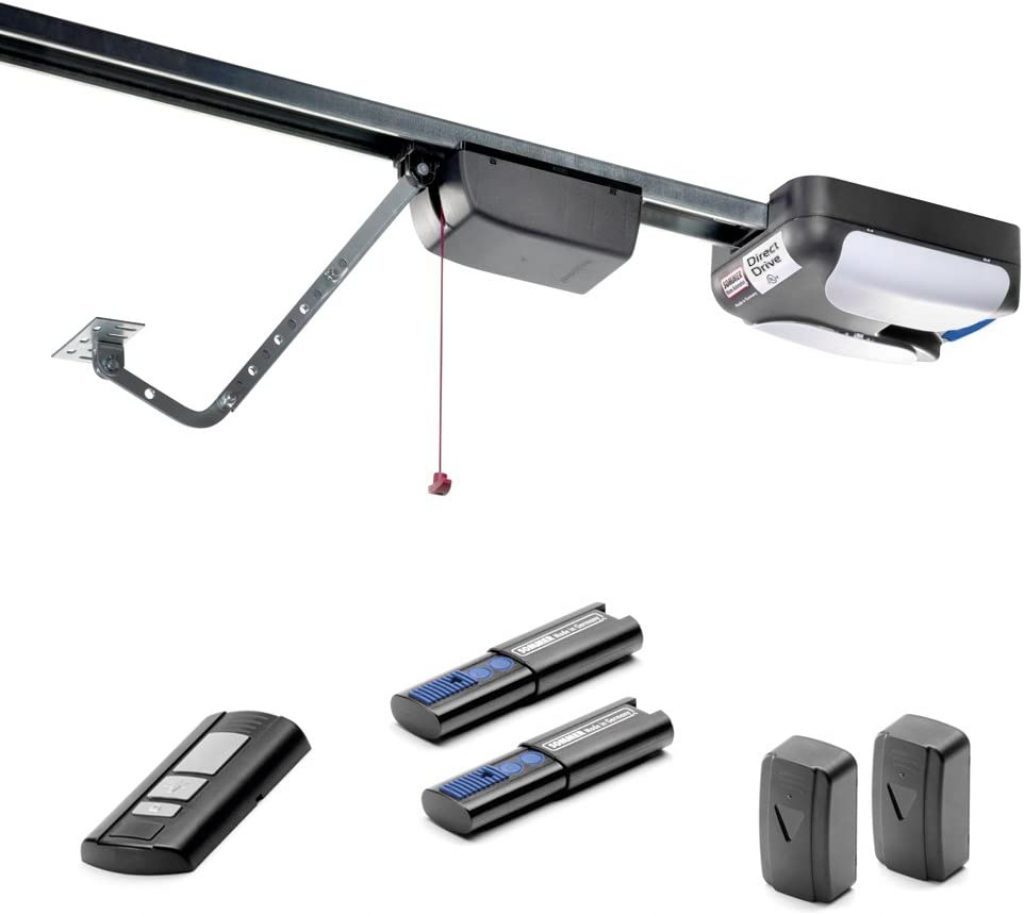 The Direct-Drive 1042V004 could be your ideal bet for managing large garage doors. It comes superior to standard garage door openers compatible only up to 7ft height maximum. Thus it saves your money that you would have invested on extenders to fit your openers.
Talking about its compatibility, this Direct Drive model can fit into larger doors up to 9ft without any hassle. Thus it is an extremely convenient purchase for many.
It operates quietly and is thus appropriate for garages with attached living spaces. The opener is easy to install just by following instructions from its manual.
The opener consists of one interior wall station to mount the device and two extra transmitters for added convenience.
It also has the Secure Rolling Code integrated to produce unique encrypted security codes for safe operations. The fastening bolts are replaced with a pressure plate to ensure easy lifting of massive doors with ease.
Taking into consideration its durability at the given price point, it is one of the best garage door opener systems recommended in this article.
Specifications
Max lift power: 3/4 HP | Voice Assistance: Alexa & Google Assistant | Connectivity: WiFi | Sensors: 2 | Batteries: 2 Lithium ion | Installation Method: Ceiling Mounted | Power Source: Corded-Electric
Pros
No Vibrations
HomeLink Compatible
Secure connectivity
Faster Response
Cons
7. Genie SilentMax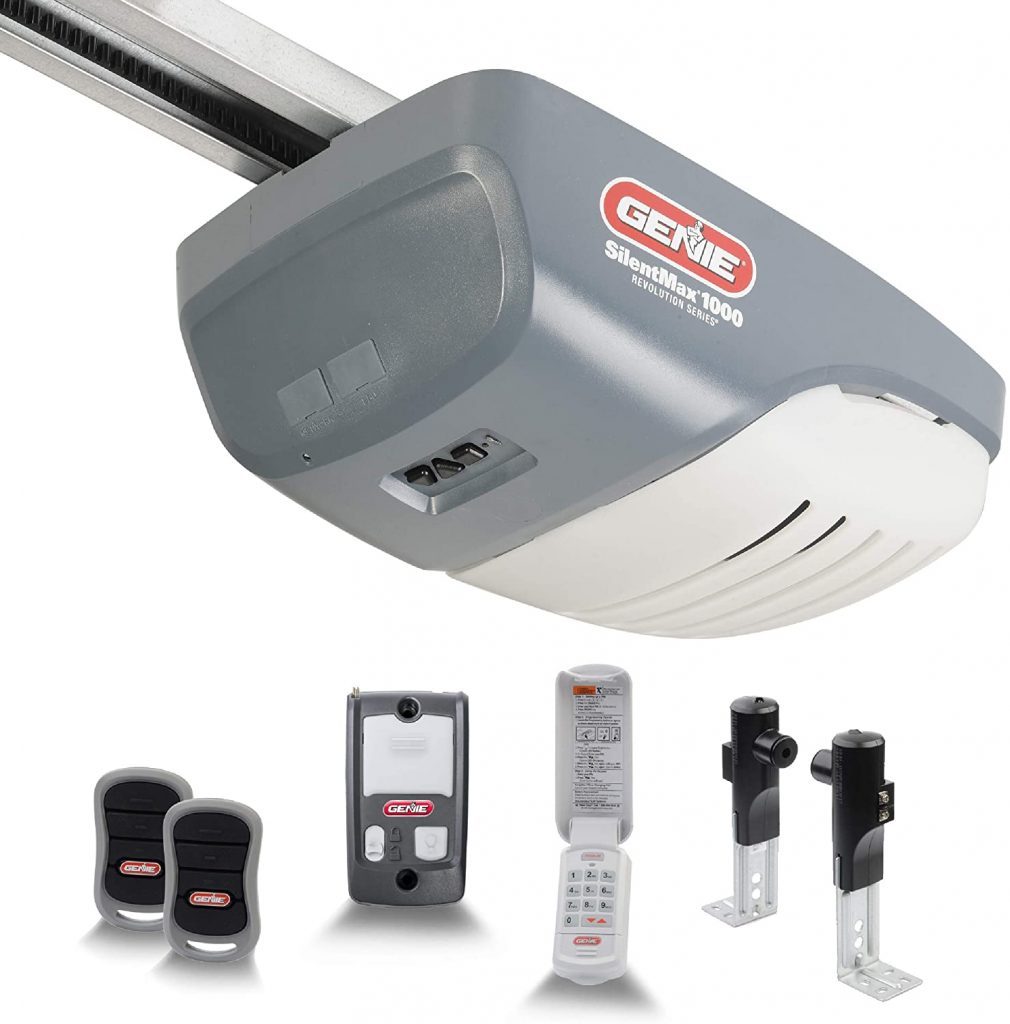 The Genie SilentMax should be in your wishlist if you are particularly looking for an automatic garage door opener with a silent work profile. The 140V DC motor inside is light in weight yet offers an ultra-quiet operation. Nobody would get disturbed when you return home late at night.
The DC motor offers a smooth start and stop operation compared to an AC motor of same capacity. It is powerful enough for any residential garage door with a fast opening speed up to 9 inches per second.
A unique part of the device is its infrared beam system to prevent accidents across the door opening. If the rays meet any object, it immediately rolls the door back for safety.
The built- in self-diagnostic system continuously checks the gadget for any malfunction. If there is any issue, it immediately sends you message to take necessary actions. For added security and convenience, the built-in motion detector automatically turns on the overhead light.
Also, you have Intellicode Security to prevent unauthorized entry. However, unlike LiftMaster 8500 Elite Series, this garage opener will demand yearly maintenance to ensure a smooth operation.
Specifications
Max lift power: 3/4 HPC | Voice Assistance: Amazon Alexa & Google Assistant | Connectivity: WiFi| Sensors: 1| Batteries: 4 CR2 batteries | Installation Method: Ceiling Mounted | Power Source: DC
Pros
Clean design
Flush Mounting
Easy assembly
Long Battery life
Cons
Frequent Main Control Board Replacement
8. SKYLINK Atoms ATR-1611C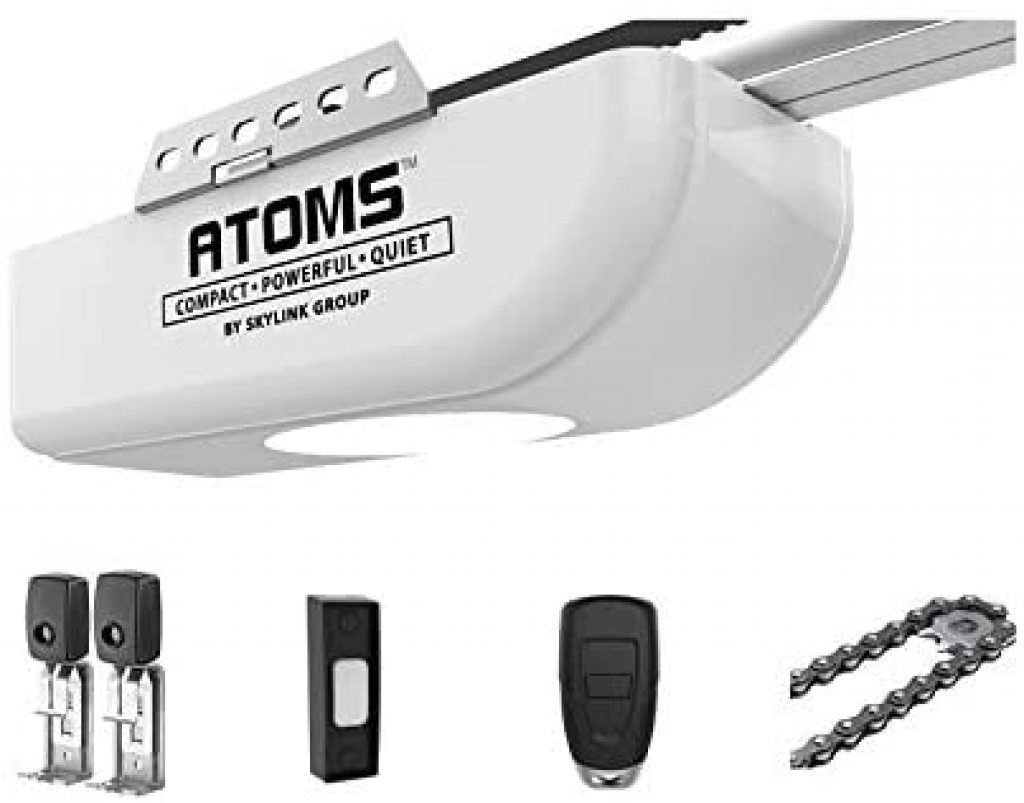 The Skyline ATR- 1611 has a powerful ½ HPF motor and yet it provides an extremely quiet operation. The garage door opener consists of a built-in 12W LED for long-lasting illumination.
It also provides a simple one-button remote and a chain drive system for smooth movement of the doors. Along with it, a standard 7ft sectional rail comes as ideal for almost any type of garage door. It also features soft-start and soft-stop functions to reduce wear and tear on the motor and on its rest mechanical parts.
The backup battery has built-in LEDs to keep the opener functional and illuminated during power cuts. You can also control it with your in-car garage door remote. The rolling code technology generates a unique code each time you turn it on.
As the codes generated are unique, there is no possibility of hacking into your garage with another remote even it is of the same brand.
Specifications
Max lift power: ½ HPF | Voice Assistance: No | Connectivity: Remote | Sensors: 1 | Batteries: No | Installation Method: Ceiling Mounted | Power Source: AC/DC
Pros
Safe Infrared Sensor
Secure encryption codes
Terrific battery backup
Cons
The opening can be jerky.
9. LiftMaster 8500 Elite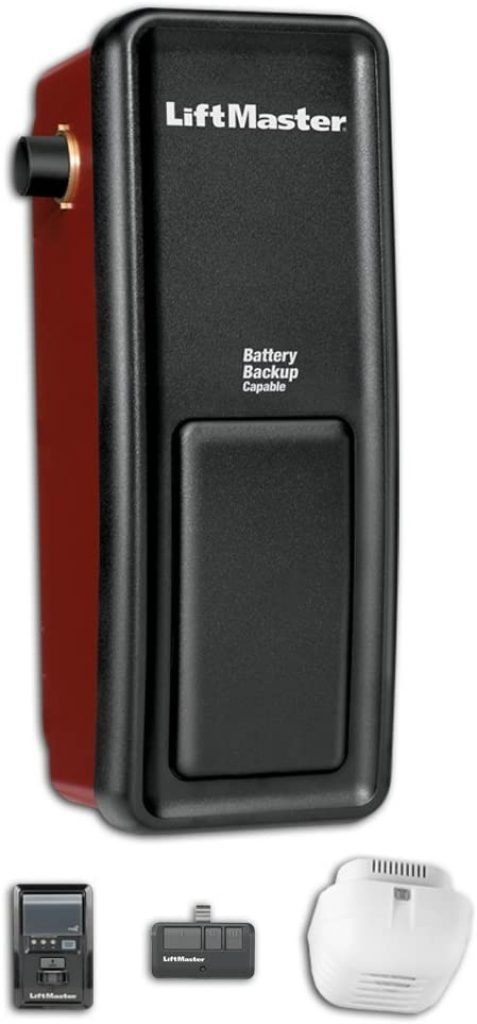 LiftMaster 8500 Elite has a space-saving design to mount on the wall beside your garage door without fully occupying your ceiling. With this jackshaft garage door opener, you don't make your garage crowded anymore.
This elite series model comes fully equipped with an advanced security features of myQ. When synchronized with your other home security systems, it doesn't let their safety protocols get compromised ever.
A reliable, durable, and powerful performance comes guaranteed with its powerful motor. This extends not only its longevity but also productivity. It operates ultra-quiet by eliminating sound and vibrations through the ceiling.
So if you have a garage right under your bedroom, rest assured of undisturbed sleep while it is in action.
The Lift Master is an excellent choice for heavy garage doors used for protecting large vehicles.
However, it may not be compatible with roll-up doors and low headroom track. Nevertheless, it offers almost the same features as Genie models do but at a higher price point.
Specifications
Max lift power: | Voice Assistance: No | Connectivity: App| Sensors: 1 | Batteries: No | Installation Method: Wall Mount | Power Source: 24V DC
Pros
Durable and long battery life
Advanced security
Minimal noise disturbance
Cons
Needs a front mount torsion bar system
10. Beam UP-BU100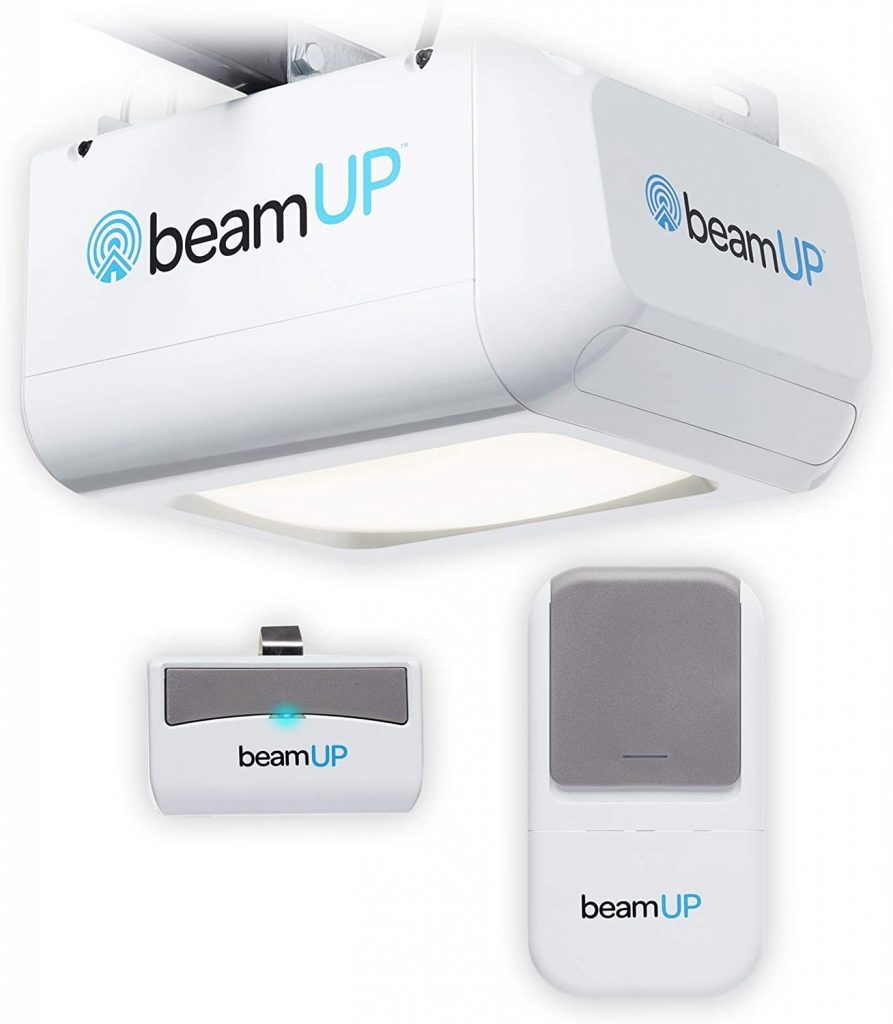 The Workhorse BU100 Garage Door Opener is universal and can go either with an 8'x7′ single door or with a 16'x7′ double door. Irrespective of their weight, it lifts them up without making any noise. The best thing about this electric garage door opener is that it can be installed without requiring any specific tool.
The box comes with an easy step–by–step installation manual. If you want it quicker, spend some extra to take their on-call assistance or install it all by yourself by accessing their online video tutorials from their website.
The Workhorse motor is powerful enough to open any typical 7′ tall garage door. The ¾ Horsepower equivalent DC motor assures you of long term performance and safety.
Its high-grade reinforced steel chain gives a consistent performance- day in, day out. Lastly, the integrated 1500 lumen LED lighting system ensures that you don't have to change a bulb ever.
Specifications
Max lift power: ¾ HP | Voice Assistance: Alexa | Connectivity: Wifi | Sensors: 1 | Batteries: 1 Lithium Metal | Installation Method: Ceiling Mounted | Power Source: DC
Pros
Emergency release handle
Secure safety system
Works with Alexa and Google
No Annual subscription
Cons
Who makes the best garage door opener?
With the global market for garage door openers increasing each year, it would be unfair to name any single manufacturer as each brand outsmarts its competitors in some way or another. Manufacturers like Genie, Skylink, Chamberlain, and a few others make good quality garage door openers. 
However, before zeroing on any particular brand, consider its ease of operation, strength, durability, speed, safety, and noise cancellation to match with your desired criteria. Go through its specification charts to ensure it has features like an external keypad, object proximity sensor, and sensor-activated lighting system for more convenience.
How many years can you expect a garage door opener to last?
A typical warranty offered by some of the best garage door opener manufacturers could go maximum up to three years. But those numbers simply don't indicate their time for a replacement. Garage door openers operate on simple mechanisms and thus could last up to 10-15 years provided you give them periodic maintenance once in a year.
Their lifespan depends on factors such as door quality, the materials used, maintenance offered, climatic conditions, and the frequency of usage. On the higher note, the torsion and extension springs are also responsible but on a minor level.
For example, a standard spring is designed to perform up to 10,000 cycles (1 cycle= one-time opening and closing of the door). So, if you know the type of springs used, you can make a rough estimation of your opener's lifespan.
How much should it cost to have a garage door opener installed?
It varies with their types and place of installation. The brand, model, power, and type of the garage door opener play important roles in the installation charges. However, the average cost of installation would be anywhere from $127 to $199. Read this for more details.
Conclusion
Irrespective of the garage door opener you choose, if you are going for a DIY installation, make sure it is a properly balanced one in order to avoid severe injury. Else, call a qualified service person to do the job for you. Do let us know how you like this article. We would love to hear your appreciation for our team effort. Cheers!