The 12 Best Floodlight Security Cameras In 2023
Are you planning to install a home surveillance camera so that you can deter burglars or keep an eye on your kids or pets? Whichever the case, there are lots of surveillance cameras available for you, with one of the best choices being the floodlight security cameras.
As the name suggests, these cameras integrate a floodlight and security camera in one product.
Home security lights and cameras capture every activity that occurs so that you can view it remotely from the connected device. On the other hand, the floodlight illuminates when motion is detected to help you scare intruders.
Not only that, but these best flood lights with motion sensors also offer a two-way talk function so that you can talk back to guests or scare intruders remotely.
Given the numerous options available for you while looking for a floodlight security camera, selecting the best model isn't easy.
That said, we compared different security cameras and settled for 12 best floodlight cameras in 2023. The reviewed products can deliver high-quality images/videos, offer room for you to save the captured videos, withstand outdoor elements, and send you motion-activated alerts.If you're ready to learn more, read on and buy any of the products in this floodlight camera review so that you can secure your property and attend to guests easily.
BEST FLOODLIGHT SECURITY CAMERAS
1. Ring Floodlight Camera
Are you looking forward to upgrading your security camera? If so, you can replace your old security camera with the Ring Floodlight Camera. This is a motion-activated camera that connects to Alexa. Once motion is detected, it sends alerts to your tablet, phone, and PC enabling you to act on time from anywhere.
The Ring flood light with camera also comes with a built-in microphone and speaker that makes it possible to talk to visitors from your mobile device, which means that you do not have to be at home for you to attend to visitors.
Convenient to use, this Ring outdoor Wi-Fi cam with 3D motion activated floodlight allows you to add a Ring Protect Basic Plan for $3/month. This feature allows you to record all videos and review the activities you missed for up to 60 days or share videos with other people. You can even save more with an annual purchase of the Basic Plan, which costs $30/year.
Apart from that, the camera supports a high 1080p HD resolution and high dynamic range (HDR) with infrared night vision to help you view high-quality images and better use the camera to protect your home at night without the worry of low-quality pictures in low-light conditions.
With an included lifetime theft protection, Ring can replace your stolen camera for free, making it one of the most convenient and reliable smart flood lights on the market. In all honesty, it can be regarded as the most powerful floodlight in the market.What's more? The smart floodlight camera includes two motion-activated ultra-bright floodlights and the signature Ring floodlight camera siren. The floodlights shine the lights on blind spots while you can activate the sound of the siren after suspicious activities using your PC, phone, or tablet. It also comes with a horizontal mount floodlight feature, allowing you to enjoy a 140° field of view.
How Bright Is The Ring Floodlight Camera?
The Ring Floodlight Camera boasts two bright lights that each give off around 2000 lumens of brightness. This allows them to illuminate the important areas in your home. It keeps your property secure day or night, no matter the weather.
Technical Specs
Image quality resolution: 1080HD
Motion-activated alerts: Yes
Field of View: 140° horizontal, 80° vertical
Operating Conditions: -22°F to 120°F (-30°C to 48.5°C).
Floodlight brightness: 2000 Lumens
Highlighted features
A remotely activated siren allows you to scare suspicious people.
Two-way talk with noise cancellation for crisp and clear communication.
Advanced motion detection allows for easy customization to focus on essential areas of the yard.
Pros
Easy to set up using the included installation tools, mounting bracket, user manual, and screws.
The camera delivers clear and sharp images.
It offers a wide angle-of-view.
Cons
No timer to reactivate the motion detection after turning it off.
Lack of a means to turn the lights on and off using Alexa.
No volume adjustment for the speaker.
Does Ring Offer Environmentally-Friendlier Alternatives?
Yes! The Ring Solar Floodlight comes with a solar floodlight camera, designed to shine up to 1200 lumens when motion is detected.
It's also the top choice for motion sensor light with a camera for outdoor areas, perfect for your backyard, front yard, and driveways for an extra layer of protection. You can also enjoy smart features like personalization and mobile notifications, as it's connected to Ring Bridge, Echo, and Echo Show 10.
More importantly, you can also connect it with your other Ring devices—including your existing Ring floodlight camera.
2. Swann
The Swann Floodlight Security Camera system is the ultimate deterrent for ensuring that your property doesn't become an easy target for burglars and other threats. Designed to protect your property during the day and night, this security light with built-in camera and recorder features an adjustable super-bright 2500-lumens floodlight and a color night vision up to 100feet, making it easy to identify people, and cars at any hour.
The camera also adopts a 125-degree viewing angle. This means that it can cover much of its surroundings so that you can never miss a thing.
For those building a comprehensive home security system, you'll be delighted to know that the Swann floodlight camera is compatible with Alexa. It connects with Alexa-enabled smart devices to help you control it remotely.
What makes this even better is that it's also compatible with Chromecast and Google Assistant. At the same time, you can also use the Swann app to view live video and receive push notifications. All in all, we can say that it's one of the best smart floodlights on the market.
Bear in mind that the Swann Floodlight Security Camera adopts a heat-sensing technology that enables it to detect warm objects like cars and people, and trigger recording and push notifications so that you can act fast to prevent unwanted activity.
Additionally, the camera adopts a loud siren that turns on automatically, or manually via the App. This allows you to scare intruders away without the need of being at home.
With a 2-way talk feature, you can talk to guests remotely and scare intruders easily. Besides, the camera's video clips can be saved to the local memory for seven days and secure cloud for two days for easy access when video evidence is required.
Technical specs
Image quality resolution: 1080p HD
Motion-activated alerts: Yes
Field of View: 125°
Night vision: 100 feet
Floodlight brightness: 2500 lumens
Highlighted features
The loud siren triggers automatically but also provides room to turn it manually via an App.
1080P Full HD video allows you to view license plates and intruders' faces easily.
High-quality and durable body withstands all-year-round elements.
Pros
The camera security light sends reliable notifications with fewer false triggers.
It supports 2-way communication using the App.
Easy to mount using the included mount objects.
Dimmable floodlight lights.
Cons
No option to create custom motion zones for the light or camera.
No PC interface for setup or video review
3. Kuna (Previously known as Maximus)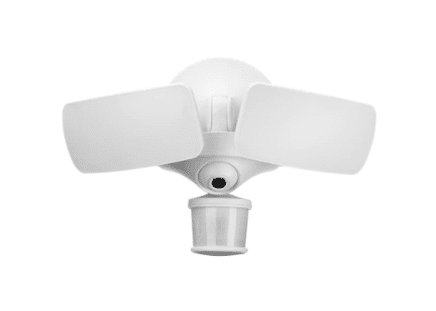 Outsmart crime and protect property that matters using The Kuna Floodlight Camera. Previously known as Maximus, the Kuna floodlight is a 1080p color HD camera that allows for easy identification of peoples' faces and vehicle license plates. The Kuna flood light is one of the most reliable wired flood light out there.
This wired floodlight cam is UL wet compliant certified for safety and reliability. This means you can safely use this camera outdoors without worrying about it getting damaged by rain. Being easy to install, this camera floodlight only requires 15 minutes of your time, and it also excludes the need for additional wiring or batteries.
Also, the camera can be installed on the wall or the eave—a measure aimed to guarantee fast and easy installation.
Equipped with Bluetooth 4.0, this best smart outdoor security camera is easy to set up with iOS and Android devices.
After connection, it allows you to receive visitor notifications so that you can speak to them and record or review visits from anywhere. Furthermore, it works with Alexa and Google Assistant for easy remote operation. With the Maximus camera floodlight, 1080p HD camera w/siren alarm and smart motion detection, you can also set your areas of interest, making it possible to get notifications about the places you care about.
Technical specs
Image quality resolution: 1080p HD
Motion-activated alerts: Yes
Field of View: 155°
Floodlight brightness: 2400 lumens
Siren sound rating: 155dB
Highlighted features
Dimmable LED panels distribute light evenly at night
Built-in speaker and microphone allow support a 2-way talk function.
Person/vehicle detection eliminate triggers for false alarms.
Pros
Ability to share the camera with friends and family.
You can watch recordings for the past 2 hours for free.
The camera allows you to live-view videos using your connected device anywhere and anytime.
The lights and sensors are easy to adjust.
Cons
The camera loses its Wifi connection at times.
No night vision.
4. Lorex Floodlight Camera
If you're looking for the best Lorex floodlight camera review, we've created this section for you.
The Lorex Dual Floodlight Camera is designed with Motion Detection technology, so when someone or something is detected within the range, expect your camera to record. Moreover, with the LED security light and a functioning camera, the bright LED lights will activate, thereby illuminating the source of motion and capturing it for a clear view. Since this camera is designed as a wireless floodlight, it's easy to set up.
Its notify feature also ensures that you know when to spring into action, sent through the Lorex Home app installed on your phone. The very same app allows you to speak and hear anyone on your property, as the camera comes equipped with a mic and speaker.
It is also highly compatible with your smart home. You can use it with both Amazon Alexa and Google Assistant. It is truly one of the best flood lights for your home.
Technical specs
Image quality resolution: 1080P
Motion-activated alerts: Yes
Field of View: 137°
Floodlight brightness: 4000 Lumens
Siren sound rating: N/A, but comes with a siren
Highlighted features
Built-in speaker and microphone allow support a 2-way talk function.
Motion activated detecting system automatically turns both the camera and the LED lights on.
Pros
Intuitive control through the Lorex Home app
Clear insNo monthly fees for storage use
The camera is weatherproof
Cons
You cannot replace the LED bulbs.
5. Sengled Floodlight Camera
Protect your home or business from burglary using Sengled Floodlight Camera. Designed to pair up with different devices and work with the Sengled Snap App, it allows you to view real-time videos and is a reliable night vision floodlight camera.
Apart from this special feature, the camera supports the two-way audio feature that not devices offer. It includes a built-in mic and speaker so that you can see, speak, and listen to your visitors from a connected phone or Tablet.
This motion-activated light camera allows you see everything 24/7, the camera adopts a 140° wide viewing angle plus an infrared color night vision for explicit videos in the dark.
What's more, it offers motion-activated alerts. Specifically, this outdoor motion sensor light camera can send real-time messages to the connected devices after detecting unusual movements on the property so that you can act promptly.
Sengled Floodlight Camera includes a 360° rotating head & lamp holder. Because of this, it is one of the best outdoor spotlight cameras that ensure quick and convenient installation.If your area suddenly loses electricity or connection, you don't have to worry about losing access to the flood light security camera. This also features enhanced wireless antennas, bringing you a more stable connection because of the enhanced Wifi signal.
Technical specs
Image quality resolution: 1080p HD
Motion-activated alerts: Yes
Field of View: 140°
Night vision: Yes
Highlighted features
PIR sensor for accurate motion detection and fewer false alarms.
Bright and dimmable floodlights detect motion within 30 feet.
LED light remote control allows for easy adjustment of the brightness.
Infrared night vision allows you to view videos clearly during the night.
Pros
Easy to set up without the need for wires and cords.
Ability to schedule when the switch will turn on or off.
The camera displays crystal clear images.
Cons
6. Kuna Porch (Previously known as Maximus)
If you're looking for an affordable way to monitor your home from any location, installing the Kuna Video Security Camera is your best option.
This video floodlight detects the movement at your door and sends alerts to a connected iOS or Android device so that you can take the necessary action.
Among the responses you can make while using the security camera is scaring strangers using the 100+dB siren or driving them away with pre-recorded deterrent messages.
You can also take advantage of the two-way intercom feature of this camera flood light. This feature allows you to see and talk to visitors standing by the door via the connected device.
Another benefit of this security camera floodlight is smart light control. The light illuminates the compound for better vision at night.
The camera also includes a 1080P wide-angle camera that can help you view high-quality images during the day and night.
The security flood light with camera works with Amazon Alexa for easy control of Kuna-powered smart lights.
You can also trust that this device is easy to install, thanks to the 15-minutes easy installation design that doesn't require you to purchase separate batteries during installation.
The free 2-hour look-back feature is another addition that allows you to download every event for two hours or up to 30 days using the premium plan.
Technical Specs
Image quality resolution: 1080P HD
Motion-activated alerts: Yes
Siren sound rating: 115 dB
Highlighted Features
Voice control with Alexa guarantees easy operation.
A two-way intercom allows you to hear and talk to people at any time.
HD live video allows you to see the situation of your home during the day and night.
Pros
Easy to install.
Nice sound effects.
Kuna app pairs up to the camera easily.
Easy to sync with Alexa.
Cons
Limited instructions.
The light is not bright enough for the night vision.
7. Blink Outdoor Floodlight Camera (3rd Gen)
Keep an eye on what that matters to you during the day and night using the Blink Outdoor 3rd Gen Floodlight Camera!
Coming with a 1080P high resolution, this outdoor security camera floodlight captures sharp and crisp images for a crystal-clear HD live video.
What's more, it provides true colors during the day and offers Infrared Night Vision in the night for comprehensive home monitoring 24/7.
The outdoor smart flood lights can automatically switch to the night vision when it gets dark outside.
With an IP65 waterproof rating, the camera withstands the heat, rain, and snow, making it suitable for indoor and outdoor use. Plus, it works while connected to the 2.4GHz wifi or hardline Ethernet.
Blink 3rd Gen Floodlight Camera is a motion-activated floodlight Security Surveillance Camera. It can send smart notifications with App alerts via a connected iOS, Amazon or Android device for you to act timely.
The motion detection features of these outdoor lights with security cameras also allow you to customize the detection plan and zone for the perfect protection of the property that matters the most.
With a convenient full-duplex two-way audio communication thanks to the built-in microphone and speaker, you can also see, listen, and speak with your family or visitors!
Technical specs
Image quality resolution: 1080p HD
Motion-activated alerts: Yes
Field of View: 110°
Night vision: 30 feet
Operating Conditions: -4°F to 113°F (-20°C to 45°C).
Highlighted features
Able to adjust brightness of light

Versatile storage means that you can use the in app Cloud storage, locally via the included Blink Sync Module 2 or even an external USB Flash Drive

IP65 waterproof rating enables the camera to resist the rain, heat, and dust.
Pros
The camera is easy to set up.
Videos and pictures are encrypted to enhance your privacy.
The camera allows you to access live video wherever you are using the app.
Cons
USB Flash Drive not included.
8. LIZVIE Floodlight Camera
Whether you want to replace old light bulbs or security cameras, you can expect this Floodlight Camera by LIZVIE to serve the purpose of a security camera and an outdoor light simultaneously.
This motion sensor light camera features a 120° Wide-angle PIR infrared body sensor. The sensor can detect a body moving towards it from 12 meters and turn the light on automatically for a clear view of the body.
What's more, it offers a 3-level motion detection sensibility with 64 motion detection zones. You can customize these zones via the app, a measure aimed at reducing the chances of false alerts. This is a wonderful feature to have in security lights with cameras.Coming with a 60ft night vision capability, this ​​flood light video camera is an excellent choice to use during the night.
Technical Specs
Field of View: 140°
Night vision: 60feet
Weatherproof rating: IP55
Highlighted Features
Two-way audio supports one-on-one conversations with guests or family members.
The siren alarm can easily sound to scare intruders.
The camera supports Cloud-based video surveillance recording using iOS and Android devices.
Pros
Clear night vision.
Loud alarm and audible audio.
The motion sensor's sensitivity can be set to high, medium, or low.
The camera sounds an automatic alarm after detecting a stranger
Cons
The camera is not compatible with Alexa.
9. Home Zone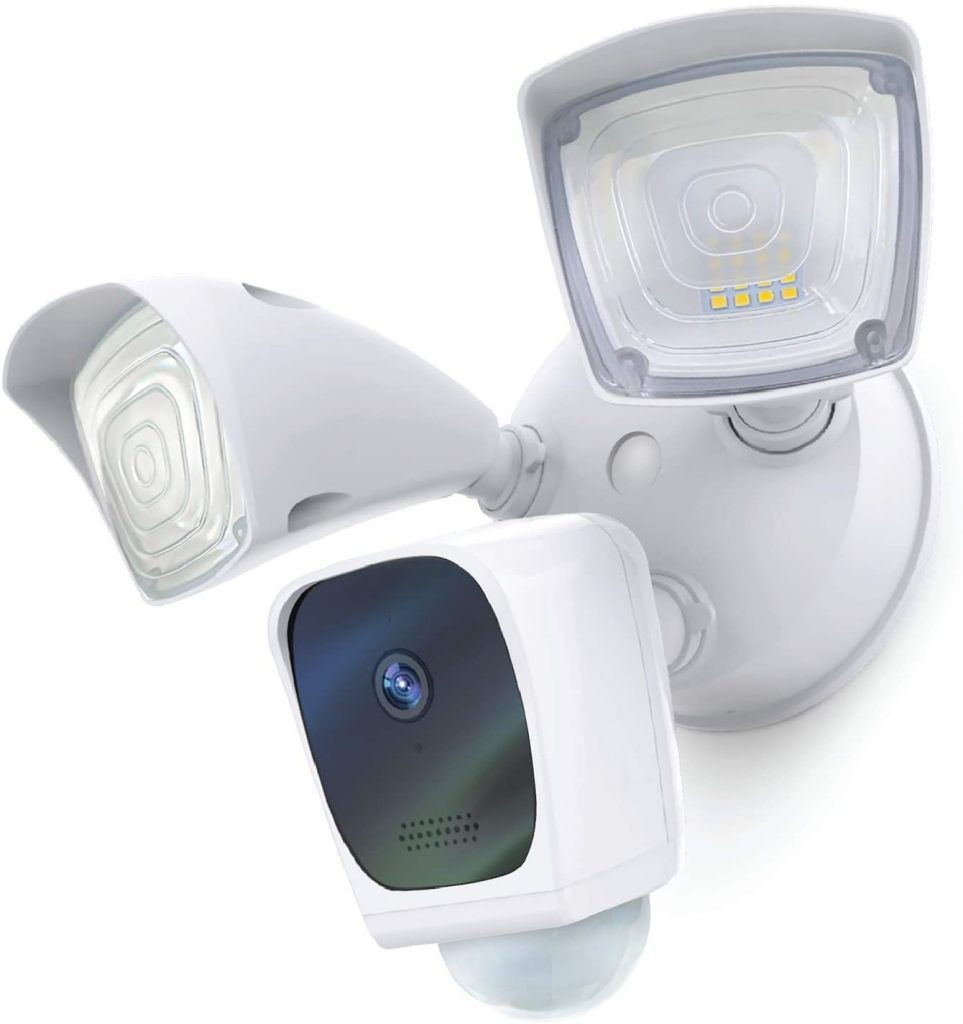 If you are looking for an effective all-in-one home security solution, we would recommend that you go for the Home Zone Security Floodlight Camera. It's one of our top choices among the best security flood lights.
This best LED security floodlight is built to last, thanks to the heavy-duty aluminum diecast housing that is weather-resistant and designed to last. Itt includes dual LED lights.
These offer also offer a 2600-lumen output, enabling them to illuminate your property easily, leaving no corner untouched by light.
Apart from the light output, the floodlight is equipped with a 1080P full HD resolution camera. That said, you can expect to view crystal clear videos while using this smart flood light.
The Home Zone Security Floodlight Camera works with the Home Zone Smart app on iOS and Android devices that allows you to receive push notifications from any location, and control the floodlights from any place using the phone.
It also comes with a motion detection control, plus a remote light control with scheduling options.
Using these features, you can customize the lighting and motion detection to help you protect property that matters the most.
The built-in PIR sensor has a 270-degree range while it detects motion from up to 32 feet. This helps to eliminate false notifications that result after inaccurate motion detection.
Equipped with built-in IR LEDs, the camera allows you to view clear images, even at night.
Technical specs
Image quality resolution: 1080p HD
Motion-activated alerts: Yes
Field of View: 150°
Floodlight brightness: 2600lumens
Siren sound rating: 110dB
Night vision: 30feet
Highlighted features
Locking knobs lock the lighting head and camera in the desired position for optimal performance.
IP65 Die Casting case is suitable for outdoor installation.
In-App 911 dialing feature, and a 110dB-siren for emergencies.
Pros
You can live view with screenshots or a recording option.
The floodlights are bright and easy to control.
The camera is easy to install, and the app easy to use.
The floodlight camera displays clear images.
Cons
The camera doesn't support the 5GHz Wifi frequency.
It doesn't come with a micro SD card.
10. Luowice Floodlight Camera
Feel safe knowing that your home and family are protected once you install Luowice Floodlight Camera! Featuring a high 1080P HD video resolution at 30fps and an extra-wide 160° viewing angle, you can now cover a broad area without the need for extra cameras.
Another feature that makes this camera a great option is the motion detection sensor. The sensor can only be triggered by human activities, effectively reducing the chances of false alerts. Apart from this, you can also customize the motion detection area.
It's also easy to set up, as the camera only requires you to plug it into a power source and configure it to the local Wi-Fi without the need for complicated network cable connections.
Among the active deterrents of the camera are a siren and illuminating floodlight that can be triggered via the app or through motion detection.Also, this outdoor security camera with siren supports two-way audio. It includes a built-in microphone and speakers so that you can talk and listen to visitors or deter suspicious strangers.
Technical specs
Image quality resolution: 1080p HD
Motion-activated alerts: Yes
Field of View: 160°
Night vision: 33feet
Operating Conditions: 22-131℉
Highlighted features
Two-way storage. You can store recoded videos to a MicroSD card or cloud storage.
Built-in IR LEDs support night vision up to 33feet.
Ability to live-view or playback recorded videos anywhere and anytime.
Weatherproof camera for outdoor use.
Pros
The camera supports the customization of the motion detection area.
It delivers high-quality images.
Relatively easy to set up.
The light functions as a floodlight while it can also be activated after motion detection.
Cons
The camera doesn't support the 5GHz Wifi frequency.
It only supports Micro SD cards. SD cards aren't supported.
Lights' brightness isn't adjustable.
11. Arlo Floodlight Camera
There's no need to look for an Arlo floodlight review, we have it here!
The Arlo Pro 3 Floodlight Camera is also designed to be part of a wireless security system, especially since it works well with Alexa and connects directly to your WiFi.
The camera is also designed to be sharp and accurate in detail, equipped with a 2K video, HDR, night color vision. All your outdoor footage are guaranteed to be clearer, even when zoomed in.
The motion sensor automatically turns on the outdoor lights, illuminating your property with up to 3000 Lumens when using the magnetic charging cable. The camera offers a wide 160° diagonal angle, but you can rest assured that the fisheye effect will significantly be less compared to other floodlight cameras.
Through the Arlo Secure trial, you'll be able to receive notifications for people and vehicles that may be dangerous to your property, allowing you to spring into action when needed. But more importantly, you can hear and peak to your visitors and cover every corner of your property for extra security.
Technical specs
Image quality resolution: 2K
Motion-activated alerts: Yes
Field of View: 160° Wide
Floodlight brightness: 3000 Lumens
Highlighted features
Arlo Secure allows notifications and real-time interaction with visitors
Direct to WiFi
Advanced motion detection automatically illuminates property for better recording at night
Pros
Works well with Alexa 
The 2K video quality allows you to zoom in without distortions. 
It offers a wide-angle of view.
Cons
Arlo Secure needs to be paid monthly.
12. Eufy Floodlight Camera
When it comes to your security, the eufy Security Floodlight Cam 2 Pro does it best. They value your security, which is why there's no need to wonder if the eufy camera records 24/7.
While no floodlight camera can do this just yet, you can guarantee that all motions detected come with subsequent recordings, ensuring that significant moments are recorded. It comes with 3 motion detectors, supported by an extra-long detection range.
It also comes with the innovative 360° pan and tilt coverage, leaving no corner unprotected. You don't have to deal with blind spots, and what makes it even better is that you capture everything in full 2K HD.
It also comes with an AI subject lock and tracking, which allows you to recognize anyone who might be near your home. More importantly, the camera tracks and records them.
Smart lighting with 3 Tunable Light Panels: Adjusts spotlight color temperature and brightness based on sunrise and sunset, schedules, and motion detection.
AI Subject Lock and Tracking: The on-device AI recognizes when a person is present then locks, tracks, and records the subject.
Turn Night Into Day: 3,000-Lumen super-bright motion-activated floodlights deter intruders and ensure detailed, full-color recordings even at night.
Technical specs
Image quality resolution: 2K
Motion-activated alerts: Yes
Field of View: 360° Wide, Pan and Tilt
Floodlight brightness: 3000 Lumens
Highlighted features
AI Subject Lock and Tracking
3 Motion Detectors with wider coverage
Advanced motion detection automatically illuminates property
Pros
Connects directly to Wi-Fi and does not need the HomeBase or hub to work.
You can adjust permission settings for different people.
It offers a 360-degree view for no blindspots
Cons
Requires existing outdoor wiring and a junction box for installation.
Conclusion
For any home or business, security remains top priority. You can't be at peace knowing that no one is watching over it, especially if you need to leave your loved ones for work or your precious items for travel. Thanks to products like floodlight security cameras, however, you can keep an eye on your property anywhere and anytime.
After taking into account both factors and cost of incurring a floodlight camera, you're sure to be set to having the best outdoor security for your home!
If you're ready to purchase your own, keep this comprehensive guide in mind. With these reviewed products, you can rest assured knowing that your loved ones are from intruders, whether you are at home or away.