The 7 Best Fire Extinguisher For Home In 2023
Nobody hopes to land in a situation where they have to use fire extinguishers to curb a fire hazard. But its likelihood is highly unpredictable. According to the statistics released by the US Fire Administration (USFA), deaths due to fire hazards by 2018 has increased by 20.5% from 2009. The same has caused a loss of $25.6 billion worth of properties. Indeed, it's a matter of concern.
Thus, when you look for the best fire extinguisher for your home, go for advanced features over pleasing designs. You should primarily look for the type of content used, the weight of the tank, ease of handling, and refilling options.
But before you buy any fire extinguisher, it is important to understand a few basic terminologies, its types, and how to choose the best fire extinguisher for your home.
In this article, we are going to discuss fire extinguishers in length. If you're going to install it for the first time, make sure to get yourself familiar with the essential operational knowledge beyond this buyer guide's scope. However, we will try to give you enough knowledge to get you going in the next fifteen minutes.
Let's start with the basics.
What are the 6 types of fire extinguishers?
Fire extinguishers are classified according to the fire type. They are available under three types of rating- A, B, and C. Each indicates the type of burning material the extinguisher is designed to fight.
Class A: For small fires, including plastic, paper, wood, dress, etc.
Class B: For small fires including oil, kerosene, and other flammable liquids
Class C: For small fires resulting due to faulty electrical wire
Depending on the fire hazard, you have the following 6 different types of fire extinguishers to choose from.
1. ABC POWDER FIRE EXTINGUISHER
An ABC powder fire extinguisher is multipurpose and hence most commonly used. It works by spraying a thin layer of fine powder (mono-ammonium phosphate) on the fire. The powder acts as a blanket over the fire source and cuts of the air supply. The chemical powder is a bad conductor of electricity and hence is effective for Class A, B, and C fires.
2. CARBON DIOXIDE FIRE EXTINGUISHER
This type of fire extinguisher removes oxygen from the fire and cuts off the chain reaction. It is one of the cleanest types of extinguishers that leaves neither residue nor requires post-cleanup. It is appropriate for Class B fires that involve electrical fires and flammable liquids.
3. WET CHEMICAL FIRE EXTINGUISHER
For K type fires involving cooking essentials such as animal fats/oils, a wet chemical fire extinguisher is right. The extinguisher contains a solution of potassium. It acts in two steps to extinguish the fire. First, the liquid mist cools off the surface and reduces the heat.
Second, the reaction between the cooking medium and the chemical solution forms a thick soap-like substance. This substance coats the surface of the source to cut off the air supply. As it prevents re-ignition, it is ideal for both Class C and Class A fires.
4. WATER MIST FIRE EXTINGUISHER
The water mist fire extinguisher is versatile enough to work across most classes of fire. This fire extinguisher releases microscopic water molecules to fight a fire. First, it disperses a microscopic fog-like form that decreases the level of oxygen in the air.
Second, the water particles get attracted to the fire and cool it down. The temperature falls, and the intensity of the fire immediately gets reduced. This fire extinguisher's unique aspect is that it has deionized water (water off any mineral) inside.
The deionized water doesn't conduct electricity. Therefore, unlike a standard water extinguisher, it can be used on electrical fires, burning gases, and liquids.
5. FOAM FIRE EXTINGUISHER
Foam fire extinguishers are best for Class A and Class B fires. Although adequate for flammable liquids, it's not the best for gaseous fires. The device sprays a type of foam that expands upon contact with air. The foam is mixed with water as it blankets the fire.
It arrests the liquid vapors and cuts off the oxygen supply. The foam not only starves the fuel but also leaves a cooling effect. The foam extinguishers are best for liquid fires (gasoline fires) and Class A fires (combustible substances like wood or clothes).
Another type of fire extinguisher which is not commonly used but very effective is- CLEAN AGENT FIRE EXTINGUISHER
6. CLEAN AGENT FIRE EXTINGUISHER
The Clean Agent Fire Extinguisher is ideal for homes and offices. It is especially perfect for businesses and rooms filled with computer and electrical equipment. This extinguisher is a kind of gaseous fire suppression. It sprays and hits the air in its liquid form to convert itself into gas.
This gas form is non-conductive, hence most commonly used for Class B and Class C fires. It leaves no residue, safe for use in human presence, and has a very short atmospheric lifetime. The gas is eco-friendly and often composed of Halon. It impedes the chain reaction by reducing the oxygen levels.
What is the best size fire extinguisher for home use?
The best type of fire extinguisher for a home often has an A-B-C level on it. It has a rating of – 2A10BC. These extinguishers are known as a "universal" extinguisher and are ideal for all classes of fire. It is a common misconception that the bigger it is, the better.
But they are heavy to maneuver. The best size fire extinguisher for a home is between 5-10 lb. It is the ideal weight of an extinguisher for your home workshop or garage. Especially if you have electrical equipment or flammables, this size will be enough.
For your kitchen and laundry room, choose a 2.5 lb size. If you want a fire extinguisher for your car, then get a 5 lb or a 2.5 lb with mounting hardware to keep it from rolling around in the trunk.
How to choose a fire extinguisher for a home?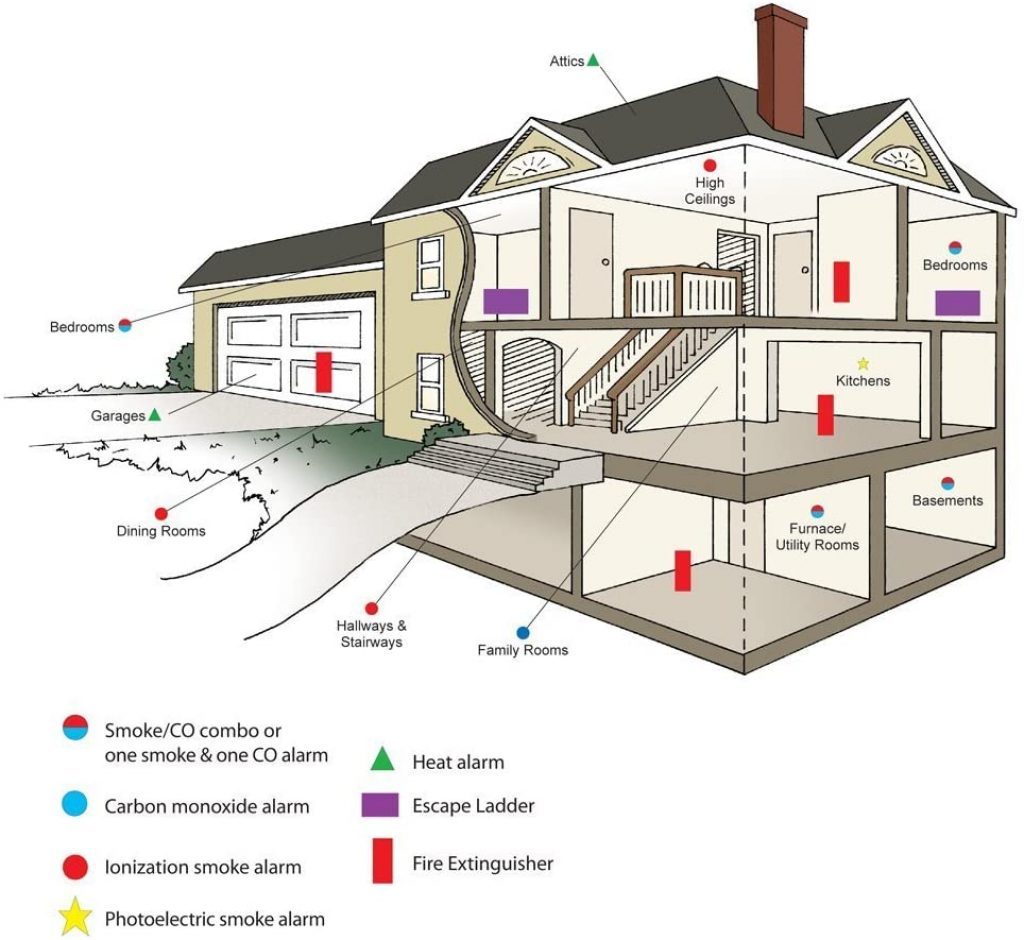 A total of 363,000 home fire hazards are reported in the US in the year 2018. So, nowadays, most safety programs recommend two fire extinguishers for homes. One should be for the kitchen and the other in the garage. If you live in a two-storey residence, first consider investing in a two-storey escape ladder and then get fire extinguishers for both floors.
Always locate the extinguisher in a comfortable-to-grab spot to use before the firefighters arrive. The least you can do is suppress the flames while you escape or put out a small flame.
Here are some things you should consider while choosing a fire extinguisher for home:
Select the area where you want your fire extinguisher. Determine what Class of fire can start where and choose the type of extinguisher accordingly.
Always consider how quickly a fire can spread in a particular area. Also, think about how long it will take to be aware of a fire in that space. Choose a higher or lower rated fire extinguisher based on these factors.
Look at the size of the room. For larger spaces, consider a 10 lb model. For smaller rooms, a 5 lb model will be sufficient.
Visit hardware or a home-improvement store and handle the fire extinguishers before you buy. Ensure you can lift and use the product properly before bringing it home. If it is heavy, then get two smaller ones.
Lastly, always check for its limited warranty period. Usually, fire extinguishers come with a limited warranty of ten years. It covers you against defective content and workmanship. You can call the company to replace defective content if found within the warranty period.
In the worst case, you also stand a chance for complete product replacement unless it involves any negligent use or misuse of the product.
With this essential knowledge in mind, let's explore the seven best fire extinguishers available in the market for immediate purchase.
Best Fire Extinguisher for Home
1. First Alert 1038789 Standard

First Alert 1038789 Standard Home Fire Extinguisher is UL rated for 1 A: 10 B: C – wood, plastics, gasoline, and electrical fires. So, you can install it at all levels of your house, including bedroom, kitchen, basement, and garage. It uses mono ammonium phosphate as an agent and is rechargeable by a certified dealer when necessary.
The extinguisher comes with a metal pull pin with an additional seal over it to prevent unwanted tamperings or product discharge. The body bears anti-corrosion paint and has usage instructions displayed through a waterproof label.
The all-metal body with commercial-grade metal valve and trigger ensure its quick and easy operation during any fire hazard. It is 15″ tall and 4″ wide, thus eats a small corner space of your house. As it fights both flammable liquids and electrical fires, it is ideal for any household location. The US coast guard also approves the standard of application for marine use.
Technical Specification
Item Weight: 4.5 pounds | Dimension: 4.25 x 4 x 15 inches | UL-Rating: 1-A 10-B:C | Material Type:, Dry Powder | Warranty: 10-year limited | Discharge time: 10sec, 14 sec, etc. | Wall bracket: Yes| Body: All-metal | Rechargeable: Yes
2. Amerex B500, 5lb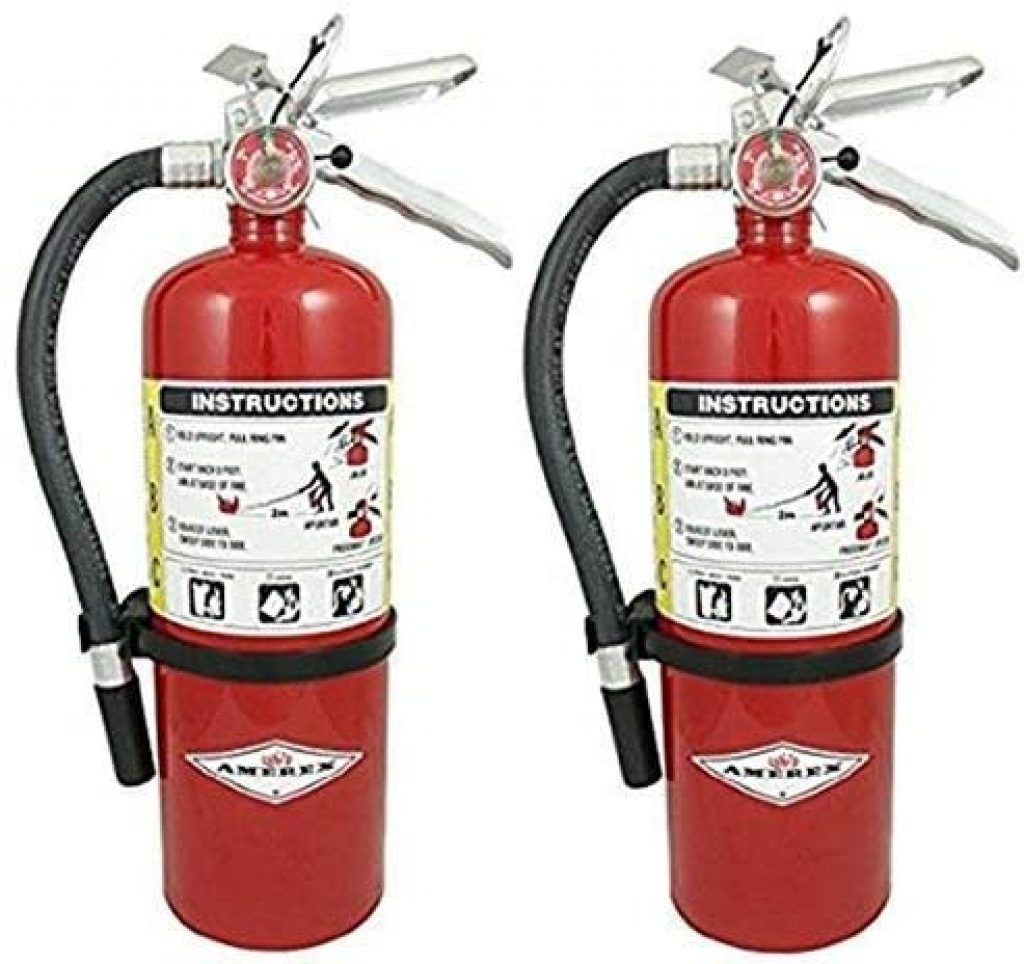 Amerex B500 is a rechargeable ABC dry chemical fire extinguisher with better build quality (all-metal) to keep itself free from rust and weather hits. It contains a mixture of Mono-ammonium phosphate and Ammonium sulfate in the majority.
The content appears as finely divided odorless yellow powder. But, when exposed to fire, it immediately converts to carbon monoxide, carbon dioxide, and sulfur dioxide to fight the fire in action.
You will find brackets on its body to easily hang on the wall. However, it only comes with a latching strap around the tank- you have to separately purchase the gravity hook. The extinguisher finds its application in Class A, B, and C type fire hazards.
So, it definitely meets your need for the best fire extinguisher for your home and kitchen. The Mono-ammonium phosphate inside is not a hazardous waste as per the EPA hazardous waste standard. So, its normal disposal is possible without causing harm to the nearby environment.
Amerex is an Alabama-based fire extinguisher manufacturing company known for its highest quality products in the market.
Technical Specification
Item Weight: 20 pounds | Dimension: 4.25×7.25×15.25 inches | UL-Rating: 2-A 10-B:C | Material Type: Dry Powder | Warranty: 6-year Manufacturer | Discharge time: 14 sec | Wall bracket: Yes | Body: All-metal | Rechargeable: Yes
3. Labelmaster 10lb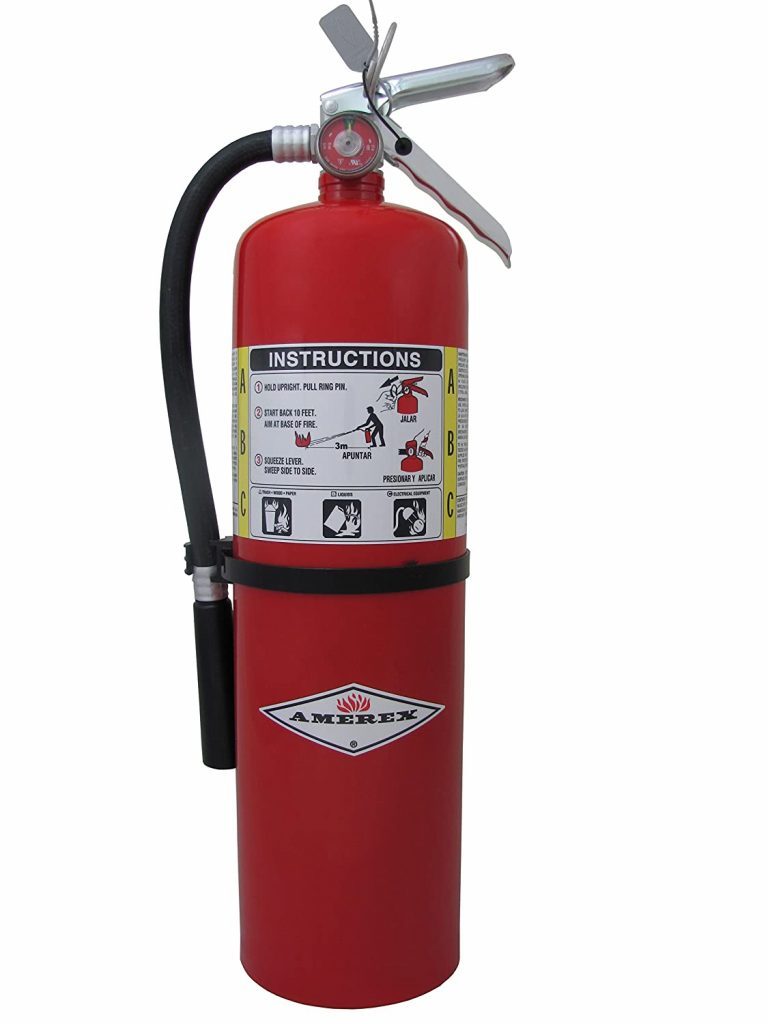 If you are looking for the best home fire extinguisher for large rooms, Labelmaster 10lb would be your ideal bet. It contains 10-pound of dry ABC chemical powder with UL rating of 4A:80B: C. That means it is designed for ordinary combustibles like wood and paper, Class B flammables such as liquids and gases, and Class C involving electrical fire hazards.
The main chemical compound inside is mono ammonium phosphate, which melts down and acts as an insulator when exposed to heat above 350°F. It turns into a layer of a coat to break the chain reaction of gas and liquid fires. Also, the layer offers resistance to electricity, thereby preventing the fire from exaggerating further.
The body is a rugged steel cylinder with all-metal valve construction. The body, handle, and liver are made up of anodized aluminum to sustain a wide temperature range of -65°F to 120°F. The large loop pull pin gives easy access to the chemical inside.
Technical Specification
Item Weight: 2 Pounds | Dimension: 20.5 x 7.5 x 6.7 inches | UL-Rating: 4-A 80-B:C | Material Type: Dry Powder | Warranty: 6 year Manufacturer | Discharge time: 20sec | Wall bracket: Yes | Body: Steel | Rechargeable: Yes
4. Kidde FA110 Multi Purpose Fire Extinguisher

Kiddle features UL 1-A:10-B: C rating to protect your home from all three fire classes (A, B, and C). The numbers indicated by Class A, when multiplied by 1.25, indicate the gallons of water required to extinguish that particular type of fire.
The number by the side of Class B indicates the area (in sq feet) this extinguisher is capable of controlling- in this case, it's 10 sq. ft.
Its large capacity and duration of the warranty (6 years) set it apart from the rest models in the same price range. The real-life performance and durability add more reasons to trust it as an ideal fire extinguisher for home.
It's also recommended by the NFPA(National Fire Protection Association). The easy-to-read pressure gauge helps you schedule it for a refill in advance. The handle is designed for a firm grip and doesn't slip away even from oily fingers.
The model comes from Kiddle, a renowned fire extinguisher manufacturer with a long history of innovations.
Technical Specification
Item Weight: 4.0 pounds | Dimension: 3.25×4.25×15 inches | UL-Rating: 1-A, 10-B:C | Material Type: Dry Powder | Warranty: 6-year limited | Discharge time: 12sec | Wall bracket: Yes | Body: Aluminium | Rechargeable: Yes
5. Mini Firefighter MFF01

As the name suggests, Mini Firefighter MFF01 is your mini tool to quickly stop the fire with just a "shake and spray" application. It's been designed for seniors over 65 years of age who are most vulnerable to fire hazards, which they fail to control with an act of emergency.
The intensity of a fire doubles in just 30 sec. If not controlled within a minute, it can become dangerous. However, with this compatible Mini Firefighter, such disasters can be avoided easily. Just shake and spray the foam onto the fire. It then expands 40 times its size and contracts once the fire is out.
The fire extinguisher can fight Class A, B, C, and K fires with ease. It's lightweight and portable so that you can easily carry it around during the time of application. Thus, apart from home or kitchen, it's also perfect for automobiles, garage, workshop, BBQ, etc.
Technical Specification
Item Weight: 0.78 pounds | Dimension: 6 x 2 x 8 inches | UL-Rating: ABCK | Material Type: Foam | Expire Date: 4years | Discharge time: 10sec | Wall bracket: No | Body: Steel | Rechargeable: No
6. Kidde Pro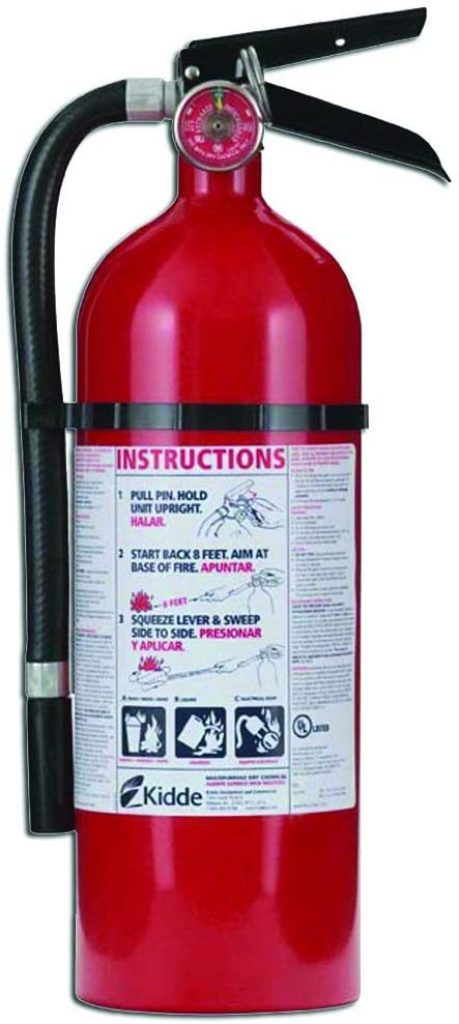 Kidde Pro 210 is a rechargeable Fire Extinguisher that meets all the standards of Underwriters Laboratories (UL) to promise world-class safety. The multipurpose dry chemical inside can fight Class A, B, and C types of fires and is UL rated 2-A:10-B: C.
It acts with a quick discharge time of 13 to 15 secs. It ensures the user's safety during the application. You can throw the chemical onto the fire from a safe distance of 10 to 15 feet with a pressure of 100 PSI.
After the application, you can check its pressure gauge to know the status of the content inside. As it is rechargeable, you can ask any certified dealer to fill it up. The extinguisher easily fits any 4.5 x 15.7 inches corner through a wall hanger (included).
The body is powder-coated with aluminum for corrosion protection. The tough aluminum valve facilitates a quick release and easy handling of the cylinder. As it is backed by six years of limited warranty, you can rest assured of a hassle-free application.
Technical Specification
Item Weight: 7 pounds | Dimension: 4.5 x 4.5 x 15.7 inches | UL-Rating: 2-A:10-B:C | Material Type: Dry Powder | Warranty: 6 year limited | Discharge time: 15 sec | Wall bracket: Yes | Body: Aluminium | Rechargeable: Yes
7. Amerex B402, Class A B C Fire Extinguisher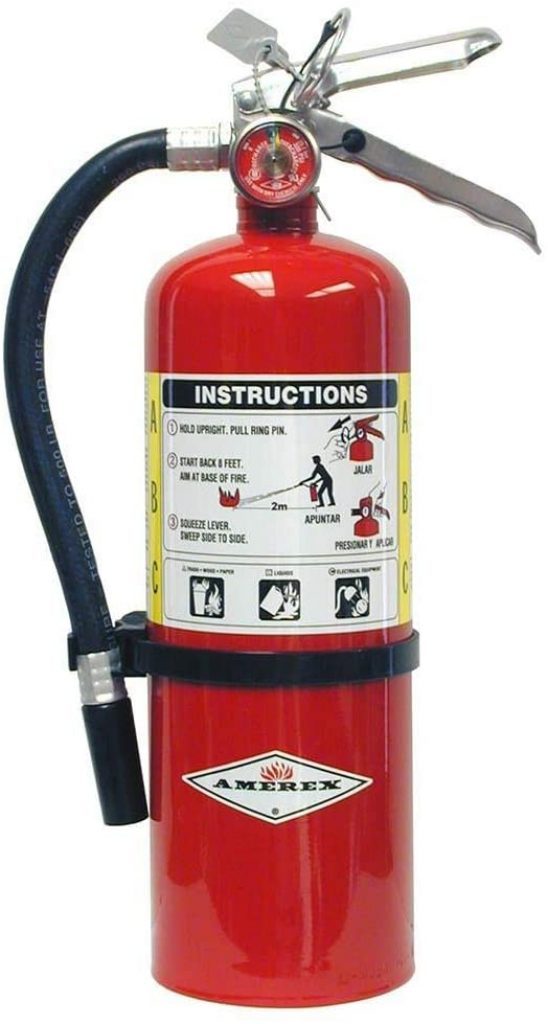 This ABC Class Extinguisher discharges in just 14 sec with ABC dry chemical powder inside (Monoammonium Phosphate). Its UL rating is 3A:40B: C and is rechargeable when required. The steel cylinder body with an all-metal valve makes it prone to weather hits and easy to use for offices, warehouses, homes, and more.
It weighs only 9.5lbs and comes with a wall bracket for easy mounting. It is easy to use, maintain, and with UL 299/UL 711 rating, its overall performance exceeds those minimum standards. As it operates under a pressure of 195psi, you can use it from a safe distance of 18 feet from the fire.
All these characteristics show that Amerex B402 is designed with domestic users in mind. Moreover, the company offers six years of warranty- giving you more reasons to buy it in the first place.
It has got only one flaw- the wall bracket is not sturdy enough to protect the extinguisher in a high traffic area. But, Amerex has aftermarket brackets available to take care of that issue with ease.
Technical Specification
Item Weight: 9.5 pounds | Dimension: 7.3 x 4.7 x 17.1 inches | UL-Rating: 3A:40B:C | Material Type: Dry Powder | Warranty: 6 Year Warranty | Discharge time: 14 sec | Wall bracket: Yes | Body: All-metal | Rechargeable: Yes
FAQs
Who makes the best fire extinguishers?
First Alert has been making the most extensive range of Fire Extinguisher in the market for the last six decades. Specific types of fire extinguishers are available for auto, commercial, garage, home, and marine purposes.
Apart from fire extinguishers, they also offer smoke and carbon monoxide alarms with modern voice support features. Nevertheless, other brands like Amerex, Kiddle, United Technologies, and Total Safety are also good brands to consider depending upon your budget and needs. 
What should a fire extinguisher never be used on?
Usually, home fire extinguishers are designed to control the fire under the preliminary stage. If it is too big, the extinguisher can barely help. In such a scenario, it's better to evacuate the building and call the fire department instead of wasting time controlling the fire by yourself. 
Do not use it on any engine, gas, or other sources of heat. As the contents are under pressure, exposure to the heat of 150° F (66° C) or above could result in its explosion. 
It's also prohibited to use the extinguisher in an environment where patients with breathing problems or sensitive skins are present. The contents are usually dry powder that can irritate skin and cause breathing issues. That's why it's always advised to ventilate the application area after use. 
Can you recharge home fire extinguishers?
Yes, you can top up your fire extinguisher any time, regardless of the content used. However, it is strongly advised to let a certified dealer do this job, though it automatically gets covered when you follow its routine check once a year. Do not try to survive it manually, as the pressurized device may cause serious injury if tampered with. 
Can you use a fire extinguisher multiple times? 
Yes, you can use a fire extinguisher multiple times, depending upon the type and brand. However, it is better to refill or recharge it even after using it for a small duration of time. You can top up your extinguisher at any fire station or by a certified fire equipment dealer.
Conclusion
Fire Extinguishers must be dealt with carefully. As the contents are under pressure, don't puncture or keep the extinguisher near to any fire- it may explode. Ensure every member of your house is familiar with its operation because, during the emergency, they will not have time to go through the instructions.