The 7 Best Air Compressor for Home Garage or Workshop In 2023
Having an ideal air compressor at your home garage makes your tough job easy. However, selecting an ideal model is equally complicated.
The golden advice -it's better to aim for cutting-edge ergonomics and basic features than the price. For instance, if you decide to save your money on a compressor with below-average tank ergonomics, you can't expect it to deliver an optimal air tool performance.
People usually miss out such essential details and end up regretting over their decision later.
The choice is not hard to make provided you know what to expect.
For example, it's always better to buy a compressor with an oil-free pump to save your time on its frequent maintenance. It's even better if the compressor has a quick recovery time. That helps when you live in areas like North America where temp goes down to -30C (-22F) sometimes.
The purpose is not to scare you, but to show you how these variables play important roles in deciding which air compressor to buy.
Let's understand it better.
How to choose an Air Compressor for home garage?
Whether it's for inflating tires of your vehicle or for basic home projects, having an air compressor in your garage can save hundreds of dollars. All you need is to buy the right air compressor as per your requirements.
For that, it's important to have the basic knowledge about the mechanics of an air compressor.
Here are some factors to consider before buying the best air compressor for home garage
1. Air Compressor
Reciprocating (piston) air compressor and Rotary Screw air compressor remains the two most used air compressors. Meanwhile, for specific requirements, you have Scroll, Rotary Vane, and Turbo compressors as well.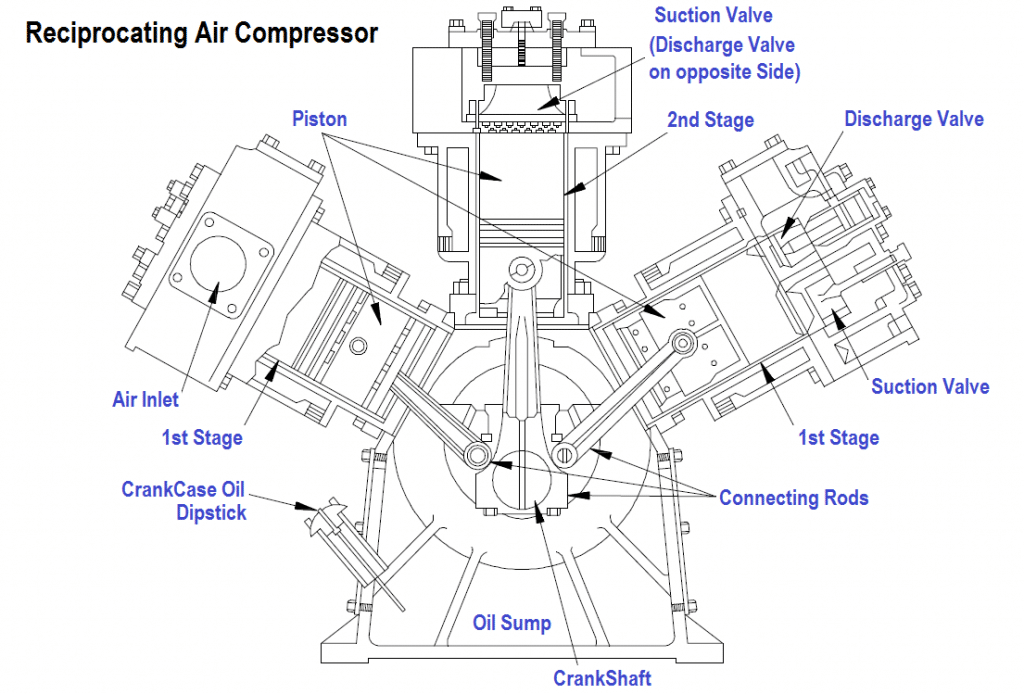 A reciprocating compressor comes with cylinders and pistons. The pistons inside the cylinders move up and down to compress the air. It is mostly used in workshops, garages, small businesses, DIY home projects, and construction works.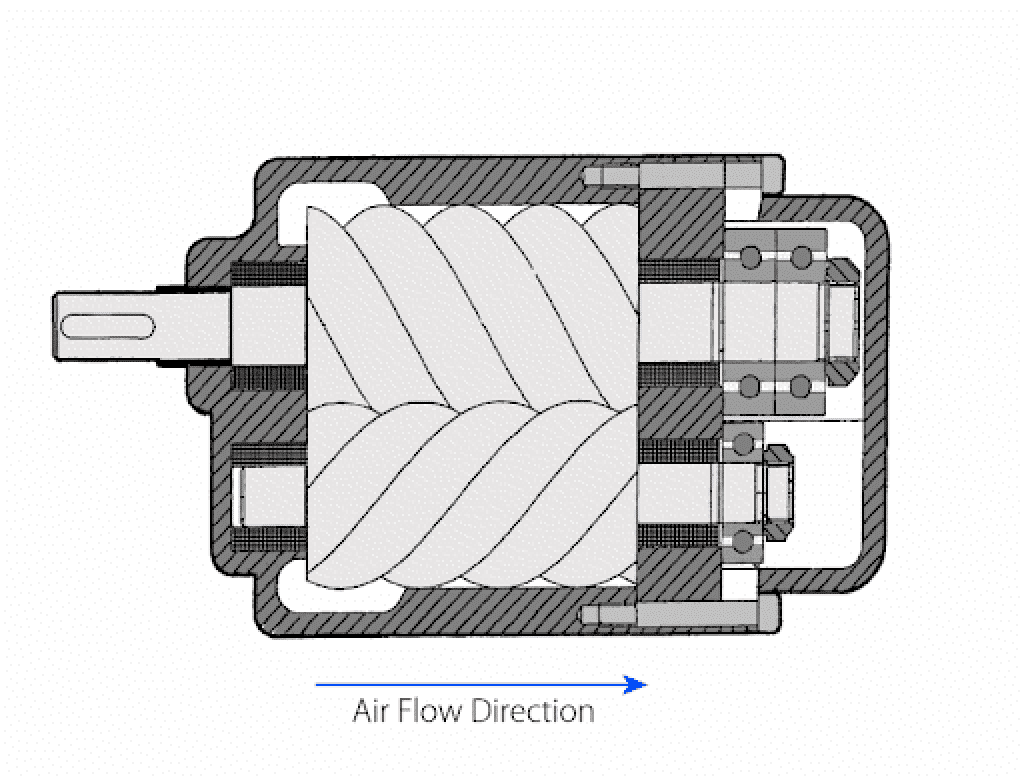 A rotary screw compressor contains two screws(rotors) installed on the opposite side of the machine. When in action, the rotors trap the air and compress it. Such compressors work great for heavy-duty tasks.
2. What Size Air Compressor Do I Need For My Garage?
Well, it depends on how much and how often you need compressed air. If you are a professional working continuously, then you can buy a rotary screw compressor, otherwise, a reciprocating air compressor will do just fine.
Horsepower (HP)
The HP rating of most air compressors typically falls between 1.5 and 6.5. Meanwhile, the ratings of large commercial compressors can go up to 15 HP. However, for standard electric power outlets, compressors with 2 HP or less will suffice.
Air Pressure (PSI)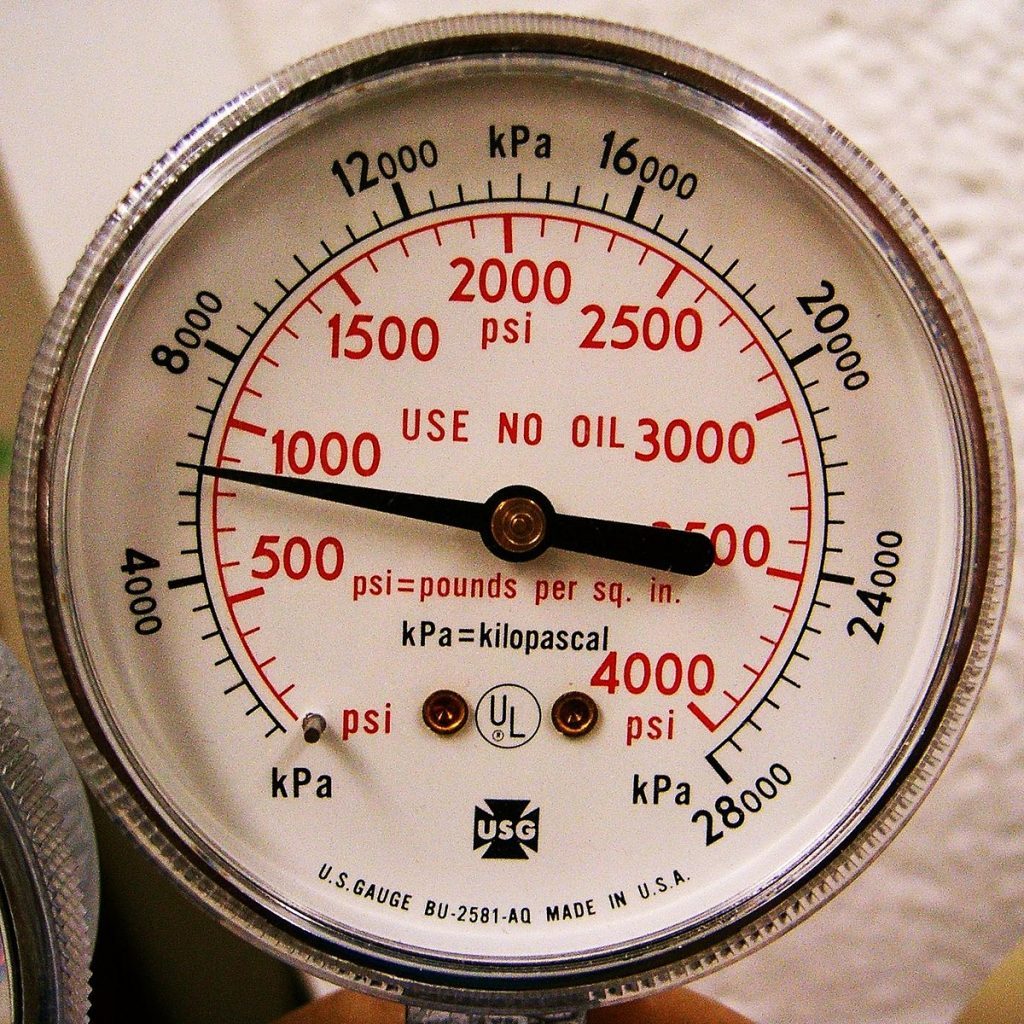 Air pressure is rated in pounds per square inch (PSI). Most air tools require at least 90 psi to run efficiently. However, for maintaining the air pressure, you need a compressor providing higher shut-off pressure.
For example, industrial compressors run through a two-stage process. Meaning, in the first stage, the pressure builds up to 90 psi. Then, it goes up to 175 psi on the second stage.
However, hobby and small compressors only run with a single-stage process and shut off at 125-140 psi.
Most portable air compressors deliver air pressure up to 150 psi. Although it seems enough, you also have to consider the pressure drop caused by air restrictions. Therefore, compressors offering pressure of at least 130 psi will certainly be best for you.
Cubic Feet per Minute (CFM)
Cubic feet per minute (CFM) refers to the volume of air produces by a compressor. CFM rating is calculated based on the size and speed of a compressor pump. A low/high rating does not always indicate the efficiency of a product. A CFM between 2-4 remains the ideal rating for smaller compressors with 90 PSI.
Air Compressor Tank Size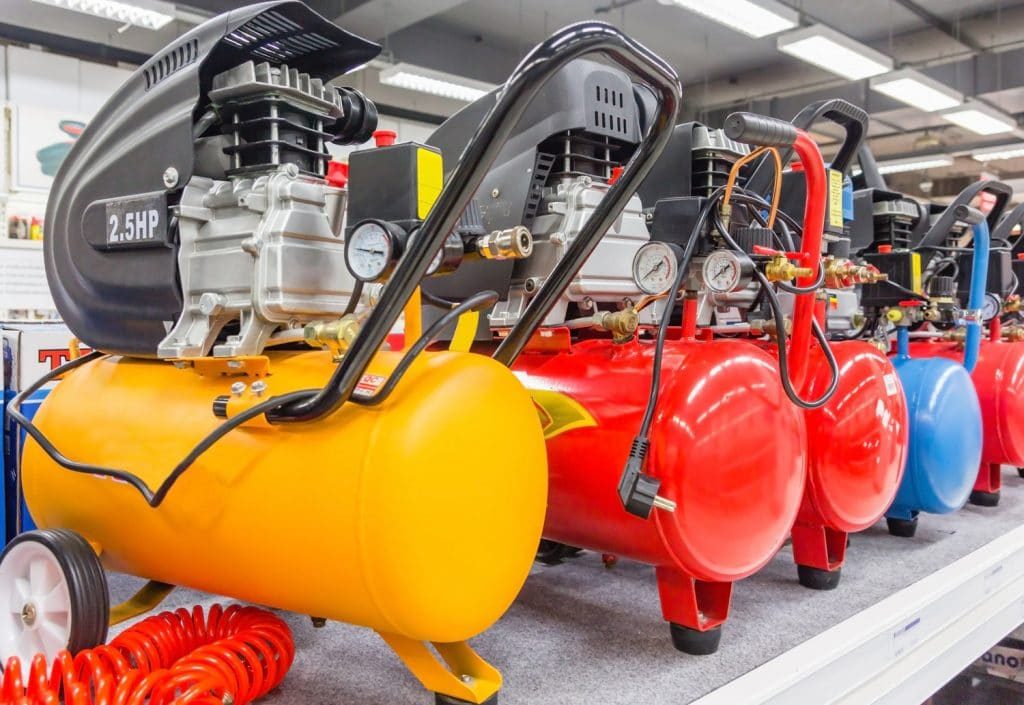 Contrary to what some people believe, a bigger compressor tank doesn't mean more air production but is used to store air.
Instead of going for a bigger tank, we recommend you buy a compressor with an efficient pump and motor. If you have a compressor producing enough air, then the size of the tank will hardly matter.
However, in some situations, it's beneficial to buy a compressor with a larger tank. For instance, a larger tank enhances your work efficiency as it holds more air. Meaning, you can still work on your project while the compressor refills the tank after a pressure drop.
3. Noise Level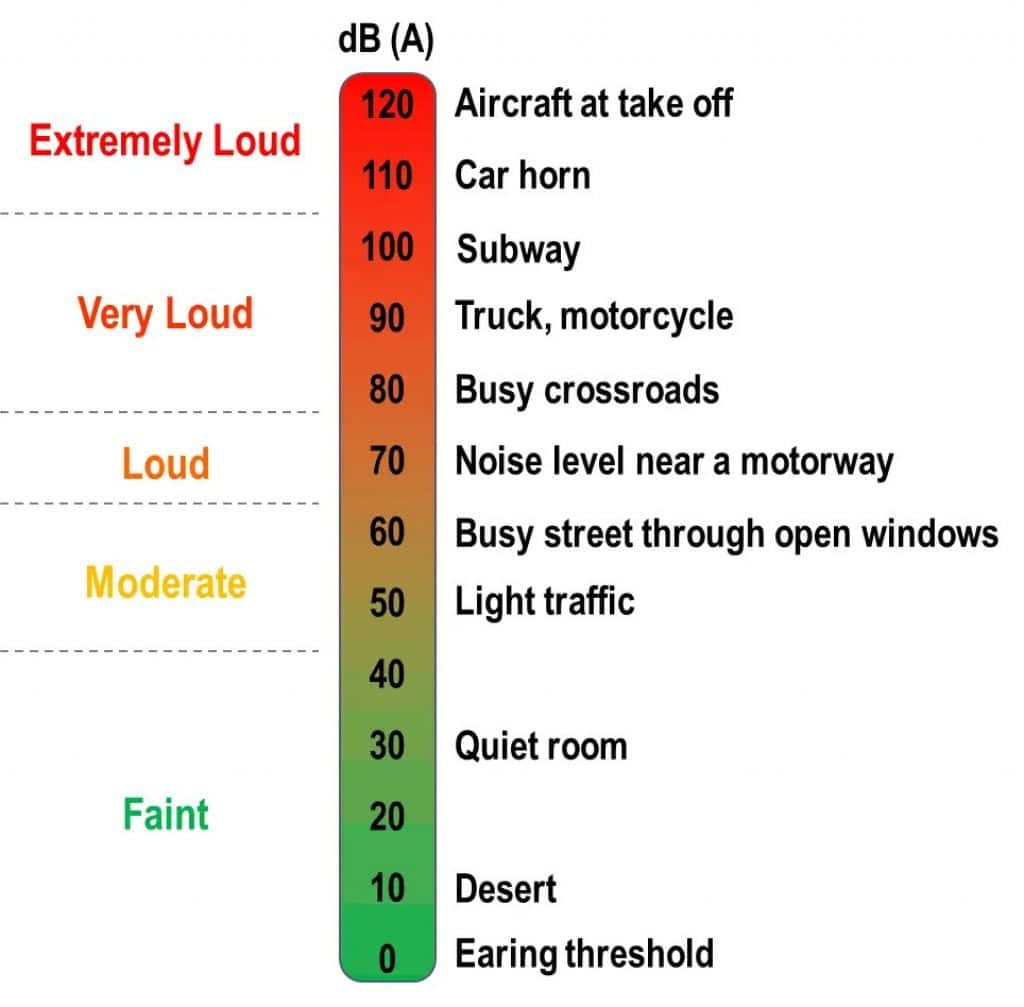 'The friction in inflators, the power source, and your proximity'- all contribute to the noise level of an air compressor. Nowadays, most air tools produce a noise level between 40 and 92 decibels. Most users don't realize that even exposure to 80 decibels can lead to hearing issues over time.
Therefore, most air compressors come equipped with sound-dampening materials like enclosures, dampeners, and compressors. Many manufacturers install sound dampeners over the motor, fan, and pump. Some even feature dampening pads placed strategically to reduce vibration and sound waves.
The best solution is to select oil-free compressors. These advanced compressors work silently with no maintenance requires.
4. Portability
Portability is something that you cannot miss while looking for the best air compressors for garages. Whether it's an off-road DC air compressor for your weekend trip or a handheld inflator to store under your car seat, you will find a wide range of portable compressors supporting your lifestyle.
While looking for portable compressors, make sure to keep the weight below 40 lbs and the tank capacity 8 gallons.
Best Air Compressor For Home Garage
1. Craftsman
Best Lightweight Air Compressor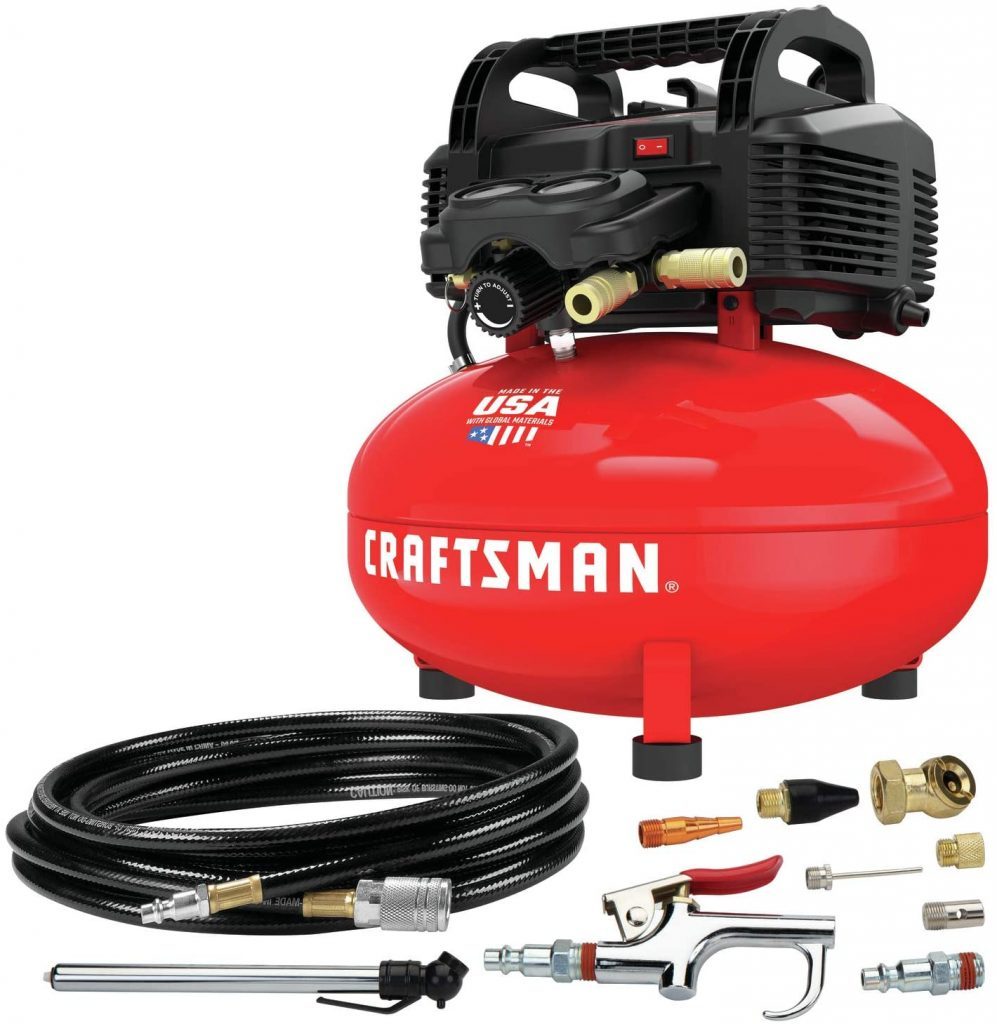 Weighting about just 32.5 lbs, the CMEC6150 air compressor by Craftsman is by far the best lightest air tool in the market. It features a pancake-style durable body with 6 gallons of storage capacity.
Delivering up to 150 PSI and 2.6 SCFM, the air compressor works perfectly for several applications like bolting, finish nailing, brad nailing, stapling, airbrushing, grinding, and many more.
The easy-to-carry handle design remains the most notable feature of this air compressor. Moreover, the rubberized layer on the bottom easily fixes on the ground, allowing impeccable stability on slippery surfaces.
The compressor features a twist knob that helps you adjust the output with ease. Plus, it comes with a twin ¼ inch NPT port that lets you connect two hoses and tools at once. This feature comes in handy, especially while using a positive placement nailer, and a framer at the same time.
The air compressor comes laded with a 13 piece accessory kit including a 25'X ¼ inch PVC air hose with coupler & plug, blow gun with plug & OSHA safety nozzle, three inflator adaptors, and many more.
Overall, the Craftsman CMEC6150 best air compressor for home garage offering superb performance, portability, airpower, and durability imbibed in one.
Tech Specification
Max Pressure: 150 PSI | Pump Type: Oil Free | SCFM @ 90 PSI: 2.6 | Peak Horsepower: 0.8 | Number of Couplers: 2 | Tank Size: 6 gal | Item Weight: 32.5 lbs | Power Supply: Electric-powered | Voltage: 120V | Noise Level: 82 dB
Pros
Lightweight built
Oil-free long-life pump
up to 150 PSI
Cons
Can be noisy when both hoses are attached
2. Porter Cable
For Longer Air Tool Performance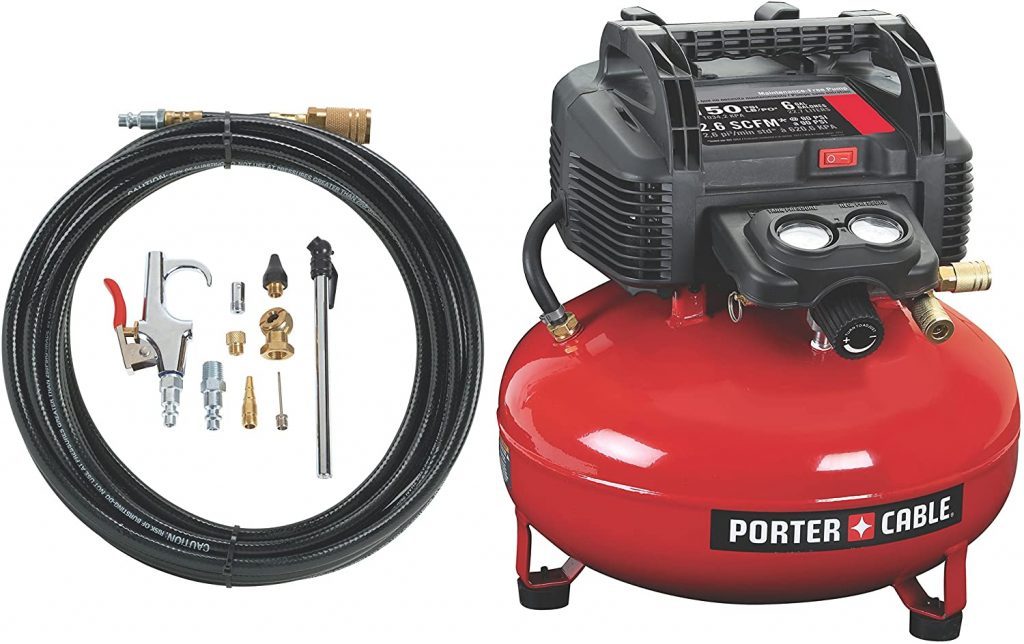 The porter cable C2002-WK air compressor is a great air tool for long-lasting usage. Although not designed for commercial purposes, this air compressor works flawlessly for air painting, pressure cleaning, finishing nailer, and other simple tasks.
The C2002-WK provides up to 150 PSI of air pressure with a 6-gallon compressed air capacity. Plus, you will also receive a 90-day return policy and a 15 tools accessory kit.
The oil-free compressor runs efficiently in cold weather, providing a smooth and noiseless operation. Plus, it is extremely low in maintenance.
The oil residue remains negligible even after long term usage, making it ideal for vacuum and blow purposes. The air hose comes factory-installed with an air coupler and plug that prevents air leaks, ensuring no air loss during long-term storage.
The air compressor runs on a low amp 120-volt motor. Meaning, you can start it instantly only with an extension cord. It also comes with a shroud, a handle, and a console cover, allowing you to wrap the vital components and carry them wherever you go.
Undoubtedly, the Porter-Cable C2002-WK delivering optimal stability, power, and long-term performance remains the best air compressors for home garages.
Tech Specification
Maximum Pressure: 150 PSI | Pump Type: Oil Free | SCFM @ 90 PSI: 2.6 | Peak Horsepower: 0.8 | Number of Couplers: 2 | Tank Size: 6 gal | Item Weight: 34 lbs | Power Supply: Electric-powered | Voltage: 120V | Noise Level: 82 dBA
Pros
Low maintenance air compressor
90-day return policy
Includes an integrated cord wrap
Cons
May require professional assistance during installation
3. DeWALT Pancake
For Easy Startup in Cold Weather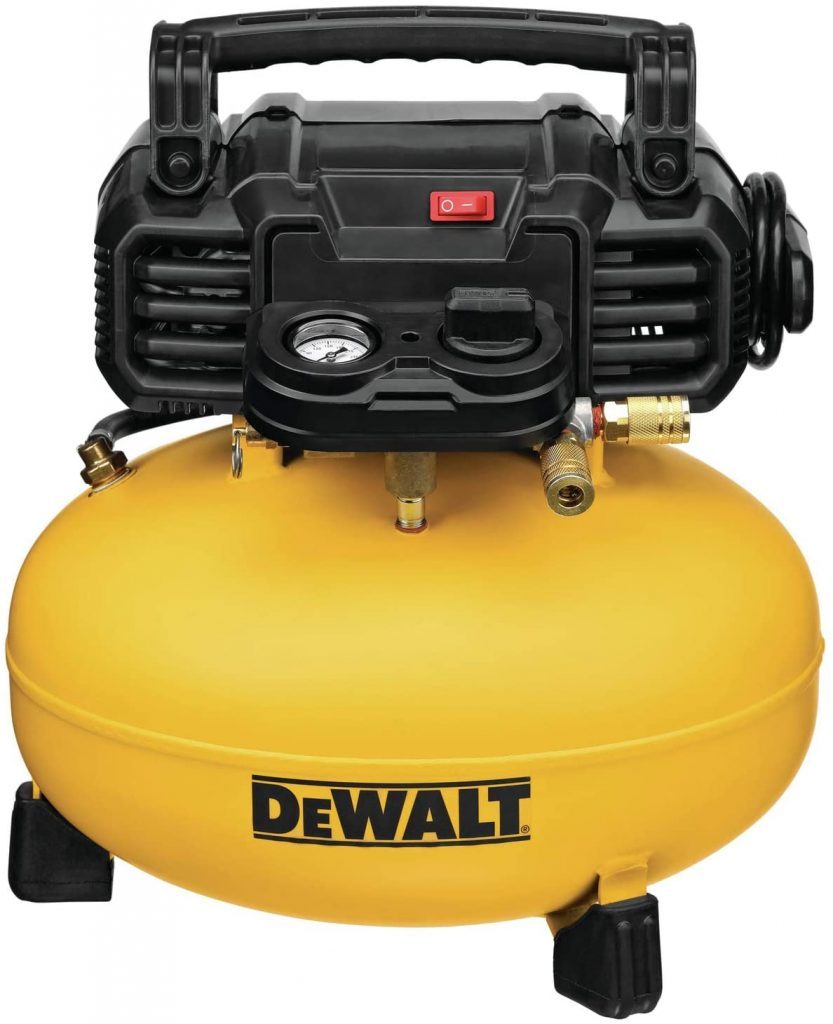 The DeWalt DWFP55126 features a high-efficient motor ensuring a smooth start in cold temperature when plugged into an extension core.
The air compressor can store up to 165 psi of air with a cut-in pressure of 135 psi, comparatively higher than other air tools in the market. You can use it for short bursts only.
However, given its power specs, the DWFP55126 is enough for air cleaning, tire inflation, and other small repairs.
Rated at 2.6 CFM @ 90 psi, the compressor weighs 30 lbs, making it an ideal tool for DIY automotive and recreational purposes. It features 2 universal couplers that allow you to run two power tools at the same time.
The pump in the compressor is oil-free. Thanks to its permanent lubricated bearings, it saves you from the hassle of frequent oil changes.
It also includes a ball drain valve that allows you to drain the tank to get rid of the moisture. Even with the high-pressure rate, the compressor surprisingly runs quietly producing a noise level of 75 dB.
Plus, the 6-gallon tank and the pancake body strikes a perfect balance between portability and air capacity.
Tech Specification
Maximum Pressure: 165 PSI | Pump Type: Oil Free | SCFM @ 90 PSI: 2.6| Peak Horsepower: 0.9| Number of Couplers: | Tank Size: 6 gal | Item Weight: 30 lbs | Power Supply: Electric-powered | Voltage: 120V | Noise Level: 75.5 dBA
Pros
Low Maintenance & oil-free pump
Two hose connectors
Works great in cold temperature
Cons
Not suitable for large spraying jobs
4. Bostitch
Low Noise Level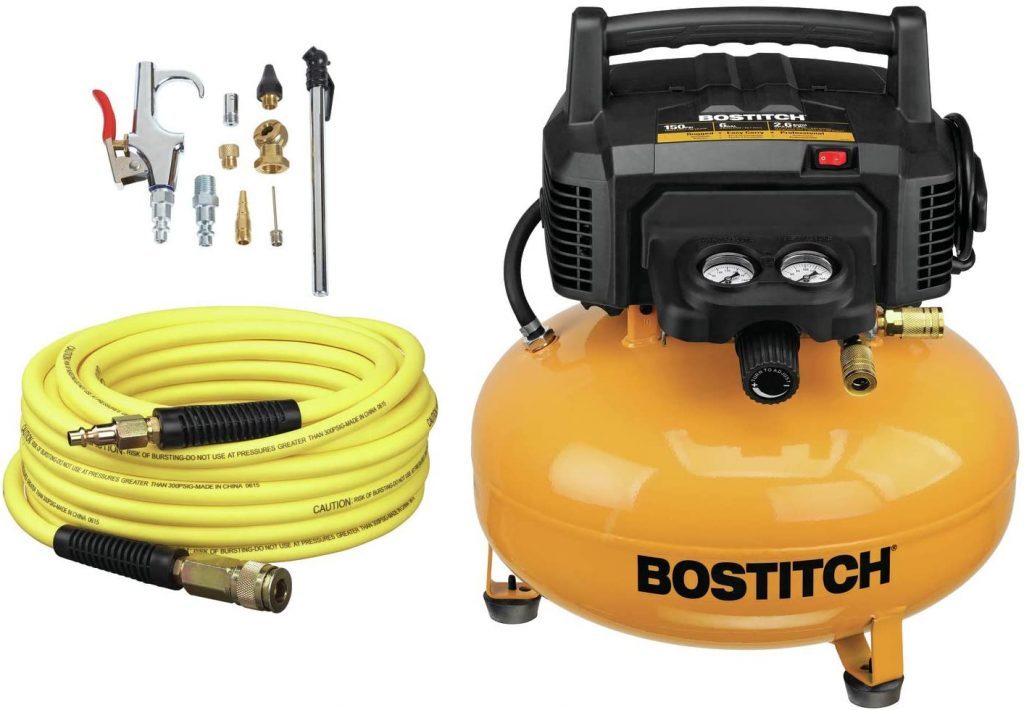 The Bostitch BTFP02012-WPK is a quiet air compressor with a portable and durable body. Bostitch only weighs 29 lbs, making it the lightest in the market, as most air compressors within the range weigh more than 30 lbs.
It provides a stable air consumption at 90 PSI, which goes up to 150 PSI. Plus, it comes with a high flow regulator and dual couples for maximum performance. It also features a 50' rubber/PVC blend air hose with a flexible polymer and abrasion-resistant design that works excellently in cold surroundings.
The biggest selling point of the Bostitch Air compressor is its affordability. It costs around $170, which is a great value for money as you get a super-efficient pancake compressor, hose, and quality accessories wrapped in one kit.
The air accessory kit includes a tire chuck, gauge, a safety nozzle, and ¼" NPT male plugs. You also get several inflation attachments including ten blowguns with rubber tips, allowing you to handle a wide range of jobs.
The hose is easy to coil and doesn't get cracked in cold temperatures. Above all, its low noise processing unquestionably makes it the best portable air compressor for a home garage, especially while working in closed or limited space.
The Bostitch BTFP02012-WPK performs quietly and even allows you to have a conversation when it's running nearby.
Tech Specification
Maximum Pressure: 150 PSI | Pump Type: Oil-Free | SCFM @ 90 PSI: 2.6 | Peak Horsepower: 0.8 | Number of Couplers: 2 | Tank Size: 6 gal | Item Weight: 29 lbs | Power Supply: Electric-powered | Voltage: 120V | Noise Level: 80 dBA
Pros
Weight on 29 lbs
High-performance regulator and dual couples
Oil-free and noiseless motor
Cons
Limited warranty ( can be rectified by paying extra)
5. Makita MAC2400
Powerful CFM Delivery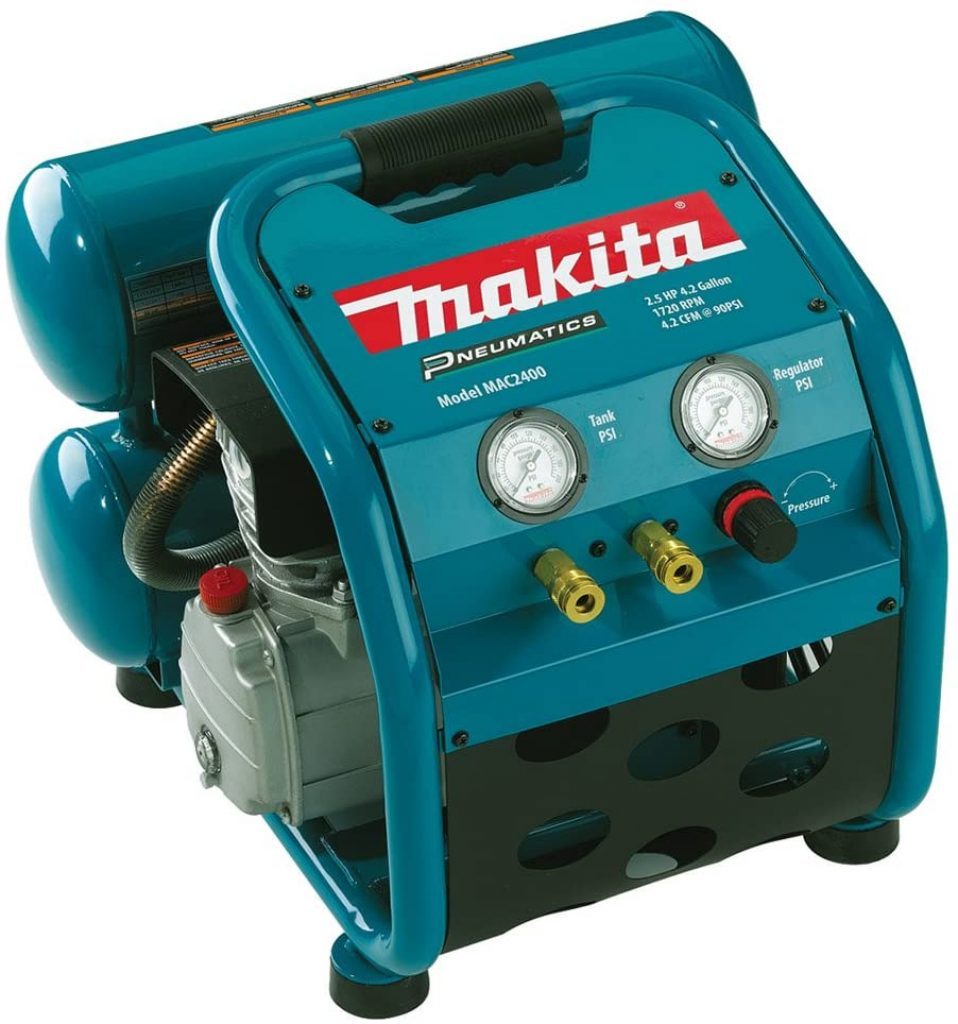 The Makita MAC2400 air compressor allows you to connect multiple tools simultaneously. It provides 4.2 CFM @ 90 PSI, the highest CFM in the market. It comes with a big bore engineered pump featuring an ultra-durable cast iron cylinder.
Combining the impeccable durability of cast iron and the efficiency of an oil-lubricated motor, the Makita air is the best air compressor for the money. The motor comes equipped with large-sized automotive filters, resulting in the better quality air intake that further boosts productivity and durability.
Even though it is a portable air tool, the power delivery can easily compete with industrial-grade compressors.
The MAC2400 features a 4.2-gallon twin-stacked tank, comparatively smaller than the regular 6-gallon compressors.
However, the motor runs at both 4.8 CFM and 4.2 CFM, letting the tank restores at a faster pace. The compressor also comes with thermal overload protection. It eliminates premature motor failure by reducing the damage caused by tripped breakers and voltage drop due to low AMP.
For portability and exterior protection, you also get a roll bar handle that keeps the product safe from harsh environments. Additional features like oil sight glass and oil drain valve allow instant air drainage and efficient heat dissipation.
Tech Specification
Maximum Pressure:130 PSI | Pump Type: Oil-lubricated | SCFM @ 90 PSI: 4.2| Peak Horsepower: 2.5 | Number of Couplers: 2 | Tank Size: 4.2 gal | Item Weight: 80.8 lbs | Power Supply: Corded Electric | Voltage: 120 Volts | Noise Level: 79dB
Pros
High CFM up to 4.8
Thermal overload protection
Built-in automotive filters
Cons
6. Campbell Hausfeld 8
Best as "Oil Free Pump"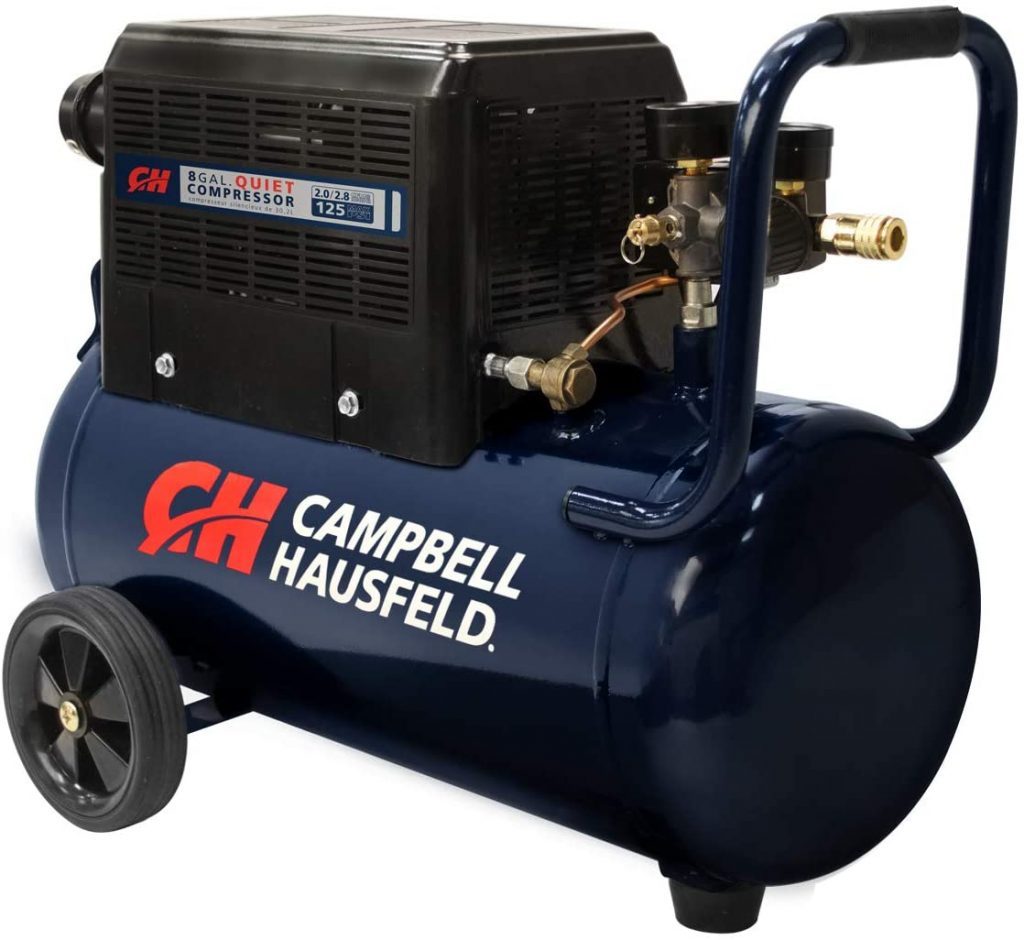 The Campbell Hausfeld 8 lets you do your job without disrupting the whole neighborhood. It features a smooth operating oil-free pump generating noise as lower as 72 dBa. This maintenance-free compressor comes with a fully covered shroud design offering superior protection, eliminating work-related accidents.
When it comes to portability and performance, the air compressor comprises both factors efficiently. The compressor boasts an air storage capacity of 8 gallons offering a super-efficient filling capacity at 2.2 CFM @ 90 PSI and 3.2 CFM @40 PSI.
On top of that, the air tool only consumes 120 volts of electricity with an everlasting motor that works flawlessly in cold weather.
The Campbell Hausfeld 8 comes quite close to the efficiency of a commercial air compressor, without compromising portability. As it weighs 66 lbs, some may find it inconvenient to carry around. However, the manufacturer fixed this issue by installing a handle and an easy-to-pull wheel.
Apart from tire inflation, the compressor is ideal to undertake time-consuming projects like hobby painting, nailing, bolting, stabling, and many more.
Undoubtedly, this oil-free air compressor can do an entire list of DIY projects. After all, all those air compressor reviews about Campbell Hausfeld 8 doesn't lie.
Tech Specification
Maximum Pressure: 125 PSI | Pump Type: Oil-Free | SCFM @ 90 PSI: 2.2 | Peak Horsepower: 0.9 | Number of Couplers: 1| Tank Size: 8 gal | Item Weight: 54.9 lbs | Power Supply: Corded Electric | Voltage: 120 Volts | Noise Level: 72 dBA
Pros
Smooth operating Oil-free motor
Low electricity consumption
8-gallon capacity
Cons
7. California Air Tools 8010A
For DIYers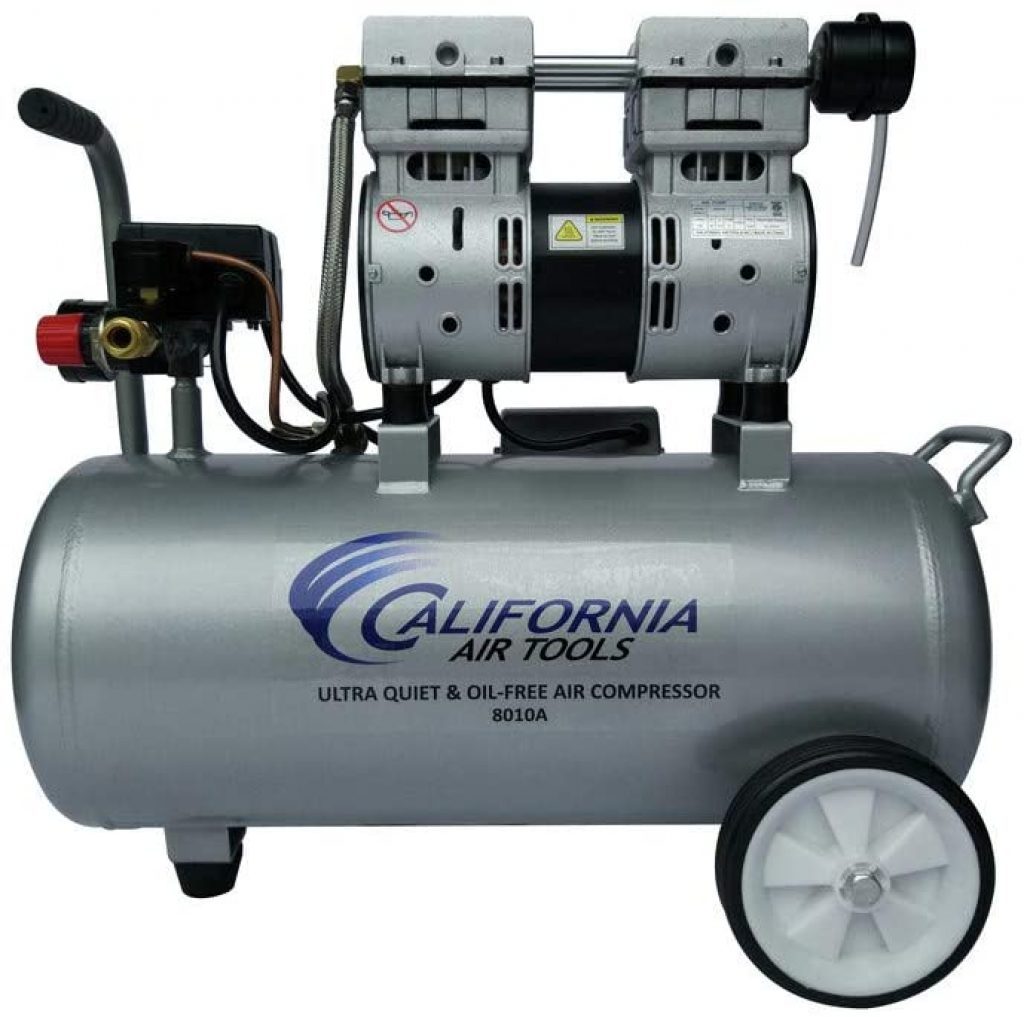 California Air Tools 8010A is an easy-to-use air compressor for conducting DIY tasks.
Specially designed for first-time users, the product comes with full-fledged accessories and a wheel kit. Unlike a conventional air compressor, the tool doesn't have a hose. Meaning, you don't have to worry about the hose coming loose.
Instead, it includes a universal/industrial male quick connector with attached air filters for delivering pumping and delivering air free from dust and debris.
Further, the oil-free pump is manufactured with sound-absorbing formula with high performing double piston. While most portable air compressor fills the tank with short air bursts, the Air Tools 8010A fills the tank swifter run continuously for up to 30 to 60 minutes provided you choose the correct PSI & CFM.
The compressor reaches a maximum pressure of 120 PSI while consuming a lower 110 V electricity. You can also adjust the horsepower of the motor- 2.0 HP for peak and 1.0 HP for regular speed.
It features an 8-gallon rust-free aluminum tank with a lightweight body of 37.2 lbs. The California Air Tools check all the boxes for the best air compressor for the garage bringing portability, value for money, and performance to the same table.
Tech Specification
Maximum Pressure: 120 PSI | Pump Type: Oil-Free | SCFM @ 90 PSI: 2.20 | Peak Horsepower: 1.0 | Number of Couplers: 1| Tank Size: 8 gal | Item Weight: 37.2 lbs | Power Supply: Corded Electric | Voltage: 110V / 60 Hz | Noise Level: 60 dBA
Pros
Rust-free aluminum tank
Universal male quick connector
Includes air filters
Cons
No automatic shut off feature
Conclusion
Now you're all set to make your ideal purchase. But remember – you have to run periodic maintenance and checks on your air compressor, at least once a month. Give special attention to the compressor fuel tank, air compressor shut-off system, oil replacement, and air filter for sure.
In case you're not so sure about its maintenance or installation, take the help of a professional without giving any second thoughts. Let's know if you have any suggestions to improve this buyer's guide further. Cheers!