The 10 Best 4K Security Camera System In 2023
4K security cameras are best suited for home surveillance as they provide better quality images when compared to other cameras. This is the reason why 4K security cameras have become increasingly popular. 4K cameras provide excellent clarity and they deliver detailed images.
So what is a 4k security camera?
4K security cameras allow you to get the best quality images with excellent clarity. 4K cameras can produce a clear image that almost doubles the size of standard 1080P HD cameras. They have a high pixel density and deliver better picture quality.
Here are the few advantages of having 4K Security Cameras
4K resolution is better than cameras with HD resolution
Excellent video quality with crisper and sharper image
Retains image quality even after you digitally zoom in
Best 4K Security Camera System
Arlo Ultra – 4K Security Camera System With audio
This is the best 4K security camera system with 2-way audio that is popular for its weather-resistant and wire-free design. It's compatible with Alexa and comes with a 30-day unlimited recording.
It supports up to 10 cameras and has sharp zoom incapability to capture clear and vivid details. The camera has advanced Ultra 4K image quality with a 180° view angle that helps in automatic image correction to reduce the undesirable fish eye experience.
The camera has excellent color night vision and you can see quality images in color even at pitch darkness than the traditional images you can get from traditional cameras.
The 2 -way audio feature allows you to communicate with guests and the noise-canceling technology helps to make clear video recordings, by reducing wind and noise.
It comes with a spotlight that lights up at night to ward off lurking burglars. It has both auto-tracking and zooming capability to help you focus on images with detail and clarity.
Additional features
Rechargeable battery
Advanced motion detection
Noise-canceling technology
Advanced audio and video quality
Technical Specifications:
Support: HomeKit and Alexa
View angle: 180°
Audio: 2-way channel
Image: 4K and HDR
Pros
Easy installation
Advanced night vision
2-way audio allows you to communicate with guests
Cons
You have to buy a lot of additional accessories
Poor instructions
REOLINK PoE 4K Camera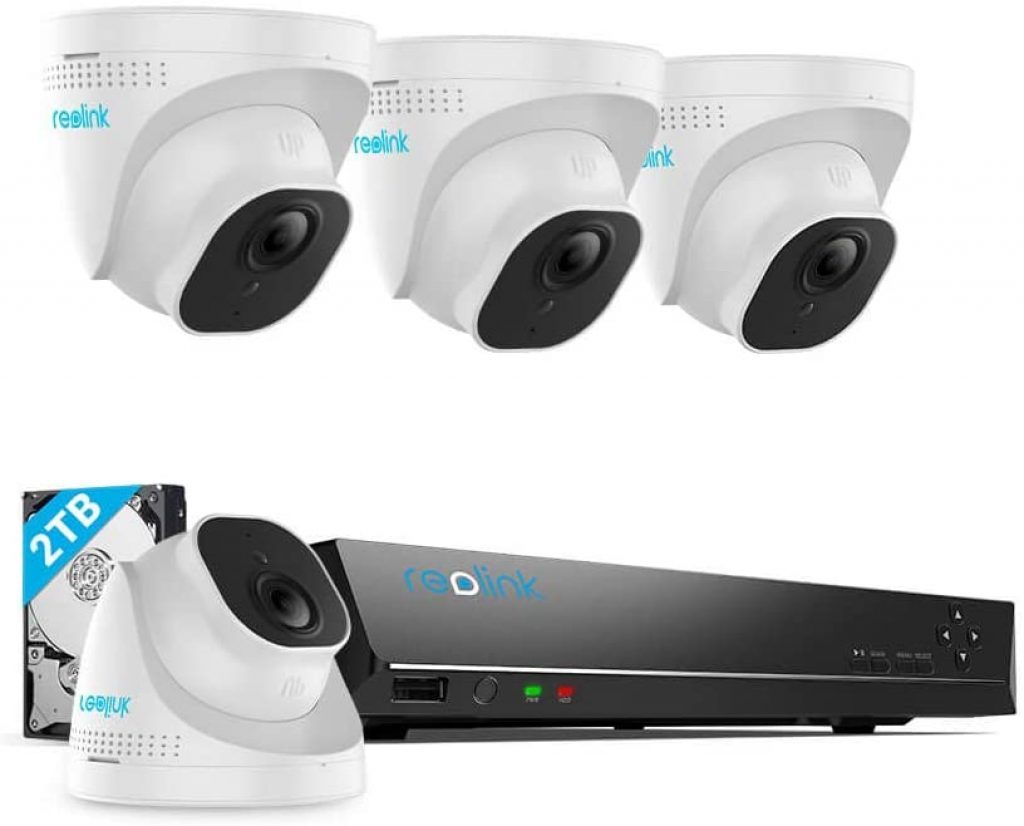 With 24-hour surveillance protection for your workplace or home, REOLINK is the best 4K PoE security camera system. Although it comes with 4 cameras, it can support an extra 8 cameras that can record simultaneously.
You can set personalized motion detection to record only when the cameras detect any movements.
This 8MP Ultra HD camera is IP66 weatherproof and this makes it excellent for outdoor use. It has an aluminum body that prevents the security cameras from destruction by tough weather elements. Additionally, the PoE camera can operate on a range between -10° C to 55° C.
The camera automatically sends you email alerts or push notifications with clips or motion photos when it detects movements. It has a buzzer that will sound when cameras detect movements. The camera also supports smarts video playback and you can play specific recordings on your smartphone.
Additional features
Outdoor security system with an extended range of monitoring
Wired camera with audio for recording sound
IP66 weatherproof rating
Pre-installed 2TB hard disk
IR night vision
Technical Specifications:
Night Vision: 100ft, 18pcs IR LEDs
Lens: 87.5°@ 4.0mm
Image sensor: 1/2.7″ CMOS, 8MP (3840 × 2160)
Built-in microphone
Viewing Angle: Vertical: 47°; Horizontal: 87.5°
Pros
Quality images
Easy to install
Built-in microphone
Great night vision
Cons
Bulk wires exposed outside the camera
Problems when connecting the equipment to Wi-Fi
Cameras are not sturdy 
ANNKE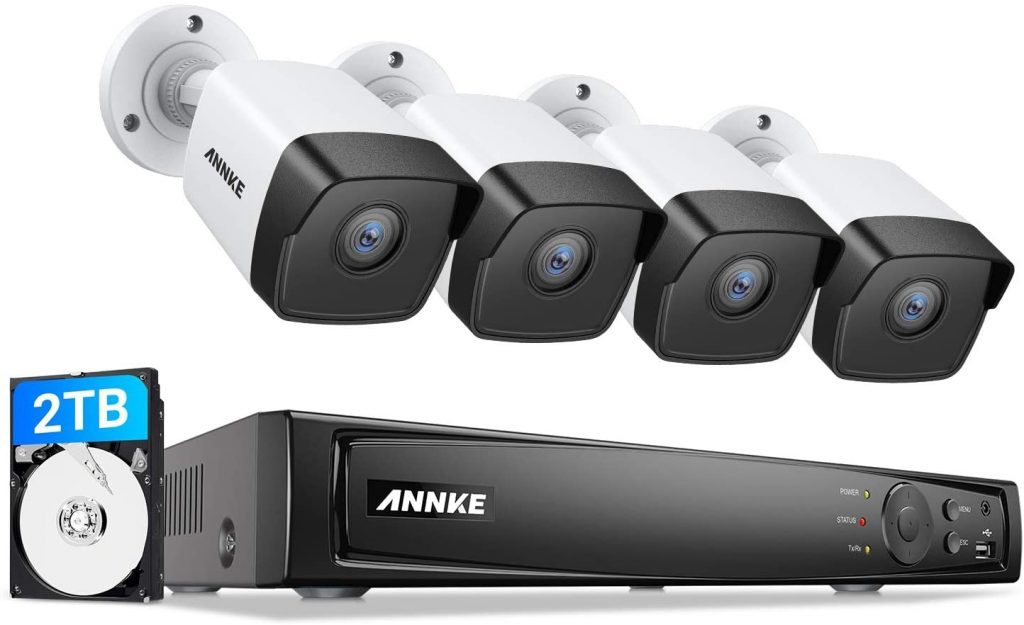 This super 5MP camera enables you to see objects that are far away and discover all the important details effortlessly. With an advanced Ethernet Technology, the camera will start monitoring as soon as you connect all the cameras. This is the best 4K PoE security camera system and is an excellent investment for your family.
It is equipped with a 2.8mm lens and the cameras have a 130° diagonal view angle. This makes it excellent to cover a wide area and hence is great for outdoor use. With this security camera system, you can ensure your home or office is properly secured.
Additionally, the camera has sensitive sensors with an advanced lens to provide excellent night vision, and you can get quality images even in extremely low light conditions.
And with the wide dynamic range, this camera delivers quality images in back-light or bright-light circumstances like the window sides. It can deliver clear footage in environments with mixed lighting conditions.
Additional features
H.265+ Video Compression
Plug and play system
Remote access and motion-triggered alerts
4K video output
IP67 weatherproof cameras
Seamless connection with third party cameras
Technical Specifications:
Resolution: HD 2560×1920
Night vision: 30m/100ft
Lens: 2.8mm
Storage: 2TB hard disk
View angle: 130°
Cameras: Supports up to 8 cameras
Video compression: H.265+
Pros
LEDs deliver great night vision
The cutting edge video technology allows you to maximize storage space for long recording
Easy installation
Quality images
Cons
Not compatible with Google or Alexa 
Swann 8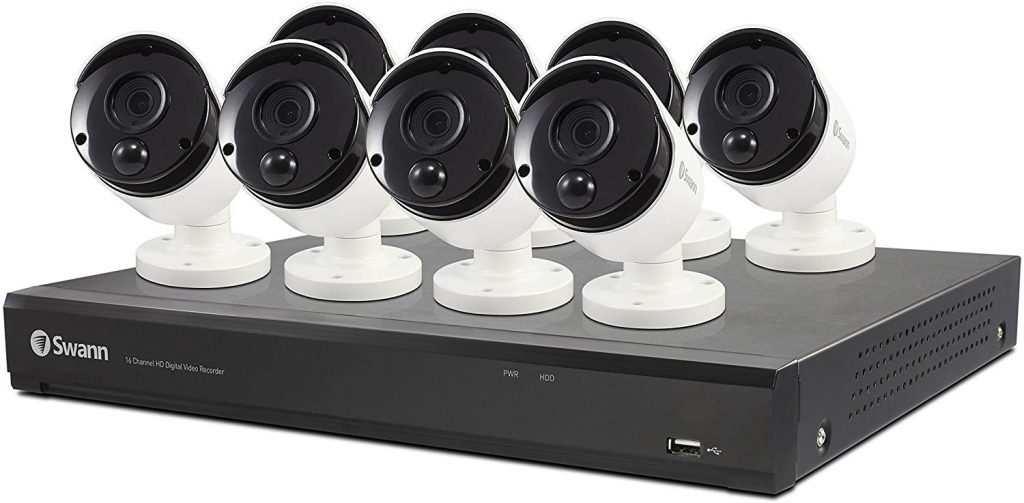 Compatible with Google assistant, Swann Ultra HD 8 is the best security camera system with DVR. It comes well equipped with true detect technology to sense the movement and heat of objects like cars and people. True Detects automatically triggers push notifications and delivers exceptional video recording. It reduces false triggers caused by rain, trees, wind, and other movements not related to security.
It allows you to see exactly what's happening around your home on your smart TV, hands-free. You can use voice commands on the Google Assistant app on your phone to stream videos from the security cameras to your TV. Use simple commands like, ''Hi Google, show me the backyard'' Your security system has certainly become smarter!
Another excellent feature you get from this surveillance system is that it allows you to upload images in the cloud. This offers added security and if your camera system gets damaged or stolen, you can go online to access your saved images. What's more, the cameras are weatherproof and can withstand any climate. You can place the cameras outdoors since they can withstand dust, snow, rain, sunshine, and other adverse weather conditions.
Additional features
Powerful night vision and can deliver clear images even in pitch darkness.
Live and video playback recording on your tablet or smartphone
A smart search allows you to search for movements with a specific area.
Locate specific security incidents by playing recorded images
View video recording from several cameras
Slideshow feature allows you to view all your camera recordings on one screen.
Technical Specifications:
Storage: 2TB hard drive
Weatherproof: IP66
View angle: 90°
Cameras: up to 8 cameras
Resolution: Ultra 4K HD
Pros
Easy to install
Compatible with Google Assistant 
Great motion detection
Cons
Delay in capturing images
Displays blurry images when connected on a laptop
Poor image quality
Night Owl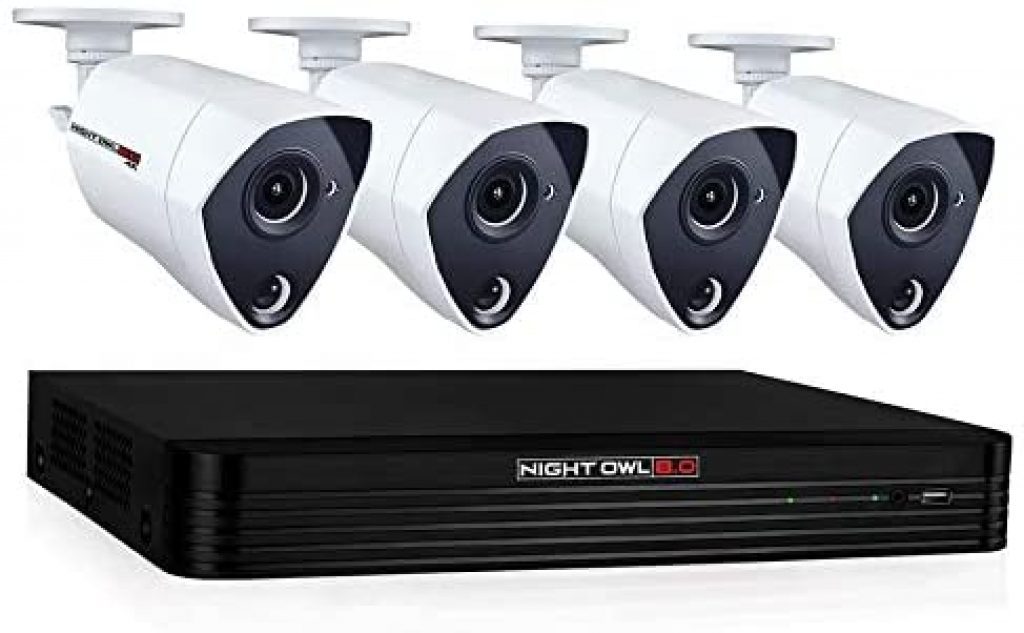 Experience the joy of recording high-resolution images with this 4K security camera by Nightowl. This weather-resistance camera can support an additional 8 wired cameras. It comes with dual sensor technology that delivers instant motion alerts and reduces false alerts by detecting both motion and heat simultaneously.
It comes with an enhanced night vision and an 80° wide viewing angle. Night vision can cover up to 100ft and can capture clear images even in pitch darkness. Another added advantage is that it allows an uninterrupted connection without an internet connection.
Additionally, it allows remote viewing and you can enjoy live video and playback from your phone.
With L2 image boost technology, you can record crisp videos even when the light fades and the camera system switches automatically to night vision. And what's more, it's easy to access your surveillance cameras from your Mac or PC at no extra charge. You also get 24/7 technical support if you have any issues with the system.
Additional features
Uninterrupted secured recording
Detects heat and movements
Supports playback features
Weather-resistant
Technical Specifications:
Night vision: 100ft
Storage: 2TB hard disk
View angle: 80°
Resolution: 4K Ultra HD
Camera: up to 8 cameras
Pros
Reliable tech support
Easy installation
Great motion detection
High-quality images
Cons
The app has multiple bugs once you install it in your phone 
Hornbill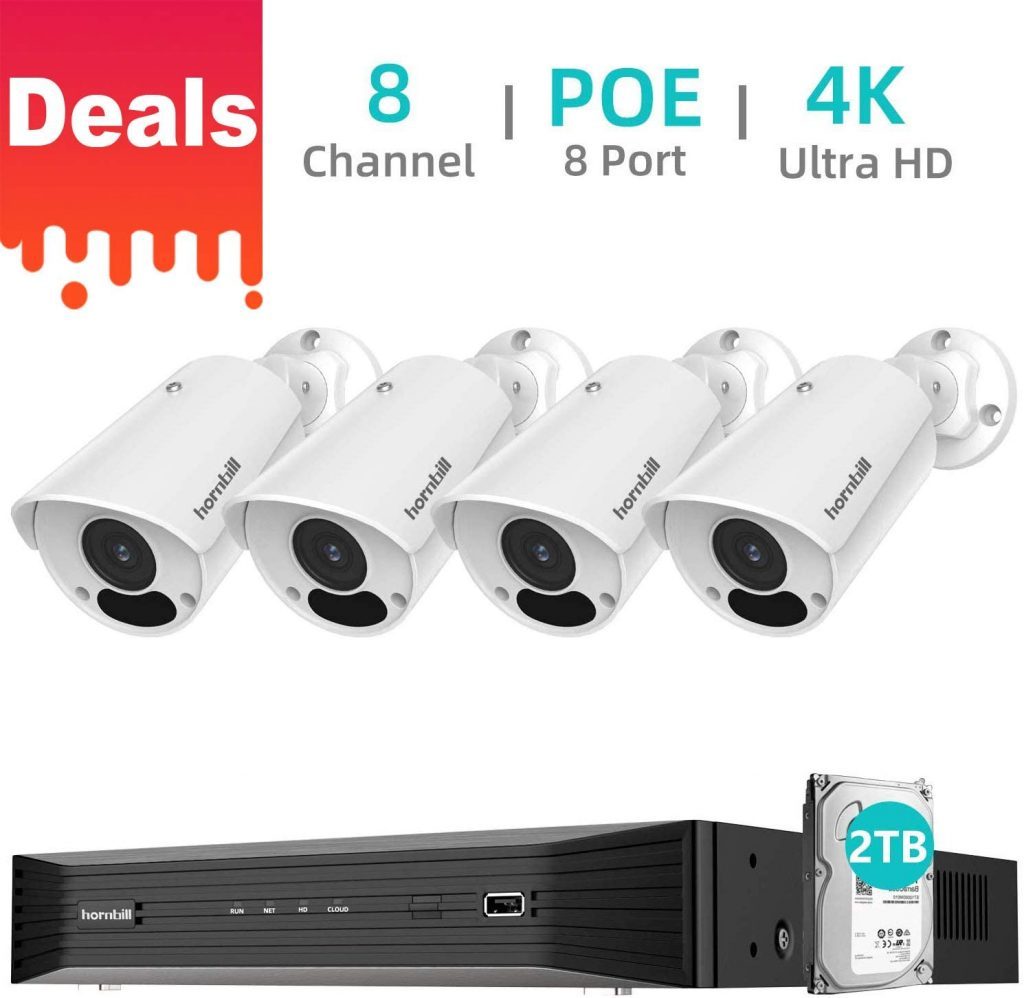 Hornbill security camera delivers excellent motion detection and will send alerts and notifications to your mail to alert you on what's happening in real-time.
It also supports live video and the remote view from your tablet, PC, and phone app remotely anytime, anywhere.
In addition to playback video support, the camera allows personalized motion zones and reduces message or email blast. You can personalize the cameras to only record movements when an alert is triggered.
It delivers sharper images even when you zoom in. It has a great night vision that can cover up to 100ft and deliver the highest quality images at pitch darkness.
Additionally, the camera has a 153° view angle and is IP67 waterproof. It comes with a built-in 2TB hard drive that allows continuous recording 24/7.
Additional features
Uninterrupted recording time 24/7
Live view and playback
Network cable stretching to 300ft
Customize motion areas and sensitivities
Supports playback on smart devices
Technical Specifications:
Waterproof: IP67
Night vision: 100ft
Storage: 2TB hard drive
View angle: 153 degrees
Camera: 4pcs
Pros
Cameras are durable
Crystal clear images
Easy to install
Protective packaging
Cons
Instructions include silica gel but it doesn't come with the product
The camera shows red lights at night and may show misleading pictures
Ethernet cables not long enough
Reolink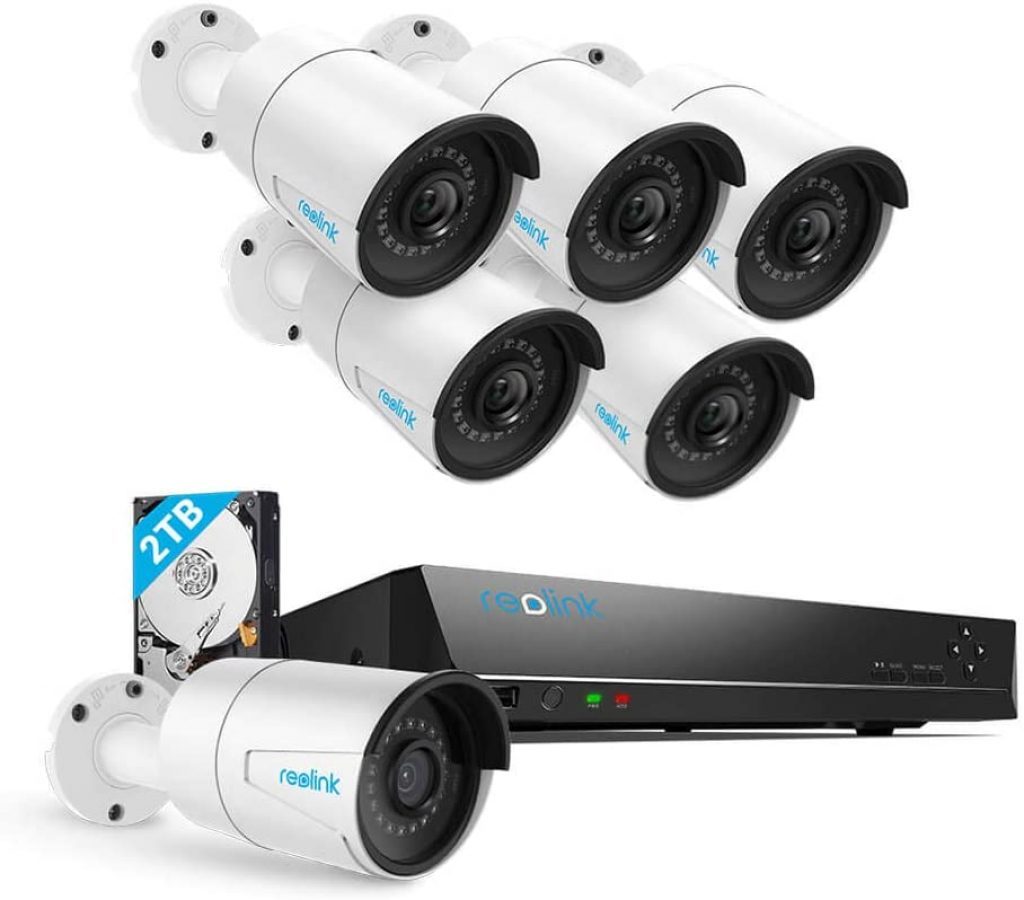 If you want a comprehensive surveillance security solution for home or office protection, this is the best 4K PoE security camera system with NVR for you. What's more, it delivers crystal clear images with attention to detail.
It comes with a single ethernet cable that you can connect to your NVR for easy video transmission. With excellent installation flexibility supported by the 330ft ethernet cable, this is the best outdoor surveillance security system.
Cover all blind spots by adding an extra 4 Reolink cameras and 4 Wi-Fi cameras and PoE IP cameras to reach a total of 8 cameras. This expandable IP camera supports up to 8 cameras recording simultaneously.
The hard drive is designed to offer dependable 24/7 surveillance and you can decide to expand the storage from 2TB to 8TB. Automatically overwrite all old video recordings and continue recording.
It is an excellent choice for beginners because you only need to connect the cameras to your NVR with the network cable that comes with the system.
It also allows playback and remote access, and you can view video recordings on your phone. It comes with IR LEDs that deliver quality images up to 100ft in pitch darkness.
Additional features
Customize motion detection zones
Email alerts with images and video clips
HD images both day and night
Long-range monitoring
Technical Specifications:
Night vision: 65-100ft
Built-in microphone
Viewing angle: Vertical: 58°, Horizontal: 80
Image sensor: 1/2.7″ 5MP CMOS (2560 x 1920)
Lens: 80°@4.0mm
Power: Power over Ethernet (PoE)
Pros
Excellent tech support
HD images both day and night
Easy installation
Great motion detection
Cons
Doesn't have Wi-Fi connectivity 
Many false alerts
Swann – DVR Security Camera System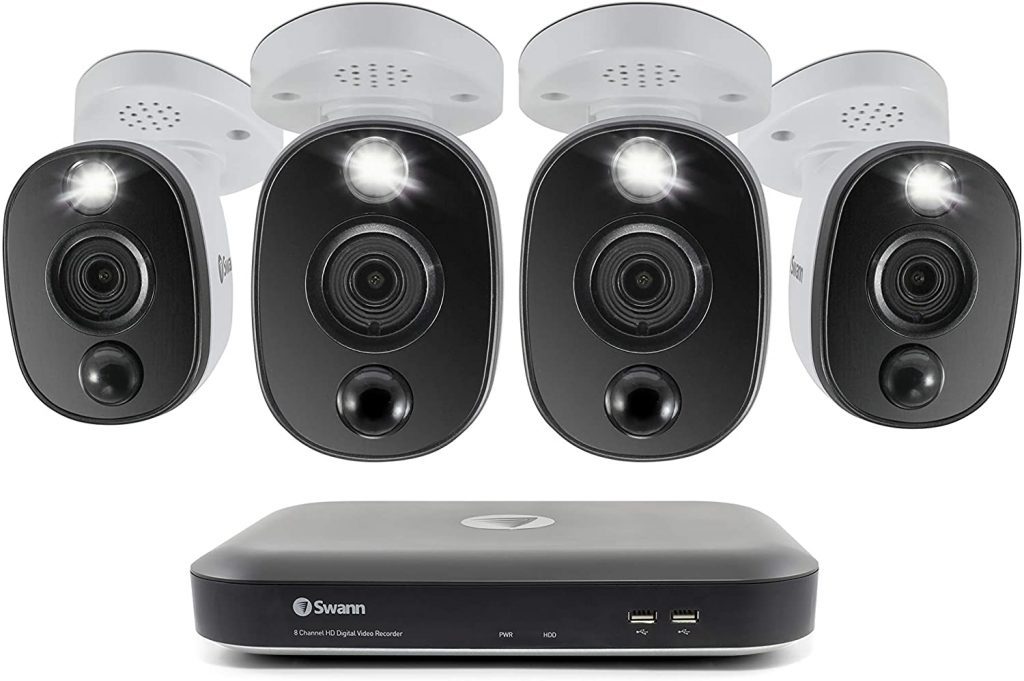 With impeccable heat/motion-sensing capabilities and color night vision, this is the best 4K security system available on the market. This reliable wired surveillance system is the best fit to protect your property and loved ones and is quite easy to install.
It comes with 4 cameras and can see faces, license plates, labels on packages, logos on clothing items, and other image close-ups in Ultra 4K HD.
The camera system is sturdy and can provide uninterrupted protection in heat, snow, rain, and other extreme weather conditions. Each camera delivers a 90° viewing angle and the night vision can cover up to 130ft. If you want more coverage, you can add 4 extra cameras on this 8 channel security system.
This home security system also comes with motion and heat sensing and can detect moving objects such as cars and people, triggering automatic video recording. When it detects warm moving objects, it sends push alerts to your emails so that you can stop any unwanted activity. And with reliable alerts and few false triggers, you don't need to customize the motion detection zones every time. More importantly, the camera comes with a smart search capability that allows you to search for movements in a specific zone.
It also supports Chromecast and you can stream multiple cameras simultaneously on your phone. Simply install the Swann security app and live view on your smart devices in real-time.
Additional features
Pre-installed 2TB hard disk
Motion/heat-sensing warning light
Color night vision
Technical Specifications:
View angle: 90°
Night vision: 130ft
Storage: 2TB
Support: Alexa & Google Assistant
Cameras: 4ps
Pros
Easy installation
Excellent motion detection
24/7 customer support
Cons
Hiseeu
Well equipped with advanced video compression technology and smart motion detection, this security system offers the best value for money.
The camera system can provide you with much-needed peace of mind and is suitable for home monitoring and professional business security. With this advanced 8 channel system, you can install 8 extra cameras to monitor all blinds spots of your big compound.
The camera system is easy to install since you only need a single ethernet cable to power the device and transmit video signals simultaneously. It also allows you to customize motion detection areas where you can focus on specific places like windows or doors.
You can get instant clip alerts or notification in your email when the camera detects movements. You can turn off the alert notifications if you don't want to deal with unnecessary alarms.
It is weatherproof and can work well in tough weather conditions. The cameras will continue working optimally even when they come into direct contact with heavy rain or water coming from an area with extremely high pressure.
It is well equipped with a 3TB hard disk that enables consistent recording. And when compared with most H.265+ security system, this security system can store two months' worth of video.
With remote viewing capability, you can connect the security system to the internet and see real-time videos of your property even when you are far away from home.
Additional features
Pre Installed 3TB hard disk
Supports 8 IP cameras
Synchronized playback
Internal SATA port supports up to 6TB
Technical Specifications:
Power: Power over Ethernet
Night vision: 100ft
Remote access: Android/iPhone phone, Mac/ Windows compatibility
Lens: Sony IMX274 2.8mm lens
Viewing Angle: Horizontal: 120°; Vertical: 65°
Pros
Excellent motion detection
Great night vision
Amazing picture quality 
Easy installation
Cons
ZOSI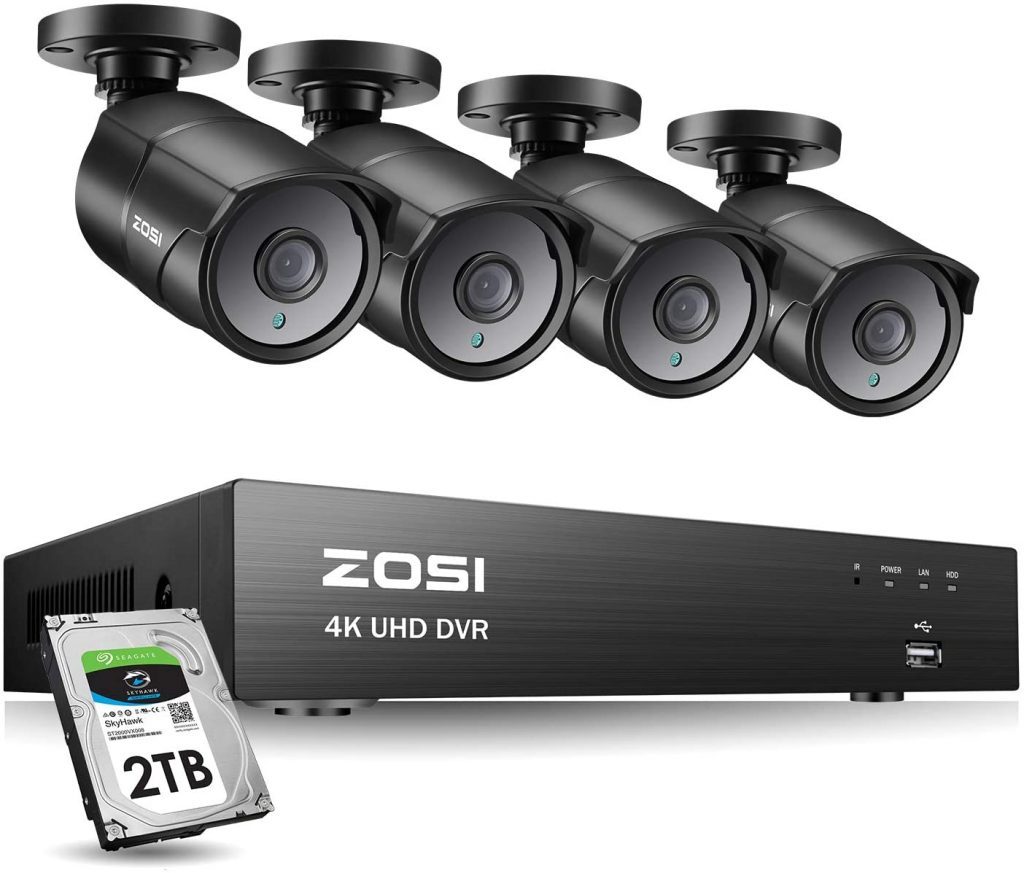 ZOSI is one of the best 4K security camera systems in the market as it comes with an advanced H.265+ DVR recorder and 8MP security cameras.
It comes with a 2TB pre-installed hard disk to store all your recorded videos. The camera system has 100ft night vision and you can see quality images and videos even in pitch darkness.
With cutting edge video compression, it saves on storage space if you want to record more video clips. And through motion detection and remote access capability, you can manage the security system on your iOS or Android app.
Moreover, you can set up customized motion detection zones to reduce false alerts. You can get instant email alerts when the cameras detect moving objects.
It further supports different recording modes. The DVR system has 4 man record modes to suit your multiple needs: Recycle record; Record during specific scheduled times; Record video continuously; Only record when the camera detects motion.
You can personalize each camera with different record modes, and then back the recorded files on USB.
Additional features
Superior clarity with Ultra HD DNR
8X Digital zoom with click
Digital noise reduction
24/7 tech support
Technical Specifications:
Storage: 2TB hard disk
Weatherproof
Night vision: 100ft
Recording modes: 4
Pros
Quality videos
Great night vision
Easy installation
Cons
Many false alerts
Not compatible with third-party software
A Quick Buyer's Guide
Here are some of the features you need to look out for when shopping for 4k security system.
Camera with 4K resolution
When shopping for an ultra HD camera, you should check whether the camera you want to buy delivers 4K Ultra HD resolution or not. This is important because most sellers might forget to highlight that their cameras have 4K sensors. They may only tell you that their security cameras are 1080p, so it's important to ensure you check the resolution settings (3840*2160) to enjoy the true ultra 4K experience.
Check the camera codec
A 4K camera will always have a feature known as high-efficiency video coding, commonly known as HEVC or H.265. The standard H.265 video compression will not affect file size while still recording crisps quality images.
Inspect the camera lens
Most 8MP security cameras that you'll find in the market don't always deliver on quality. On the other hand, 4K cameras have better video quality that is affected by the quality of the lens and not necessarily by the sensors. Therefore, true Ultra HD cameras usually have quality lenses to deliver vivid images.
Consider the viewing angle
Although most 4K cameras offer a wide viewing angle, you should check the specific view angle of the camera you want to buy. This will ensure you get the best 4K security camera system that can cover the desired monitoring zone, like the driveway, garage, porch or front door.
Can the camera perform optimally in adverse weather conditions?
While 4K security systems might offer excellent video quality, you will realize that some cameras don't perform optimally in certain conditions. For instance, some cameras can perform poorly in bright light while others work perfectly in any outdoor condition. To ensure you get the best 4K security system, you should look for a signature camera that offers a wide dynamic range.
Check the night vision
4K security cameras night vision is always affected by various factors. You should check the lux ratings as well as the night vision range. When Lux number is smaller, the better your 4K camera system will capture clear videos even at pitch darkness. And cameras with a long night vision range can allow you to see better at night.
Find about the storage space
Another thing you need to consider is storage space. Typically, 4K security camera system usually comes with a built-in hard disk. You can also consult multiple sellers to check if the camera system enables you to use external HDDs.
Does the camera support live viewing?
Most 8MP (4K) monitoring systems should enable remote viewing if you wish to record videos anywhere you wish. Check whether it comes with an app to enable you to manage the camera system on your computer or smartphone. Besides allowing live viewing, it should also allow you to customize the motion detection zones, where you can schedule recording on multiple cameras simultaneously.
Ease of installation
Find a 4K/8MP monitoring system that is easy to install to help save time and labor. Most 4K surveillance cameras only need one network cable and you can connect the IP cameras to the NVR. Both video transmission and power supply use a single network cable, and this makes for easier wiring.
If you are shopping for a 4K security system online, you might realize that some users protested about the installation fees, which were not as advertised when they bought it. In addition to high installation fees, also check whether there are hidden accessory charges, shipping fees, and professional monitoring costs.
FAQs
1. What is the highest quality security camera available?
Arlo Pro is one of the highest quality security systems in the market and it is totally wireless. No cords required whatsoever. Moreover, it's a versatile security camera with a range of essential features including wide range night vision, smart motion detection technology, and instant push alerts and notifications. It is best suited for both indoor and outdoor use.
2. Which is better: 5mp or 4k?
4K image quality is more superior than 5MP. 4K cameras, for instance, can deliver better image quality with great attention to detail. You can tell the difference between 5MP cameras with 4K cameras when you digitally zoom them. When you zoom 4K images, you will notice that the clarity is much better.
3. How many megapixels is 4k?
2.1 megapixels is (1920×1080) 1080p. 4K can be categorized as (3840 x 2160 or 4096 x 2160) and this totals to about 8.5 megapixels. With 4K Ultra HD cameras, you can enjoy the full 8.5 megapixels when recording videos.  
Conclusion
From our review, we found out the Swann Ultra HD to be the best 4K security camera system among all the cameras that we have listed above because of its versatile features. It comes with high-tech detection technology to sense the heat and movements of objects like cars and people.
Additionally, its compatible with Google Assistant that allows you to use voice commands. This security camera is suited for both indoor and outdoor use.

Let us know if you think we have missed out something that is worth mentioning here.