The 5 Best Alexa Compatible Garage Door Openers In 2023
According to the Impulse Research Survey, 24% of the homeowners in the US don't like to leave their garages open(Source). If you're one of them, checking up on your garage door when you're not home is a hectic task. In this regard, if it is smart-voice compatible like Alexa, you've nothing to worry about. You can easily check whether the door is properly closed or not and open it with your voice command without the remote.
Just add an Amazon Echo device to make the operation smooth and seamless. However, it takes an eagle's eye to separate the wheat from the chaff. So, let's explore five popular Alexa compatible garage door opener models trending in the market right now.
We will analyse their USPs in detail and try to understand what makes them so special amongst the users.
Let's get started.
Best Alexa Compatible Garage Door Opener in 2021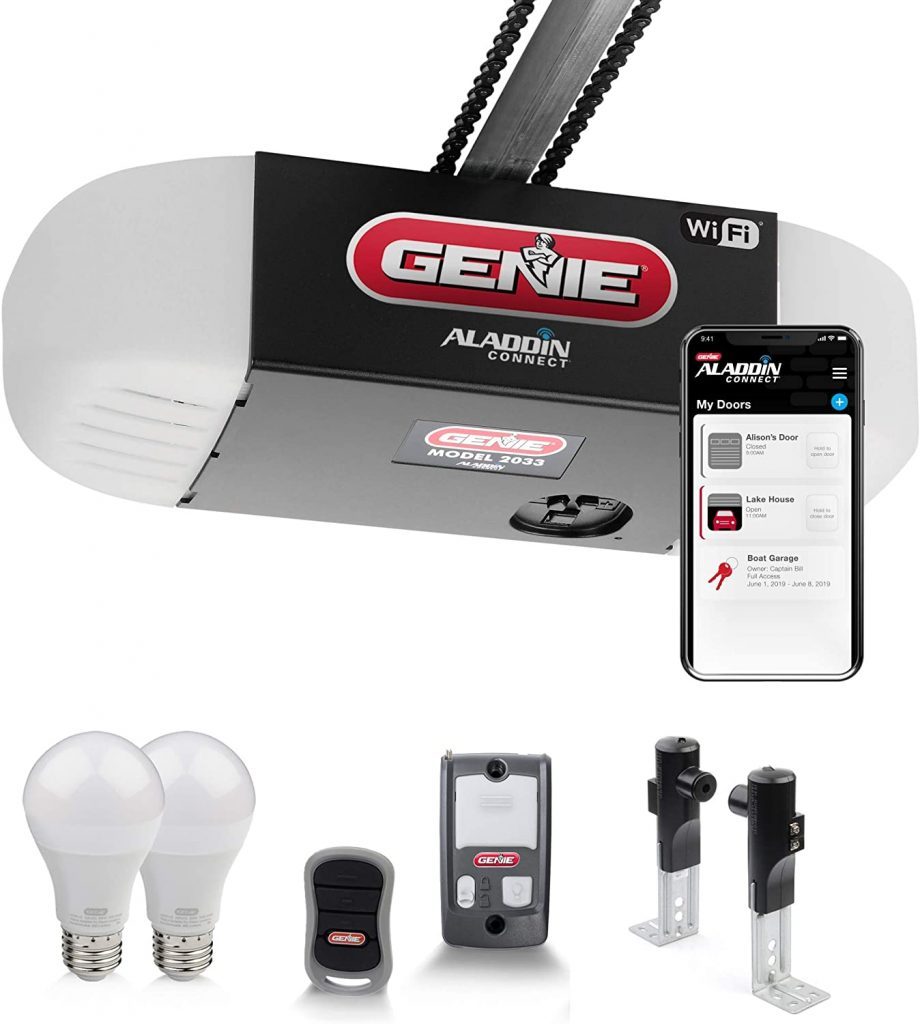 The Genie 2033-LED ChainGlide is the perfect smart garage system that will allow you some peaceful sleep due to its advanced security features. Its compatibility with Alexa paired with the Integrated Aladdin Connect technology allows complete hands-free control of your garage door.
What makes this the best Alexa compatible garage door opener is the fact that it comes with a DC motor that provides both strength and reliability. Owing to this you can easily install it for doors as high as 7 feet and as heavy as 500 lbs quite easily.
If you have multiple users for the garage, you can also set up individual users through the Aladdin Connect app and set up virtual keys to operate the garage door opener. The ChainGlide Connect LED essentials comes pre-installed with Intellicode rolling code technology that will stop any unauthorized user from entering your space.
Installation is quite convenient because of the lightweight and strategic design. To top it off, you will be getting LED lights, a pre-programmed remote, and a wall control panel with an independent light button and vacation lock- all out of the box.
Nowadays, Genie is all set to impress users with its newly launched wall mount garage door openers.
Technical Specifications
Max lift power: 1. 5 HPS | Voice Assistance: Alexa, Google Assistant | Connectivity: WiFi | Sensor: Safe-T-Beam sensors| Batteries: Not required | Installation Method: Mounting | Power Source: AC
Pros
Ultra-quiet operation
Durable five-piece rail assembly
Pre-programmed Intellicode Technology
LED bulbs included
Cons
Initial Installation requires an expert.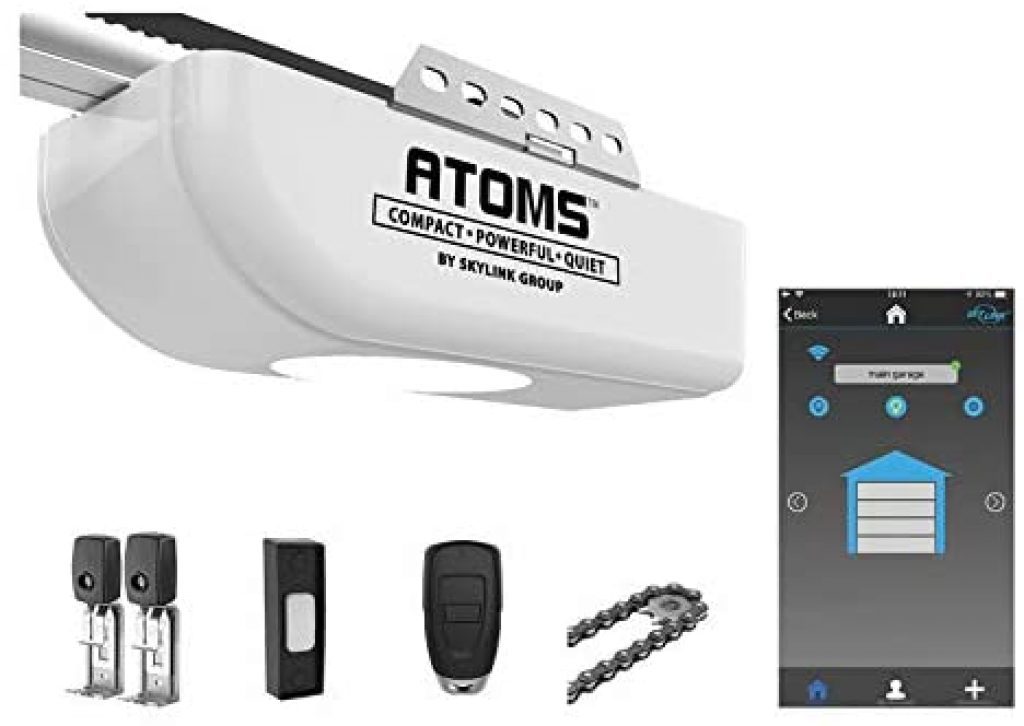 The Skylink ATOMS Smart Garage door opener comes with Patented Anti-Break-in chain drive. This not only protects you against intrusive access or tampering with the door but also provides a smooth and silent operation.
With the built-in 'Soft Start and Stop' feature, the door can be opened with gradual acceleration and can shut down slowly to minimise any vibration or sound. This also aids in increasing the life of its mechanical parts. You can read more benefits of soft starters over conventional starters here.
This elegant and easy-to-use system is WiFi compatible with Orbit Smart, which makes easy integration with virtual assistants like Alexa and Google Assistant. However, what sets this apart from most garage door openers is that one does not necessarily require an external remote. Instead, you can just use the in-car remote in your vehicle.
Powered by 1/2HPf DC Motor, the garage door opener is suitable for both single and double garage doors of height up to 7ft. A snap-in infrared Safety Sensor comes for its safe operation. It also ensures an easy installation of a couple of hours without any drilling.
Technical Specifications
Max lift power: 1. 5 HPF | Voice Assistance: Alexa, Google Assistant, IFTTT| Connectivity: WiFi | Sensor: Infrared sensors| Batteries: compatible, sold separately| Installation Method: Mounting | Power Source: AC, DC
Pros
Heavy-duty anti-break-in chain drive
Built-In LED light
Built-in In-car remote
Optional backup battery
Cons
Doesn't have any keypad transmitter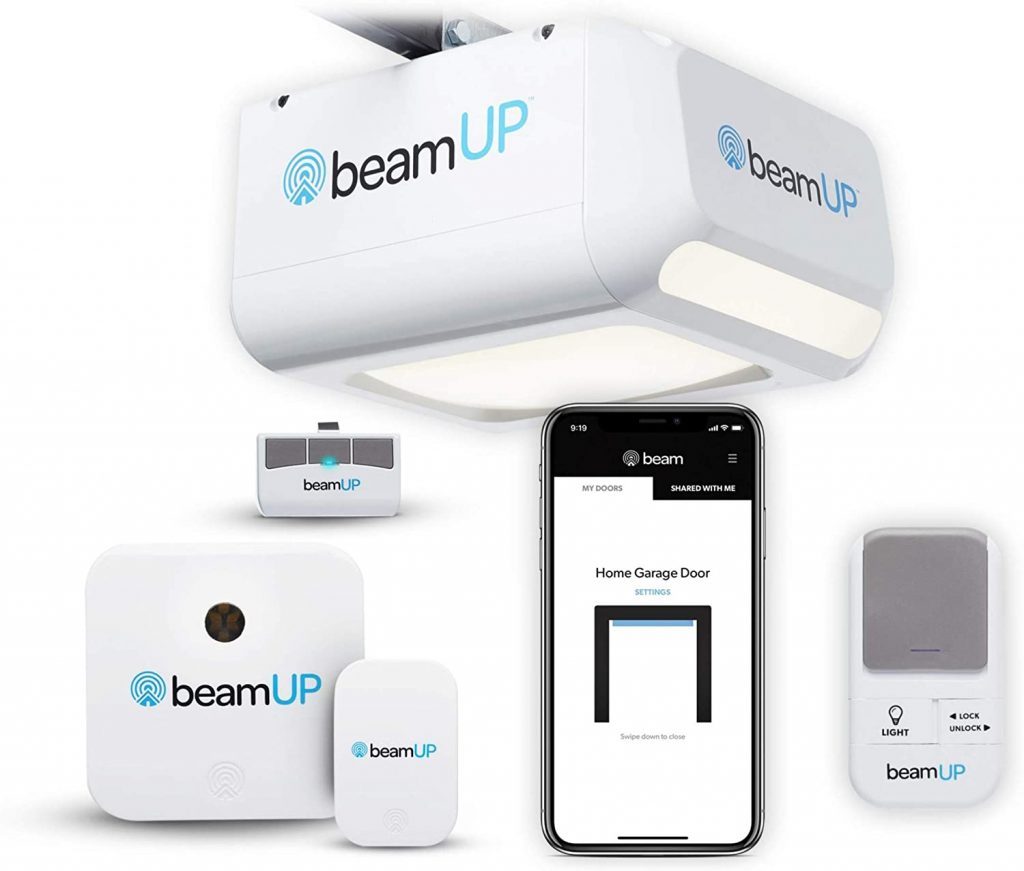 The Sentry Smart Garage Door Opener provides real-time access and security as good as other highest-rated Alexa compatible garage door openers. The beam Home app will update you with all alerts and notifications in real-time whether you are inside the house or miles away from it. Additionally, if you have a broad social circle, you can authorise unlimited user access to all your friends and family.
The best part of this opener is that it does not need any special tools or training to install it. The system is compatible with rail lengths of about 10.25 ft, which is a little more than what most standard openers have to offer. The 3/4 Horsepower equivalent motor ensures a smooth and sturdy lifting of the heaviest of doors.
You also have the option of operating the opener with ClearCom 3 button remote control powered by dual-burst technology for a wider range.
The Sentry scans every corner of your garage, and upon detection of any movement, it triggers the LED light and sends you alerts. For added security, the BU400 illuminates your garage with 3000 lumens of edge-to-edge LED lighting system.
Technical Specification
Max lift power: 3/4 HPe | Voice Assistance: Alexa, Apple Watch, IFTTT| Connectivity: WiFi | Sensor: Radar motion-sensors| Batteries: 2 Lithium Metal batteries | Installation Method: Mounting | Power Source: DC
Pros
Unlimited User access
Heavy-duty chain drive
Real-time alerts
Radar motion-sensors
Cons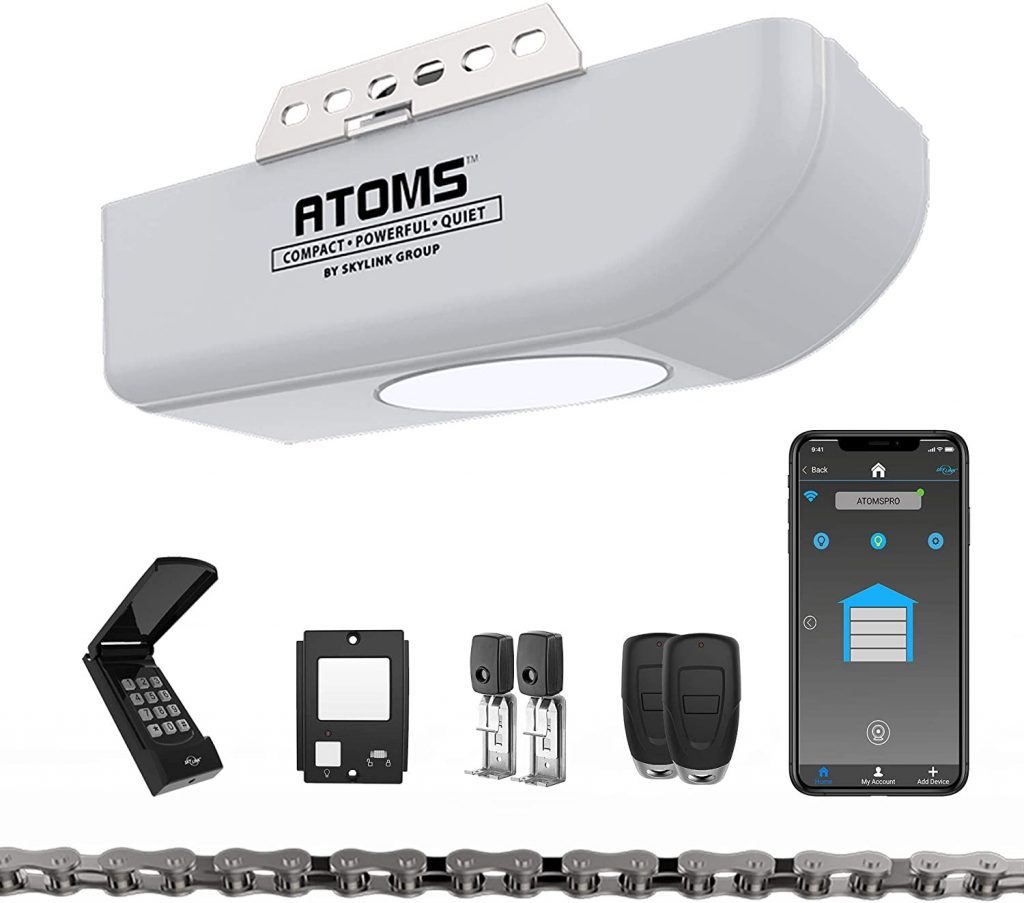 Next on our list is another smart garage door opener by Skylink which is something you can consider if you are looking for the best value. The 'Quiet Drive' technology reduces the noise and vibration of the chain drive, thereby making it ideal for homes above garages. The robust DC motor is sturdy enough for most heavy liftings while maintaining the low noise.
The ATR-1622CKW model is the best value for your money due to its low power consumption. The integrated LED lighting is not only power efficient but also uses way less energy than a tungsten bulb.
And with no bulbs to replace, the maintenance fee for this opener drops down drastically. Similarly, although it uses a DC motor, it operates quite smoothly compared to conventional AC motor drives.
Apart from that, the system is incorporated with all the standard features that Skylink provides. This includes Anti-break-in drive system, a diagnostic display to guide you through the programming, diagnostic codes and troubleshooting, in-car remote control, Virtual AI compatibility, etc.
Suppose you are situated in one of those places with frequent power-cuts. In that case, you can also opt for a compatible backup battery (in compliance with California SB-969), making it one of the best garage door openers available out there.
Technical Specification
Max lift power: 1/2 HPF | Voice Assistance: Alexa, Google Assistant, IFTTT| Sensor: Infrared Safety Sensors | Batteries: Single AAA Battery and Skylink Backup Battery | Installation Method: Mounting | Power Source: DC
Pros
Patented Anti-Break-in Chain Drive
Built-in LED light
Deluxe Wall Console
Wireless Keypad
Cons
What separates this door opener from the first Genie system is its added "QuietLift" technology which makes it work in silence. Although the model is a little more expensive than the first pick, it is worth the extra bucks if you want an almost noiseless operation.
The GenieSense DC motor is both efficient and enduring. The Genie Sense technology enables soft start and stop for the motor, thereby ensuring a longer motor life. The door opener comes as a 5-piece rail assembly that snaps together for a hassle-free installation.
The steel-reinforced chain drive is ultra powerful and can lift standard doors weighing around 500 lbs and as tall as 8ft (paired with an extension) with ease.
Like all Genie Smart Door Opener systems, the QuietLift also comes with a built-in Aladdin Connect. This will allow you to operate the door with voice control using the new integrated custom skill for Alexa. In addition to that, you will be getting two pre-programmed 3-button remotes, a wireless keypad, and a multi-function wall console that eases its access and operation.
Technical Specification
Max lift power: 3/4 HPC | Voice Assistance: Alexa, Google Assistant| Connectivity: WiFi | Sensor: Safe-T-Beam sensors| Batteries: 4 CR2 batteries | Installation Method: Mounting | Power Source: DC
Pros
Ultra-quiet garage door opener
Steel-reinforced belt drive system
Lifts 7-foot high sectional garage doors
Limited Lifetime Motor Warranty
Cons
FAQs
Can you hack a garage door opener?
No matter how many advanced security technologies your garage door opener comes with, it can always be hacked. However, it is quite unusual and requires close physical access to the opener.
To minimise your risks of being hacked, keep the remote close to yourself, do not authorise people you don't really trust and always lock the door inside the garage that leads to the rest of your home. If you can shed a few dollars, go ahead and install motion sensor lights for reduced risks of break-ins. 
How long does a garage door opener last?
Most garage door opener manufacturers offer a typical warranty period of 3 years. But in no way it implies the lifespan of the opener. Garage door openers operate on rather simple mechanisms that allow for a lifespan of about 10-15 years considering certain factors.
The factors that come into play in contributing to the lifespan of a door opener are material of construction, maintenance and daily usage, poor quality, and climatic condition.
Another responsible factor in deciding the longevity of the door opener is the torsion and extension springs. A standard spring is designed to perform up to 10,000 cycles (1 cycle= one-time opening and closing of the door). You can calculate the lifespan of your opener on the basis of your day to day use. 
How to make an old garage door opener smart?
If your garage door opener is older than 10-15 years, it probably would not have any scope for modification. In case it is non-reversible, it is a real hazard according to the CPSC Safety Alert. So it is for the best if you can get it replaced with smarter alternatives.
However, if your opener is only a couple of years old, you can get a compatible Garage Hub (like MyQ or Chamberlain), and it will allow you to access and control your opener from your mobiles. You can also install motion detector lights to make your garage smarter, but there is only a little you can do to modify a dated door opener. 
Conclusion
We hope this guide will help you select the best garage door opener. During its Installation, take extra measures in terms of balancing the load to avoid serious injuries later. In case you have some more suggestions for our readers, comment below. We are all ears!